How to Create Adwords Remarketing Campaigns with Google Analytics Audiences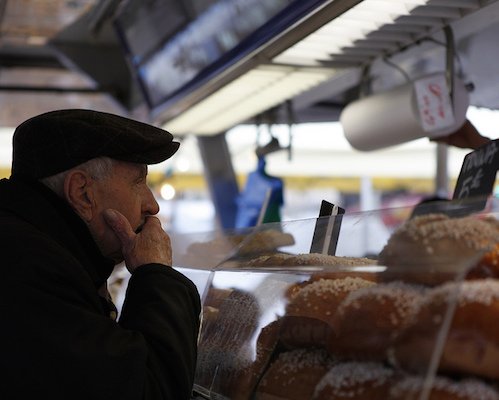 Think of the one most important action you want your visitors to take when they're visiting your website. Do 100% of your visitors complete this veryaction?
Probably not.
The more the action you're thinking of represents a highly involved decision, the more your potential customers will think about it before they make a move.  And this will obviously affect your conversion rates and increase the time spent between their first visit and the day they make the desired action.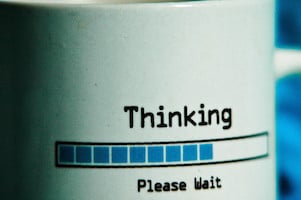 For example, convincing people to try online software is easier (low-involvement) than selling a car online (high-involvement).
Let's guess that in both situations, at least 80% of visitors won't achieve the conversion goal. In other words, money is left on the table. But what happened? Did they swear to themselves that they would never come back to your website or buy anything from you?
Probably not.
You see where I am going with this…
Too many people are spending all their time (and budgets) trying to bring new visitors to their website with online marketing. However, new visitors probably don't know anything about your brand or what you're offering. Instead, why wouldn't you identify the visitors who almost accomplish the desired action and try to bring them back to your website to convert them? If they almost convert, chances are they are interested in what you have to offer!
You could even use a different message when targeting them to make the sale.
In case you didn't know, it's not as difficult as you might think. In fact, that's a pretty straightforward thing to do. Welcome to remarketing.
What is Google AdWords remarketing?
Before we get into details, let's just mention that remarketing is more of a concept than a Google Adwords feature. Many major ad networks (like Facebook) offer a similar targeting feature. But today, let's focus on remarketing in Google's network.
In fact, Google AdWords remarketing is a way to use the Google Display network to display all sorts of ads (images, animated gifts, regular text ads and even videos) to people who have already visited your site AND who have demonstrated interest in your products or services without converting. By "demonstrating an interest," I think about a user visiting a certain page or clicking on a certain link/button that is important to you.
Why should you try remarketing campaigns?
So, do you still want to spend all your budget on people who have the right profile to theoretically convert, but who don't know what the heck you are and what you do? Or do you prefer concentrating on people who have the right profile AND that have shown a real interest? If you choose the second option, here is what could happen to your Google AdWords campaigns.
For the same budget as one of your normal text ad campaign, your remarketing campaign will :
Generate an increase in impressions
Bring your ads to #1 position
Boost the number of clicks/visits you receive
Tremendously lower your CPC
Give your new conversions at least your average CPA
Well, that's EXACTLY what happened each time I tried this Google AdWords feature during my consulting years. And this happened regardless the user, industry and market.
How can this be?
To make it simple, since your target is very precise (unless you have millions of visitors), you can lower you bids a lot! In market where it usually costs lots of dollars for each click, with remarketing, I've seen good results with less than a $0.05 CPC.
So, with theses costs, lots of things become easier.
The only downside is the decrease in the click through rate (CTR) I usually observe with this kind of campaign (as is the case for any other display campaign). The CTR is usually lower if you compare to a regular text displayed in the Research Network. Since experts agree that your overall CTR affects your Quality Score, that's something to consider before using it. But hey, when I find a way to drive more sells at a lower cost, I'm diving in head first!
An added benefit: you can do all the configuration work right in Google Analytics. No more having to add a tracking code to your website. So you won't even need the IT team or anyone's help! Pure awesomeness!
How to use remarketing with Google Analytics
So now you're convinced, let's show you how!
1. Link your Google AdWords and Analytics accounts.
Since we're using Google Analytics to set the AdWords campaign audience (targeting settings), your Google AdWords and Analtyics accounts have to linked in order to work properly. It's something you should do anyway to really analyze all you're campaign data.
2. Enable the Advertising features in your Google Analytics account.
2.1. – To do this, sign in to your Google Analytics account
2.2. - Select the right account and property.
2.3. – Click on "Preporty Settings" and set the Advertising Features to ON.
3. Create your Remarketing Audience in Google Analytics.
Creating your Remarketing Audience is the most important part. Choosing the Audience you will target with your remarketing list is the foundation of your Campaign strategy. Think again of the one most important action you want your visitors to take when they're visiting your website. Now  figure out what would be clear signs of interest in making the ultimate action you want them to make.
For an ecommerce website, a good retargeting list could include all visitors who abandoned a cart with items in it before checking out (you may want to generate repeat business by targeting only people who have bought on you website in the past, but that's an other subject).
If, like many businesses, your website's job is to generate leads via a form, you could target users who visited the form's page but didn't complete and submit the form.
Your could also decide to target all of your past visitors, without any other criteria. I didn't have the choice to go this way for some clients since their volume of traffic was too small to get picky while selecting the right target. Anyway, there a no right or wrong way of doing this. Every business is different. To help you find a way to define a good strategy, here are some audiences examples that can help you start.
Enough talking, more doing!
3.1. – In the right property, click Remarketing.
3.2. – Click on audience.
3.3. – Create a Remarketing Audience.
3.4. – Select the view in which the users you want to target are tracked.
3.5. – Select the Google Adwords account in which you want to create a Google Adwords Remarketing Campaign.
3.6. – Click Next step.
3.7. – Next step will be the audience configuration.
Here, you have 3 choices.
A) First, you can try Google's pre-configured audiences by clicking on one of "Recommended Audiences." Let's take a few seconds to look at what Google is suggesting you since it can save you major time.
Here are the suggested preconfigured audiences :
Smart Lists : In short, Google will adapt your targeting settings in order to bring back users who have more chances to convert at their next visit. This can be interesting, but some people don't like the idea of Google managing their budget and campaigns since they collect the money. I usually don't mind and sometimes try it.
All Users : Enough said.
New users : Users who have visited your site only once.
Returning Users : Users who have visited your site at least once.
Users who visited a specific section of my site/app : The label is pretty clear. If you want to use this list, you just have to click on the edit button and select the right section of your site by using the right URL.
Users who completed a goal conversion : Same thing here. Just edit the audience by selecting the right conversion goal.
Users who completed a transaction : This list is already configured. So, if you want it, select it and go get yourself a good cup of joe while we go to step 4.
B) If these pre-configured audiences don't satisfy your hunger, you can start from an advanced segment by clicking on "Emport Segment."
C) Finally, you can create a 100% custom audience. If this is what you want, click on "Create New" and select the right criteria that fit your needs. Note that is the most technical way to go. You may want to try the other options before diving into this one.
3.8. –  Give your audience a good name so you can find it later.
3.9. – Save.
4. Create your remarketing campaign in Google AdWords. 
In this step, you'll discover how to create a standard remarketing campaign. You could also create a Dynamic Remarketing campaign that lets you display different ad versions to different people in the same audience. For example, with Google Dynamic Remarketing Campaigns, you could display to each of you past visitors an ad presenting the exact product they have consulted. This is a very powerful way to bring them back on you website; however, it is more complicated to set up (you have to add a snippet of code to your site and all). Let's stick to the standard type for now.
Let's do this!
4.1. – Sign in to your AdWords account.
4.2. – Click on "+ Campaign" and in the drop-down menu, select "Display Network only."
4.3. – Give your new campaign a name.
4.4. – NEW STEP – Click on the Marketing objectives radio button. This is the simpler way to go for now.
4.5. – NEW STEP – Select the marketing objective that suits you best.
4.6. - Click on Save and Continue.
4.7. – Configure the regular Google AdWords campaign settings (Locations, Languages, Bid strategy and Budget). Yes, we are fast forwarding a bit here!
4.8. – Click on "Next Step."
4.9. – Chose an Ad group name.
4.10. – Chose a CPC. Remember that with remarketing ads, you can try a much lower bid since your target is more precise.
4.11. – Identify the ads landing page.
4.12. – In the "Choose how to target you ads" section, select "Interest & remarketing."
4.13. – In the "in-market audiences" drop-down menu, select "Remarketing Lists."
4.14. – Select the right remarketing list/audience you've just created in Google Analytics.
4.15. – Click "Save and Continue."
4.16. – Create your display ads.
4.17. -Click "Save and Continue."
That's it! You now have an Adwords remarketing campaign that will help you bring back indecisive people to your website with remarketing. Get ready to release the hounds and convert!
Before partying, you should note that, by default, there are no impression limits. Yes, your targeted users could see your ads until they get "fed up" with your brand. You have probably experienced this in the past. To avoid this, you should set a frequency cap to your retargeting campaign in the Campaigns Advanced settings. I usually limit impressions to 2 or 3 per day. Think of your CTR!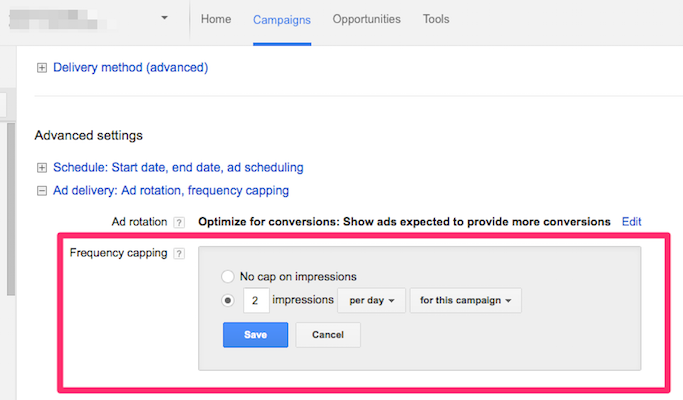 Final word
Here you go! I hope this guide will help you go through all the steps you have to take. Lots of people have heard about remarketing, but few of them tried it because its a bit more complex than a standard Google AdWords campaign. This is your chance to take a take advantage of your competitors' slack. Booya!