Measuring the efficiency of a marketing campaign is the only way to be sure whether or not it achieved the intended goal. Whether you run your own digital marketing campaigns or work in a professional advertisement agency, metrics can prove to be quite beneficial in measuring your effort's success.
According to 99 Firms, 60% of marketers create at least one content piece a day given that digital marketing costs 62% less than traditional advertising and can generate up to 3 times as many leads. With the wide-spread use of social media platforms such as Facebook and Instagram, as well as messaging apps and email, digital marketing can indeed prove to be useful for both B2B and B2C advertisements.
Tracking the effectiveness of said efforts and knowing when to revise the content and retarget your optimal demographics can be difficult. With that said, let's take a look at some of the best marketing metrics which you can use to track digital marketing success of your content for much better performance and ROI going forward.
Advantages of Tracking Marketing Metrics
While obvious at first glance, it's worth noting why measuring the success of digital marketing content is of such high importance. Just because a well-designed, well-targeted campaign is underway doesn't mean it will necessarily hit the proverbial mark immediately. Tracking marketing metrics is of utmost importance if you want to be able to measure the efficiency of your campaigns and optimize your marketing efforts consequently.
The advantages marketing metrics can bring to your business are numerous and include but are not limited to:
Increased familiarity with your visitors and customers

Elimination of unpopular marketing content

Easier to spot customer bottlenecks and reasons for purchase abandonment

Overall website improvement and development feedback

Best Marketing Metrics to Utilize
Now that we have a clearer understanding of how digital marketing tracking can be beneficial for a business, let's take a look at some of the most useful marketing analytics metrics to keep in mind, most of which can be tracked either with Google Analytics or with a marketing reporting tool. It's worth noting that your selection should be adjusted from campaign to campaign in order to reflect the current goals, sales KPIs (Key Performance Indicators) and the target audience you aim to attract. With that said, let's dive right into it.
1. Total Conversion Rate
At the end of the day, your conversion rate can be broken down into multiple segments depending on the type of lead individual visitors became. The total conversion rate metric will allow you to quickly assess the success or failure of your digital marketing strategy and whether or not you should revise your content strategy going forward. In terms of segmented conversion groups, some of the most important ones include:
Making a purchase on your website

Downloading any form of data, asset or content

Subscribing to your mailing list

Engaging with your customer representatives
The combination of above-mentioned conversion groups will amount to what is referred to as "total conversion rate". Logically, you should aim for a high total conversion rate number as a baseline for your business' growth in the digital market. If these numbers fall off over time, you should reevaluate your approach to digital advertisement and refocus your efforts to attract more leads going forward.
2. Bounce Rate
One of the more popular and well-known but still highly-relevant metrics out there is bounce rate. Bounce rate represents the number of people who've literally "bounced off" from your landing page or a digital marketing link without following up on it. Your bounce rate should be kept to a minimum, apart from when you use product pages and sales campaign catalogs as the direct access point for your visitors.
If your bounce rate is high, that means that your landing page is unappealing or that the traffic you gathered was expecting something different than what you provided. In that case, you should make sure to readjust your digital marketing strategy to better reflect the actual value of what your products or services can offer in order to reduce your bounce rate and increase the overall appeal of your brand.
3. New and Returning Visits
As a digital business, your goal should always be to attract more visitors than the week or month before. However, it's worth differentiating new from returning visitors for multiple reasons. Returning visitors are more likely to convert into customers or interact with your website in a meaningful way. New visitors, however, will be harder to persuade when it comes to subscribing to your newsletters or accepting a tempting sales offer.
Make sure your website content is optimized for conversions with a strong CTA. The importance of new and returning visits is equal in measure and their growth will undoubtedly have a positive impact on your business' bottom line – make sure to track both metrics.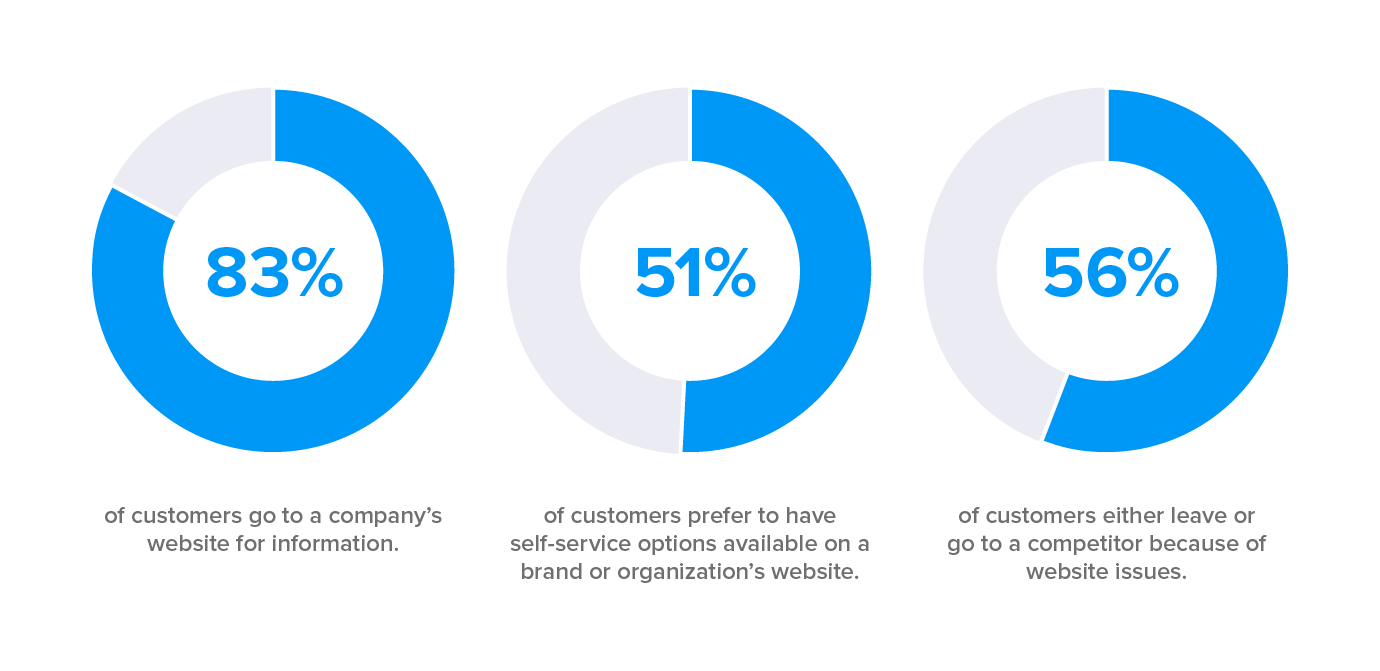 4. Page Per Session
Your landing page is arguably the most important part of your website and should be designed with extra care. Once a visitor comes across your website through the digital marketing content you published, your aim should be to keep them there so that this visitor becomes a new customer.
Page per session is a metric which is pretty self-explanatory in terms of what type of data it will provide you with. You want to have a higher page per session since it's proof that your visitors are navigating your website and want to know more about what you have to offer. Elements such as internal links, sales offers, calls to action, highlighted blog posts and products should find their way onto your landing page.
5. Average Time Spent on the Website
You can measure the relevance of your digital marketing content pieces such as blog posts, visualized data and others through a metric commonly referred to as "average time spent on the website". As the name suggests, this metric will inform you of the average time a visitor spends on your website. This data is highly relevant to the way you treat content production and marketing campaign ideation since it will help you understand what works and doesn't work for your target audience.
If the average time is low, it means that your content doesn't reflect the visitors' expectations and that they don't find it engaging. The opposite will inform you of how well-made your content is and that you shouldn't change your current digital marketing strategy too drastically. Look for creative ways to raise your average time spent on the website and your engagement rate will grow as a result.
6. Click-Through Rate (CTR)
This metric revolves around the number of people who clicked on your ad, no matter where it was posted. The click-through rate, as its name suggests, is the number of clicks divided by your number of impressions. 
If your CTR is high, that means your ad is well-written and serves the purpose of attracting a certain type of customer to your products or services. Should your CTR drop considerably, you should reevaluate your digital marketing content elements such as the ad's title, metadata, demographic targeting, timing and/or keywords. CTR is an important tracking element worth keeping an eye out no matter the communication channel or scale of the advertisement campaign currently underway.
7. Traffic by Channel
The main point of your digital marketing should always be centered on attracting visitors to your website in order to subsequently turn them into leads and customers. As such, it's important to identify the main access points of your visitors by tracking your traffic by channel. It will allow you to easily segment your audience based on the communication channel they used to access your website, may it be organic traffic, or through paid channels. The sources worth keeping in mind include:
Direct traffic

– This is the number of individuals who manually typed out your URL. This is the result of your entire marketing efforts since the more your brand is known, the more it'll increase.

Organic search traffic

– This number represents the number of individuals who found your brand organically through search engines such as Google.

Referral traffic

– This is the number of people who arrived on your website through another website, such as a blog post linking to your site as a reference.

Social media traffic

– This number will showcase the number of visitors who came to your website through a

social media platform

such as LinkedIn, Twitter, Instagram or Facebook. 

Paid traffic -

Traffic coming from your paid ads, either from Google Ads, Facebook ads, or others. 
8. Mobile Traffic
Mobile traffic should never be underestimated as a relevant source of incoming traffic and revenue for an online business. According to Hosting Tribunal, over 62% of the world's population owns and actively uses a smartphone device, as the global share of desktop internet traffic has shrunk to 48% of the total in 2018. Given the sheer number of people who use phones and tablet devices to browse the web, it's worth keeping their number in mind in regards to your digital marketing efforts.
Mobile traffic is a metric which is self-explanatory as it will allow you to segment your audience based on the type of device they used to access your digital content and website from. If the number grows considerably over time, you can try adjusting your digital marketing content production pipeline to better reflect the needs and expectations of mobile users. Content elements such as shorter paragraphs, informative and personalized tone of voice, as well as well-optimized multimedia all serve to attract even more mobile users. Not to mention the positive effect the inclusion of these elements will have on your website's SEO and search engine ranking as a whole.
Conclusion
These are just some of the most important metrics you could track, you can consult this list of the 30 marketing KPIs you should track for a more thorough compilation.
Ask any marketing expert, graduated advertisement specialist or professional tutor about the best marketing metrics to track and they will all give you various answers, from return on investment to pageviews, customer lifetime value to the number of unique visitors it can vary tremendously since there are multiple marketing channels, and campaign types like email marketing, social media, or SEO. The truth is that the best way to sell your products online and maintain good customer relations is through monitoring what works and what doesn't so you can develop better strategies adapted to your business.
A great way to monitor your metrics is by building your own dashboard with your favourite actionable KPIs, you can use a template to help you get started and looking at those results on a regular basis will help you drive better decisions.