September 6th, 2013 — 12:29pm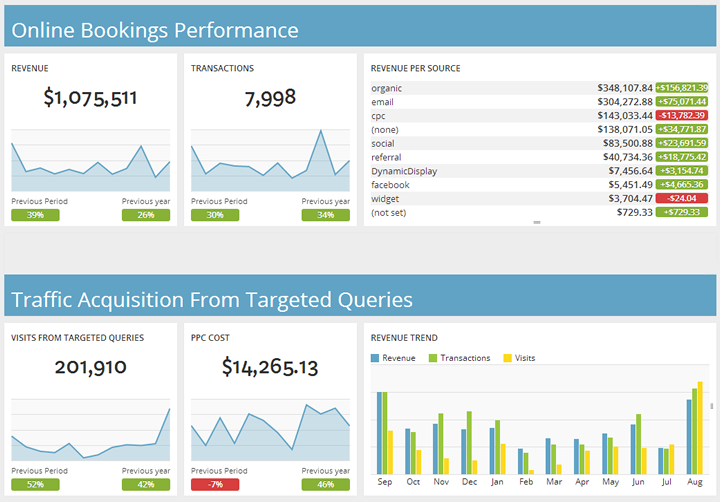 We love our users and we want them to create better dashboards. That's why we intend to provide you tons of Google Analytics dashboard examples. This is the first of the series and it is about a dashboard intended to a hotel manager. The goal of  of this post is to help you set up your hotel KPI dashboard.
First, the objectives.
As always, before throwing up tons of random statistics, we need to know what to measure. And to do this, we need to know what the website's objectives are. In the case of our hotel manager, business objectives could be:
Increase online bookings. That's the bottom line for everything: Drive business!
Drive more traffic from specific queries (a town event for example)
Engage with users, i.e. don't let them go without having a foot in the door since it cost you money to get them to visit you.
Second, the KPIs.
Let's think of 2 or 3 KPIs for each the objectives. A good objective has to be measurable.
# Increase of online bookings
Transaction revenue
Transactions
Revenue per source
# Drive more traffic from specific queries
Visits from those queries
Transactions from those queries
Top converting queries
Cost of PPC advertising
# Engage with users
Newsletter subscriptions
New Facebook fans
Twitter followers
Facebook fans engagement rate (are they just liking or they are engaging with your content?)
Third, the dashboard with your hotel KPI.
That's the easy part. Using DashThis, once you know what KPIs you have to do it's only some drag'n-dropping.
You have to use the Advanced Editor to create widgets on a specific goal. For example, to create a widget for the number of newsletter subscriptions.
Bottom line
Creating a dashboard for a hotel manager is quite easy when you follow this simple process. The hard part has nothing to do with any tool though. It's about understanding the business and how to measure its success.
If you ever need to chit chat about your dashboards, don't hesitate to drop us a line.
» Try DashThis and create a dashboard in less than a minute