Search engine optimization is a key part of any digital marketing strategy. Equally important is the ability to monitor SEO performance so you can ensure your SEO efforts are paying off. A Google Analytics SEO dashboard will let you quickly and easily track your SEO analytics data - this means you spend less time sorting through SEO data and more time adding value for your clients.
This guide to the best Google Analytics SEO dashboards gives you everything you need to know to get started, including some templates to get you going!
What is a Google Analytics SEO dashboard?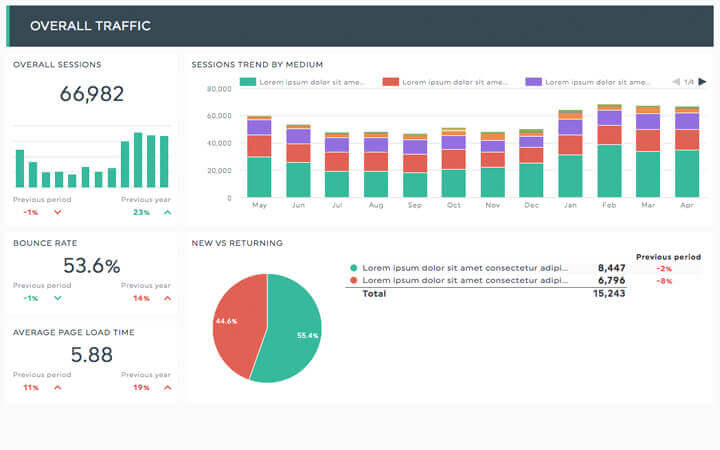 A Google Analytics SEO dashboard is a complete dashboard with data from Google Analytics, enabling digital marketers to track and act on their SEO results.
To create your dashboard, you can use a digital marketing tool like DashThis that lets you visualize all your SEO metrics and KPIs from Google Analytics. You're able to select only those metrics and KPIs you want to track and you can also easily create beautiful reports to send to clients, managers, or your team.
Why should you use a dashboard?

Simple: a dashboard is an intuitive, customizable, and powerful reporting tool. Google Analytics reports can sometimes be a bit clunky and they can lack key information that you need to get a full understanding of how your SEO campaigns are performing. With a DashThis dashboard, on the other hand, all you have to do is link your Google Analytics account, select the metrics you want to track and we take care of the rest. SEO reporting has never been easier.
What should you include in your SEO dashboard?

You need to ensure you're tracking metrics and KPIs that give you concrete insights into SEO traffic. There are different ways you can go about improving organic traffic (backlinks and link building, improving page load time, or rewriting landing pages, for example) each of which has different metrics attached to them. However, there are some basic metrics and KPIs you'll always want to keep your eye on when it comes to SEO:
Organic sessions - this is SEO in a nutshell. Organic sessions tells you how many of your website visits are coming from organic search results
Top organic landing pages - this tells you which of your landing pages are pulling in the most organic search traffic
Organic conversion rate - this tells you how many of your organic visitors are converting on your website (converting is just taking a specific action, like making a purchase)
Top organic keywords - this tells you which keywords are bringing the most organic traffic to your website
Organic bounce rate - this tells you how many organic visitors left your website after viewing only one page
Click through rate - this tells you the percentage of people who clicked on one of your links that's appeared in their search results. It's a good metric because it tells you not only how you're ranking in the SERPs but also how appealing your content is.
Which SEO dashboard should I use?
DashThis has created a bunch of preset templates you can use to get started. Here are a few of our top marketing dashboard recommendations for SEO:
How to create your own SEO dashboard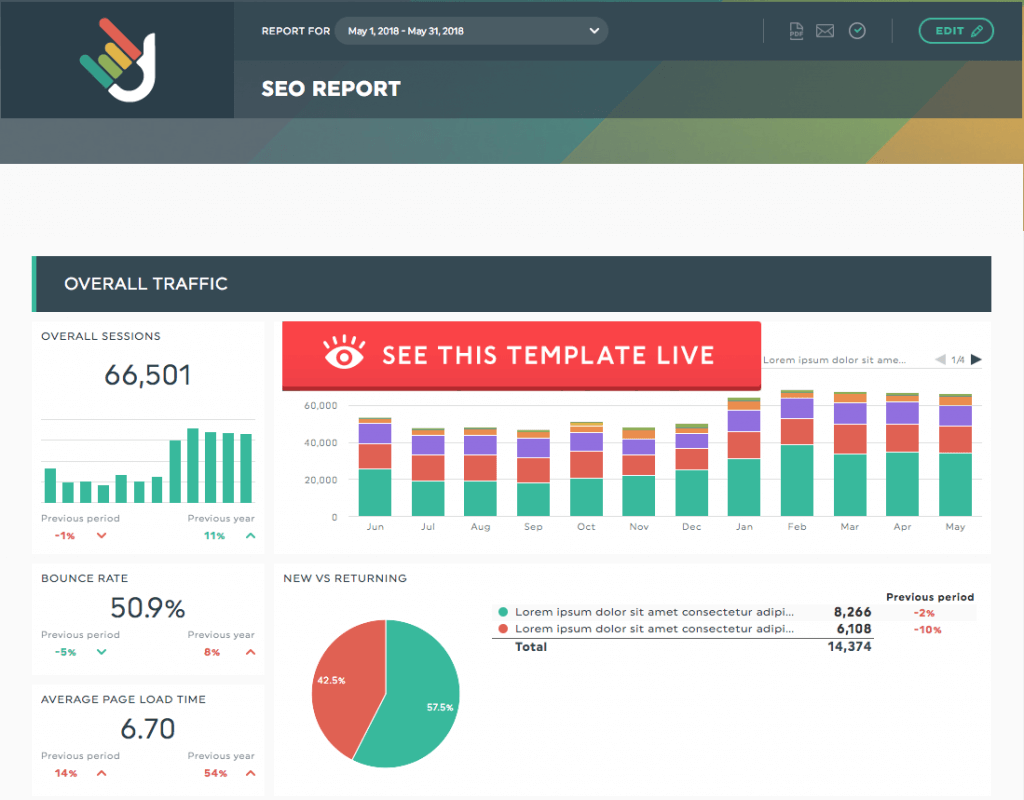 It's easy to get started: create a DashThis account (you just need an email address and a password), select your data sources (we support over 34 integrations, from Google Analytics to Moz to Bing and more!) and your template (or create your own custom template) and you'll be ready to go. It's really that easy.
Here's a short video showing you exactly how: 
And, if you have a custom data set you want to use you can upload it in a CSV file and we'll take care of the visualization for you.
Best of all, our dashboards are fully customizable so you're never locked into an unchangeable selection of KPIs. You can choose where and how your data is displayed in your dashboard (line graph, charts, tables) and add data from other sources to see how, for example, your SEO and social media campaigns are working together. We even have white-label options so your dashboard can reflect your business' branding. Once it's set up just how you want, you can save it and reuse it over and over again so you don't have to build it from scratch for a new project.
At the end of the day, Google's Analytics' SEO reports are alright but they don't let you do all this.