KeyMetric is a well-known company used for mobile analytics and call tracking. Since they have an API, you can add your data from Keymetric to DashThis!
1 – Connect your account
Connecting Keymetric to DashThis requires two easy steps!
1- In the Integration Manager, choose Keymetric and click on Add.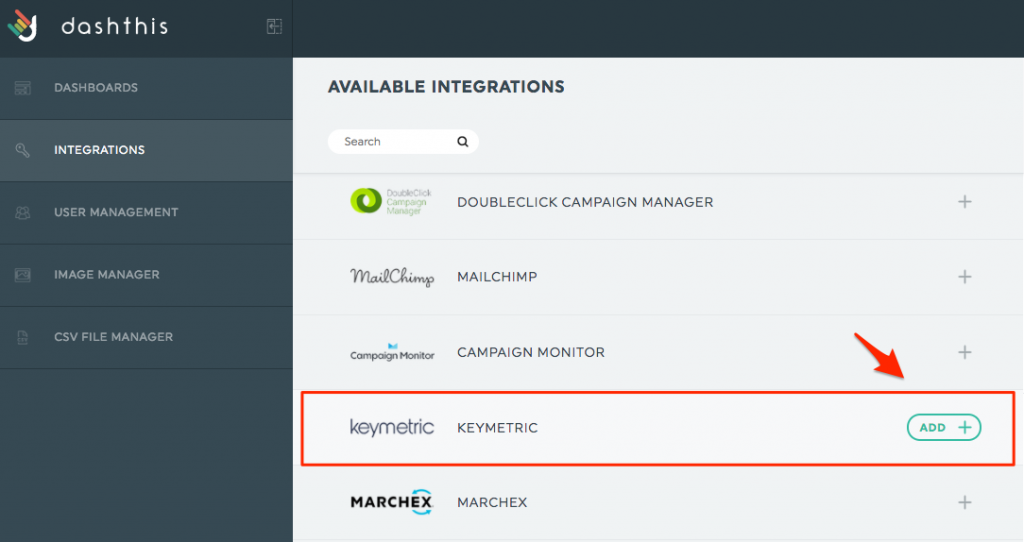 2- Enter the credentials of your Keymetric account and click on Add.
Your account now appears under the section Integrations in use.
You're done! You can now add your Keymetric data to your dashboards!
2 – KPIs, metrics, and dimensions
The following standard KPIs are available from the Preset Widgets drop-down menu:
• Total number of calls
• Calls by source
• Calls by status
• Avg. call duration
The following metrics and dimensions are available:
Metrics:
• Average call duration
• Number of calls
Dimensions:
• Ad Group
• Campaign
• Sales Disposition
• Call status
• Call source
Still have questions? Drop a line to our support team!
You're still not a DashThis user? Try our tool for free!