We all launch email marketing campaigns to build confidential relationships with subscribers and enhance customer retention. From one side, this can bring impressive results if the campaign turns out successful. On the other hand, there is always a risk of failure. Just imagine if all the recipients from your mailing list are unhappy with the email they got. A reasonable question is how to avoid such a disruptive experience. The answer is email testing. If you first test your emails and then send them, you can significantly reduce the risk of error. Let's explore how you can do this.
Why you should test emails

Here is what can go wrong with an email you sent without testing:
The email was not sent from the app
The SMTP server can't relay the email
The email bounced
The email ended up in the spam folder
The email doesn't have a proper look at the recipient's device, browser, or email client
The email's HTML is broken
The email text is full of spelling errors

Based on these, email testing consists of three main stages:
Testing of email sending capability
Deliverability testing
Email content testing

If you check your email campaign by each of those, your chances for success will be much higher. It's not rocket science!
For each stage, you can use dedicated email testing tools, and we'll guide you through the best email testing tools available so far.
Tools to test email sending capability

As a rule, this stage consists of two substages: test email sending and SMTP relay server testing.
Test email sending with Mailtrap

Mailtrap is a universal testing solution that allows you to send test emails, check emails for spam and many more. At the heart of Mailtrap lies a fake SMTP server. So, you don't have to use a real mail server and email testing will be isolated from production. In practice, this means that none of your test emails will get to real recipients.
To send a test email you need to:
Sign up to Mailtrap.io
Use SMTP/POP3 server credentials to configure your development environment. Alternatively, you can use one of the pre-generated integrations for Ruby, Python, Node.js, etc.
Send a test email and check the Demo inbox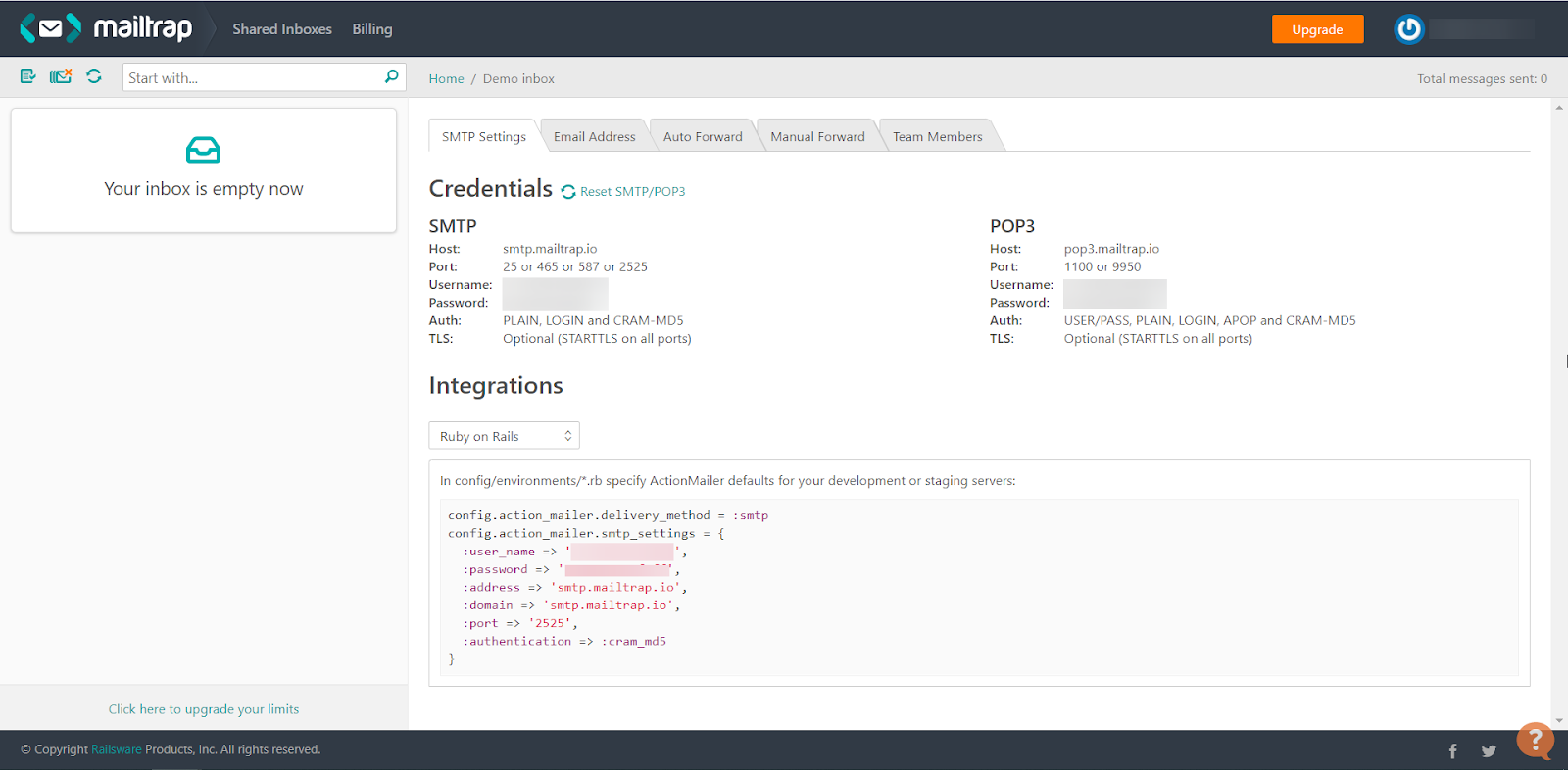 Does it look simple? It really is and that's why many prominent names such as Atlassian or Pivotal Labs have this email testing solution in use. You should definitely try Mailtrap as well.
What you can use instead: MailCatcher, MailHog
SMTP relay server testing with MX Toolbox

Once you've made sure that emails go out of your app, you can check the functionality of your SMTP server. You can use Telnet, which is the most common way to check whether the mail server allows for relaying of a particular domain. However, we suggest you check out a web-based solution called MXToolbox.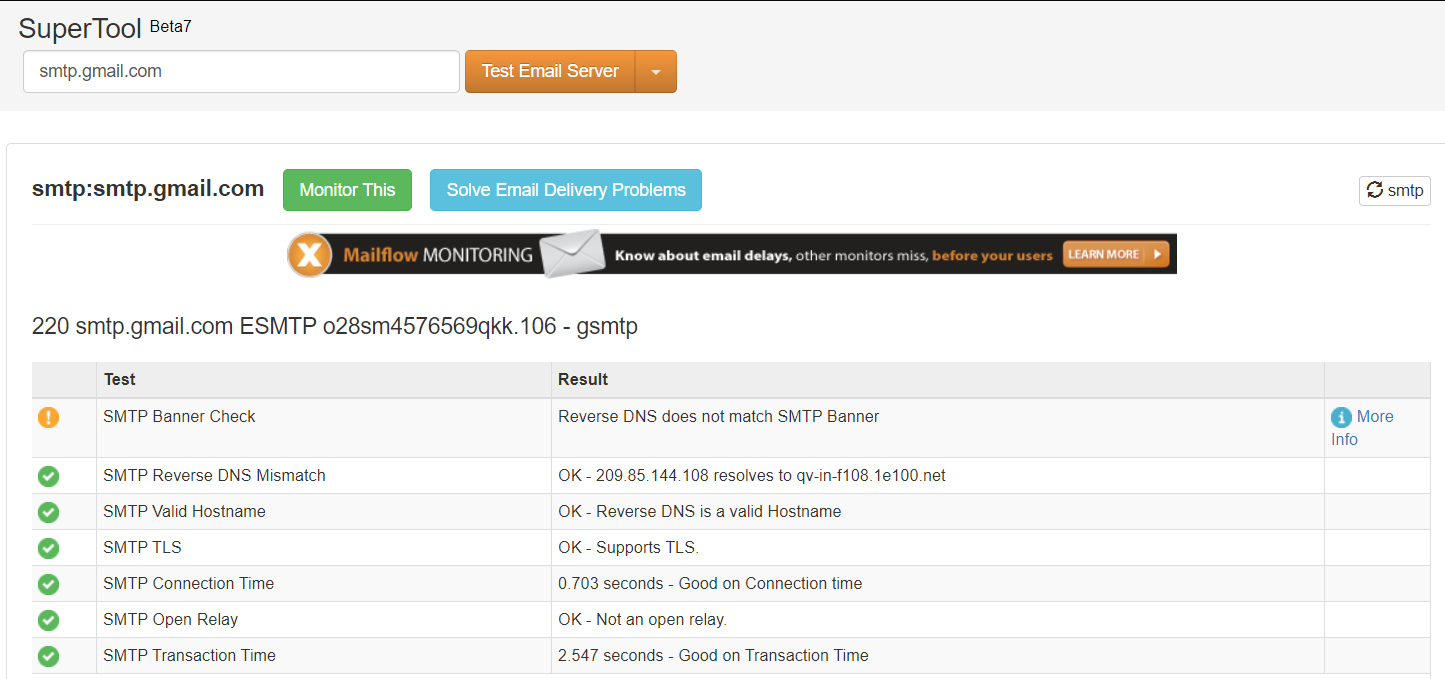 The testing flow is rather simple. You need to enter your SMTP server name and click Test Email Server. Then you get a session transcript displayed. MXToolbox also provides tests of MX record, DNS, blacklist, and SMTP in one go. If you want to perform a particular test or lookup, use a special command, for example, "blacklist: smtp.example.com".
What you can use instead: SMTPer, GMass
Deliverability testing tools

Now you know that your email goes out of your app and gets relayed by the SMTP server. But will it end up in the recipient's inbox? That's a question because it can be trapped as spam or simply bounced. This will bring to naught all your efforts invested in the email campaign. Email deliverability check is meant to cope with this and show whether the email will trigger spam filters. Here are some tools to consider.
Test deliverability with Mailgun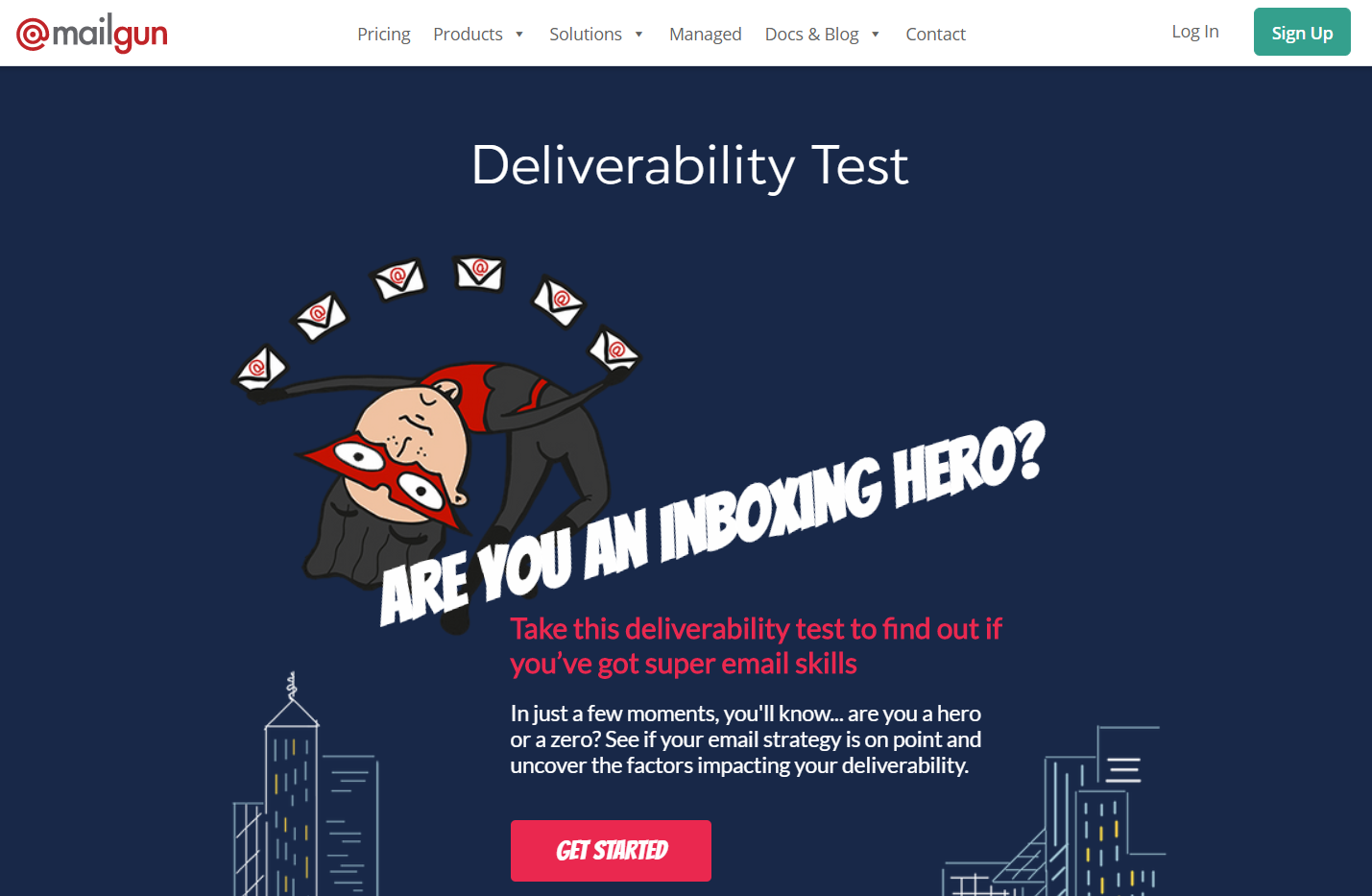 Mailgun provides a rather sophisticated mail deliverability test. This service also offers a few solutions to improve the deliverability rate, such as email authentication, email address verification, and others. Managed deliverability services are another Mailgun's feature that provides customized strategy, custom reverse DNS, dedicated IP subnets, and so on.
What you can use instead: Mailosaur, SendForensics
Test deliverability with Sendinblue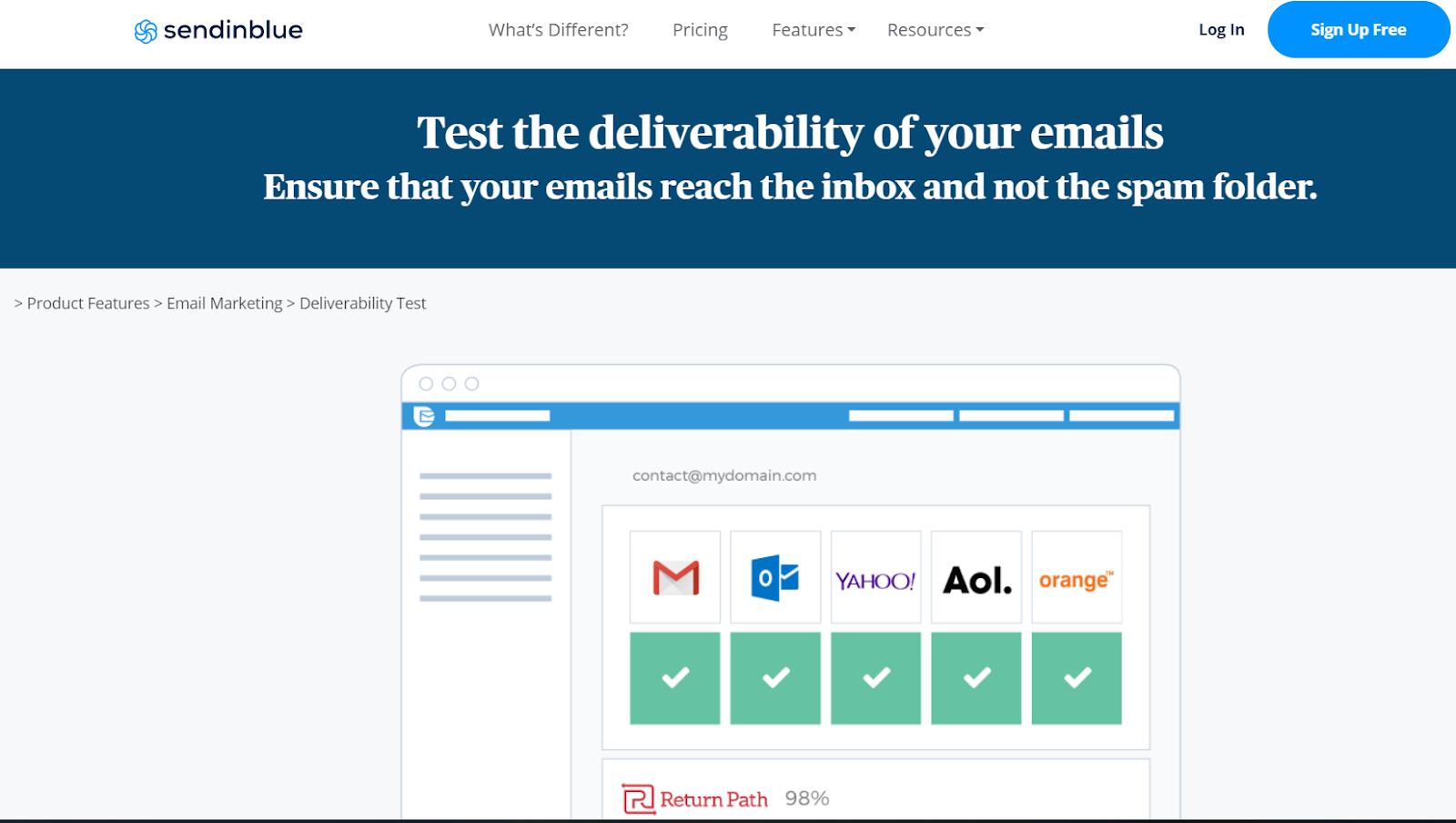 Sendinblue is a marketing suite for small and medium-sized businesses. This tool allows you to test email deliverability, as well as manage email campaigns, send text messages, and many other digital marketing things. To test your message, you need to send a test campaign to a list of contacts. After that, execute an inbox test and that's it.
What you can use instead: Mandrill, Mailtrap
Test your emails for spam with Mail Tester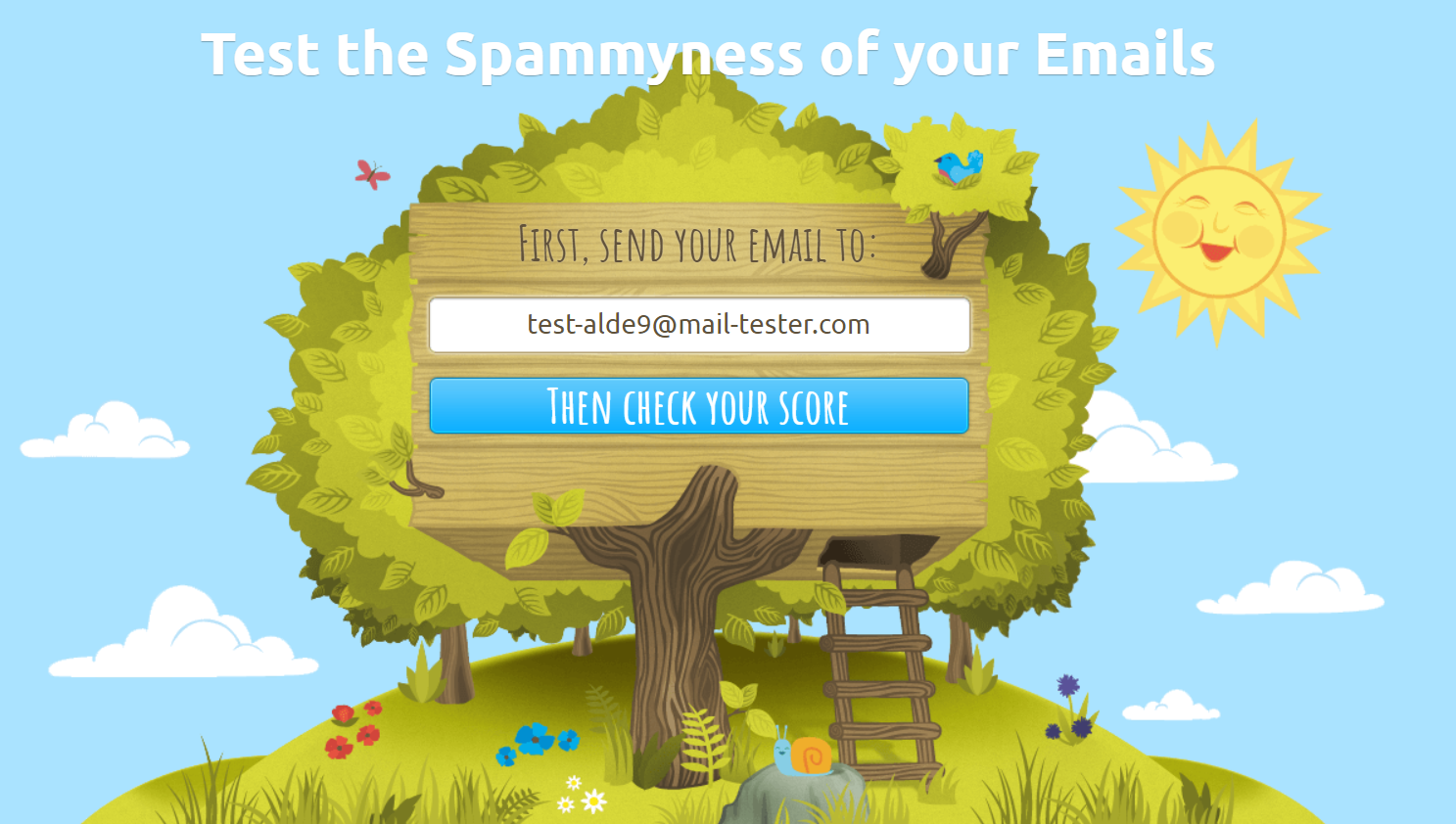 This spam checker is the easiest way to learn how spammy your email is. Mail Tester generates an email address to which you need to send your email campaign. Once you've done this, click on Then Check Your Score. The tool will show a report with a detailed spam analysis of your email. The higher the spam score you get (maximum is 10), the better.
What you can use instead: GlockApps, Postmark
Validate recipient's email address with NeverBounce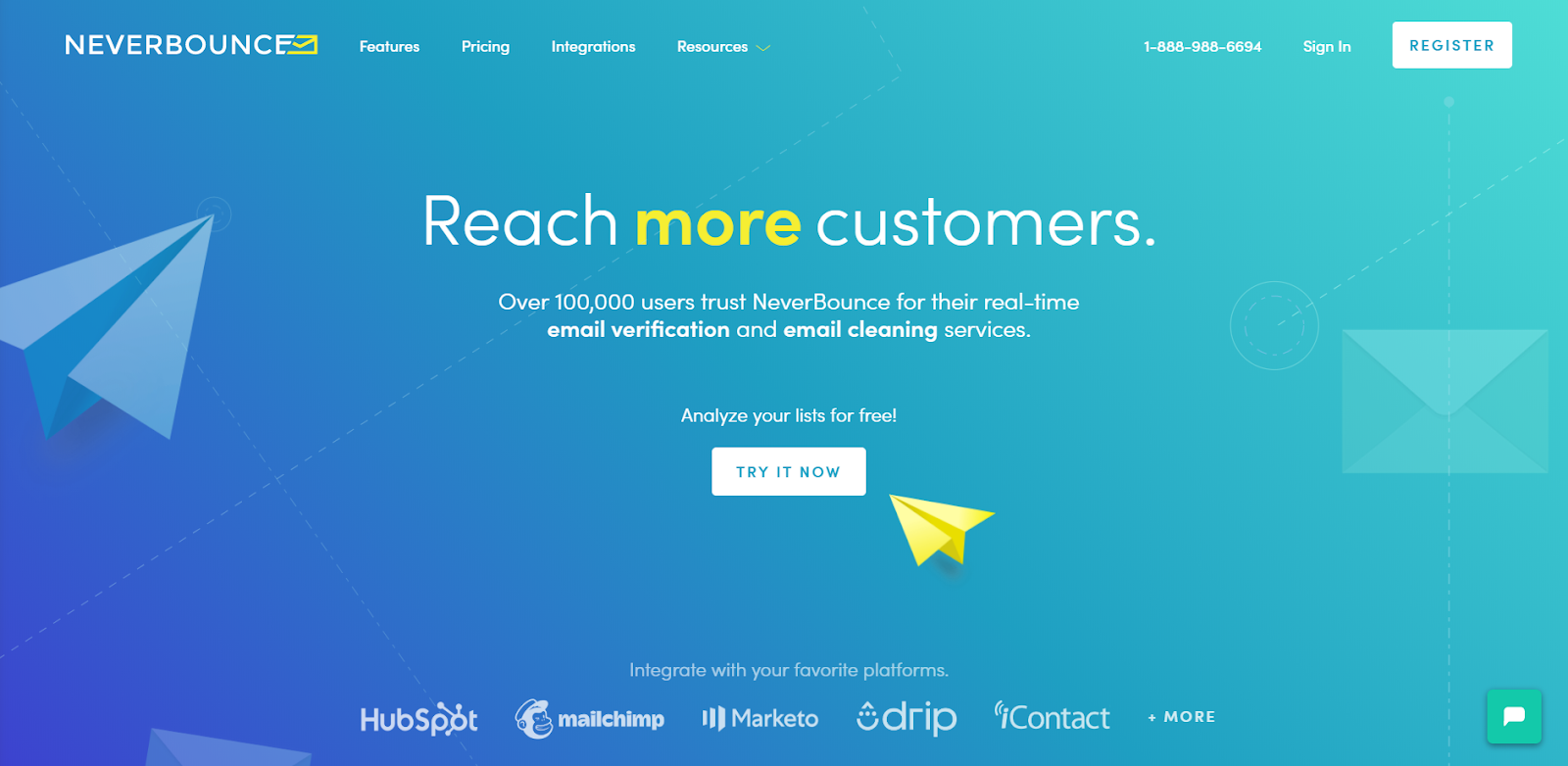 Email address validation matters to decrease the bounce rate. NeverBounce is a service that allows you to check bulk mail lists fast and reliable. For example, you'll need 10 minutes to have 10 thousand email addresses verified. The validator is connectable, so you can export your lists from the tool you use such as SendGrid or Salesforce. The accuracy of the analysis is expected to reach 99%.
What you can use instead: TheChecker, MyEmailVerifier
Tools to test email content

When you're sure that your email sending works well, you can close the hood and get to testing email content. This includes checks of subject line, body copy, and HTML text. Also, you should preview your email at different email clients and devices (mobile devices like iphone and android vs desktop, gmail vs outlook etc.). You should also take into consideration the need of creating quality email templates if it refers to your old or new clients. Here is what you can use for that.
Subject line testing with Email Subject Line Grader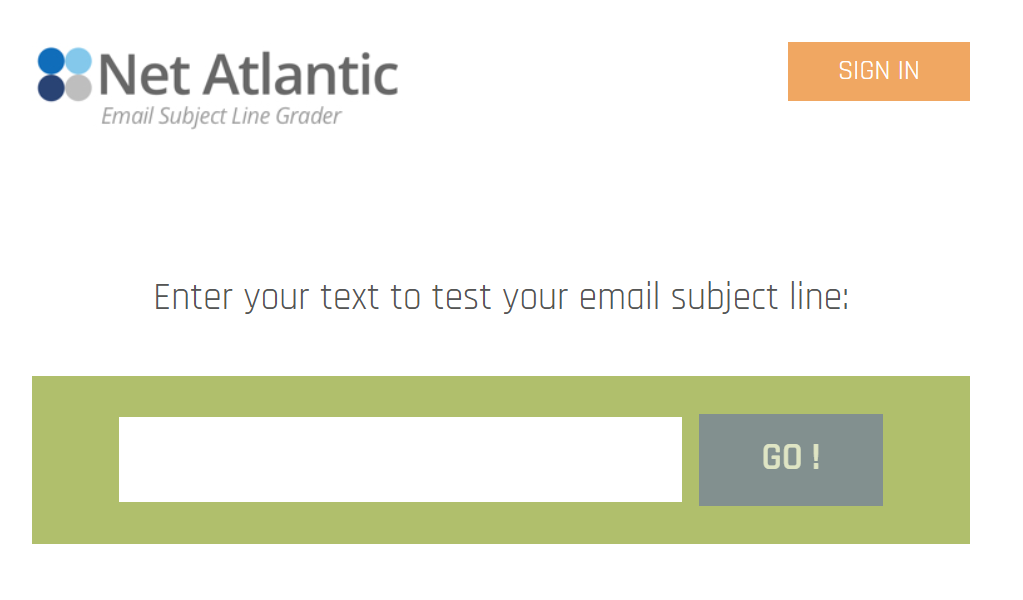 Most of the available tools set a grade to a subject line you're checking with them. Email Subject Line Grader additionally explains what you missed and how to fix that. For example, here is how it may look:
This is a more general type of headline. Perhaps try asking a question, or making a provocative statement."How to" headlines also normally get higher response.
What you can use instead: Subject Line, Send Check It
Check body copy with Grammarly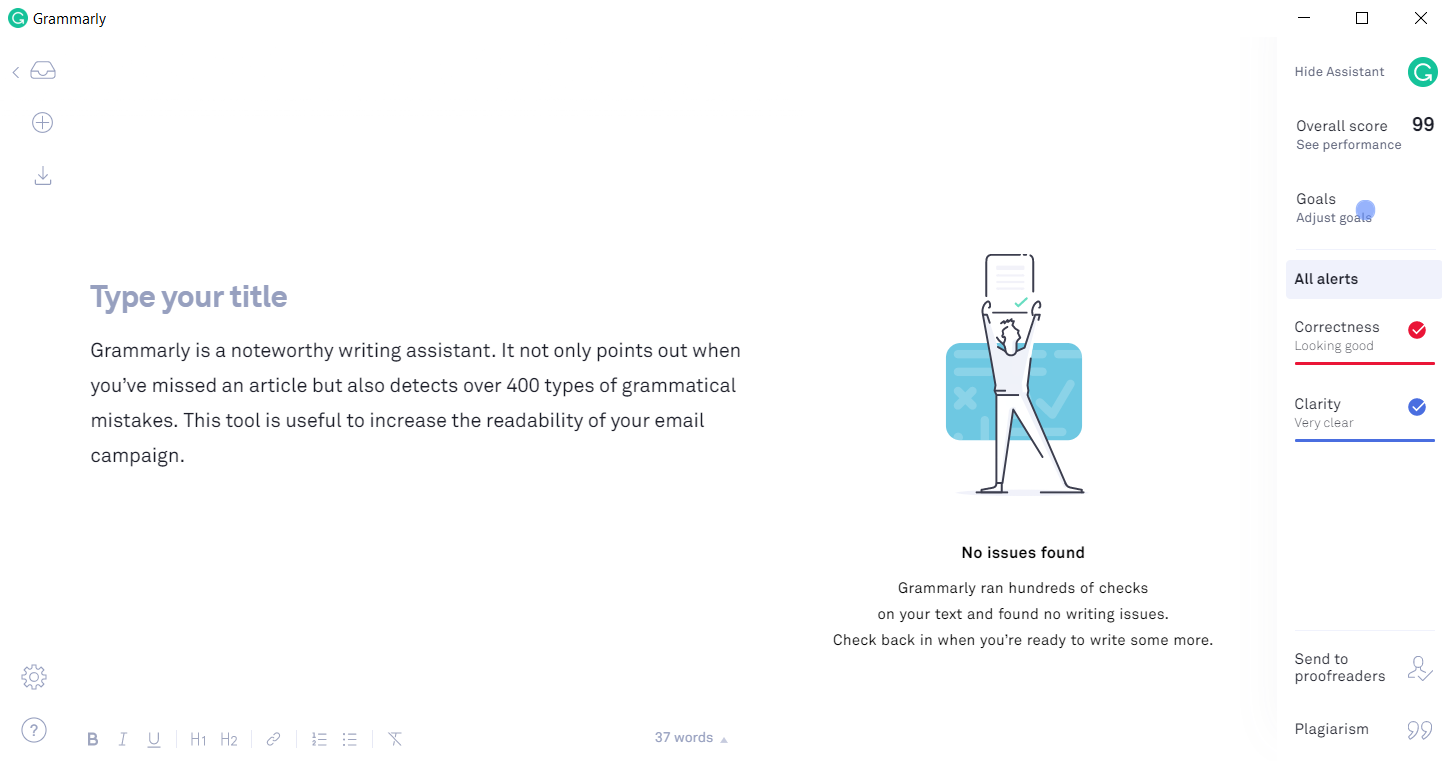 Grammarly will help you brush up your grammar. This tool can detect over 400 types of mistakes. You can also use it as a proofreader to improve the readability of your email body copy.
What you can use instead: WhiteSmoke, Ginger
Check body copy with Hemingway App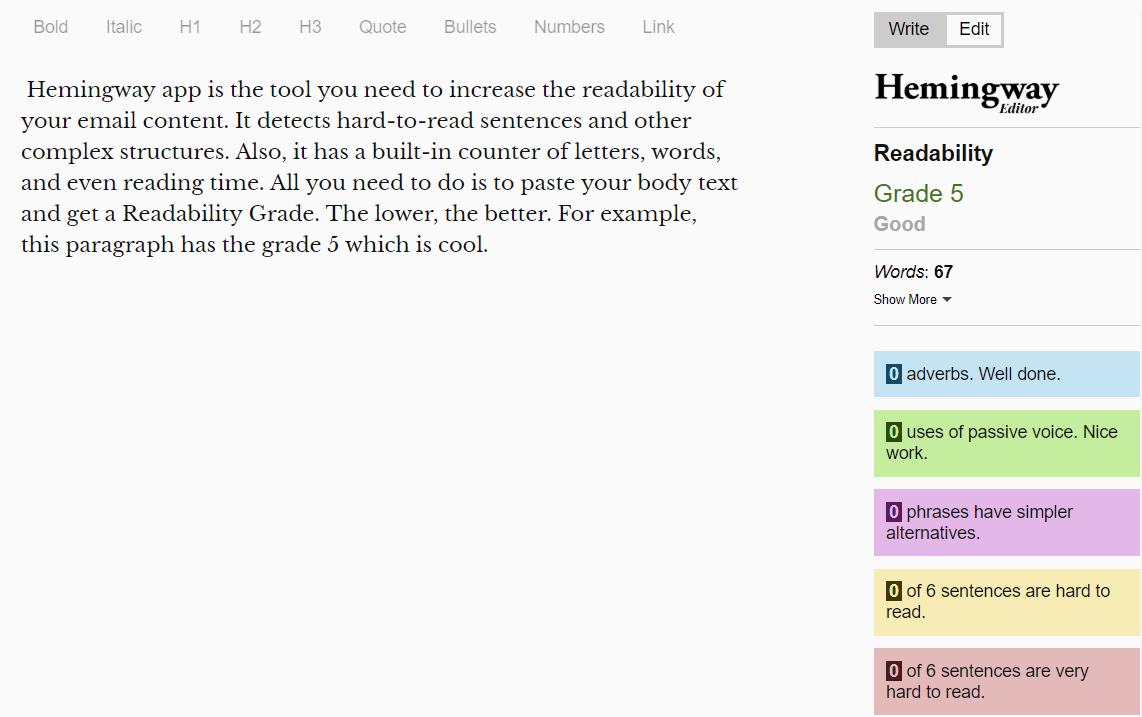 Hemingway App is not an alternative to Grammarly since it is aimed at the text readability. The tool shows how difficult-to-read your sentences are. It also detects the number of adverbs, uses of passive voice, and complex phrases. Paste your body copy into the app and get a Readability Grade. Low grades denote better readability. This paragraph, for example, got 6, which is good. :)
What you can use instead: Bear, Manuskript
Check HTML with HTML Email Check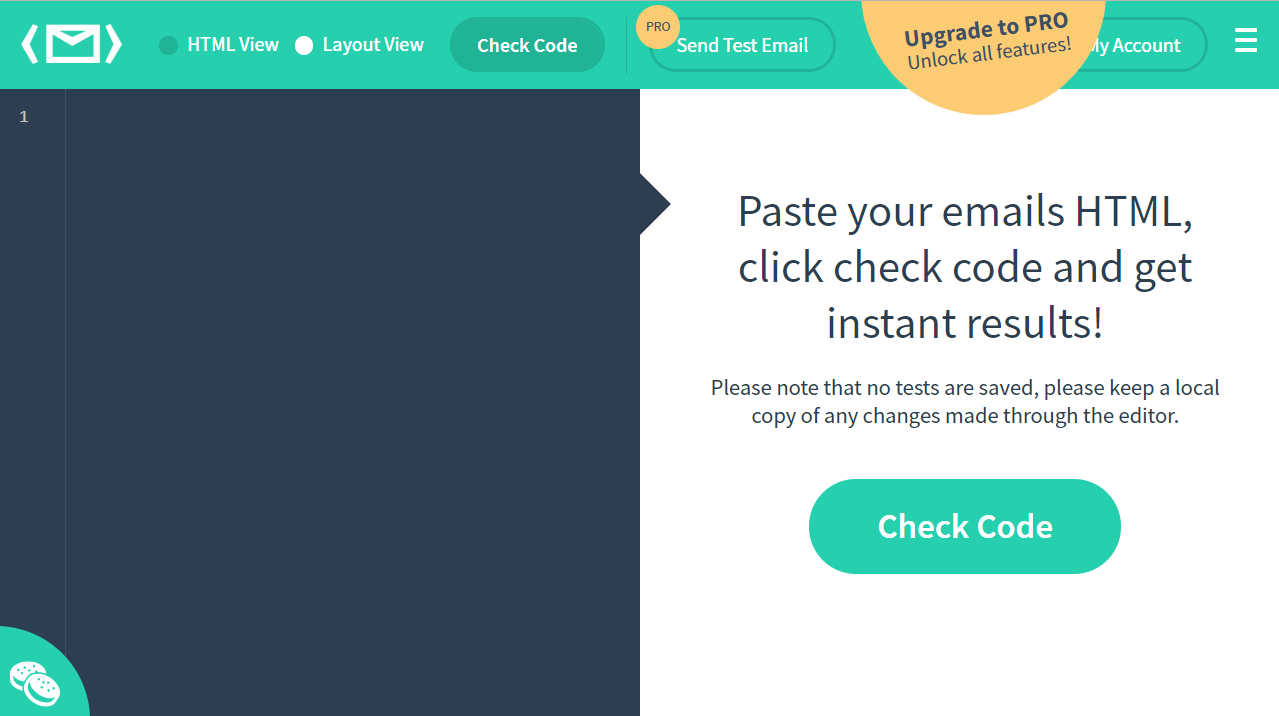 This email testing tool is designed for validating HTML markup, CSS formatting, client-specific styling, and many more. You need to paste the HTML of your email campaign and click on Check Code to get it verified. HTML Email Check is a simple yet reliable tool. However, there are many noteworthy alternatives.
What you can use instead: Email Markup Tester, PutsMail
Preview emails with Litmus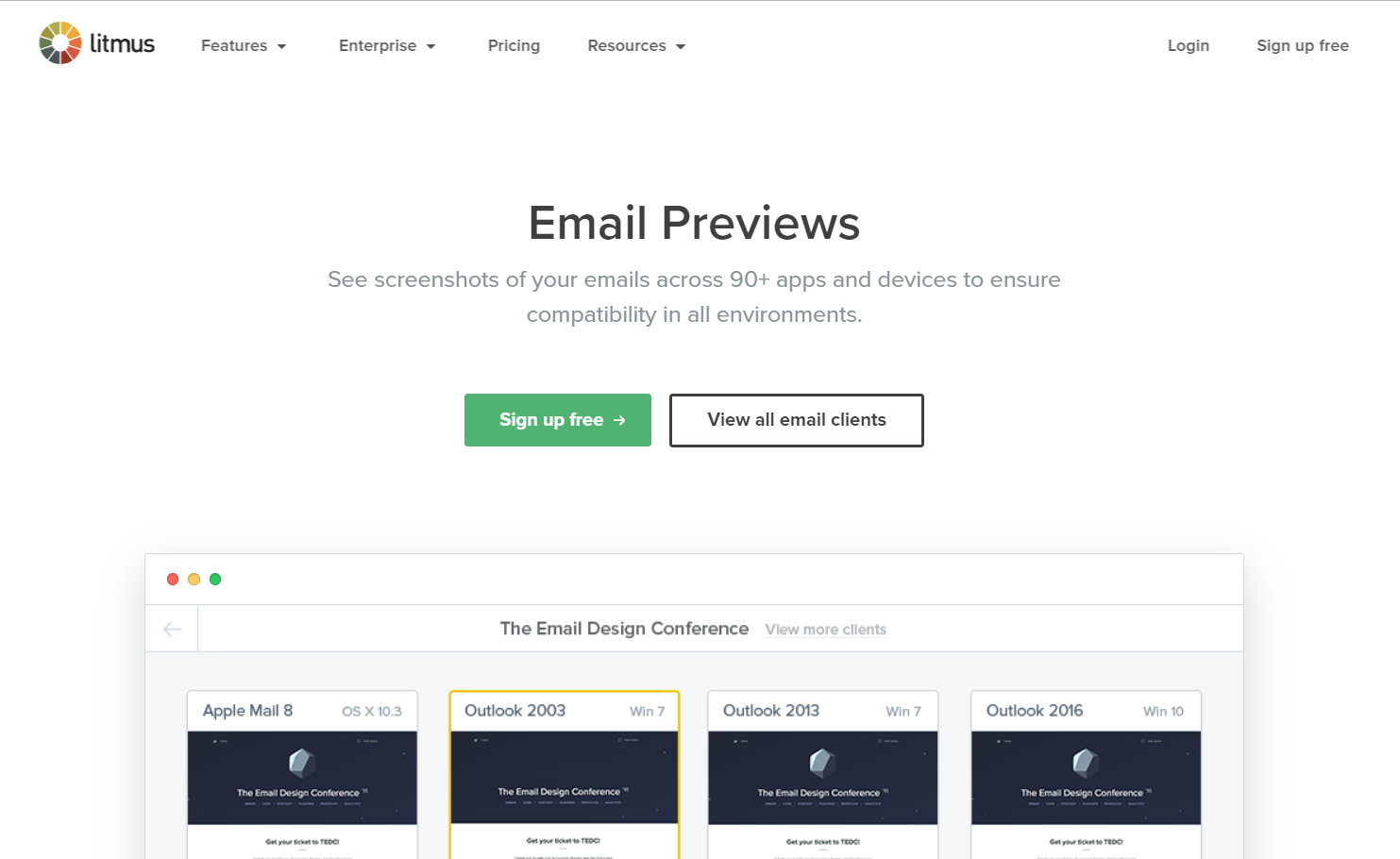 Litmus is an email previewer that can show how your message looks across over 90 apps and devices (Outlook, Yahoo mail, Samsung Mail, iPhone 6, etc.). For example, you can check how your email looks on Apple Mail. Along with email preview, you can use Litmus from spam testing, email analytics, and other valuable email validation.
What you can use instead: Email on Acid, Email Preview Services
Wrapping Up
Did we manage to convince you that email testing is a must for email marketers? Hopefully, we did. The aforementioned toolset is not fixed, and you may find better solutions for checking your email campaigns. Anyway, you know what you need and can enhance these tools with other valuable options to achieve success. So, the best time to send email is when you've tested it in advance. We wish you zero bounce and spam rates, high open rates and steady growth of subscribers. Good luck!