Search Engine Optimization work is filled with multiple tools and every SEO professional has its own set of favourite tools. Usually, the best all-in-one SEO tools are quite expensive and require a monthly subscription. That makes them suitable mostly for bigger companies and agencies that use them heavily and need all the advanced features that these SEO audit tools include.
Smaller companies, however, can rarely justify the cost of expensive SEO specific tools when they might only be used once in a while or just a small part of the features are truly needed. In these cases, it's smarter to use a collection of free tools that, while perhaps not quite as powerful, can do most of the work needed.
There are quite a few SEO tools out there to choose from and for a starting Search Engine Optimizer, it might be difficult to judge what kind of tools are useful. Especially since we are all busy people with other things to do than just sit around testing different tools. To help you out, here are my 15 favourite SEO tools that you can use in your search engine optimization efforts. I've broken the list into few categories to make it easier to find the right tool for the right job.
Technical SEO tools

Technical SEO focuses on making sure that your website is technically sound when it comes to SEO specifications. These tools help you to find and solve technical problems on your site.
1. Google Search Console

The first tool everyone should start using is Google Search Console. It's Google's own tool that is meant to monitor your Google visibility. In recent years the tool has been revamped for better user experience and is now easier to use. With this tool you can find out for example:
Which keywords bring traffic to your site
Average rankings for your pages and keywords
How often you are shown in the search results and how many times your results are clicked
How well your site is indexed to Google database
Find it here: Google Search Console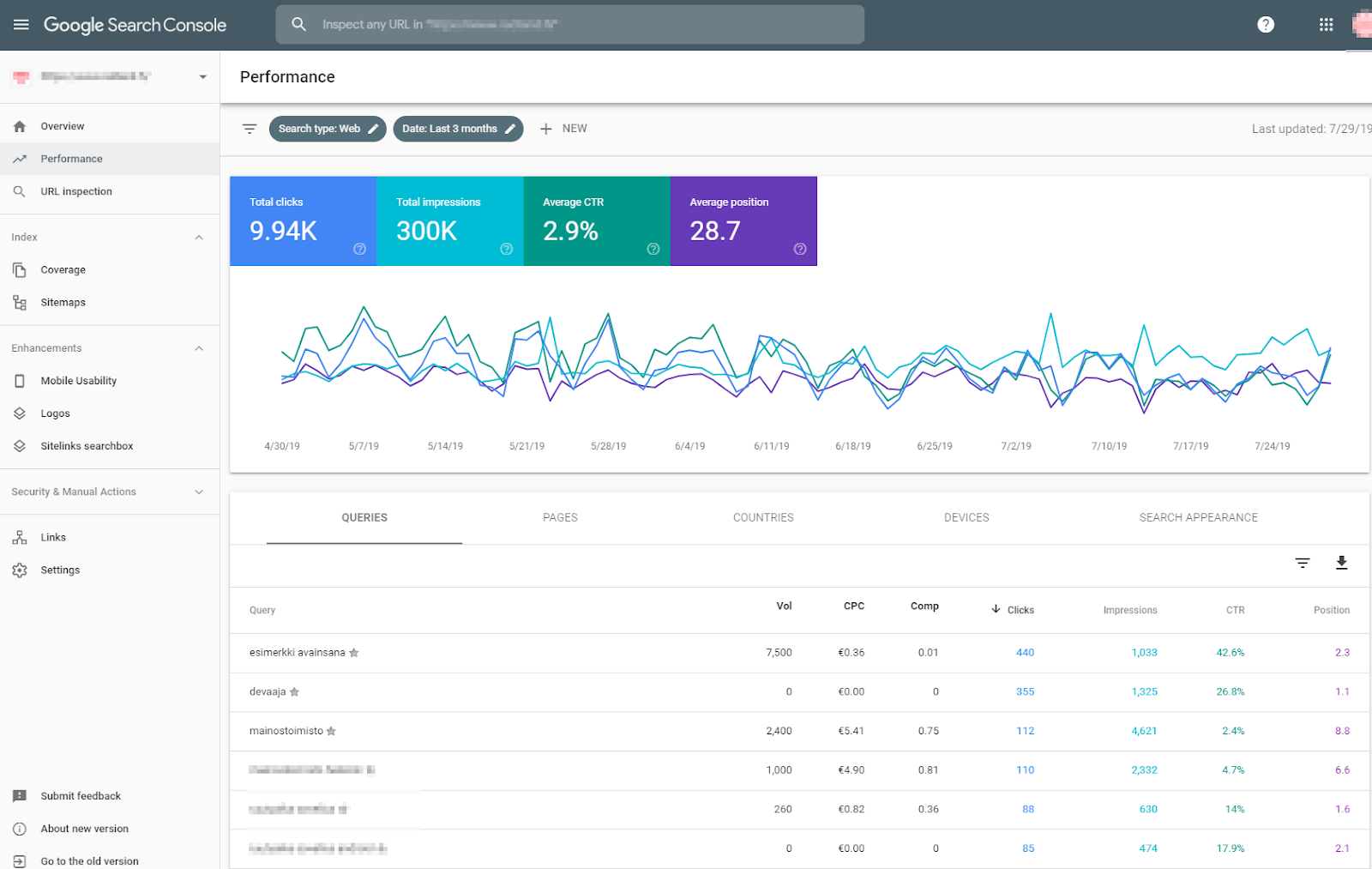 2. Screaming Frog

A great basic tool that crawls through your site and records a staggering amount of useful information from each page. This tool alone can find out most technical problems. For example:
Redirects
404-pages
Images
Titles, meta descriptions and h-headers

Screaming Frog allows you to crawl 500 URLs for free which is enough for many smaller sites.
Find it here: Screaming Frog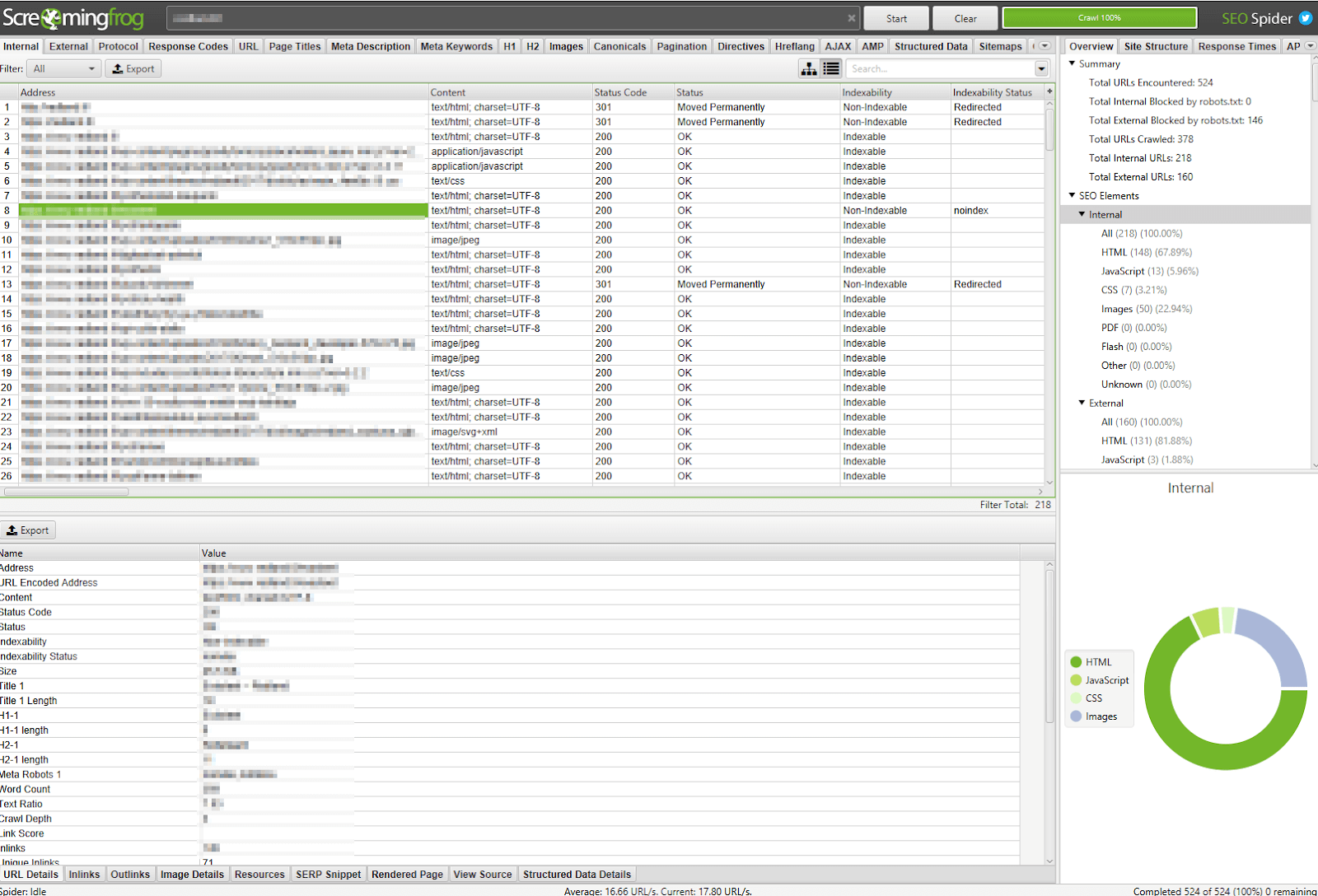 3. Lighthouse
This Chrome built-in auditing tool can be found from Chrome developer tools. Either find it via the menu or simply press F12. Find the tool itself from the Audits tab. This tool can run 5 separate audits on the current page you are viewing. All with the press of a single button. As a bonus it contains links to further explanations of all problems found.
Find it here: Lighthouse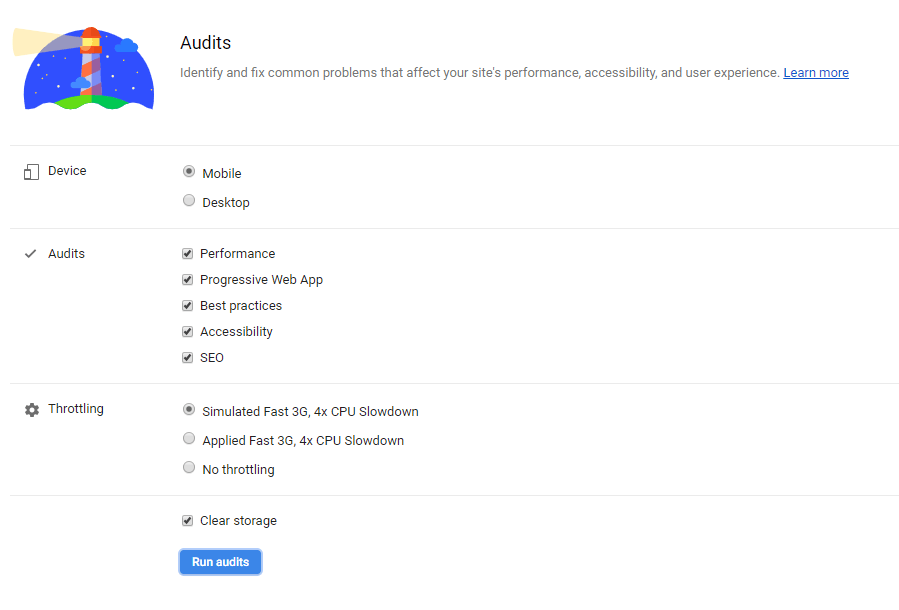 4. Structured data testing tool

Structured data is a useful way to mark information on your page in a way that search engines can easily read and understand. Unfortunately, it isn't always the easiest to implement. Use this tool to find out if your implementation is done correctly.
Find it here: Structured Data Testing Tool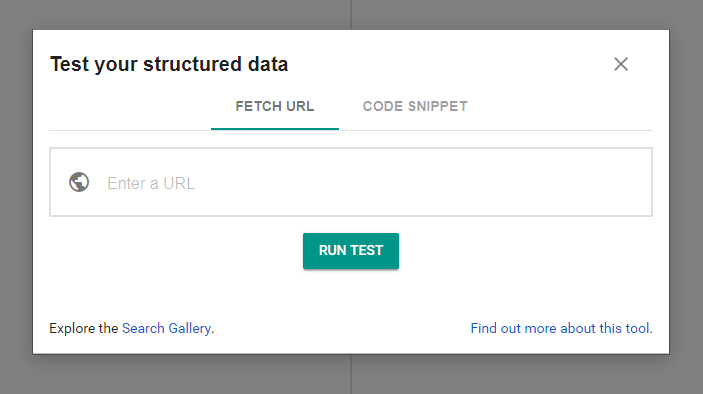 Page speed tools

Page loading speed affects both user experience and ranking. A faster site can give your ranking a boost and prevents users from abandoning your site out of frustration. Which is why it's important to try and optimize loading speed whenever you can.
5. Webpagetest.org

This browser-based tool loads your webpage a couple of times and then gives you detailed information on how fast it loads. As well as a listing of all files loaded and how long each one took to load. This is a great way to find out bottle necks.
Remember also to check for Time to First Byte. You want the first byte to start loading inside 0.5 seconds.
Find it here: Webpagetest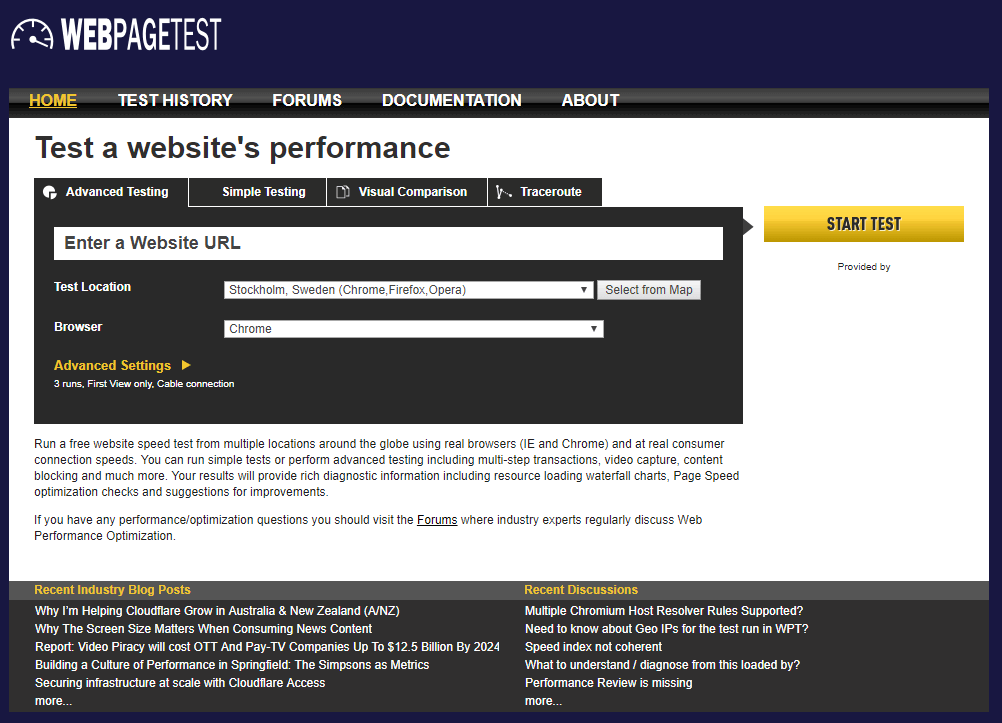 6. Kraken.io & 7. TinyPNG

Two useful tools for optimizing image file size. Both can be used to decrease image file size and speed up page loading times. Best part is you don't have to necessarily reduce image resolution. Large images tend to slow downloading times, especially on mobile devices. That makes image optimization one of the easiest and best ways to speed up your site.
Find it here: Kraken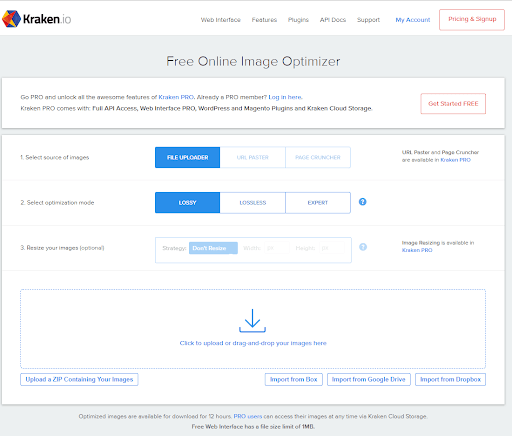 Find it here: TinyPNG
Keyword research tools

Keyword research is one of the first things you should do when beginning to improve your search engine visibility. Knowing your keywords and how you rank with them helps you to focus your improvement efforts to where it matters most.
8. Ahrefs free tools
Ahrefs is a very complete SEO tool that can help you tremendously while doing your keyword research, but if you don't have the budget to buy their paying plans they also offer a plethora of free SEO tools that can really come in handy. 

They have free keyword research tools such as:
A keyword generator
A Keyword difficulty checker
A keyword rank checker
A Youtube, Amazon, and Bing keyword tool

They also offer SERP and link-building tools, like a SERP checker, a backlink checker, a broken link checker, and more. 
Find them all here: Ahrefs free tools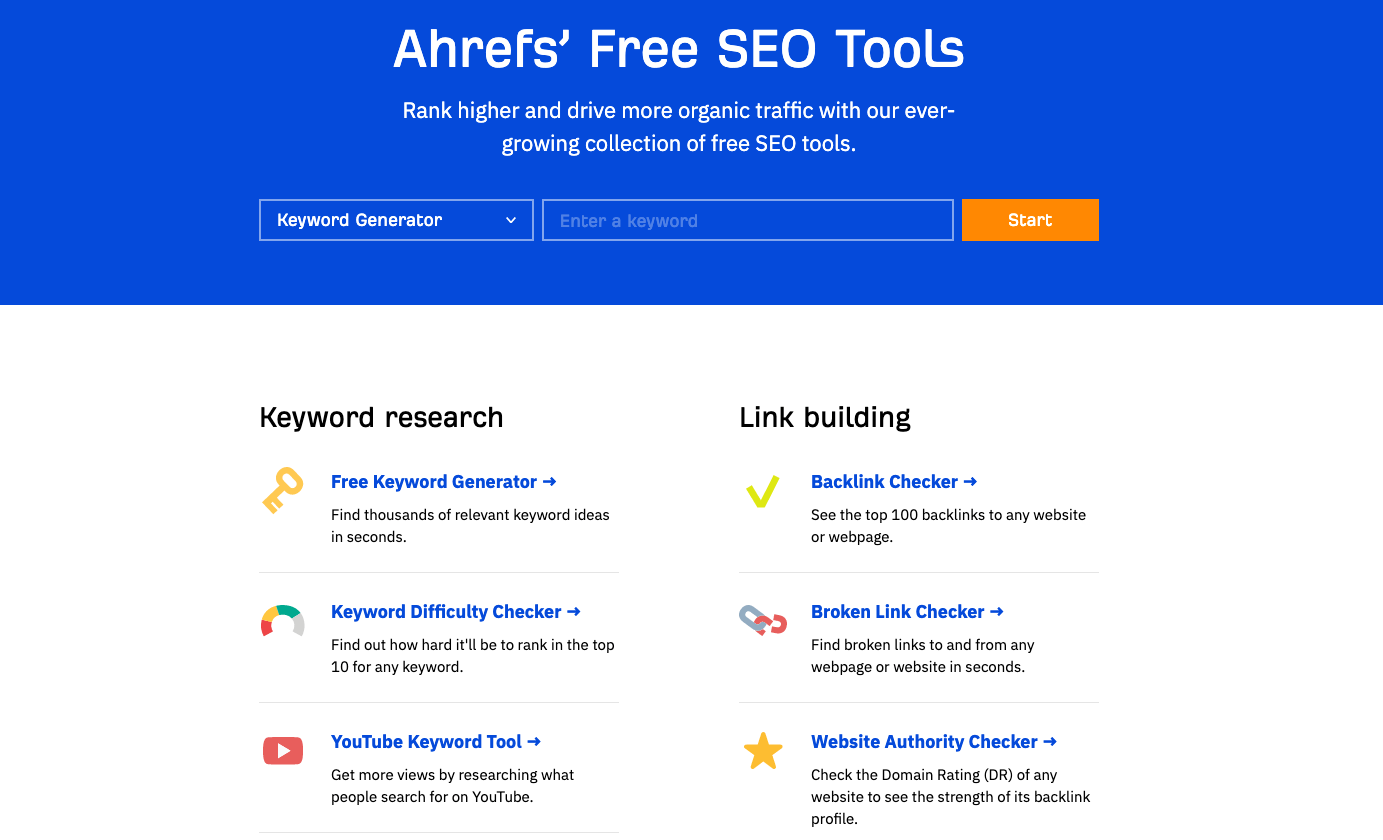 9. Ubersuggest

There are plenty of keyword tools to help you find keywords and check search volume. Unfortunately most of them require some sort of payment to be really useful. One exception to the rule is Ubersuggest that hosts a number of useful functionalities. And all of it for free.
Find it here: Ubersuggest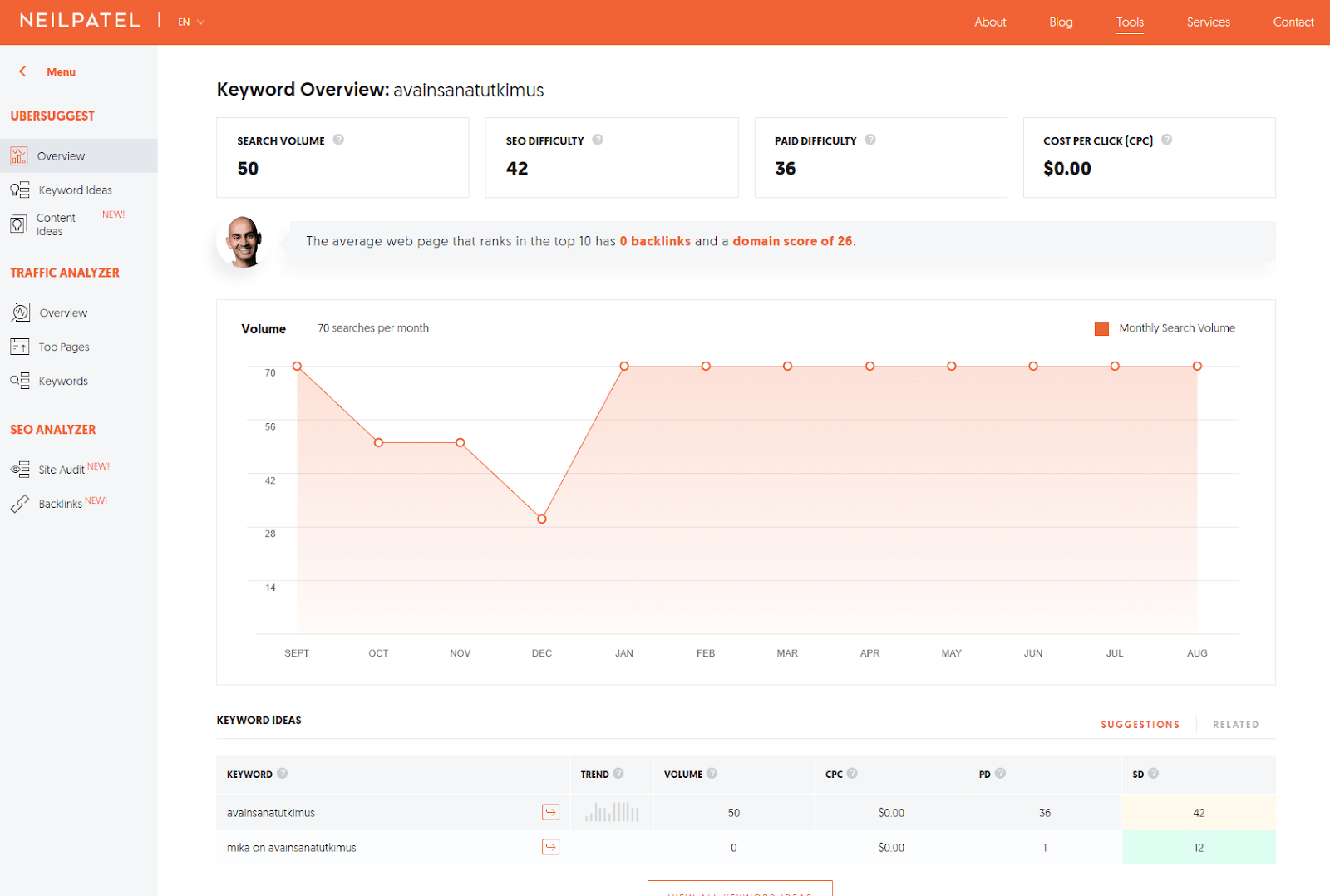 10. Keywords everywhere

This Chrome and Firefox add-on shows keyword search volume data next to Google search results and select other tools. These tools include Google Search Console, Google Analytics, Google Trends and Youtube.
The benefit of this add-on is that you get search volume for keywords without having to constantly use a tool like Ubersuggest for single queries that you are working on. Also because the add-on can just be always working on the background you get a sense of keyword popularity slowly without really thinking about it.
Find it here: Keywords everywhere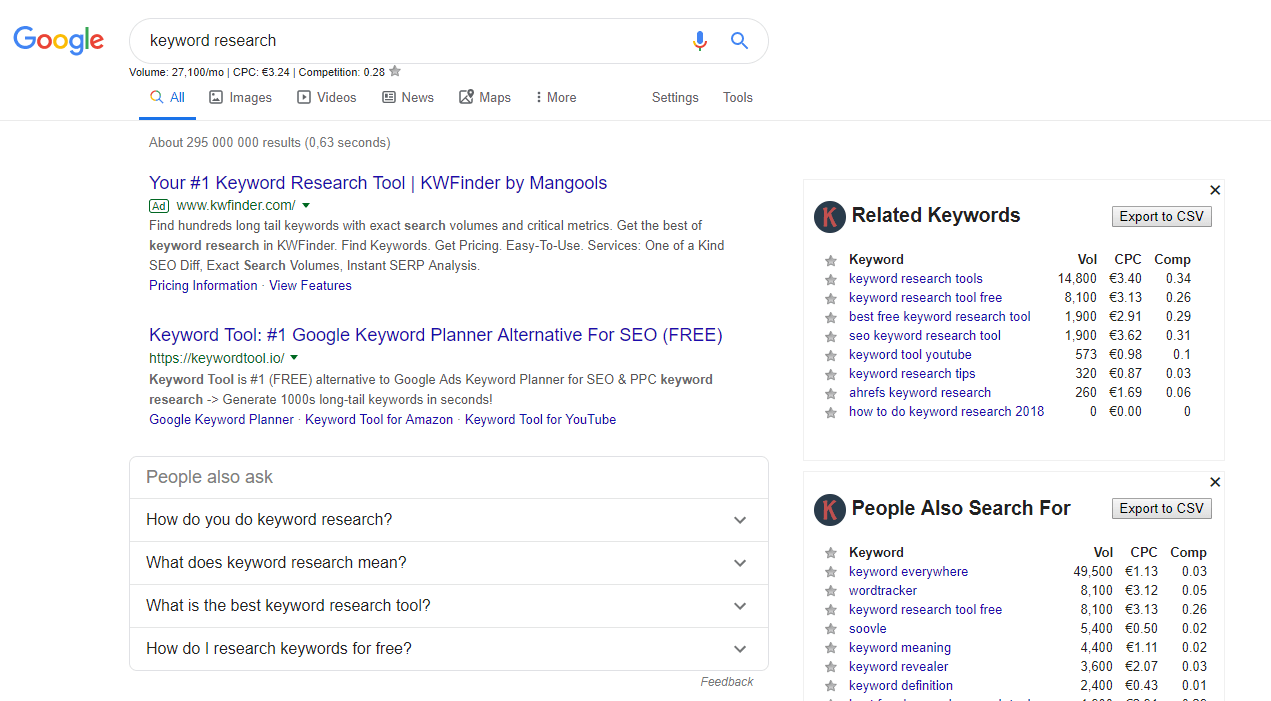 Rankings and Search Results

Following rankings is one of the best ways to measure and monitor your SEO success. You could use Google Search Console to follow your own rankings but unfortunately, there are two downsides to only using GSC. Firstly, you cannot check competitor rankings with search console. Secondly, it is faster and easier to use a dedicated tool to check rankings for multiple keywords.
11. What's my SERP
Checking rankings for specific keywords is often only available to paid tools. Especially if you want to check hundreds of keywords. So far the nicest tool to check rankings for a few keywords for free is What's my SERP. It's easy to use and allows you to check multiple keywords at a time. Not hundreds but enough for occasional checking.
Find it here: What's My SERP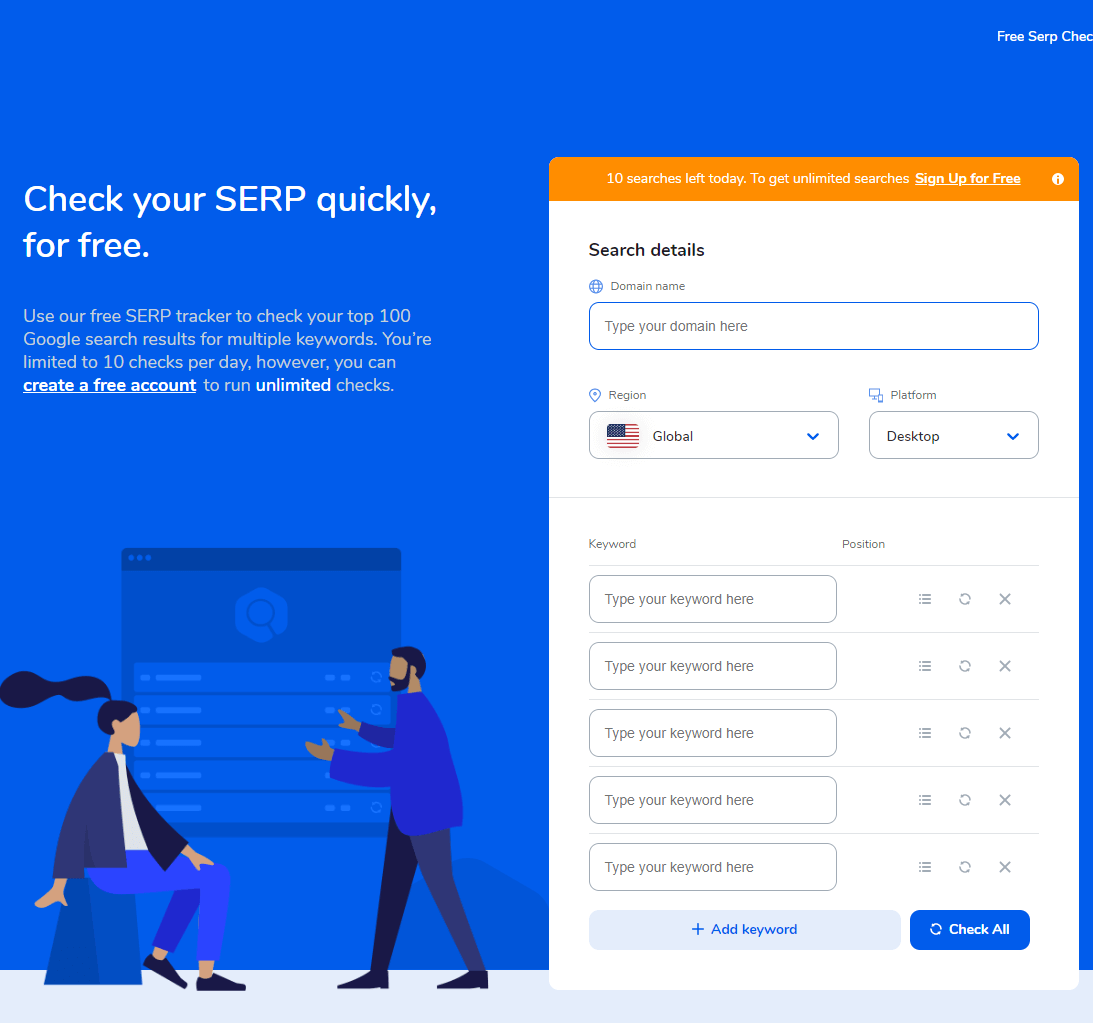 12. Mozbar
MOZ's free Chrome add-on gives easy access to valuable information. With it, you can find out a page's Page Authority and Domain Authority. Additionally you can use it to check your pages meta description, H1-headers and page title without having to check them from the code.
Find it here: MozBar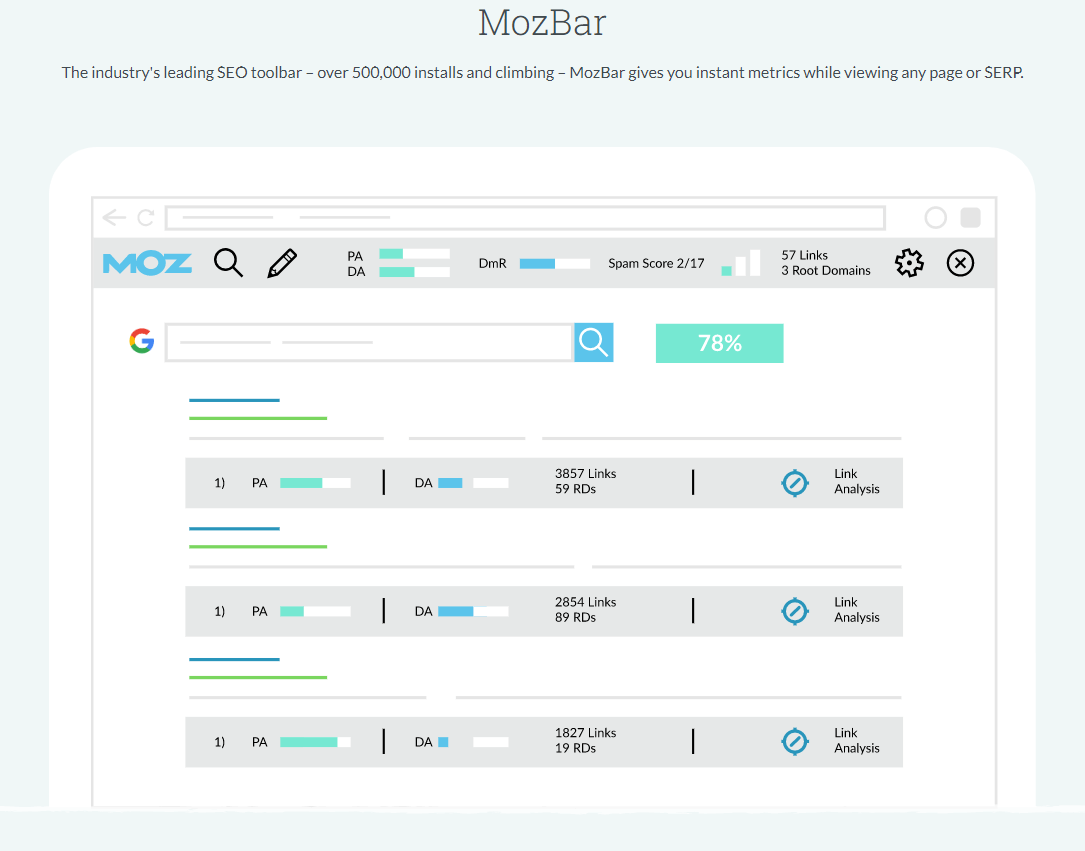 13. SERP Simulator
Fine-tuning your search results is a part of SEO activities when you want to increase Click Through Rate. When you want to make your results look as good as possible SERP Simulator can help you see what you are doing and helps you keep page title and meta description the correct length.
Find it here: SERP Simulator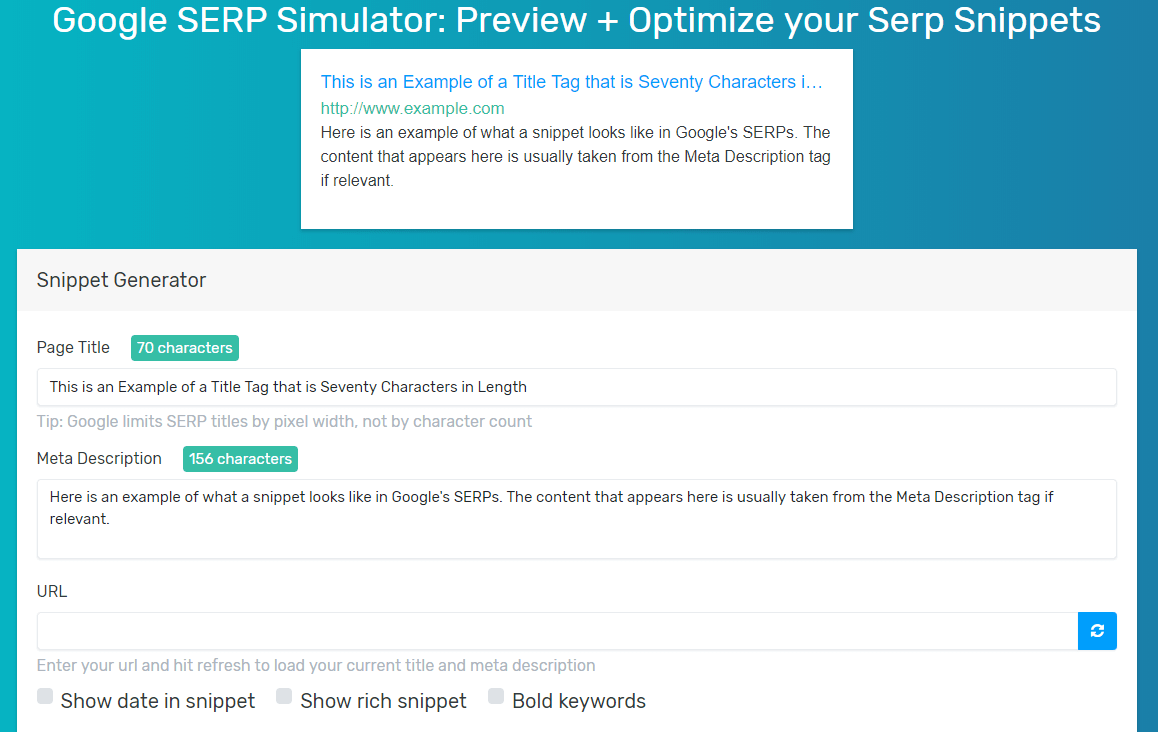 Internal and external links

Both internal and external links are important for SEO. They are used by search engines to move through your site and to determine your site's domain authority.
14. Check my links

Broken links are bad for both users and search engines. Check my links is another Chrome add-on that helps you check all links on the page you are viewing. It counts all links and marks those that are broken or have redirects. Very useful to find links you need to fix.
Find it here: Check My Links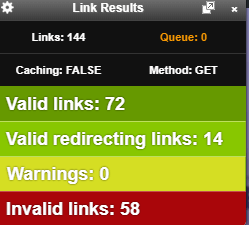 15. Link explorer

Another useful tool from MOZ. Link explorer allows you to look for backlinks 10 times a month for free. And for one query you get 50 rows of data. That isn't terribly much for backlink research but it's better than nothing. It can certainly help you get started.
Find it here: Link Explorer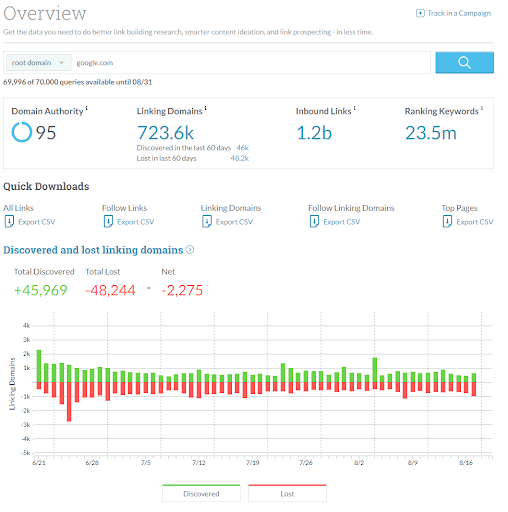 Redirects and status codes
I find that when it comes to checking single cases of redirects, redirect chains or status codes it's better to use smaller and quicker tools. Sure you can get the same data with Screaming Frog but sometimes you just want to save time and don't want to wait for the whole site to be crawled.
16. Redirect Path

Ayima Redirect Path Chrome add-on is a great and quick tool to check redirects, redirect chains and status codes for a single page. Just a few clicks and in seconds you have what you need.
Find it here: Redirect Path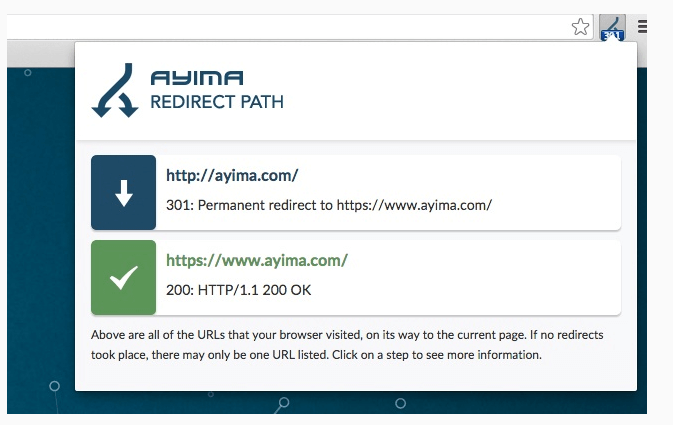 Conclusion

SEO is a tool heavy field and much of the work is hard to do reliably without some tools at your disposal. Luckily nowadays there are plenty of free and easy to use tools that you can take advantage of. There isn't always a need to use those high-tier tools for everything. So may you need an SEO tool for your link building, content marketing, backlink checker, on-page SEO, Keyword ideas, a page optimization, or anything else, there's a free tool available.