TikTok has taken the world by storm and proven itself the best social media app, offering opportunities for organic reach and engagement with viewers. The app boasts 1 billion active users each month, spending more than 850 minutes on the app on average. This popularity makes it an obvious choice for any brand or company launching an ad campaign, giving platforms like Facebook ads and Google ads a run for their money.
But how do you track campaign performance in a TikTok ads account? The platform makes it possible to track real-time TikTok ads data, and with DashThis, you can optimize your data collection and analysis strategy through custom report formats that help you get a solid grasp of your ad performance.
In this article, we will cover:
What is TikTok ads reporting?
Think of the Google Analytics dashboard or Facebook Ads Manager. Similar to these ad platforms' tools, TikTok ads reporting is the way that companies can learn about the successes and failures of their advertising, establish settings for their content, target specific demographics, set custom audiences, and control the total cost of ad spend.
Using the TikTok ads manager, companies can easily view data about their campaign performance to visualize what is working, what needs improvement, and trends that have emerged with their campaign to derive performance metrics that will inform business and ad strategy moving forward.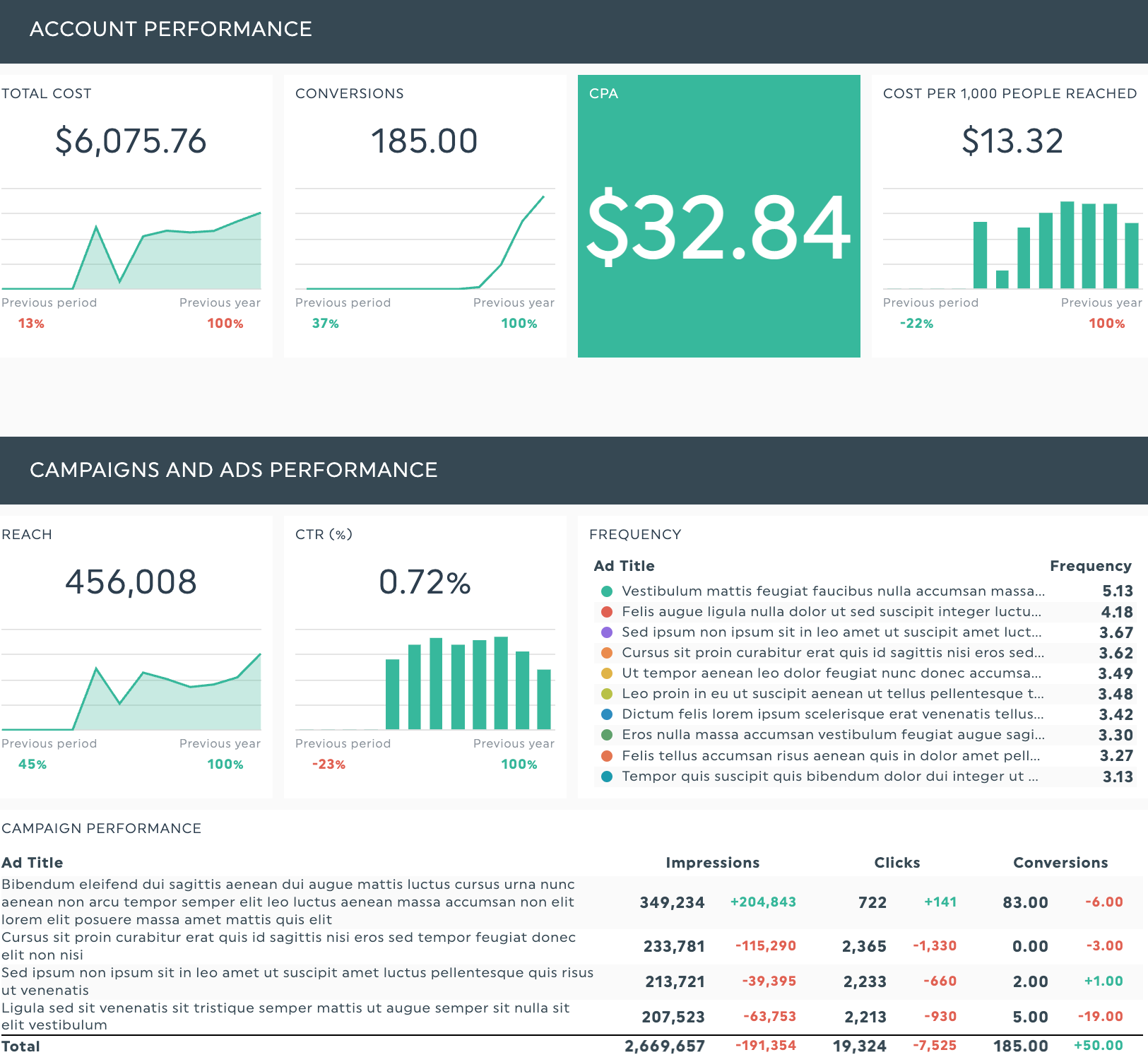 See this template live | Try this template with your own data
Why is it important?
Track your TikTok ads campaigns: You can gain a granular and detailed view of your campaign performance to assess your return on investment, video views, audience engagement, and more. With these ad campaign tracking tools, you can drive business, increase sales, and learn to grow your customer base strategically.
Optimize your performance: Learn from those data insights to re-target the right audience, specify demographics, and adjust your content strategy to appeal to your ideal consumer. Gain a more detailed understanding of what your users like and dislike to cater to their interests, needs, and engagement style on the platform.
Measure your ad spend: Track metrics like your CPM, CTR, and more, to understand if the resources you are putting into your advertising are showing up in your Shopify, eCommerce, or website performance. The whole point of advertising is to generate increased business, so tracking whether you see these results is essential.
TikTok Ads reporting best practices
As a platform, TikTok has its visual language and mode of engagement for users. However, unlike Instagram or Facebook, it is known for just being vertical videos, so you must be optimizing your content to suit this format. Here are three points to keep in mind as you create your TikTok ad content:
Keep your ads short and relevant to your audience 
Study the demographics you are targeting and produce content with the tone and visual approach that other videos in their niche demonstrate. Are those users interested in a first-person view, a tour, behind-the-scenes, life advice, or a 'did you know style video? Master the proper format and keep it short and sweet to ensure your content placement is optimal in the ad group.
Compare it to ads on other platforms
If you already have campaigns running across platforms, you may find that for TikTok, you need to take a new approach. Make sure you are targeting your content to match the tone and style of each platform. Compare your content across platforms and your campaign objectives to ensure that you are striking the right tone for each designated audience.
Track data to optimize your ads
Don't go into the process blindly. Track your metrics and KPIs to ensure your strategy is working, and consistently learn from the analytics to improve and optimize your content strategy, spending tactics, and targeted demographics. The best part about metrics is their real-time information about your target market and where you fit into it.
Most important TikTok ads metrics and KPIs to report
There are various metrics that a company can track when producing an ad campaign, and which ones matter most can vary from platform to platform. Here are the essential KPIs to watch on TikTok to ensure you find what works and doesn't.
Ad Spend
Ad spend represents how much is spent on variations of an ad within an ad set. It will show you the breakdown of what you spend on each take and reflect on each ad's success and performance so that you know what is working best and for whom. It is not common for each variation to wind up with the same spend, so you will inevitably gain valuable insights from tracking this KPI.
Impressions
TikTok impressions represent the number of times the ad appeared on the feed for a user. Since TikTok users often scroll infinitely, the ad may show up for the same person multiple times, and each of these would count as a distinct impression. This metric helps to give a sense of reach so that you know what sized audience your ad was shown to.
Number of clicks/Cost per click
On TikTok, the CPC rate is measured by CPM, representing the cost per 1,000 impressions. On average, advertisers spend around $6.00 for every 1,000 impressions on the platform. This KPI is essential for tracking ad spend and budgeting.
Number of conversions/Conversion rate/Cost per conversion
In TikTok, conversion rates are counted when a user sees an ad, swipes up on it, and places an order for the product there on TikTok. So it represents the complete cycle of advertising to purchasing, with the customer engaging in the way the brand hoped and intended.
Video views
Video views track every time your video starts to play for a user. This means it is tallying up each time it starts to play in the feed, every time it plays on a loop if a user lets it run over and over again, and every view it gets when users return to the video to watch it again.
How to measure your TikTok ads KPIs with DashThis
With DashThis, we offer dashboards that make it easy for you to streamline your KPI and metrics reporting all in one place. We have templates, widgets, and build-you-own tools so that you can create a unified page that pulls data from across platforms. So many businesses are running campaigns on Google Ads, Facebook Ads, TikTok Ads, and more, and tracking performance across multiple websites can become disorganized.
DashThis makes it possible to pull all valuable data into one place in three easy steps.
1. Connect your favorite marketing tools: Customize the dashboard to feature your tools from every platform to ensure it reflects your full business strategy. You can link TikTok, Facebook, Instagram, and more to get a complete, birds-eye-view picture of your overall ad performance across digital platforms. You can automate the dashboard to pull from each platform and gather all the necessary information behind the scenes.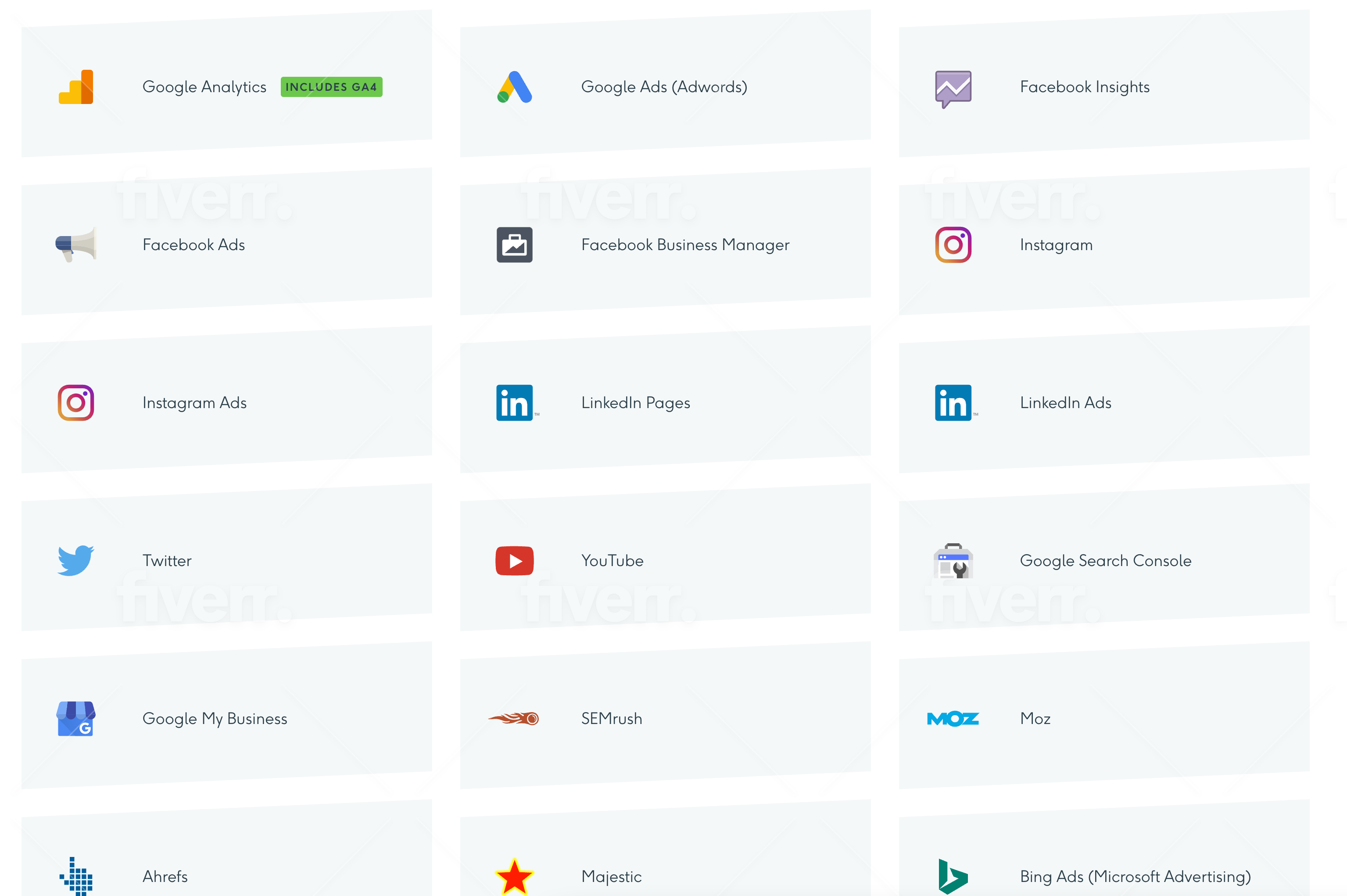 2. Select your metrics from DashThis' preset widgets: Pick the KPIs that matter most to you with our widgets that are set up to display information in a visually appealing and engaging format that makes it easy to see the story behind the numbers. Track the conversion rate, cost per click, the amount spent, and more according to your campaign goals and focus.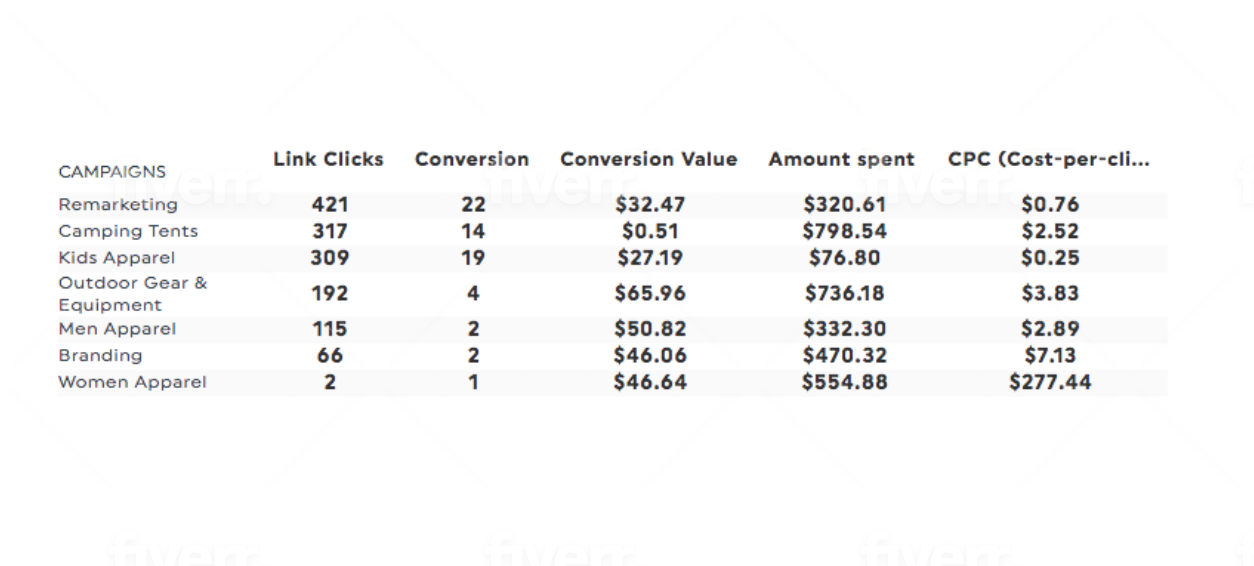 3. Drag and drop as you desire: Quickly and easily customize the look and feel of your dashboard by using our widgets and dragging and dropping to arrange the perfect report for your marketing needs, reflecting each platform, format, chart, and data point your company tracks.
Try this template with your own data!