How many tools do you use in your marketing technology stack? 
Netskope's 2019 Cloud Report puts this figure at 120 for the average enterprise, a number that keeps rising year on year. 
With more martech tools sprouting up over time (there are now as many European-based martech products in 2021 as there were globally five years ago in 2016), you'll need more time to aggregate and manage data from all these different platforms. 
More tools mean a higher risk of data fragmentation and siloed data. Imagine the hours you spend each week logging in to each platform, exporting data, uploading it to Microsoft Excel, normalizing and formatting the data, and analyzing your marketing campaigns. 
Doesn't it sound exhausting? 
As you review your marketing technology stack, consider investing in a tool that automates data collection and aggregation across various platforms. We've compiled a list of ten marketing analytics platforms to help you see your campaign performance across multiple marketing channels in one place.
What are marketing analytics platforms?
A sample report from a marketing analytics platform like DashThis. Try it with your data! 
Ultimately, we use data to make decisions for our marketing strategy. 
You want data gathering to be as effortless as possible to focus your time on analysis - a higher value activity that helps you and your internal stakeholders make business decisions. 
Here's where marketing analytics platforms come in.
Marketing analytics platforms help marketing teams aggregate data across multiple marketing tools into one view to understand how their marketing initiatives are performing. 
These tools cut short the laborious process of manually logging in, exporting, and uploading data in static spreadsheets. Teams can view and extract the data across multiple customer journey dimensions and periods in real-time to aid analysis.
From marketing analytics data, you should be able to answer three questions: 
Which marketing initiatives should we focus on?

Which marketing initiatives aren't working and we should do less of

What should we be working on or adjust our approach?
Top 10 marketing analytics software for marketers to automate their reporting
We'll identify some core features and strengths for each analytics solution listed here and how it integrates with your existing martech stack. 
Ready? Let's dive in! 
1. DashThis 

We are kicking off this list with our self-service marketing analytics tool, DashThis! Customize your dashboards with our white-labeled dashboards. Combine all your marketing metrics in one dashboard for easy data analysis and segmentation. 
We're also beginner-friendly with our library of templates allowing you to get up and running efficiently. 
Pricing: Starts from US$33/month, with a 15-day free trial included
Who would find DashThis helpful: Marketing agencies, individual contributors, marketing teams for small businesses 
Integrations:  34+ integrations across popular digital marketing tools with our API
2. Google Analytics 

Considered the entry point for marketing analytics for millions of websites, Google Analytics is a self-service business intelligence platform owned by one of the most recognizable names in tech. It also comes with its own data visualization features in Google Data Studio. 
The best part is that they offer all these features for free, allowing anyone to analyze their marketing data and website visitors regardless of budget.
Pricing: Free 
Who would find Google Analytics helpful: Anyone who needs in-depth traffic or audience insights on their website, including internal search data, traffic sources, audience demographic data, and more. 
Integrations:  Easily install Google Analytics on any website or landing page. It also integrates with countless marketing and sales analytics tools, helping marketing professionals understand and take action on their Google Analytics data 
3. SEMRush 

SEMRush specializes in keyword research, search engine optimization (SEO) tools, content marketing, and backlink analysis. Its analytics tools are handy to improve your organic search rankings and inform your content marketing strategies. Marketers also use SEMRush to improve the click-through rate of their pay-per-click (PPC) ads and streamline social media campaign performance. 
Pricing: Starts from US$99.95/month with a 30-day free trial available 
Who would find SEMRush useful: Content marketing and SEO professionals 
Integrations:  Integrates with Google products like Google Analytics, Google Ads, Google Search Console, major social media accounts, and tools like WordPress, Zapier, or Trello. 
4. HubSpot Marketing Hub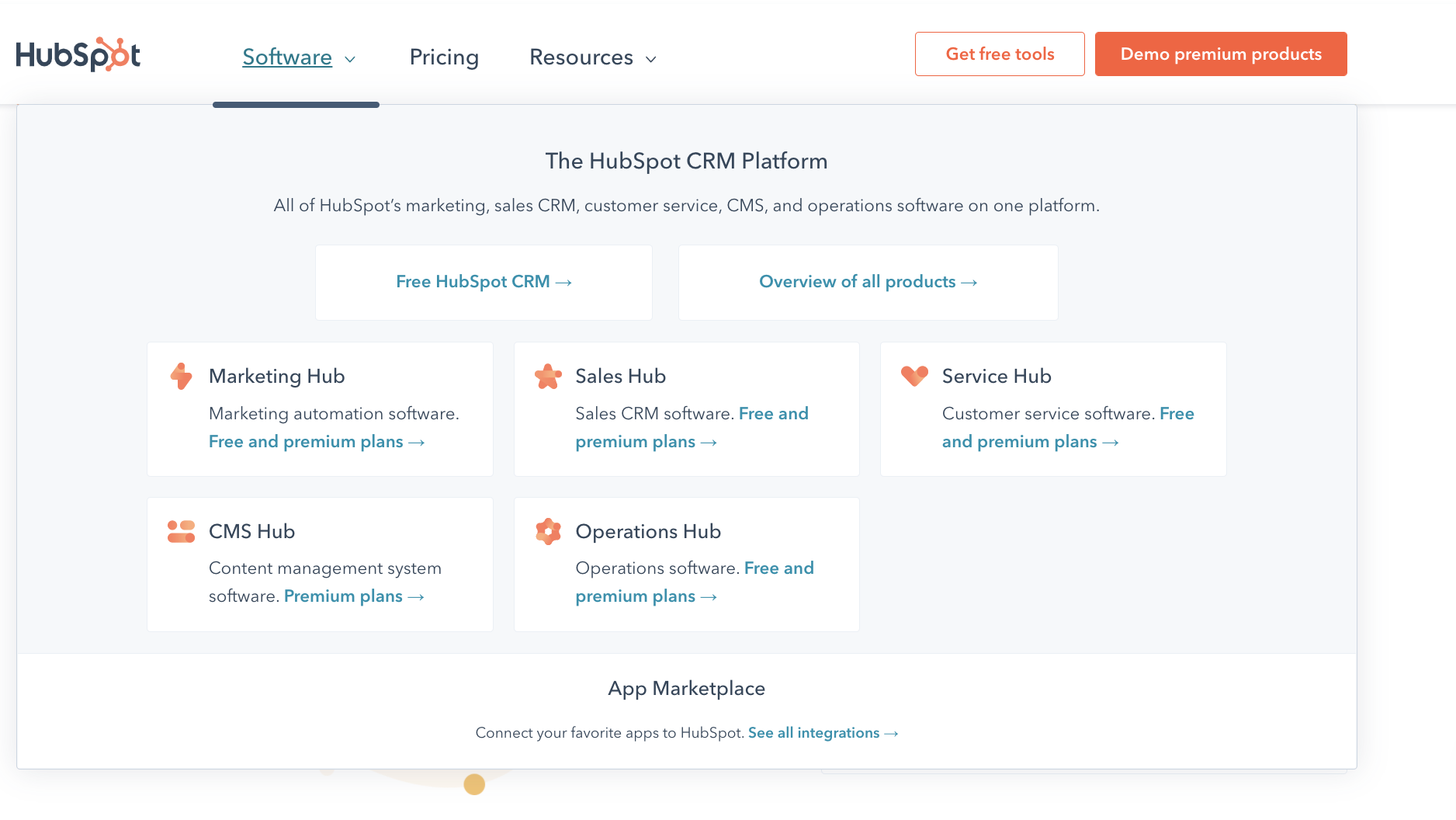 HubSpot put the term inbound marketing on the map in 2005 and has since expanded its customer relationship management (CRM) solution to support marketing, sales, and customer support, teams. HubSpot's marketing hub includes a variety of marketing tools in one software. 
Their reporting tools are user-friendly, with integrated sales and marketing data powering dashboards and custom reports for easy reporting. One key strength of HubSpot is its deep integration with in-house sales and support tools; allowing teams to work cross-functionality across a single software platform. 
It also includes comprehensive web analytics tools enabling you to collect and report on website analytics and customer data. 
Pricing: Pricing plans dependent on tier and number of marketing contacts 
Who would find HubSpot helpful: Internal sales and marketing teams, owners of small-to-medium-sized businesses who need an all-in-one solution covering multiple functions. 
Integrations: HubSpot's app marketplace features integrations across multiple categories and business functions. 
5. Tableau 

A household name in big data analytics and self-service BI tools, Salesforce-owned Tableau caters to organizations that need robust BI capabilities in their workflows. 
Tableau goes well beyond analyzing marketing activities. 
It connects with multiple data source categories, including file systems, cloud-based systems, and relational database systems. 
Pricing: Multiple pricing tiers are available depending on the number of users per month
Who would find Tableau helpful: Enterprise-level companies needing big data analytics
Integrations:  Many native connectors are available for multiple databases and file types. 
6. Maropost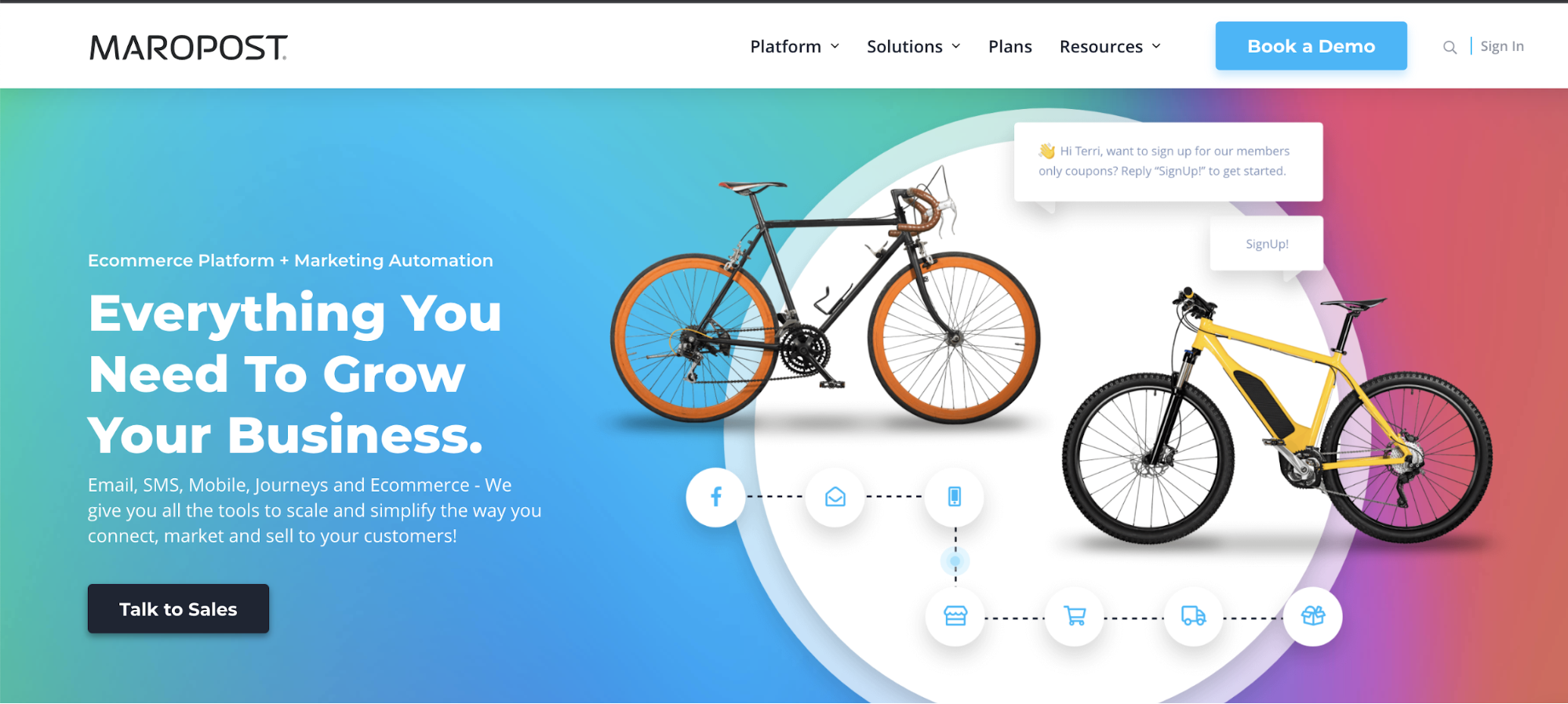 Maropost is an omnichannel marketing automation platform helping marketers manage their email marketing, mobile optimization, social media marketing, and digital marketing performance from one platform. They also have a separate Commerce Cloud platform for multi-channel e-commerce stores. 
Pricing: Marketing Cloud pricing starts from US$279/month, Commerce Cloud separate add-on pricing
Who would find Maropost helpful: E-commerce businesses, marketers who need a robust marketing automation platform, and customer experience professionals.
Integrations: Full list of integrations here.
7. CleverTap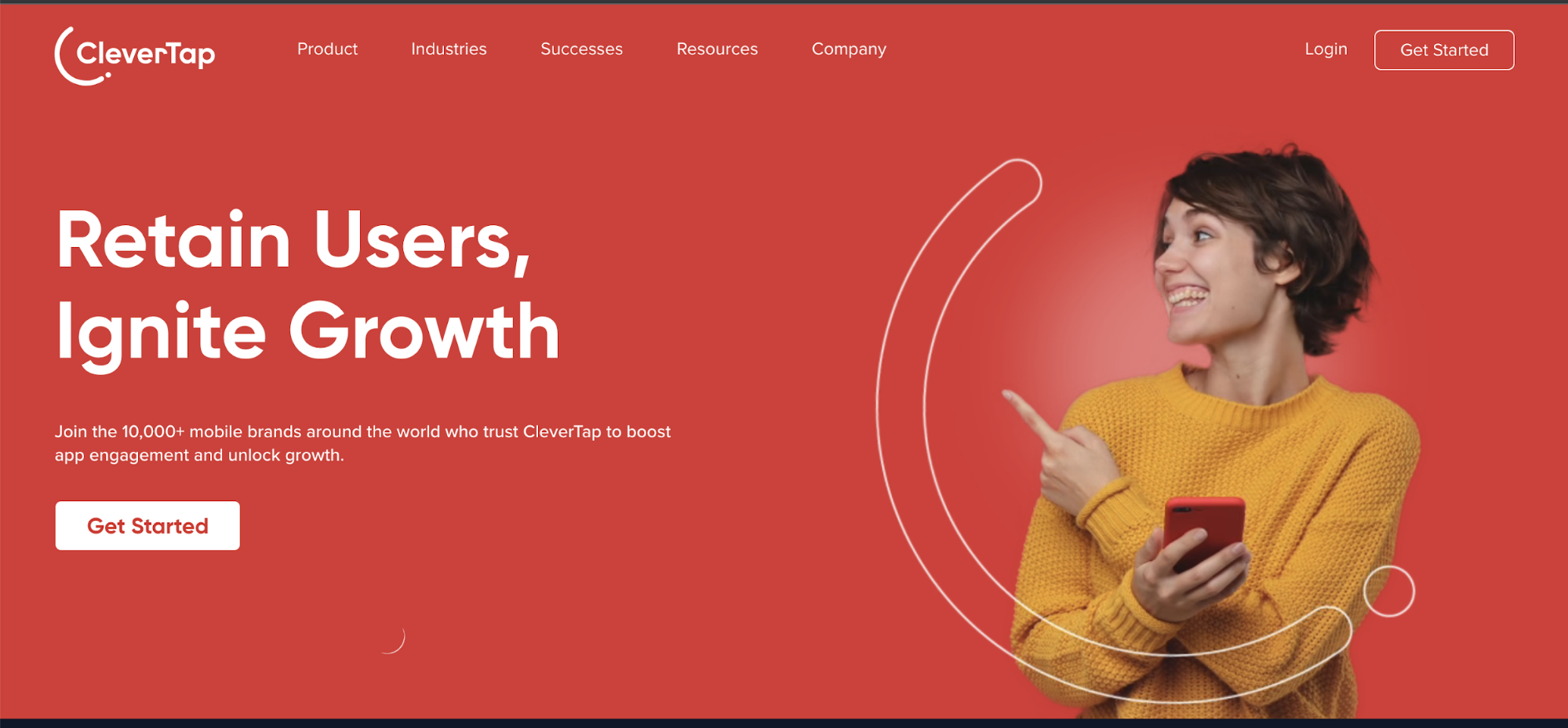 CleverTap specializes in customer engagement and analytics for mobile devices and mobile apps. CleverTap covers brand engagement, app analytics, and marketing through push notifications, SMS, WhatsApp, and more, best suited for marketers who prioritize mobile engagement KPIs. 
Pricing: Pricing available on request

Who would find CleverTap useful: Marketers focusing on mobile engagement 
8. Mixpanel 

Mixpanel's self-serve analytics platform focuses on SaaS products, allowing product managers and product marketers to get granular visibility on product user behavior and improve retention rates or conversion rates to forecast product roadmap decisions. 
Pricing: Free plan available. Paid plans start from US$25/month.
Who would find Mixpanel helpful: Product marketers and product owners of SaaS products
Integrations: Multiple integrations available in their integrations directory
Choose the best marketing analytics platform for your business needs 
The software we've highlighted here serves a wide variety of conditions and business models. 
If you're looking for a tool to support you with aggregating your marketing data into one place, it's a good idea to review this list of tools to see which one fits your needs better. 
Are you looking for an easy-to-use self-service analytics tool? Try DashThis today with our full-featured 15-day free trial.