I guess every marketer knows Google Analytics Multi Channel Funnels. They also have an API which we integrated months ago. We just added some Key Performance Indicators (KPIs) that you'll find in our standard widget list.
Easy to use. Get your Multi-Channel Funnels KPI in just one click.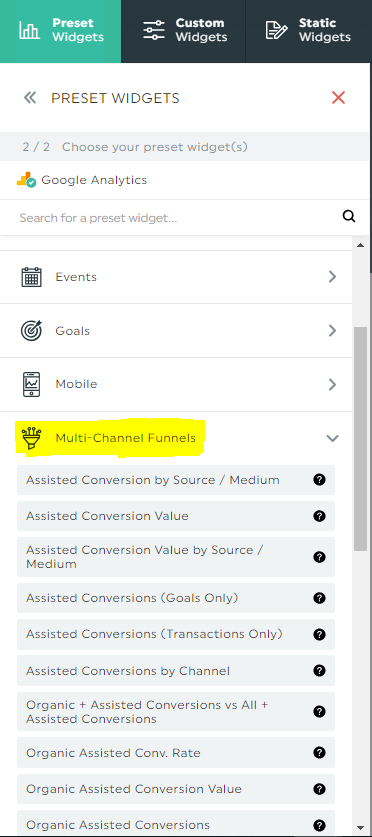 What are the new Multi-Channel Funnels widgets exactly?
Here are those we added:
Organic Assisted Conversion Rate
Organic Assisted Conversions
Organic Combined Conversion Rate
Organic Combined Conversions
Organic Combined vs Overall
Paid Assisted Conversion Rate
Paid Combined Conversion Rate
Paid Combined Conversions
Paid Combined vs Overall
Paid Search Assisted Conversions
Top Conversion Paths
Top Conversion Paths w/ Organic
Top Conversion Paths w/ Paid Search
Some explanations:
Paid/Organic Combined vs Overall is:
(Assisted paid/organic conversions + paid/organic conversions) / total conversions
Combined means Assisted Conversions + Direct Conversions.
Combined conversion rate is (paid/organic assisted + paid/organic conversions) / paid/organic visits
Those KPIs are really useful for marketers. Indeed, take the usual scenario: Your client pays you to get leads.
Let's say you currently have a 10% conversion rate.
But what about those who visited your website from a paid or organic channel then left, then come back few days later from a direct access or another channel and converts? You would lose that conversion from your results, wouldn't you? Adding those might inflate, with reason, your conversion rate to 20%.
Now, using the combined conversions widgets, you can get the results you deserve. I often see conversion rate jumping by 5 or 10% when the assisted conversions are added to the mix.
Fortunately, you can now show off how good you really are using the assisted conversions from Google Analytics Multi-Channel Funnels and DashThis!
» Create a dashboard with Google Analytics Multi Channels Funnels KPIs