Attention all marketers! We have a brand new integration available right now: Klaviyo!
Klaviyo has become an indispensable platform for marketers and businesses, and you can add these critical metrics to your reports.
By tracking Klaviyo metrics, you can: 
Monitor performance

Optimize campaigns

Analyze user behaviors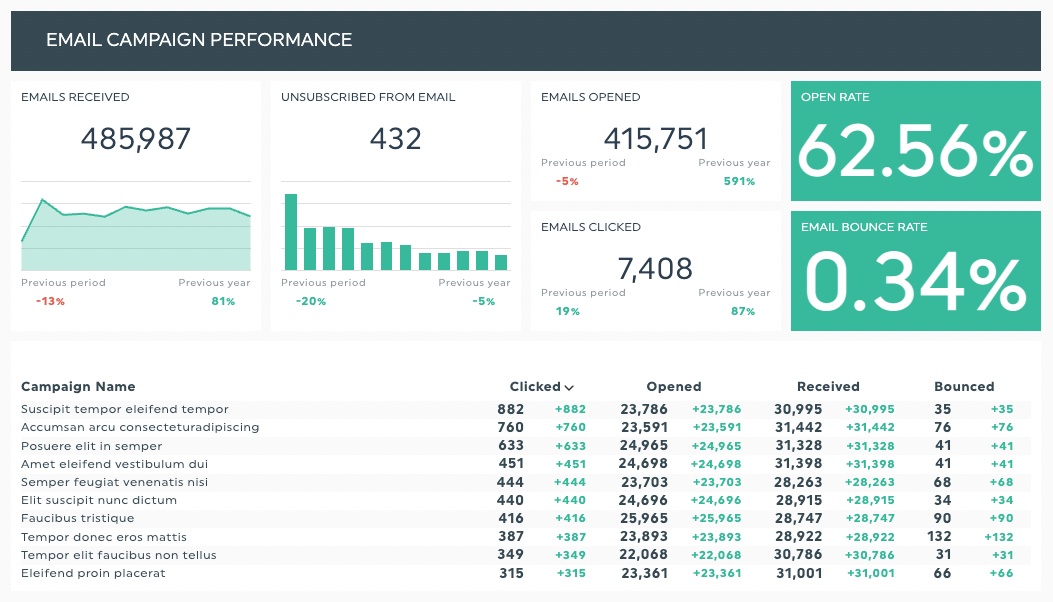 Here's a preview of our Klaviyo report template | Try this template with your data 
What's in it for you
The following metrics are available in-app right now:
Received Email:

The number of times a recipient received an email

Opened Email:

The number of times a recipient opened an email

Clicked Email:

The number of times a recipient clicked on the email

Bounce rate:

The number of bounced addresses divided by the total number of recipients.

Open Rate:

The rate at which your customers open your emails (the number of individuals opening your email divided by the number of recipients).

Sent SMS:

The number of times a recipient texted your destination number to subscribe

Received SMS:

The number of times it was recorded that your recipient received an SMS

Placed Orders:

The total number of placed orders.

Ordered Products Value:

The total value of items purchased; no shipping costs or discounts included.
And much more!
The following dimensions are available : 
Campaign Name:

The campaign name

Subject:

The subject of the email

Email Domain:

The domain from where the email is sent.

To Number:

The phone number to which the SMS is sent

Client Name:

Name of the client
And much more!
The following preset widgets are available:
Email Campaign Performance:

Instantly read your email campaign performance with ad data like received, opened, clicked, and bounced emails.

SMS Campaign Performance:

Get a bird's eye view of your SMS performance with data like received, clicked, and failed to deliver SMS.

Sales Performance:

This list of KPIs will show the fulfilled orders value, which gives a good overview of the sales performance. 

Total Sales:

Track your monthly total sales with this number metric: fulfilled orders value.
And much more!
Try it today!
To try Klaviyo reporting, head over to your Dashthis account, as it's available now! Your voice matters, help us improve our new feature by giving feedback to our customer success team 😁
Happy reporting!