Our new custom theme feature is now available in-app for our customers with 10 dashboards or more!
Yes, you read right: if you have a plan with 10 dashboards or more, you can now fully customize your dashboard with your brand, your client's brand, or even your favourite colour schemes!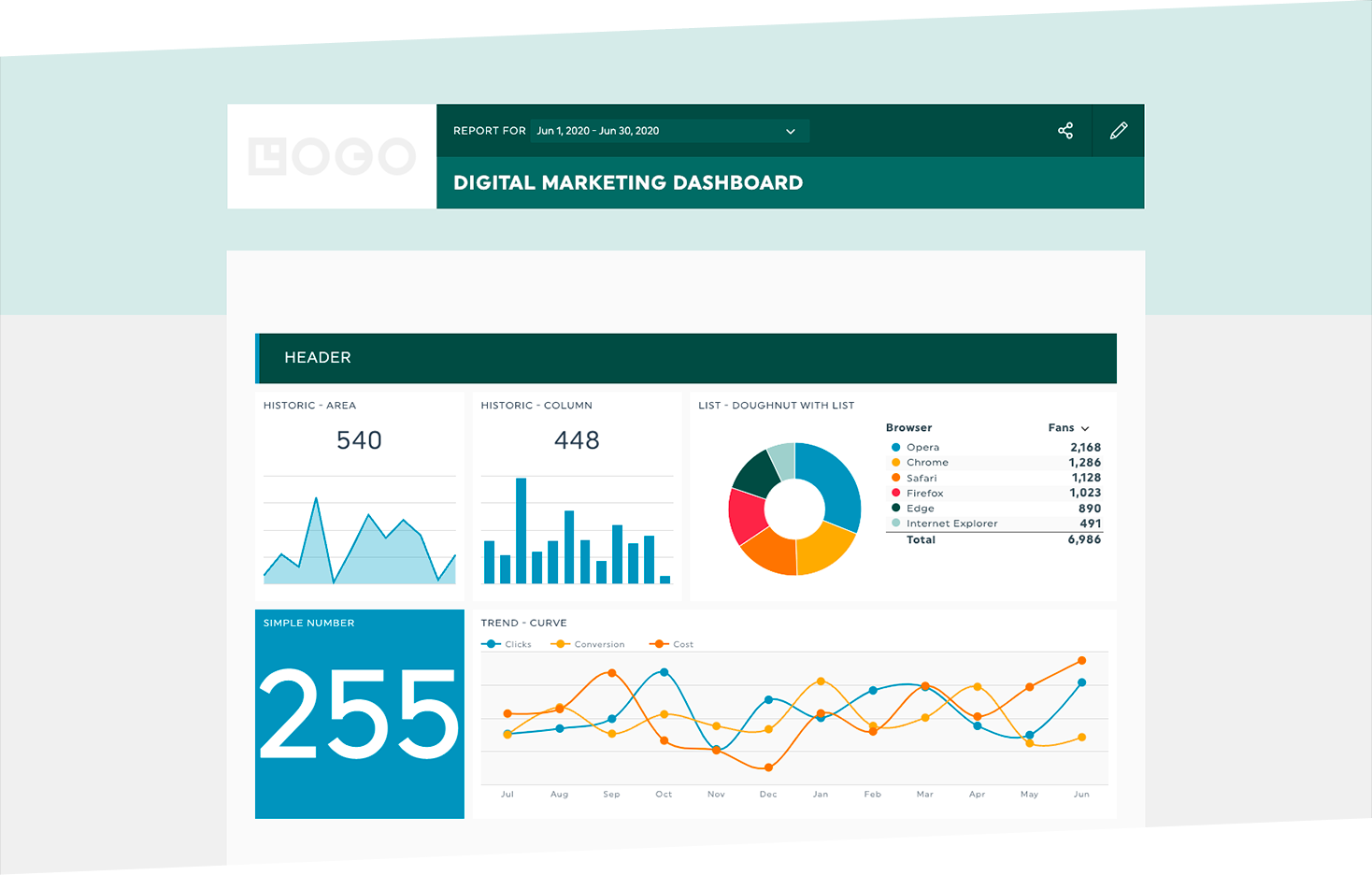 What's in it for you
Before we tell you exactly how to use it, we figured we would highlight some of the advantages and features of using your own theme for your dashboards. 
Remove Dashthis's brand
Listen, even though we love our Dashthis colours, we totally understand if you wanted to use your own. With this custom theme feature, our logo and colours will completely disappear and will be replaced by your choice of colour, whether they reflect your branding or your customer's colours.
Make your results shine
We find that beautiful designs help customers better understand the data and the insights they could get out of reports. Make the data pop with different colours on widgets, play with different designs and even try out multiple designs before getting it just right. You can edit colours for the dashboard background, headers, fluctuations, and data. 
Easily create your masterpieces
The best part of this new feature is how easy it is to configure: you don't need technical skills or a designer, pretty much anyone can change the colours and save the theme templates. If your report is automated, which is most likely is, the design will stay the same for that specific dashboard. Therefore you can save your preset designs or create multiple designs, your choice! 
We know your brand is important to you so we are giving you a multitude of white-label options that allow you to create dashboards that fully represent your brand. 
Try branding your dashboards right now
How to use this feature in-app
Alright, now that we've convinced you to use this feature, here are the exact steps: 
1. Log in to your DashThis account and open the dashboard you want to personalize
2. To the right side, you will find and select the button "Colour Themes" and then click on "custom theme"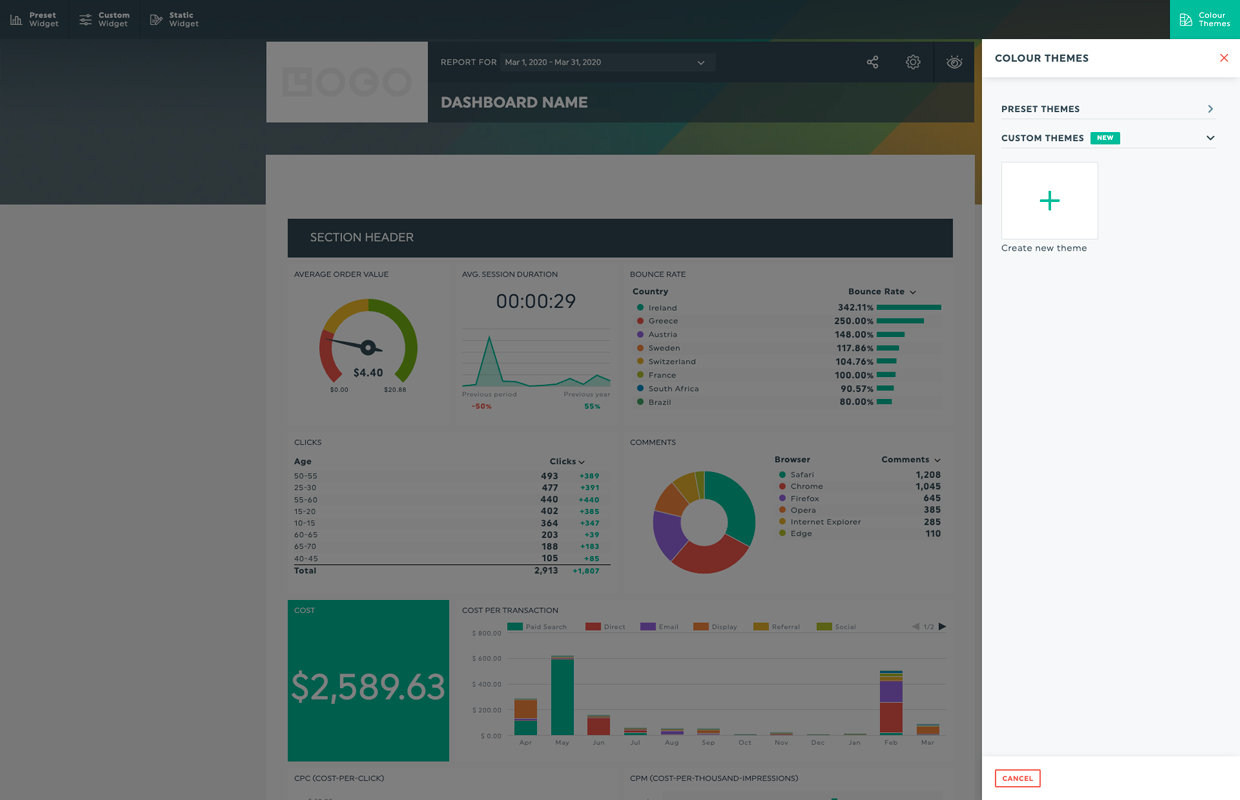 3. Choose "create new theme"
4. Add a theme name
5. Choose colours for the background, the heading, the fluctuations, and the data. You can add the colour number if you have it or select one from the colour picker
6. Once you are satisfied with your theme, click on "save"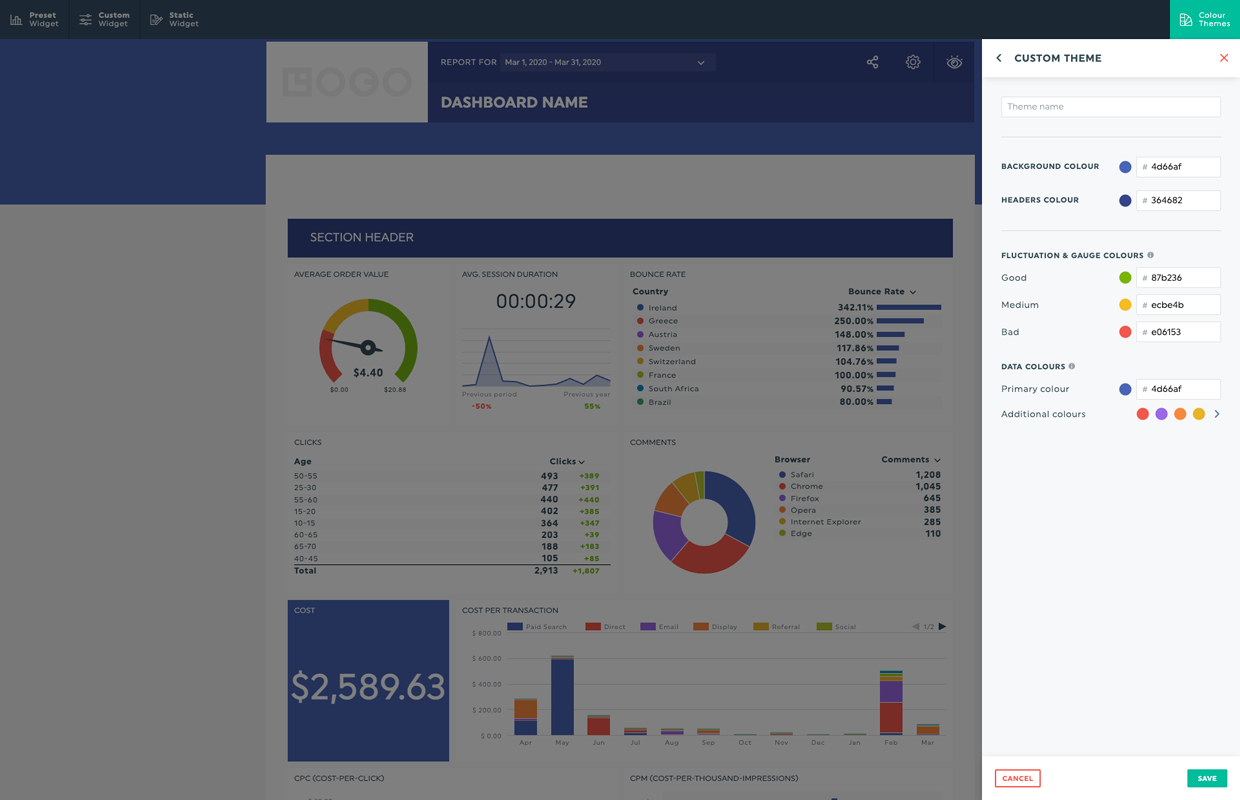 7. You're done! You can create as many different themes as you want
It's already available in-app, so go check it out right now, and if you have less than 10 dashboards or are still just trying DashThis out, it's the perfect time to subscribe to our Professional plan! We can't wait for you to create your own branded dashboards! If you have any questions, don't hesitate to let us know.