How lead generation is (or should be) a part of your strategy
As you know, getting someone in the door is often the most difficult part of any business. And the truth of the matter is, once you get them in the door, you can't always be sure whether they're actually a potential customer, or if they just wandered in by accident.
That's where effective and efficient lead generation comes in!
You know the drill: identify the people who have shown interest in your product or service (or a complimentary product or service that could make them open to yours), pinpoint the best way to engage with them, bring them into your sales funnel, and start a discussion with them.
If your lead generation has been on par and you've spent your energy on the right leads and reached them effectively, your sales should increase accordingly.
How will you know if you've managed to reach the right leads though? By keeping track of relevant lead generation marketing KPIs, that's how!
Which marketing KPIs to track for lead generation
There is no right or wrong answer when it comes to choosing the digital marketing KPIs that should be included in your KPI dashboard but our team has selected the top five that are most relevant to us when keeping track of our own lead generation.
1- Number of leads
Obviously, this is the most relevant marketing KPI in a lead generation context, as this is exactly what is all comes down to. The definition of a lead varies from one company to another. For your business, if a lead consists of someone starting a free trial of your product, the number of leads is the total number of people who found your product interesting enough to try it for free.
2- Number of sessions
The number of sessions is a marketing KPI that can help you draw a general picture of how your marketing campaigns are doing. However, we've previously established that not all visitors are relevant to your business, as some might just be accidentally wandering on your website.
3- Session to lead conversion rate
This rate is calculated like this: number of leads/number of sessions. The closer to 1 your session to lead conversion rate is, the more qualified your visitors are (which is a good indicator or how effective your marketing is). You want your campaigns to target as many potential leads and as few irrelevant visitors as possible.
4- Total lead value
Your total lead value is a marketing KPI you should absolutely save a spot for in your dashboard. This number is of course approximate, but the total lead value still gives you a good estimation of what your leads are worth all together to your business.
5- Cost per lead
Your cost per lead is a lead generation marketing KPI you calculate by dividing your cost for each lead generation campaign on any paid channel by the total of leads this campaign generated. Breaking down your cost per lead by channel like this allows to see which campaigns perform better and which channels you should prioritize in our marketing strategy.
Of course, the lead generation field is filled with a wide range of those KPIs and the above are only a few examples to help you draw your global lead generation picture.
How to keep track of all those marketing KPIs without feeling overwhelmed
Your lead generation KPIs will most likely come from a wide variety of sources, and building reports showcasing all this scattered data can quickly seem discouraging to the best of us.
This is where a reporting tool comes in handy. Using a software that'll allow you to display your marketing KPIs in a single dashboard and in a clean way is bound to pretty much save your life, or at the very least, much, much time.
This is exactly where DashThis comes in. We've created an awesome tool that helps marketers from all around the world step up their reporting game since 2010. Slick, personalised, kick-ass dashboards displaying your data from across the web automatically, in a clear and even fun way is what we have to offer here at DashThis, and that's without mentioning our stellar customer service. Don't know where to start with your lead generation dashboard?
Don't worry, we've got templates for pretty much any kind of dashboard to get you off to a good start.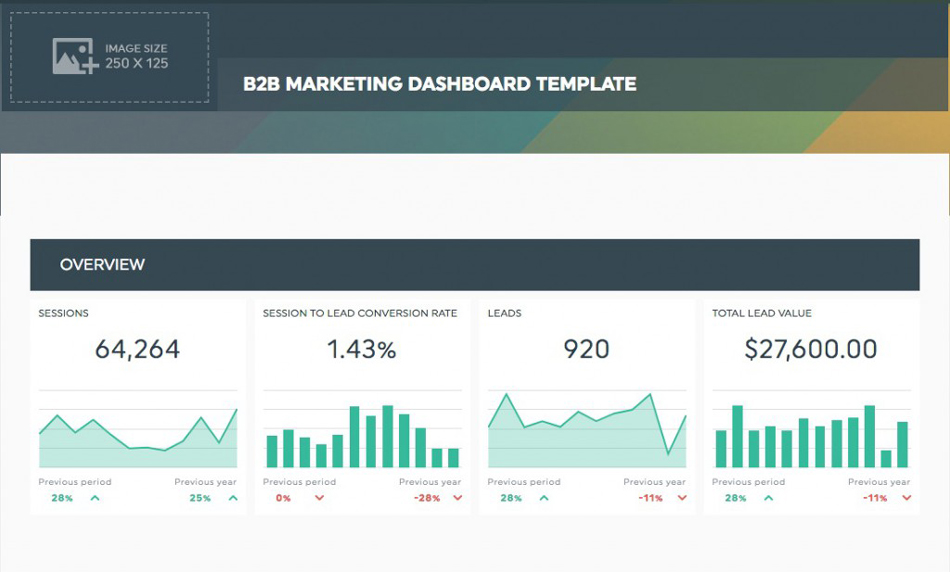 The reporting heaven is now within reach, don't let the chance of a much happier reporting life pass you by. Start your free trial now!