The beauty of automated marketing reporting tools is the speed at which you can generate your reports and the ease with which you have your data at your fingertips.
The only problem that some people find with automated reporting sometimes is that it can seem a little… well… impersonal. And I understand, automation = robotic = cold.
The benefits of white label reports are all about taking the cold vibe of automation out of your marketing reports.
Automate the data upload, automate the email dispatch, sure… but personalize the end result. THAT's what white label reports are all about.

What are the benefits of using white label reports?

Regular reports are your way of communicating with your clients; not only simply keeping them posted on what's going on with their campaigns, but also, and especially, informing them of the value that your work brings to them. Basically, performance reports enable you to show your clients why they're paying you, and why they should continue to do so (because of course they should!).
And in much the same way as you would speak with a client in a friendly, personalized manner – asking about their day, how their latest launch went… pretty much, proving that you've done your homework and aren't just a robotic drone spitting out albeit epic marketing campaigns – your reports should also reflect that level of humanity and personalization.
White label reports are the way to do that. Boost your agency's visibility with a report that shows off your colours, fonts, and overall vibe. By doing this, your clients will immediately recognize your work through your reports, before even looking through the numbers. Plus, it's equally impressive to have white label reports on hand when you're pitching to a potential new client.
What should you look for in white label reports?

So now that you've established that you'd like your digital marketing performance reports to be white-labeled (and obviously, you don't have the time nor the inclination to do it in-house, because who really has that kind of time?!), what exactly should you be looking for when shopping around for a white label report tool?
There are a few options that you need to look for:
1. The Reporting Tool
Before even considering contracting a white label design, you need to like using the tool itself. Does it connect to the digital platforms that you already use? Can you include data from multiple platforms onto a single report? Is it easy to automatically send your reports to your clients so that you don't have to remind yourself every month? Can you modify your widgets and layout however you want? Can you incorporate comments and notes to "speak" to your client through the report itself?
Make sure you're sure that the base of the tool satisfies your reporting needs before doing anything else!
2. White Label Reports – the URL
As we've mentioned, the nice thing about white label reports is that your clients recognize the extra level of personalization that you've put into the reports that you send them.
That level of personalization can start at the URL level. For example, when agencies use an online reporting solution such as DashThis, their clients will see the product's URL by default. In DashThis' case, this would be https://dashthis.com/app/view/dashboard. Although the dashboard itself will look great, it can still be a bit of a turn-off, for both the agency and the client, to see a third party's URL.
However, with a custom URL, an agency can instead share their reports to their clients with a unique URL, like reports.yourdomain.com. That's a level of personalization that both agency and client can get behind.

DashThis' custom domain blade
3. White Label Reports – the Design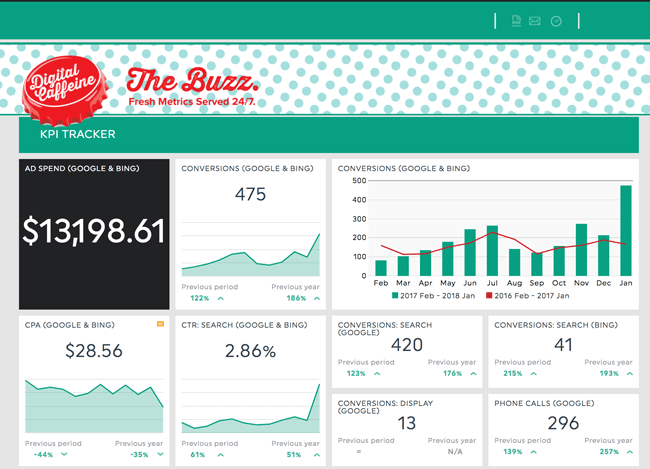 Example of the Digital Caffeine Group white label report
Thanks to the wonderful Digital Caffeine Group for allowing us the use of their Custom White Label Report in this article!
Once your URL is fully customized to your agency's brand, you can take your reports to the next level: an entirely white label design. With beautiful white label reports, your agency's data will be displayed in a frame that looks and feels just like your brand.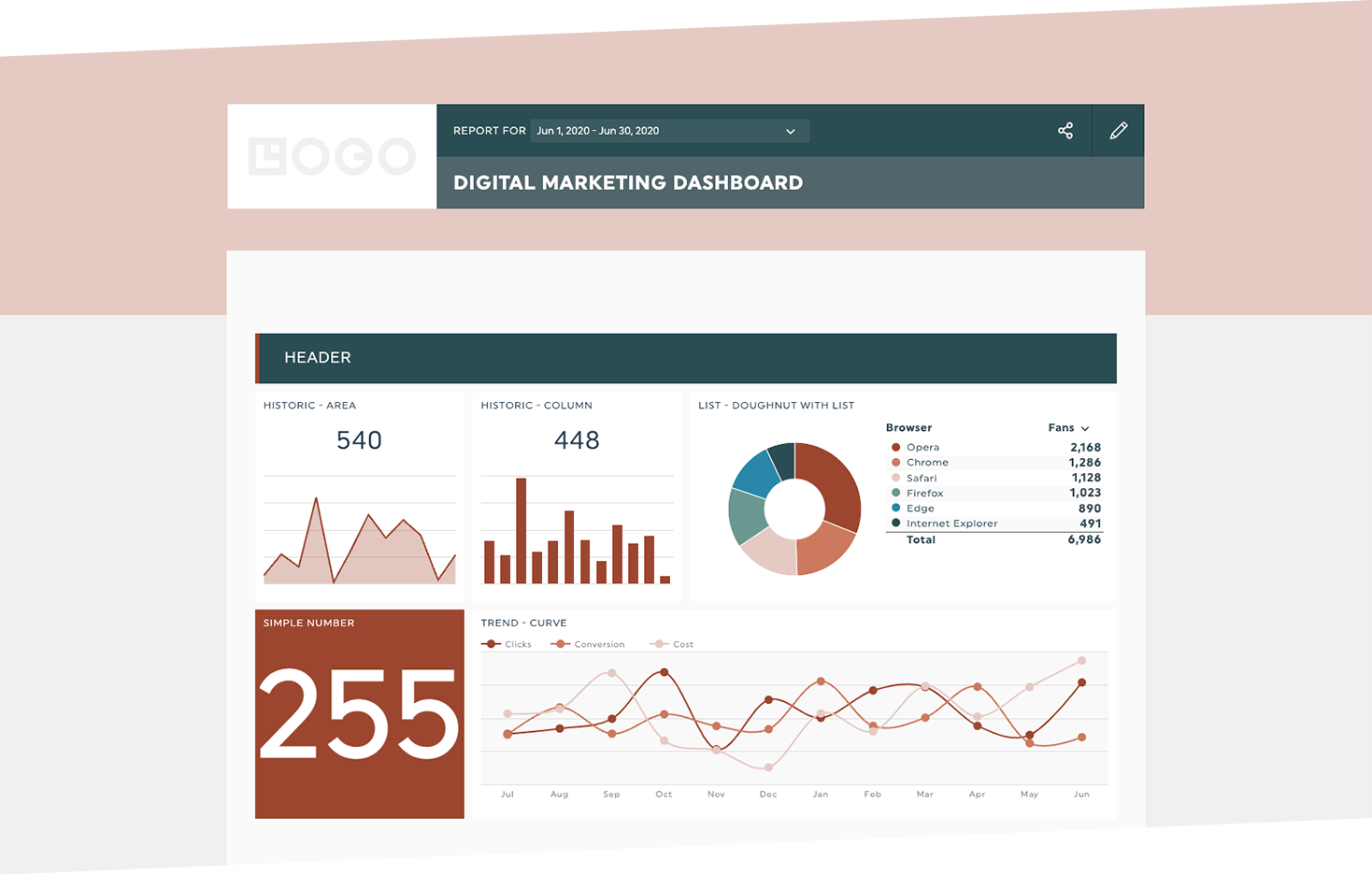 Having your own branded white label reports not only ups the personalization-factor in the relationship you have with your client, but it also increases your brand visibility overall. When your client talks to a team member, or even a business partner, and they have your report in hand, wouldn't it be great if your brand was all over it?
It's publicity that's built right into the work you already do for that client. It's visual word-of-mouth. And as we all know, word-of-mouth is hands-down the best publicity there is.
Does DashThis create white label reports?
You betcha!
What's nice with DashThis is that the tool offers an impressive amount of customization, even at its most basic level. Everything from changing the layout, the colour scheme, adding your own logo, incorporating comments and notes – all of this is included.
However, even this amount of customization isn't enough for some agencies. Which is understandable; agencies customize every aspect of each of their clients' digital campaigns. Shouldn't the report that shows that campaign's performance be as customized?
That's why we offer both custom URLs, as well as white label report design!
With a custom URL, you can change the usual DashThis report URL to one with your brand's domain. We handle the SSL certification and setup on our end, so you're in the clear! On top of it, we remove all of our own branding so that the reports are completely yours. The best part? These white label options are included with all 10+ dashboards plans!
For white label reports, the world is your oyster! You simply send us your graphic charter, and we'll create a custom report design that reflects your brand to a T. You'll still be able to use all the features already built in to the tool, with the added bonus that the background will look like you.
So, are you ready for your own white label reports?