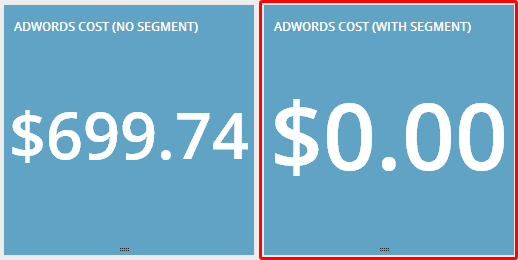 What's wrong with this KPI? Why isn't it showing the Adwords Cost or CPC as it should be? Especially since I see data in Google Analytics?
This sounds familiar? I'd bet you created the KPI using the Google Analytics Paid Search Segment? That's why. The problem occurs with every metric: Cost, Clicks, Impressions, CPC, CPM, ROI, Margin, etc.
There's no obvious reason for this. It just doesn't work. You can't get Adwords data using the Paid Search advanced segment. There are some metrics / dimensions / advanced segments combinations you just can't use. Read this for the full list.
The good news is that there's an easy work around: Remove the segment!
You will get the same Adwords data whether you use a Paid Search filter (i.e. ga:medium==cpc) or not. So why bothering using a segment? Just drop it and it will work.
If you need to segment, then use a filter like this for example:
ga:medium==cpc;ga:source==bing
That's it. No more problem reporting on Adwords data from your Google Analytics account.