The last thing you want is a YouTube channel with zero engagement. 
These nine YouTube metrics serve as a helpful starting point for beginners. They determine if your videos hit the right note and ensure your efforts are not wasted.  
Understanding YouTube Analytics
YouTube Analytics (in the left panel on YouTube Studio) gives you a bird's-eye view of your viewers and video performance. It digs into metrics spanning across your target audience and content:
Audience:
Video content: 
The platform boasts an advanced mode where you can analyze specific data (e.g., operating system, device). 
There's also a research tab for you to perform basic keyword research.
For example, here's how it looks when we input a YouTube SEO term, "strength training".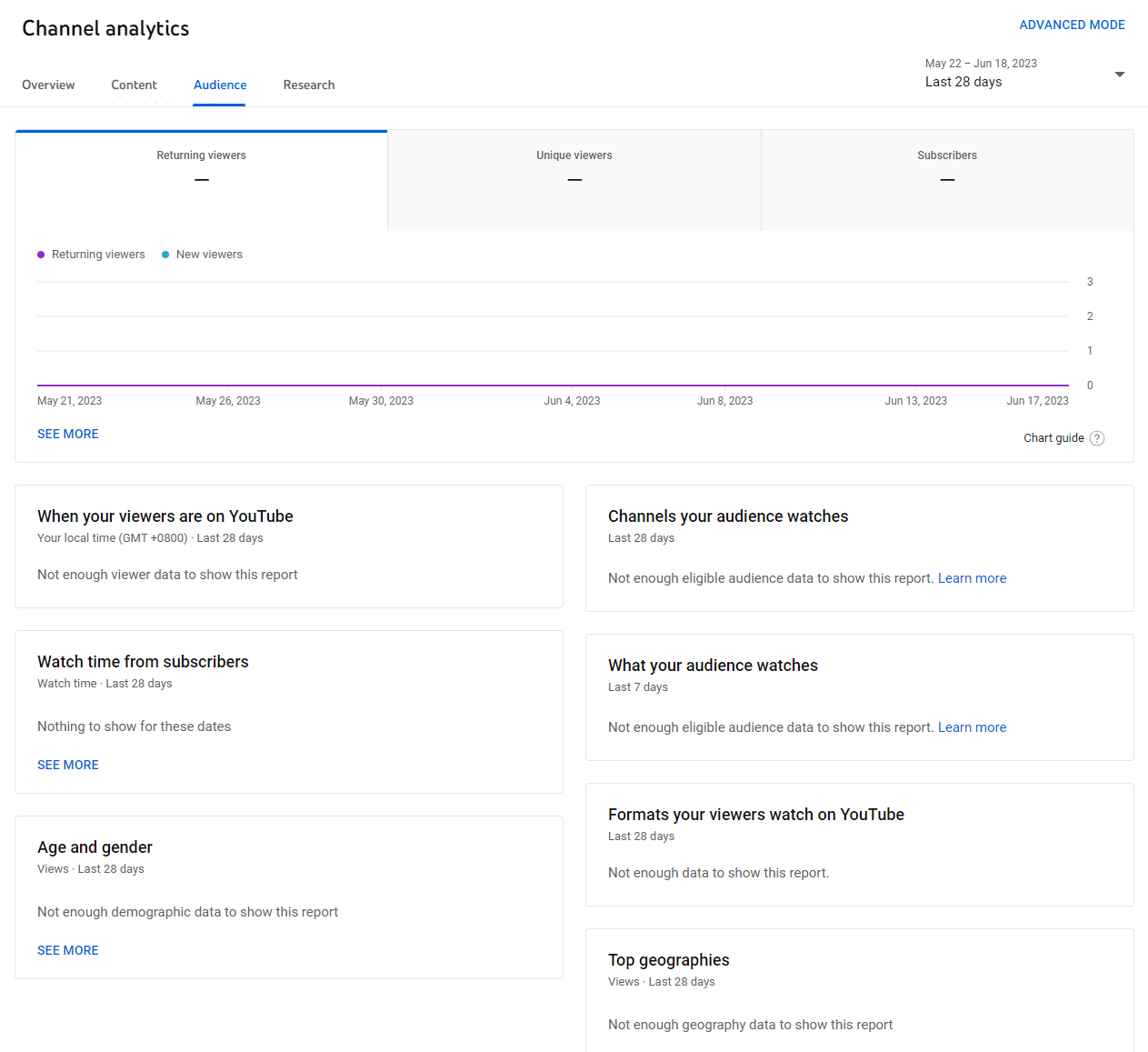 Note how YouTube returns a list of topics relevant to the search. We can use these different terms to expand the video and make it more comprehensive.
What are YouTube Metrics?
YouTube metrics are quantifiable measures that track the success of your videos. They determine how close you are to accomplishing your YouTube KPIs.  
It's a mouthful, so let's break it down. 
Let's say, you have this for a YouTube KPI: 
Increase number of free trials by 22% in Q3 in video marketing strategy
We might focus on these metrics to track our progress*: 
Impressions click-through rate (CTR)

- shows if video thumbnails and titles attract viewers 

Audience retention

- shows percentage of video watched before viewers drop off 
KPIs tie in with your business objective. Whereas metrics monitor your progress in hitting those KPIs.
*This is not exhaustive, but it gives you an idea of the type of YouTube metrics that impact the KPI. 
Why it's crucial to measure YouTube metrics for channel success
No successful YouTube creator or brand sets out to create new videos on a whim—just ask the 59% of marketers who believe strategy is the key to video marketing success.
Analyzing YouTube metrics in a well thought-out strategy helps you understand what resonates most with viewers (e.g., "are product live demonstrations more effective than webinars at nurturing prospects in the consideration stage?").
Once you figure that out, you'll know what videos to create more of to grow your channel.
Top 9 YouTube Metrics to Track
These nine metrics, categorized according to engagement and channel analytics, serve as a great starting point if you're new to making videos on YouTube. 
YouTube Channel Metrics
Try these metrics to see if your channel performance is on the right track.
Number of subscribers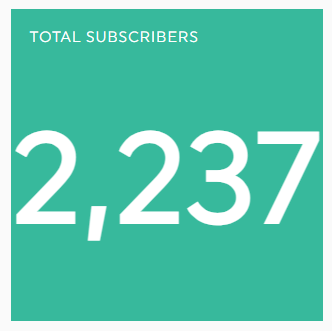 Higher subscriber count = more views. Track the total number of subscribers to see if your community is growing.
Subscribers growth

New viewers and subscribers indicate a growing community. Start monitoring this metric to gauge how much your channel has grown the past month, quarter, or year.  
Audience demographics
The audience tab gives you an overview of users who watched your videos. Analyze this metric to see if you're attracting the right prospective customers.
Audience retention
Audience retention tracks the percentage of viewers who continue to watch your video. Monitor it to identify what's working (and not) in your videos. For example, if you see spikes, it might mean your video has unclear explanations that result in viewers rewatching the video.  
Most popular videos

This metric refers to the top videos based on number of views. Track it to zero-in on the topics that resonate most with viewers.   
YouTube Engagement Metrics
YouTube uses engagement to separate excellent videos from the pack. Track these key metrics to determine if your video ticks all the boxes.
Number of views

This refers to the total number of video views across your entire playlist. 
According to many YouTube experts, this is the first performance metric to look at before looking at other metrics (e.g., average view duration) as it provides more context.
Number of clicks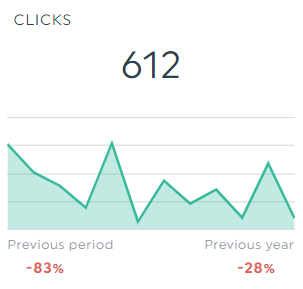 This metric refers to the total number of times a YouTube video (or interactive cards) is clicked. 
Few things to note:
Card clicks

is the number of clicks for the slide-in panels in the end screen (e.g., suggested videos, channel subscribes)

Impressions clicks

is the number of clicks from users who saw your video on the homepage, recommendation section, or trending section
Number of likes, comments, and shares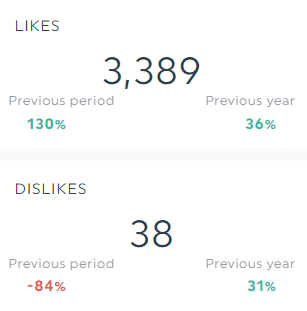 Discover if your videos are growing in popularity by measuring likes, comments, and shares. These three metrics are ranking signals.  
Session duration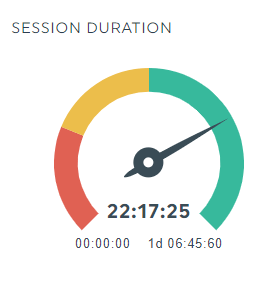 Session duration is the time users spend watching videos on YouTube. Note that it's different from watch time, which tracks the number of minutes users spend watching only your videos.
Track Your Most Crucial YouTube Metrics with DashThis
Marketers spend three hours each week gathering and analyzing data. 
That's 170.4 hours of wasted time in a year.
Gain back your precious hours by auto-generating all your YouTube metrics into a single report on DashThis. 
Here's how it works:
Select the

YouTube Report

template

Connect your Google account (and with your favorite YouTube analytics tools) 

Pick your metrics in

Preset Widgets 
Sit back while DashThis automatically grabs the selected metrics within the report. Once they appear on the right side of the screen, mouse-over and drag and drop them to form a cohesive look.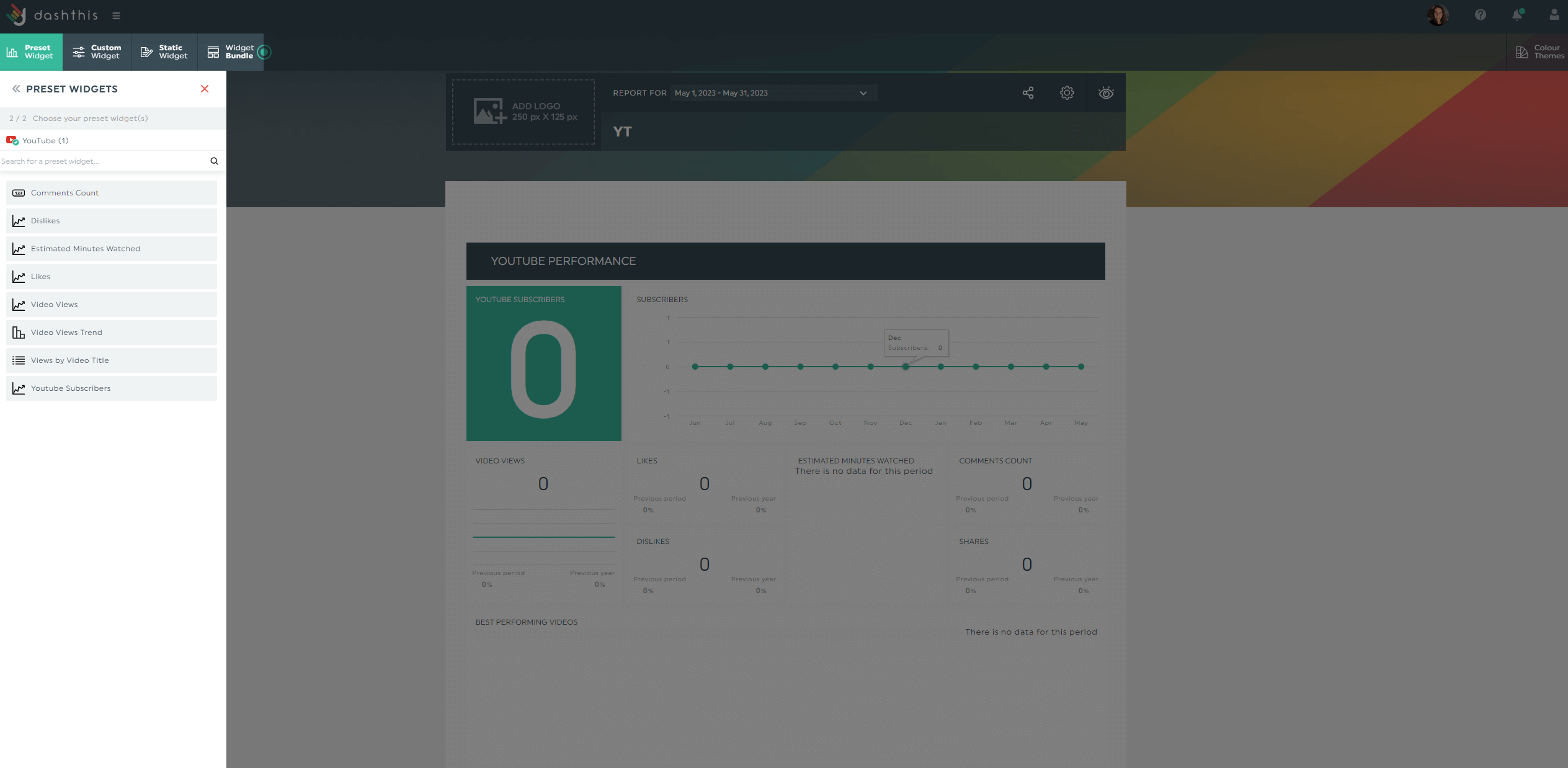 To add a personal touch, customize the color theme and change the profile icon to your brand logo. 
Suggest the next steps within the report instead of emailing stakeholders. 

Click Static Widget > Comments to recommend the next move, whether it's:
Going after untapped search terms for the next quarter's campaign

Listing top-performing individual videos with common themes (e.g., monthly live streams with subject matter experts)

Sharing relevant hashtags for search optimization

Proposing ways to improve video reach after the latest YouTube algorithm update
Alternatively, use the notes widget (hover a metric and click Add Note > Save) to provide context for an erratic metric (e.g., high dislikes count likely caused by controversial opinions in video).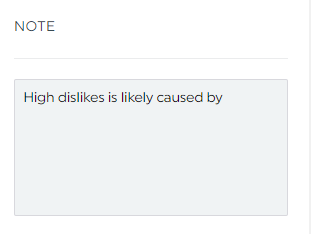 You can also auto-send all stakeholders email notifications whenever there's a fresh note added. 
Schedule your YouTube reports via an automatic email dispatch with a frequency of your choosing. Alternatively, send a shareable URL link for everyone to view the dashboard in real-time.
DashThis speeds up reporting and frees up time to grow your channel effectively. Try it free for 15 days to automate your YouTube reporting today.
YouTube report template
C-suites look at ROI when deciding if they want to continue investing in a marketing channel. Grab this YouTube report to show your hard-won results and get buy-in for the next video campaign.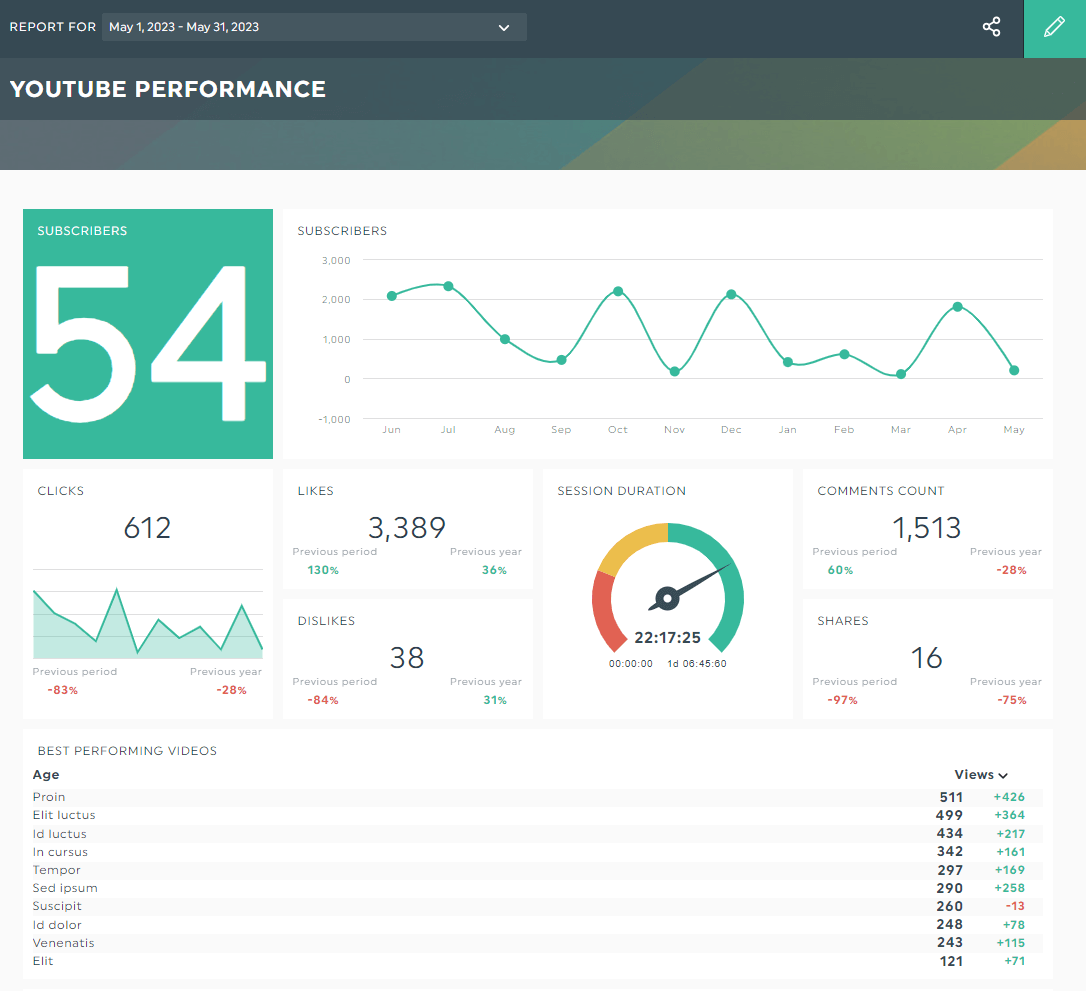 Grab this YouTube report with your own data! 
Social media report template
YouTube marketing is only one part of social media. Communicate how it contributes to your multi-channel strategy with this all-in-one report.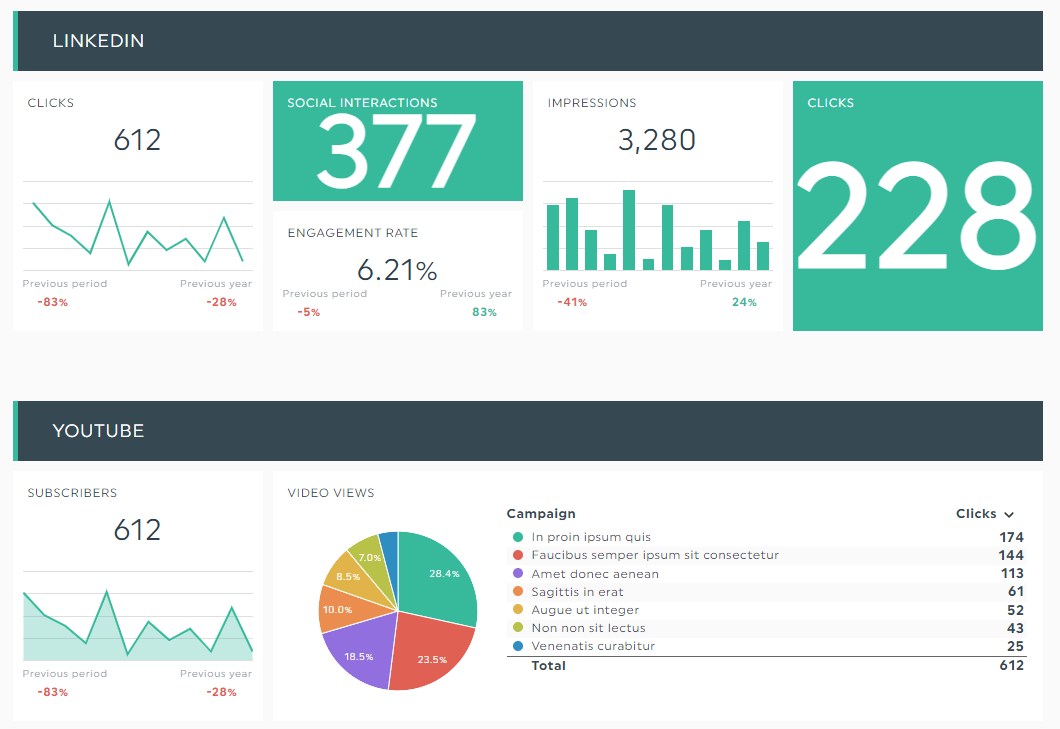 Grab this social media report with your data!
Automate Your Reporting with DashThis
YouTube metrics tell you if your videos hit the right note. 
Before you think about the type or number of video content to create each month, analyze these metrics in your channel. It removes all the guesswork and moves the needle forward for creating videos that connect with your audience.   
DashThis gathers all data across multiple marketing channels into one beautiful report automatically. Pricing starts at $38/month when billed annually. Try it free for 15 days to automate your YouTube reporting today.