Imagine this, somewhere, a person sitting on his couch is scrolling through your website. He is unable to find what he is looking for, even though it is just a couple of clicks away. Or worse, he is willing to buy something but doesn't, being unaware of the ongoing offer.
While businesses are increasingly becoming aware of customer experience, getting all hands on deck to keep up with the 'inert' customer is not a feasible solution. Agreed that you have a support phone number and email id on your website. But given the fact that there are over 1.1 million eCommerce websites generating sizeable revenue, it is a mistake to wait for the customer to call or email you.
Today, most organisations are looking to utilise live chat as a sales tool to scope and target customers who may be interested in your services and their purview. Consequently, such companies need to revise the different characteristics of their offerings to leave a lasting impression on prospects and convert them into loyal customers.
Live Chat and Its Importance in Business

If you were told that you could, in an instant, be there by your customer's side, guiding them through the purchase and educating them about your services, would you find it plausible?
Look at the image below.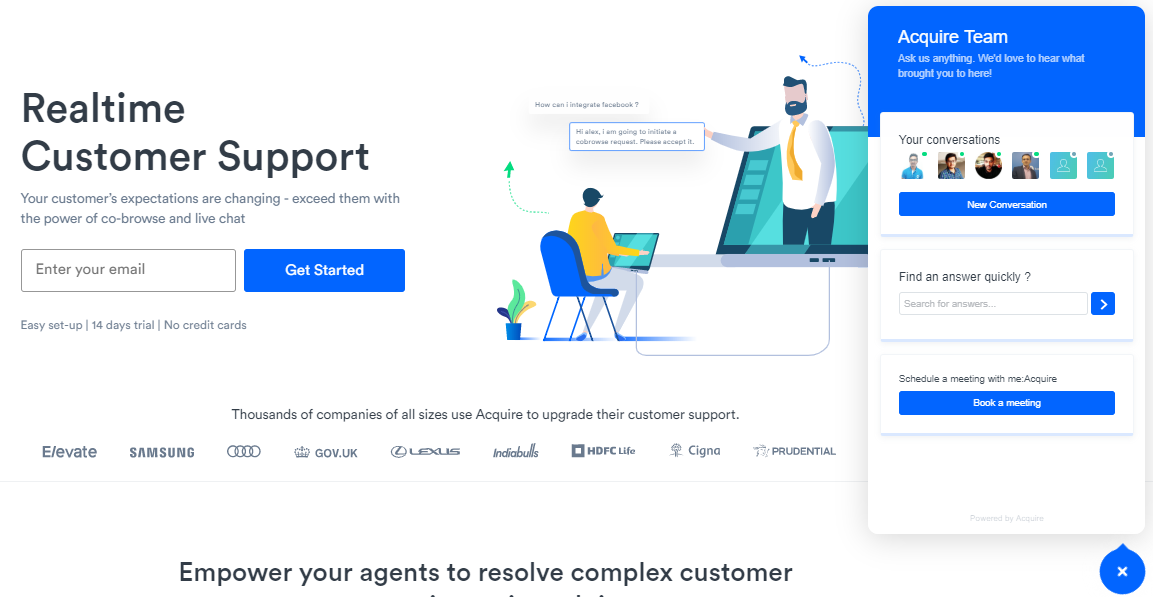 That live chat box in the right corner of this image is equivalent to being there with the person (read 'lead'). It holds the ability to convert them into a customer.
To speak numbers, according to research by J. D. Power, 42% of customers were found to prefer live chat as a means of correspondence with a business. This points to live chat being the highest preferred medium of communication, with email and social media or forums trailing it with attrition rates of 23% and 16% respectively.
Live chat is not a new concept, nor is it unknown to many. But its potential to increase sales by a significant margin is certainly still underrated.
In fact, according to Neil Patel, it is possible and proven to increase the conversion rate by a whopping 45%. Similarly, Forrester claims that there is a 48% increase in revenue per chat hour.
Sadly, these staggering numbers claim a largely untapped potential. Many companies still see live chat software as a 'nice-to-have' accessory for the website which does nothing besides answering a few customer questions.
While such notions were within reason in the recent past, they can spell disaster for an organisation if it is not quick to realise its impending and large-scale possibilities. It is time to see live chat as a must-have, sales boosting feature. If done right, live chat can be more effective than other promotional activities in boosting your business' growth.
7 Ways to Use Live Chat to Empower Your Sales Team

Live chat should be looked at more than just a customer support team's tool. Any visitor who engages in a live chat is a potential buyer. This is why, engaging them with a sales rep, instead of a support representative is a novel idea, one that can help you realise expeditious conversions.
However, as mentioned earlier, live chat isn't exactly new. However, despite being a 'clichéd' practice in the eyes of organisations, its potential still remains largely unused. To tap into it, there are a few ways to use the tool that can truly turn your business's endeavours into hugely profitable ones.
1. Faster Is Better

Many websites simply have a chat section which says "Leave a message and we will get back to you." In most cases, this would be considered behindhand by customers and they would move on to greener pastures in pursuit of better customer experience.
The following stat highlights the importance of speed. 12% of Americans have stated the lack of speed in customer service as their number one frustration.
Even with real time chats, try answering as quickly as possible. If you cannot answer the query straightaway, start with a greeting. Once you have initiated an interaction, customers rest easy and are generally more patient.
2. Precision Is Perfection

Precision means being both exact and correct, it is not one or either. Always avoid vague discussions and answer the questions to the point and accurately. Never say 'I do not know' or anything similar which could be perceived as disappointing.
Have a look at this small snippet of a chat that is brief in its services, all the while providing all the valuable information to the customer:
Always make sure that the chat provides maximum value in minimum time because that is what the customer wants.
3. Have a Trained Team

Despite the previously stated conversion rate potential, the top ten e-commerce websites still have a mere 11.45% conversion rate through live chats. A major reason behind this is having a team trained for only answering queries proactively.
If you want your live chat software to be a powerful sales booster, make your chat sales reps hungry. Train the team well to always have conversions on their mind. Besides this, training them to have proper conversations is equally important, if not more.
Teach your chat executives to give precise answers in a friendly yet formal tone and train them to ask minimal and correct questions. Some investment in well-trained and sales aligned chat representatives can pay significant returns in terms of revenue.
4. On-Boarding Customers by Giving Them a Visual Context

Live chat representatives should be as conversant with the intricacies of the website as possible. In case of a query, they should be able to provide excellent visual context to the customer.
Take the example of a customer looking to check out with a different payment option and a voucher code. A perfect visual context in such a case will lead to a smooth navigation experience.
Despite of the obvious advantages of conventional live chat systems, resolving queries may turn out to be tricky at times. If the query or the answer to it is too complex, the representative should be equipped enough to guide the user easily.
In this context, a co-browsing feature can also be of great help. The chat representative can take control of the user's screen remotely and help navigate correctly.
5. Lead Qualification with Live Chat

Salespersons will agree that the conversion of prospects to qualified leads is always the most important part of selling stuff. There can be scads of prospects visiting your website at any instant, but very few actually turn out to be customers.
Live chat can act as a differentiating mechanism between prospects and qualified leads. A person willing to speak to a company representative is certainly more than a prospect.
The customer support team, during its interaction with the visitors, can identify their needs and pain points. This information can then be used to direct customers to the right pages and purchases. This data, coupled with other eCommerce metrics data, can provide deeper insights, thus resulting in increased conversion rates and increased sales.
6. Provide Proactive Chat Support to Improve Sales

You may remember sellers in bygone days talking (or even shouting) to people passing by their workrooms, trying to sell them their services by trying to convince them about how their stuff is the one they need.
The picture that this scenario paints is that, approaching your customers yourselves, provided in a neat way, can actually work. Modern tools allow you to see which pages are being viewed by the visitor. This data can be leveraged to your benefit as you already know what the prospect is interested in.
For example, you see a person scrolling through a page of sunglasses. You can initiate a chat with "Hello, have you heard about our flat 40% discount offer on aviator glasses?" or "Hi! We have got an interesting collection of sunglasses from XYZ brand. Would you like to check it out?"
7. Customer Support with a Personalized Touch

A study by PwC on customer experience shows that 59% of customers believe that companies have lost their way when it comes to the human touch, all in exchange for the pursuit of automation. They still prefer one-on-one human interactions that can solve their issues.
While automatic chatbots are efficient and cheap, customers aren't fond of them. Thus, as far as is possible, try having actual representatives of yours talk to customers over chat, or have a balanced mix of both.
Besides this, overly formal interactions are only as good as machine interactions. Chat representatives should be able to speak in a semi-formal and conversational tone, striking a balance between friendly and professional.
Take the following example:
Customer: "I want to buy these shoes but have a question."
Representative: "That is an awesome choice. What question do you have about it?"
This can establish a connection between the customer and the representative, increasing customer satisfaction and loyalty.
Here are a few live chat tools we recommend: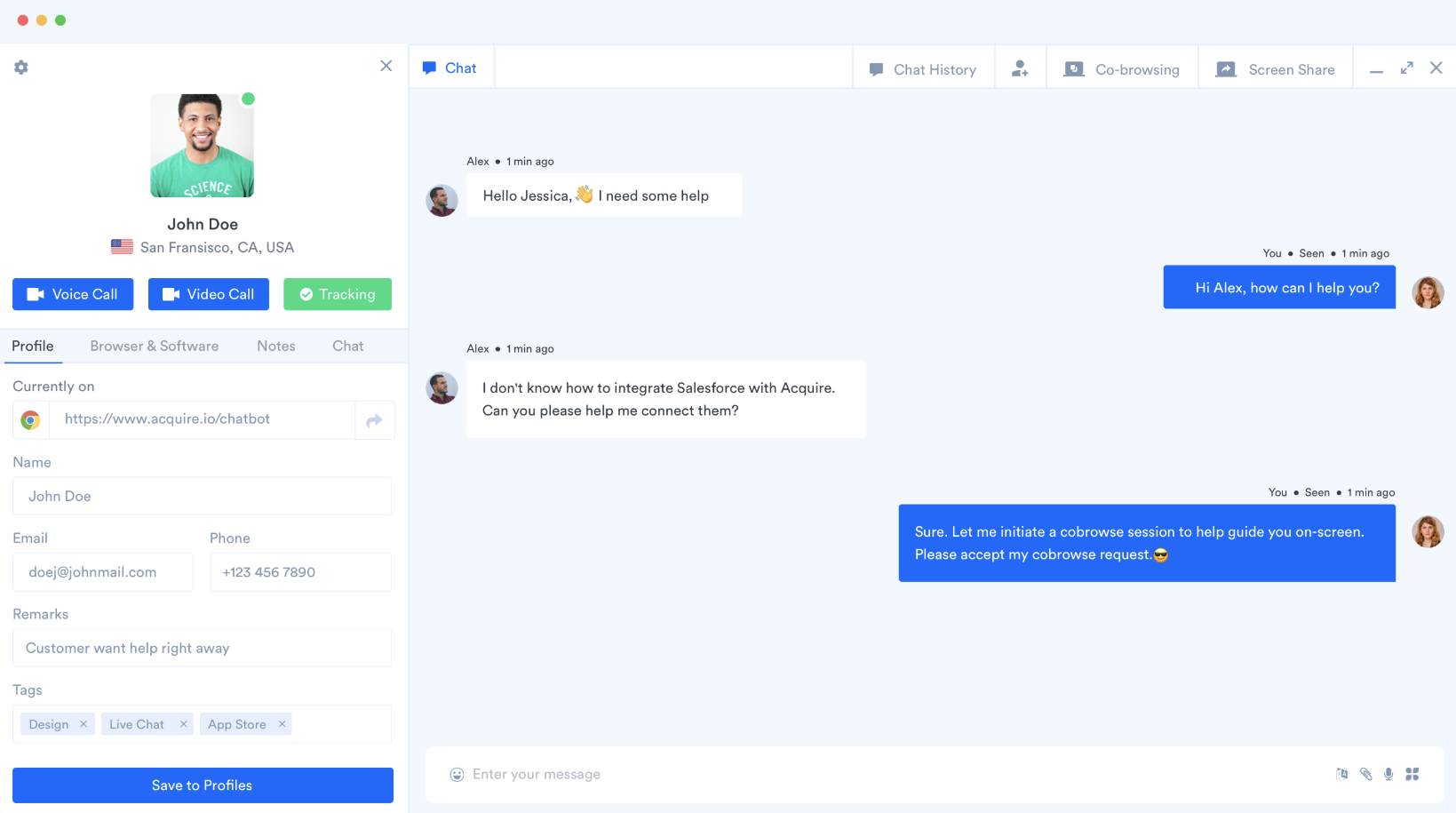 Acquire.io allows you to empower your sales, support, and customer services by streamlining online conversations. Acquire is a scalable suite of tools for sales, support and onboarding. It has a no-download interactive co-browser that allows you to engage in live chats, video and voice calling and chatbots. They offer both web and mobile applications to help you guide your customers in real-time to reduce churn rates while increasing conversion rates.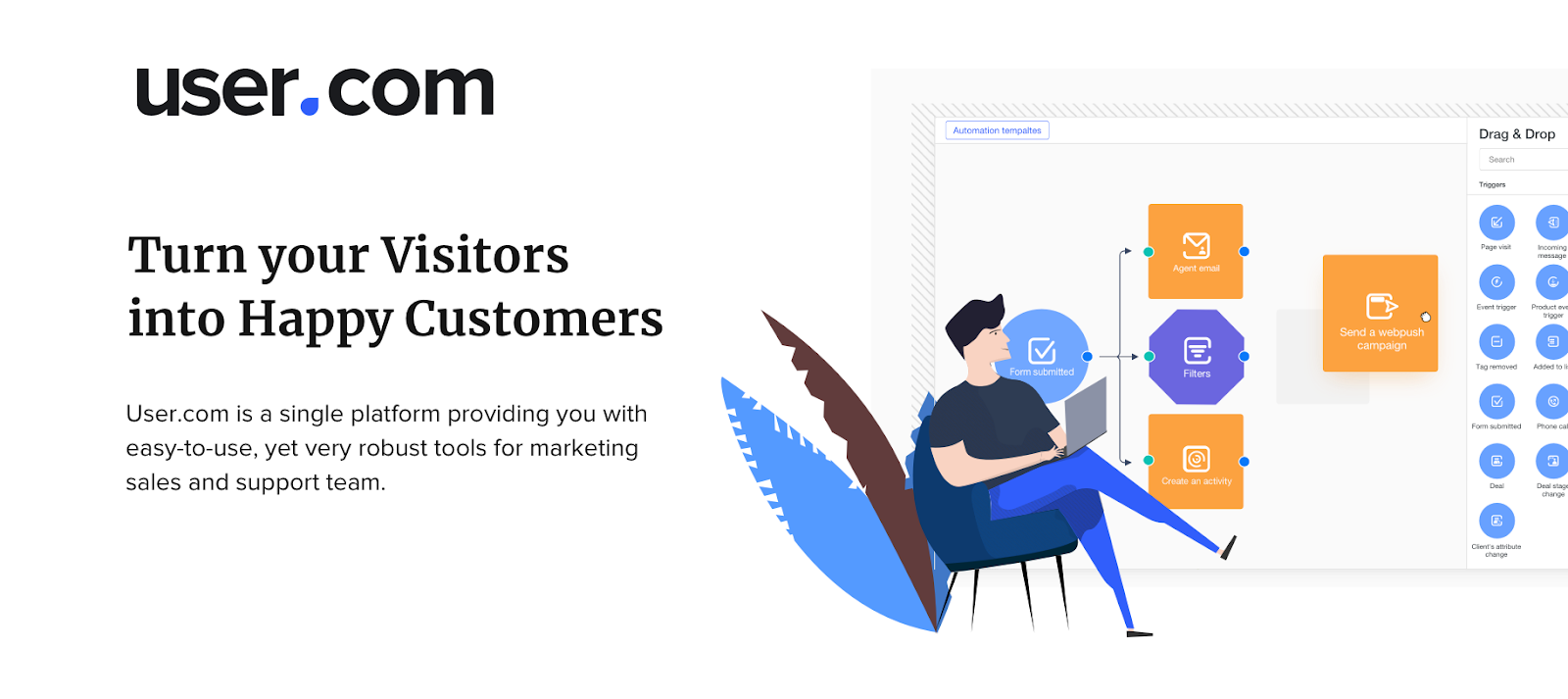 User.com is a full-stack marketing automation software for turning your visitors into happy customers. It helps you gather information about your prospects, communicate with them via live chat, chatbots, and gather contact information by using popups, by sending automated emails and much more. User.com makes it easy to create automated paths where you can pinpoint the moments your leads receive messages. You can try their Freemium Starter Pack which is completely free and includes modules such as Chat, CRM, Knowledge Base and Calendars.
Conclusion

The business world is currently at a crossroads. Competing on the basis of cost and features works, but only to an extent. A Gartner survey says that 89% of companies expect to compete on the basis of customer experience alone. Live chat as a tool holds tremendous potential to this end. It can play a pivotal role in revolutionizing the customer experience.
By letting the sales teams take the steering wheel of live chat, organisations can transform the way they conduct sales and metamorphose customer experience vastly. If done correctly, organisations can leverage the massive potential of this stock-still technology to drive better CX and a significant boost in revenue.