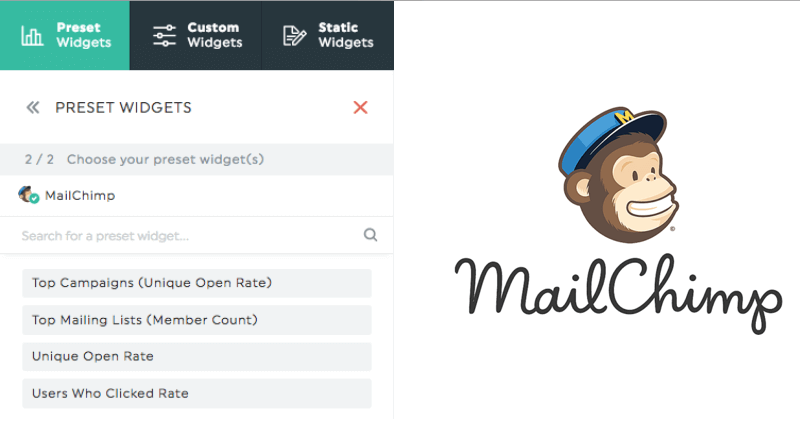 Mailchimp is a well know email marketing service provider having more than 3.5 million users. More than 4 billion emails are sent each month using this service. Many of our users rely on Mailchimp for their email marketing. That's why we integrated Mailchimp API into DashThis. You can create mailchimp dashboards and reports using various Mailchimp metrics and dimensions.
We created the following standard KPIs available from the Indicators drop down menu:
Top Campaigns (Unique Open Rate)
Top Mailing Lists (Member Count)
Unique Open Rate
Users who Clicked Rate

What are the metrics and dimensions available?
Dimensions are:
Campaign
Mailing List
Popular Links (available only with the Link Clicks metric)
Region (available only with the Total Opens metric)

Metrics are:
Bounce Rate
Emails Sent
Fans
Hard Bounces
Link Clicks (available only with the Popular Link dimension)
List Member Count
Opens
Soft Bounces
Unique Open Rate
Unique Opens
Users Who Clicked
Users Who Clicked Rate (Clicks/Opens)
Users Who Clicked Rate (Clicks/Recipients)

Do you need to create Mailchimp dashboards using data from Mailchimp API? Then, you should try DashThis!
You will also be able to link other sources like Google Analytics, Google Adwords, Facebook and many more! So what are you waiting? Go for a free trial now!