Tools to Track Your SEO Analytics
1. Google Search Console (GSC)
GSC monitors and troubleshoots your website's SEO performance. It's built with Google Search in mind.
SEO specialists often use GSC to conduct an SEO site audit (e.g., fixing website crawling, mobile usability, and indexing issues) before starting a project.
Use GSC together with Google Analytics to get a well-rounded picture of your user experience.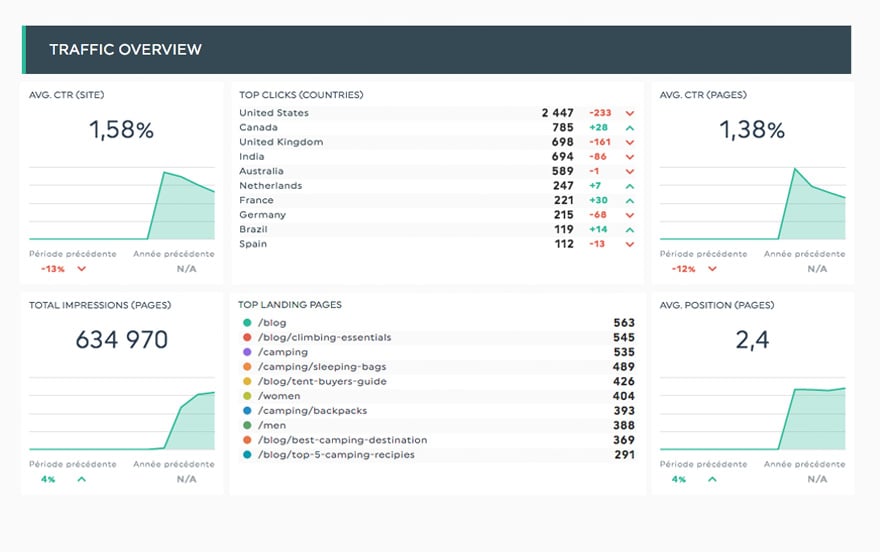 KPIs to track: Top impressions for countries, devices, pages, and queries; average CTR for pages and site; and average position for pages and site.

2. Google Analytics
Google Analytics tracks your website's activity, from analyzing how users interact with your content to measuring your advertising ROI.
It's built with user activity in mind.

Grab this Google Analytics template today
KPIs to track: Number of visitors, average time on page, average order value, cost-per-conversion, and bounce rate.
3. Keyword.com
In the keyword tracking space, keyword.com stands out as a tool for SEO professionals aiming to optimize their online presence. This platform offers accurate keyword rank tracking, ensuring that users are always informed about their website's position in search engine results. Keyword.com is a great rank tracker for agencies and enterprises, as the tool can scale really well to bigger volumes of keywords.
Beyond mere rank tracking, keyword.com provides share of voice measurement, helping businesses understand their market position and strategize accordingly. The platform's user-friendly interface ensures that even those new to SEO can navigate and interpret the data with ease. Moreover, its integration capabilities with other tools (such as DashThis!) make it a versatile addition to any digital marketer's toolkit.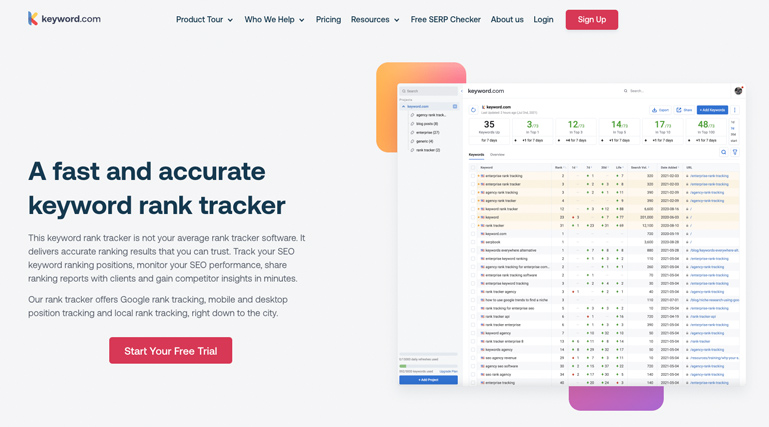 KPIs to track: keyword rankings, Share of voice, ranking distribution and more.
4. SE Ranking
SE Ranking is a cutting-edge SEO platform suitable for businesses, freelancers, and agencies of all industries and sizes. This extensive software for search engine optimization fully covers on-page SEO, technical SEO, off-page SEO, local marketing, content marketing, competitor analysis, and keyword research. 
SE Ranking relies on machine learning, AI and NLP algorithms to deliver reliable datasets and powerful SEO insights. It is your across-the-board tool suite for improving search rankings and traffic, gathering data on your niche competitors, detecting and fixing technical issues on your site, empowering your backlink profile, creating evergreen SEO-friendly content, and more. 
The tool allows you to keep an eye on your website's online visibility, get accurate ranking updates daily, and monitor your most precious backlinks. It also offers seamless integration with Google Search Console and Google Analytics. Simply put, SE Ranking is a user-friendly platform allowing you to manage all SEO essentials in one place.
KPIs to track: organic traffic, keyword rankings, domain authority, page authority, backlinks, and tech health score.
5. SEMrush

SEMrush is one of the best SEO platforms for outbound and inbound marketers. It offers tools for SEO, search engine marketing (SEM), pay-per-click (PPC), and social media, among others.
This is the all-in-one marketing suite you need if you frequently create omnichannel digital marketing campaigns.
For instance, if your client is a B2B enterprise and their marketing strategy involves Google Ads, local SEO, LinkedIn, and Google My Business, look no further than SEMrush. It'll help boost their online visibility presence on one platform.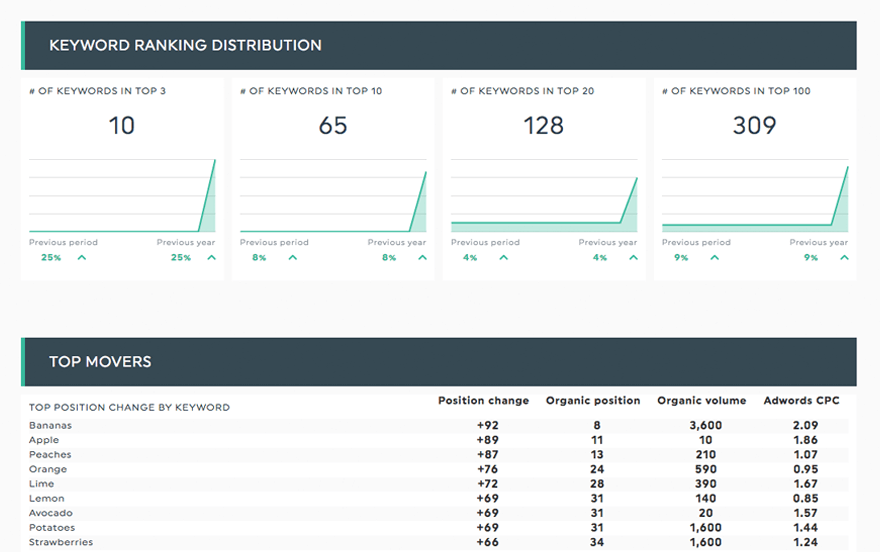 Grab this SEMrush template today
KPIs to track: Branded vs. non-branded traffic, keyword rankings, organic sessions, organic visibility, and backlinks.
6. Moz
Moz is a user-friendly SEO tool ideal for beginners. Use it to crawl your website on demand, research your competitor's backlink profile, and analyze keywords by search volume.
Popular features include Moz Keyword Explorer and Moz Local.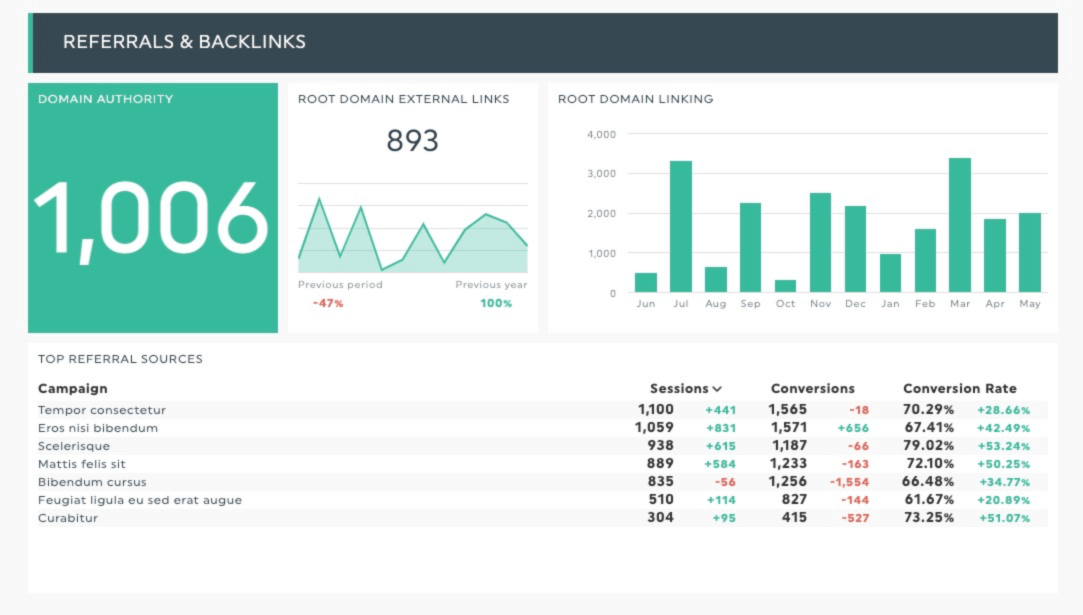 KPIs to track: MozRank, page authority, external equity links, root domain MozRank, and domain authority
Get Started with SEO Report Template

It's meaningless to continue investing in an SEO strategy if we have no idea which specific content generates results. It'd be like throwing darts while wearing a blindfold.
Luckily, this is where SEO reporting comes in. It tells you which specific SEO campaigns are working, so you always know what to do next.
Long gone are the days where you have to grab data from one SEO platform to another and paste them in a cluttered spreadsheet.
With DashThis, you can automate all your SEO data from multiple sources—GSC, Moz, SEMrush, or whatnot—in one beautiful report.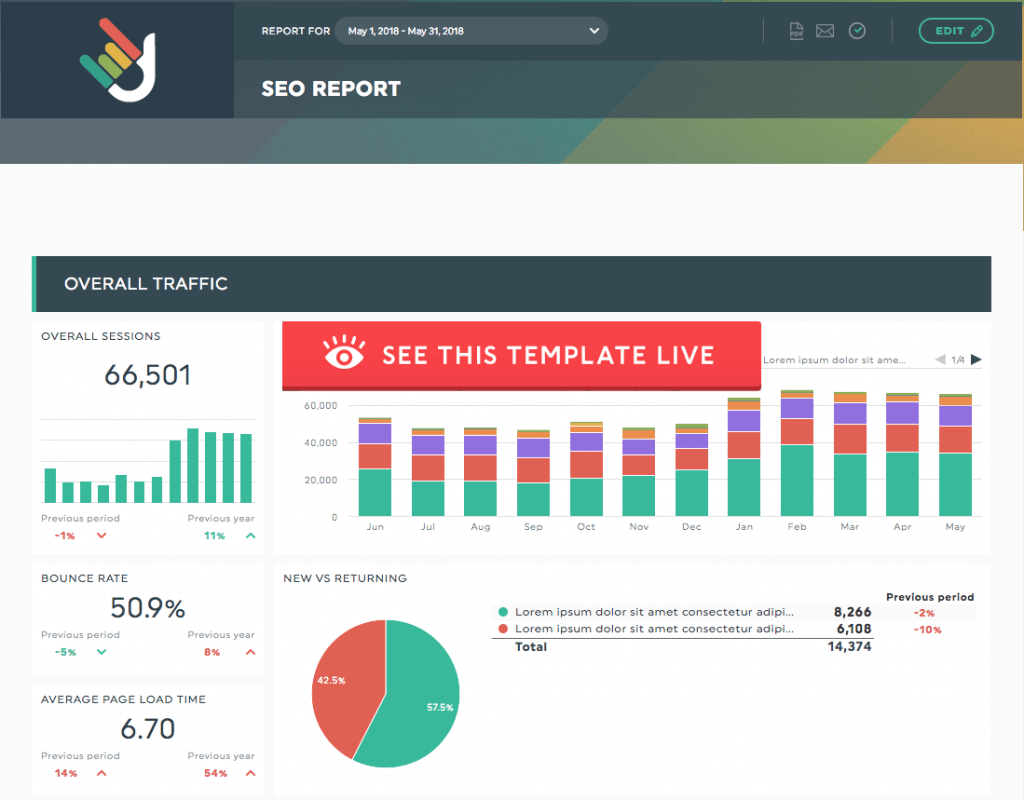 Do you want to know more about SEO Reporting? We put together the Ultimate Guide to SEO Reporting - feel free to share the love on social media and check out the other chapters:
Part 2 - The Fundamentals of the Ideal SEO Reporting Dashboard
Part 3 - What does the Perfect SEO Report Look Like?
Part 4 – SEO: Manual Reporting vs. Automated Reporting
Part 5 – Your Foolproof SEO Report Template [Infographic]
Part 6 – Top 10 SEO Reporting Must-Reads
Happy reporting and make sure to try DashThis free for 15 days. You'll never look at your SEO reports the same way again.