Everyone in the business knows the basic gist of what search engine optimization (aka. SEO) is. However, most people don't use it to its full potential.
Are you one of them?
If so, let's change that, shall we?
In this new article series, The Ultimate Guide to SEO Reporting, we'll be delving into more details on the subject: from the fundamentals of the perfect SEO reporting dashboard, to the ideal time-period to look at in your SEO reports, to choosing whether to manually or automatically create your reporting dashboards, with what tool (DashThis perhaps?!), your SEO reporting process will never be the same.
From backlinks to keyword rankings, landing page analytics to search traffic, let's discuss SEO reporting.
What is SEO?

Basically, SEO is a set of guidelines that improve your web presence twofold: on the one hand, these guidelines help your website be found easily and quickly by your ideal target audience, and on the other hand, the guidelines also help improve usability and user experience.
So why is this important?
Well, for starters, it's proven that web users have a strong tendency to choose among the top few suggestions in the results page. If they don't find what they're looking for there, they will most likely change search keywords instead of looking any further in the results. All the more reason to use every SEO tool you have to make sure that you're among those top for your chosen keywords and your selected target audience. It's also very important to track your keyword ranking and top keywords regularly as part of your SEO metrics.
Remember, it's impossible for you to be first in the search engine rankings for any and all combinations of your chosen keywords – there are too many factors involved in the algorithms that dictate search engine rankings. Something as simple as a user's search history can greatly alter the selection of the top five sites he/she will find when searching for specific keywords.
However, the hundreds of factors taken into account in search engine algorithms are there to ensure that while you won't appear first in all searches, you can work to get to the top when a user fits into your target audience persona. And, since the vast majority of online shopping begins with a simple search, proper SEO can position you smack-dab in the middle of a consumer's' pre-purchase research process, which is precisely where you want to be as much as possible. In addition, sites that are more easily found on search engines will also be more readily promoted on social media networks; which makes the benefits of search engine optimization twofold.
Optimization doesn't just affect your presence on search engines, it affects your ENTIRE online presence. And frankly, nowadays, how your business is found, reviewed, and interacted with online is the single most important factor in your success.
What tools can you use for your SEO?

From Google Analytics to Google Search Console, SEMrush to Ahrefs, there are many different SEO tools out there depending on your SEO campaigns and needs. If you'd like to track the performance of your different landing pages, your organic traffic, bounce rate, conversion rate, site speed, search terms, your content marketing and other similar web analytics KPIs, you can use tools like Google Analytics or Google search console to look at more keyword ranking, SERPS, backlink profile, or rank tracking, search volume, or an SEO site audit and organic search data points, paid tools like Moz, or SEMrush can be considered. Let's not forget local SEO tools such as Google my Business, that you can also combine with e-commerce tools or PPC tools like Google Ads.
As for your SEO reporting tools, you could of course use a free tool like google data studio for a basic SEO report, but for complete marketing reports with white label options and preset widgets, all your marketing campaigns data in the same SEO report, and scheduled monthly SEO reports, there's nothing better than DashThis!
Why should you devote your energy to your SEO?

All you need to do is look at the numbers.
While pay-per-click (PPC) marketing makes up almost 80% of the average SEM marketing budget, it only provides approximately 25% of the inbound traffic. On the flip-side, SEO drives the other 75% of the traffic, yet only receives 15 to 20% of the budget.
In general, PPC marketing should be used in the short-term to fill the gaps you may have in your SEO, not as a long-term, ongoing plan.
Clearly, there is enormous potential when it comes to SEO, so if you have some budget allocation to do, concentrating on optimizing your search engine visibility is the way to go to increase your traffic and notoriety.
What are the basic principles of SEO?

There are entire books written on SEO guidelines and how to best apply them to your web sites, so I won't get into too much detail here. However, in essence, these are the main points to cover during the optimization process:
Page titles should be brief yet descriptive and accurate. You want the user to know exactly what he or she will find in the page.
Page description meta tags are important and should be a short summary of what the page is about. Be careful not to simply repeat the title (since they'll be be seen together), nor to go over 160 characters (anything over and it will be cut off anyway). This is a type of page advertisement, so use the space wisely. Although these meta tags won't directly influence search ranking, it will encourage a user to click your link, which will increase click-through-rate, which will, in turn, influence search ranking.
Along the same lines as the two points above, permanent link structure (aka. the format of the URLs) should be simple, short, and descriptive with proper keywords, with hyphens separating each word.
Obviously, you don't want your users to get a 404 error page. However, it's bound to happen occasionally for various reasons. That's why it's important that the page they land on has a consistent design with the rest of your site, and that it offers the user the possibility to go directly to other pages of yours.
Don't knock the effectiveness of images to increase your standing in search engine rankings; users use images in their searches more and more, so clearly your site's images need to be as optimized as the content. While captions are useful, so are the alt descriptions; don't overdo keywords, but use this space to properly describe the image so that it can be found quickly during image searches.
All text formats are not created equal: using H1 for your titles, H2 for your main headings, and integrating keywords in both, is an important way to optimize your page's visibility on search engines for the keywords you're targeting. While adding bold and italic fonts won't directly affect your SEO, it will simplify the reading process for your user by allowing your main themes and points to come across in the first few seconds of landing on the page in question. User-friendly pages will be visited more often and for longer periods of time; this will therefore indirectly affect your SEO in a positive way.
Internal and external links help create a web of connectivity from your website to the rest of the online world. It's important to ensure that this web is as extensive and clear as possible. To help inter-page navigation, your pages should include links that point to other pages of yours (provided the connection between the two is not only logical, but also helpful). In terms of external links, remember to occasionally check these links to make sure that they aren't broken or no longer in existence.
Speaking of links, your off-site SEO is as important as your on-site SEO. Link-building, the process of getting incoming links from sites that aren't your own (called backlinks), is arguably, the single most important factor affecting your SEO. Every year, Moz comes out with a comprehensive study of the most important search ranking factors, and back-linking and the like have consistently been at the top of the list.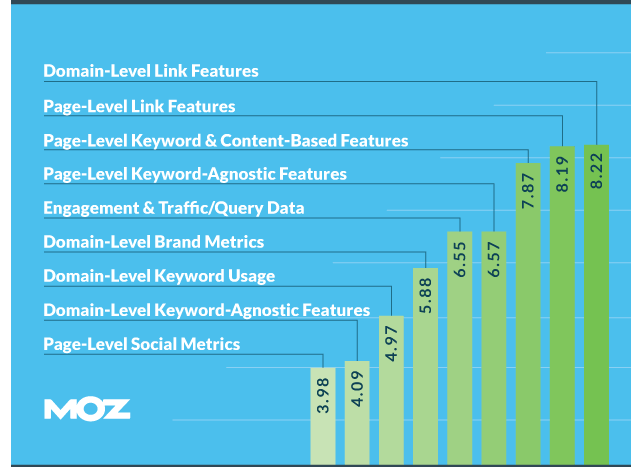 The web game changes over time, and one of the most important changes to address is the increase in traffic derived from mobile devices; mobile device usage has now overtaken desktop usage. With this in mind, it's crucial that your website have a responsive design that will be super easy to navigate no matter what device on which it is visited. If your site isn't optimized for mobile viewing, there's a strong chance that it won't even appear when users search on their mobile device.
Finally, always remember that content is key: nothing mentioned above means much if the content on your site isn't well-written, thoughtful, concise and regularly updated. Search engine algorithms are becoming more and more capable of judging content as a human being would; and since every search engine's purpose is to understand what a user needs and deliver the best content based on that need, generating quality content should always be first and foremost in your SEO efforts.
So, why is SEO reporting important?

Honestly? Because how else are you going to determine if your SEO is working?
Tracking your data in a quality SEO report is how you'll see the effectiveness of your SEO strategy, and your entire global web marketing strategy.
While SEO alone can't help you become the next Amazon, conjointly with proper digital marketing efforts, branding, social media marketing, PPC, paid media marketing, and even traditional advertising, it ensures the growth of your business.
And, like many marketing endeavours, you can't think of SEO as a mere cost; it's an investment. An investment with great return. Because the great thing about SEO, when compared to other marketing methods, is that it has a tendency to increase revenue at a much higher rate than the costs it requires. In other words, you've got a great return on investment (ROI).
Low-cost and high-returns? Clearly, SEO should be a priority.
You want to know more about SEO Reporting? We put together the Ultimate Guide to SEO Reporting - feel free to share the love on social media!
Part 2 - The Fundamentals of the Ideal SEO Reporting Dashboard
Part 3 - What does the Perfect SEO Report Look Like?
Part 4 – SEO: Manual Reporting vs. Automated Reporting
Part 5 – Your Foolproof SEO Report Template [Infographic]
Part 6 – Top 10 SEO Reporting Must-Reads
Happy reporting!