Neil Patel shared a great article on QuickSprout in which he presents what he considers the 14 most important SEO metrics you should incorporate in your regular SEO reporting. Usually, I agree with 100 % of the stuff he shares; his articles are always extremely complete and well researched. But this time, even if I agree that all the 14 SEO metrics he highlights are really important, I think that he forgot one thing: how to bring them all together.
Why should you use a real SEO reporting tool?

In order to track your SEO performance on a regular basis, you have to gather all your data in one single place, and your report has to be simple and quick to read. The metrics proposed in Neil's article are all accessed in different places (Google Analytics, Webmaster Tools, Ahrefs, etc.). And that's perfectly fine, because all tools have different purposes. But when it comes to SEO reporting, you have to gather all your data in one place. Otherwise, it will be a technical mess. You'll have to log into each tool every time and analyse various data. Or even worse, you'll have to build an Excel report! It will take you more and more time to actually generate your SEO reports! Don't get me wrong, once in a while, when you need to answer a specific question, you have no choice but to log into multiple tools and do some data mining. But since it's a recurring task, reporting has to be quick, simple, and straightforward. I think Neil should have told you to get yourself a real reporting tool to track all those metrics painlessly. In order to convince you of the importance of using a real SEO reporting solution, I decided to use DashThis to build a monthly SEO KPI report based on the metrics suggested by Neil's article.
Gathering your data sources in one place

First, you will need to gather all your data sources in one place. It's important to mention that DashThis supports all the SEO tools Neil suggests:

You can also upload your own data via CSV files. All you have to do is to create a DashThis account and add authorizations to it in order to access/show your data within DashThis.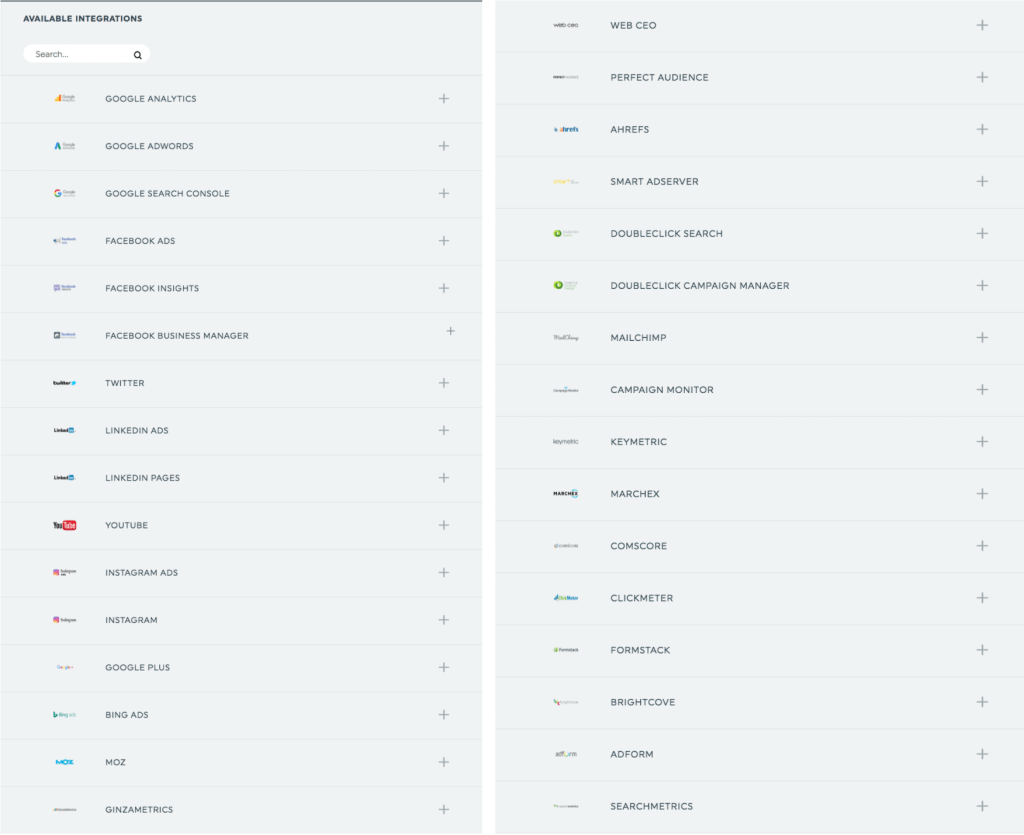 It's very quick and intuitive.
Choosing the right metrics for your SEO reports

Once all your data is in one place, you have to create an SEO report that is easy and quick to read. This means you need to choose the right metrics! There are surely many ways you can make sure your report will be quick and easy to read. You may want to read our article about the 7 golden rules to creating a kick-ass dashboard to know more about that subject. But this time, let's focus on choosing the right metrics and let's see which one of Neil Patel's suggestions we'll use. Some metrics are useful when it comes to analysing your data. But as juicy as they may be, they don't always belong in a report. A recurring report should show overall performance. If you want the whole complex analysis, you're probably not just following performance; you're trying to find an answer to precise questions you may have from time to time. Providing enough data that is nonetheless clearly understandable is the middle ground you need to find… but I know it's easier said than done. Also, some metrics don't vary that much. A recurring report (and your audience's attention) is limited, so conserve the space for metrics that vary over time. Be sure to only keep metrics that have the potential to vary from one period to another (week, month, trimester). Let's review the 14 metrics recommended by Neil Patel's article and see which ones we will want to use.
1- Keywords: focus on the user intent!

These are certainly important things you must look at. But are they really what matter most? You track the ranking of a keyword to see how things evolve over time: how far are you from position #1 for a certain region or language? This is interesting because the closer you get to #1, the higher the amount of traffic (and conversions) you will get from this keyword. So, is the position of a keyword really important? In my opinion, it's more of a vanity metric. A small business could be happy with a smaller traffic share of an enormous market driven by big players. Besides, your position for a certain keyword isn't fixed. Tools like Moz will show you your AVERAGE position, since it changes for almost every individual according to his/her region, navigation history, language, and other factors. You already know that! The real question should be: are you getting more traffic for a certain keyword than you were previously? This means that the position doesn't really matter, but traffic does. Due to the "Not provided" problem, your widget might look like this.
:(
Doesn't really make sense, right? Want more? Moz's analytics has got you covered with their new landing page tool.

Moz's landing page new tool This report estimates the traffic share you're going to get for a certain keyword, based on the rank of the keywords you're tracking and the organic search traffic your landing page is getting. Isn't that awesome? Let's get back to your monthly report. You might want to regularly look at your top landing pages from organic traffic. You might not see the keywords that were used, but you'll be able to tell the subject and the intent of the user that got to that landing page. For example, if you are an insurance company and your top landing page is about auto insurance, you can guess your visitors' intent: they probably want to buy insurance for their car. Traffic directly to the homepage isn't helpful, so let's hope that your website has enough good content to minimize the non-branded organic traffic to your homepage. And since Neil says long-tail keywords represent 91 % of organic traffic, maybe you should focus on intent and less on keywords! Chosen metrics:
Top landing pages from organic visits - Google Analytics
Top queries clicks - Google Search Console

2 – Backlinks : do you get traffic from them?
Plugging Ahrefs in DashThis will let you have the referent domains in your report as well as the anchor text they used, but in my opinion, adding the list of linking root domains or backlinks to your SEO report won't help much. It's something important to check once in a while, but if you look at it too often, the domains and backlinks with more authority will be at the top of the list. This section of your report will therefore always be the same. You don't want that, do you? Again, you want to see how things evolve. Knowing which links sent you traffic is something very interesting though. If during the last period, you received a new backlink from an authority website, it will probably generate lots of visits, which you'll notice in your Top Referrers. You can still go look at those sites and see what the backlink anchor text was. However, for the vast majority, the anchor will be your organization's name and you won't get a hundred per week. We can't all be Neils! :)
Therefore, if you're actively working on getting links, you probably want to have a look at the number of linking root domains. So let's add that to our SEO report. Chosen metrics:
Top referrers – Google Analytics
Number of linking root domains – Moz Analytics or Ahrefs

3- Organic search traffic: the reason behind SEO
Nothing to add here; generating organic search traffic is the reason why we do search engine optimization. You may want to compare your organic traffic to your overall traffic. Chosen metrics:
Total visits - Google Analytics
Visits from organic – Google Analytics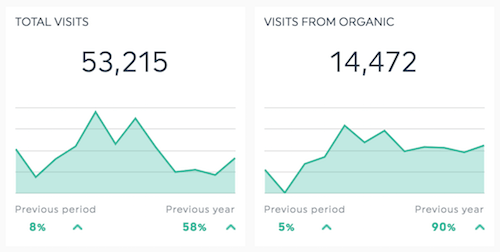 4 – Average time on page: will it change over time?
Like Neil says:
"Typically, time on page won't change much once you have a few hundred visits. So you only need to record this value for most pages once."
Do I really have to add anything? Like I said earlier, save space in your report for metrics that vary over time! You may want to analyse this one from time to time if you're making big changes (i.e. website redesign), but you don't need to analyse this every month, in my opinion. Chosen metrics: none.
5- Pages per visitor: use segments to analyse it
This metric is interesting only if you analyse a segment of your traffic. If you look at your entire traffic, the pages per visitor won't vary much, just like the preceding metric. In this case though, it's useful because we're only looking at the pages per visitors coming from search engines. So we'll add it to our report. Chosen metric: Pages/session – Google Analytics
6- Returning users: make them come back!
If they liked what they got when they visited your site, chances are they will come back for more. You obviously want to have a look at this one on a regular basis. However, like Neil says, the new visitor/returning visitor ratio isn't that big of a deal. In fact, it will change a lot from one website to another. For example, a tool made for everyday usage will have a lot of returning visitors. That means that you should look at the absolute numbers in your SEO monthly report instead. Chosen metric: New vs returning visitor – Google Analytics 

7 – Bounce rate: use it or not?
I must say, I haven't always used this metric. For a long time, I thought it wasn't helpful. But just like the Time on Site metric, you have to segment your traffic to make it useful. If you look at your general bounce rate, it won't change over time. So yes, you should use it. Chosen metric: Organic traffic bounce rate - Google Analytics
8- Page load speed:
Avg. load time is important to watch. If your site is too slow and offers a bad experience, all other metrics will be affected (bounce rate, pages/session, conversion, etc.) Chosen metric: AVG. load time (in MS) - Google Analytics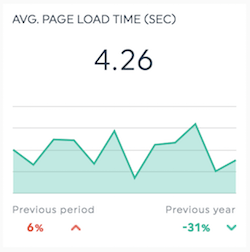 9 – Monitor crawl errors: leave it to the IT
If you have the capacity and will to address crawl errors yourself, be my guest! However, not all SEO specialists have the necessary programming skills to fix these errors when they pop up. I usually leave this to the IT team. Just make sure the IT team has enough SEO knowledge to fix it correctly. You should also make sure they check this on a regular basis. Chosen metric: none.
10 – Traffic by device: I hope you already look at this one
This is more and more important as the portion of mobile traffic increases. If it's not already the case, it should definitely be in your SEO report! Chosen metric: Visits from mobile – Google Analytics
11 – Pages crawled per day and time spent downloading: a preventative metric
Yes, you should look this over on a regular basis to make sure there are no problems. However, I don't usually add it to my SEO reports because it's not really a thing you can improve upon directly and/or easily (unless there's a problem with your website). Remember that we're searching for metrics that we can use to analyse the results of our SEO efforts. Chosen metric: none.
12 – Index status: use it to fix problems
Just like with the crawl errors, set yourself a recurring task to check this out. Remember though, it's more of a technical task than a performance monitoring task. Chosen metric: none.
13 – 404 pageviews: another problem fixing metric
Again, this kind of metric is useful when it comes to optimizing your website's internal link structure; however, it's not something that is directly linked to the efforts you're making to attract organic visitors. That's why we won't add it to our SEO performance report. Chosen metric: none.
14 – Conversions: the mother of all metrics!
Bringing organic traffic to your website is one thing; generating quality traffic with a high conversion rate is another. You could use extremely popular terms in your content that will bring a lot of people to your website. But what if those people weren't really searching for what you have to offer? In short, be sure to look at your organic traffic conversion rate as well as the absolute number of conversions. Chosen metrics:
Conversions from organic traffic – Google Analytics
Conversion rate from organic traffic – Google Analytics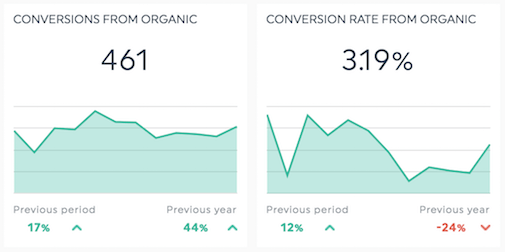 Bonus metric: Top queries – Impressions
In my SEO reports, I like to look at the queries for which my website received Google impressions. I compare this list with the Top queries that generated clicks. I often find really interesting opportunities (read: low-hanging fruits) when comparing these two. Chosen metric: Top queries generating clicks – Google Search Console
Conclusion: SEO metrics that make the cut

Let's wrap up! Since a SEO performance report should only show data that is directly linked with our SEO efforts, we eliminated a bunch of metrics. Here are the metrics types we eliminated:
Vanity metrics
Metrics that don't vary much over time
Crawling/indexing issues

And here are the metrics we selected for our SEO report:
Top landing page from organic visits - Google Analytics
Top queries generating clicks - Google Search Console
Top referrers – Google Analytics
Number of linking root domain – Moz or Ahrefs
Total visits - Google Analytics
Visits from organic – Google Analytics
Pages / session – Google Analytics
New vs returning visitors - Google Analytics
Organic traffic bounce rate - Google Analytics
AVG. load time (in MS) - Google Analytics
Visits from mobile – Google Analytics
Conversions from organic traffic – Google Analytics
Conversion rate from organic traffic – Google Analytics
Top Queries generating clicks – Google Search Console
And here is what your monthly SEO report will look like: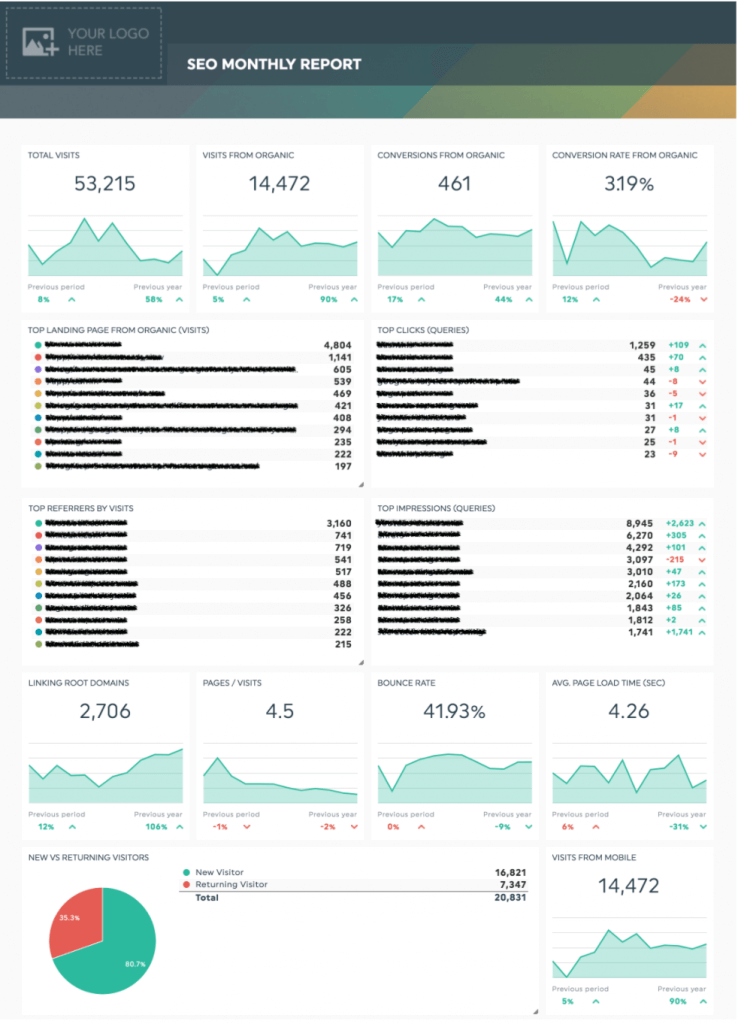 Once you've easily created this report, you can consult it whenever you want without having to pull the data from different sources again and again. It'll be there, waiting for you in your DashThis account. Just so you know, once your SEO report is created, you can:
Add or edit any widgets (KPIs)
Choose where you want each metric to appear in your report (drag and drop)
Add a note directly in each metric to help your audience analyse it
Add comments at the end of your report
Add your logo or your client's logo to your report
Access it with a specific URL (password optional)
Create an automated email to send your report
Export it as a PDF

So how's that? Doesn't using a real SEO reporting tool sound fantastic? Try our SEO reporting tool yourself! What are the metrics YOU use for your SEO reporting?
More reading : How to Create an SEO and Online marketing Dashboard with DashThis by Aleyda Solis – International SEO Consultant
The fundamentals of the ideal SEO reporting dashboard by DashThis