Your client doesn't read your SEO reports? You feel like they don't appreciate all the work you put into reporting their website's search engine optimization and SEO reporting?
Let me show you how to grab their attention, work with them, and create a report they will not only read and understand, but appreciate. And a client that can appreciate your hard work is one that'll keep doing business with you!

Let's start with the basics: the 3 steps to create a SEO report for your client.
How to create SEO marketing reports
1- Determine your objectives
2- Establish the KPIs you need
3- Build and share your report
Or to get started right away, you can get a SEO report in seconds by using SEO report templates like the ones we offer for free when you do a 15 days trial of DashThis.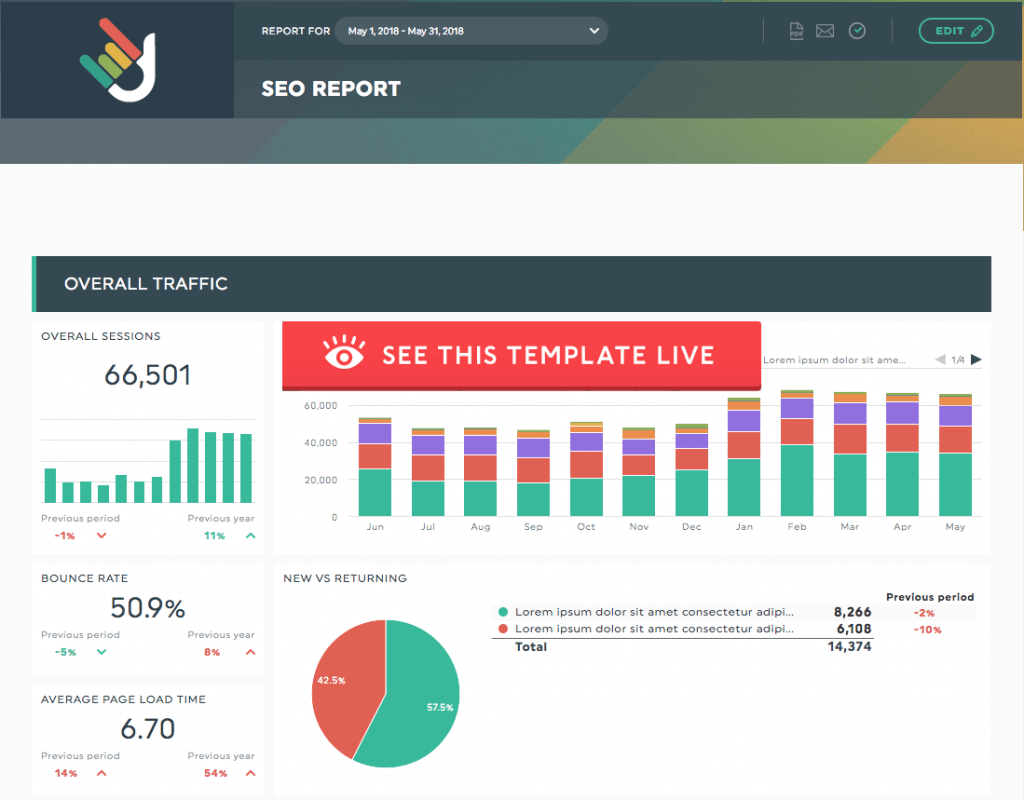 SEO reports are not only your way of determining if your strategies are working, they're also crucial in showing your results to your clients. And since this directly impacts your bottom line, I'd say it's a non-negotiable for any digital agency worth its salt; you need to create well built, amazing SEO reports, quickly.
As you know, search engine optimization is a long-term investment. Evaluating your strategies is best done on a monthly basis so that you don't get bogged-down with tiny details that can change quickly and for no reason. So although you could theoretically create weekly SEO reports for your client's website, or even daily SEO reports, generally, monthly SEO reports are best.
So let's see a good example of what your monthly SEO report should look like!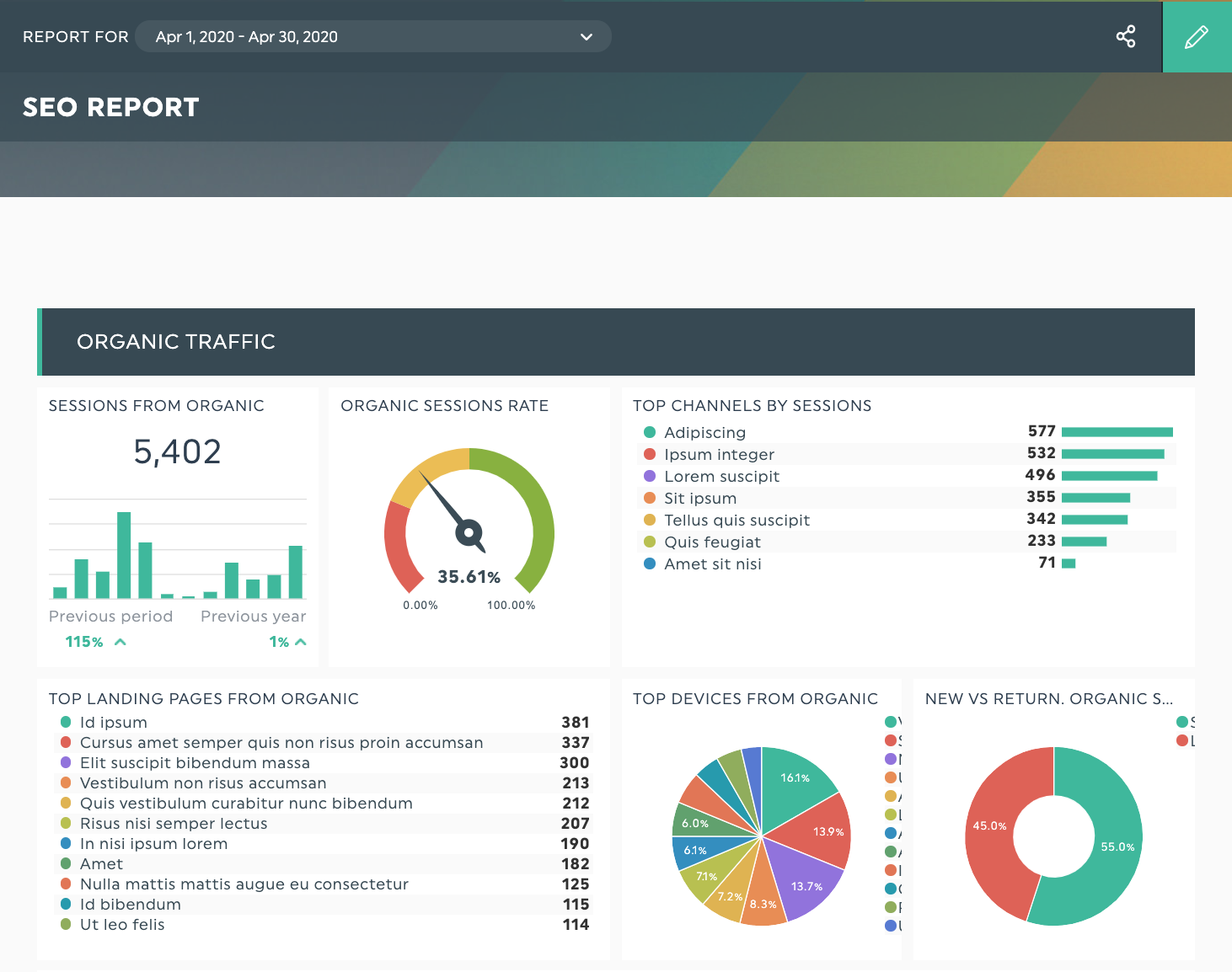 Pretty neat right? Now let's see how to get there!
1- Determine your objectives

First things first, you need to know what objectives your client has in mind. Sit down with the business owner or marketing specialist and ask them about what they are looking for in terms of overall marketing strategies (PPC, social media, etc.) and of course SEO campaigns. Discuss with them their current SEO goals, make a SEO analysis and/or SEO audit first and verify how they align with their business objectives. Make sure to outline these goals clearly with your client.
For example, their goals may be:
To bring more traffic to their site;
To increase their overall sales;
To improve their SERP;
Or, to improve their engagement.
They want all of the above? Make sure you concentrate on a few goals at a time; having too much on your plate can only result in a Chinese buffet-level of indigestion.
However, keep in mind that improving one goal can affect another, since they're all connected. More traffic doesn't necessarily bring more sales, but it can help. Whereas the wrong traffic could potentially hurt engagement.
Even more importantly, you'll want to explain how your chosen SEO goals will impact your client's overall business. By outlining what you're working towards and why, you'll not only give direction to your report but also set your client's expectations.
Then, you need to build your SEO strategies to reach these objectives/goals.
Where should your SEO efforts be focused in order to meet these goals?
For example, if your client wants to increase the overall organic search traffic that comes to their site, you'll want to focus on improving their keyword rankings and link building. In order to show how you'll do this, you need to outline your plan of attack, making sure the most relevant information doesn't get lost among a bunch of data irrelevant to your current goal.
Don't forget to highlight what you have already done towards meeting this goal, may it be the doing a SEO site audit, optimizing on-page SEO, landing page optimization, new backlinks, reducing SEO errors on all pages, adding meta descriptions, updating robots.txt files, updating title tags, adding new external links, or all other SEO tasks. Show them the historic trends. This will give you and your client a clear idea of where you stand and where you need to go.
2- Establish the KPIs you need in your SEO report

You can't create a SEO report without knowing what KPIs to include and why. So here is a quick overview of what you should keep in mind.
First and foremost, remember to always show your results in hard numbers; nobody wants goals that aren't measurable! Your reports should show numbers that you can rely on and track easily over time.
It's important to be honest and show the bad numbers when they happen too. You can always turn bad results into positives, and sometimes you'll just need to remind your clients that fluctuations are completely normal.
We all want to look good and show our best profile, but this isn't tinder, so remember to be transparent, it'll be worth it!
With that in mind, here are some of the most relevant KPIs to include in your SEO report;
Traffic

Your clients are most probably wondering: where's my website traffic coming from and how do I get more of it? Answer them!
This is one of the most common SEO goals out there: increasing organic traffic. If your client has this goal in mind, make sure your SEO report includes your client's site traffic generated through organic search AND paid search.
This will allow them to compare the traffic their website generates organically with the traffic from their ads, thus allowing you to highlight the impact one might have on the other! Don't forget to take a look at the click-through rate on your ads. This website analysis of the traffic can really help your client understand the SEO value.
Also, always include the direct traffic in your SEO report, as well as the referral, in order to answer the age old question: who's bringing traffic (or not!) to your website.
Tools to track this KPI: Google Analytics
Engagement


Now that we know where the traffic comes from, let's talk about where they're going! A crucial metric to include in your SEO report is the bounce rate; a high bounce rate may indicate that the website doesn't meet visitors' expectations and would need a change! Maybe it's about your site speed, user experience, or content quality.
You want your visitors to stay a little while and visit your website; average session duration, page per session, and time on site are important metrics because they show if your visitors explore the website in depth, are interested in your client's content and products… or not.
Don't forget to display all these KPI page by page to give a good overview or the top performing pages, landing pages or blog posts.
These KPIs are particularly important if your client's objective is to increase engagement, which should ultimately increase conversions, right?
Tools to track this KPI: Google Analytics
Conversion rate


Speaking of conversions… Be sure to include conversion data, since it'll demonstrate your good work and the value you bring to your client's business! These are KPIs you need to add, particularly if your client's goal is to increase the number of sales, form completion, or downloads through his website.
A high conversion rate and conversion volume directly indicates how your SEO efforts are paying off and how many leads are created thanks to your optimized website! With these KPIs, you can verify which page converts best, and which ones are not reaching their goals.
You can then tweak the pages that don't perform as well and reproduce what is working best on other pages.
Tools to track this KPI: Google Analytics
Keyword performance

A tremendous part of SEO revolves around keywords: you want to know which are the most performing keywords!
Make sure you know which specific keywords improved in the rankings, how search visibility has changed, and of course, your average position in your target keyword searches results.
All of this will give you a better idea of what to focus on next.
Tools to track this KPI: Google Search Console, SEMrush
Links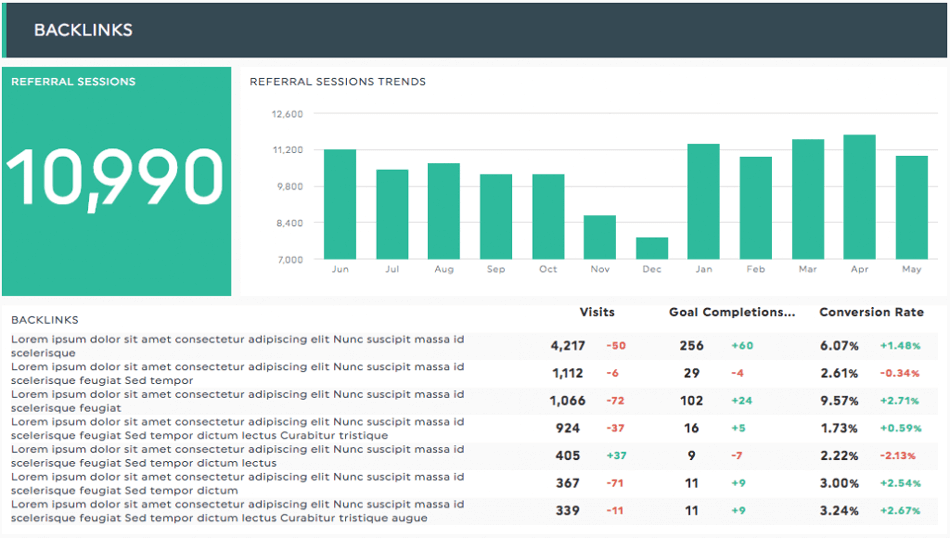 Never underestimate the power of backlinks! Make sure to include the domain authority metrics of those backlinks on your SEO report, as well as the new and lost referring domains.
Why? Well, you need to make sure that you have relevant inbound links, that your backlinks not only have good domain authority, but also that they are great, credible sources with the right anchor text. If not, they could actually hurt your ranking, and what you want for your client is a healthy backlink profile. Don't forget to make sure you don't have too many broken links too!
Also, by tracking the new and lost referring domains, you can quickly see when something is wrong and fix the situation accordingly!
Tools to track this KPI: Google Search Console, Google Analytics, Ahrefs, Moz
Page speed and performance

Have you ever googled a random topic on your mobile to prove a point and clicked on a link that took so long to load on your phone that you decided to go back and pick another one? Yeah, me too!
This is why page speed and site performance are key metrics that need to be on your SEO report. As a general rule of thumb, make sure your page speed always stays under 3 seconds; this can dramatically improve your SEO ranking. Particularly if your competition still has slower pages, this will give you a serious edge.
Tools to track this KPI: Google Analytics
*Hint: Never underestimate the layout!

You should always make sure your reports are both effective and readable. Here's what you need to keep in mind:
Organize ranking, linking, and analytics data in a logical way.
Don't put your data randomly in your report; make sure each KPI's position makes sense for your audience in terms of overall strategy.
It will be easier for your audience to see the big picture if KPIs that relate to each other are grouped together. For example, you could organize your data from the most high-level information at the top, down to the details the closer you get to the bottom.
Make it look professional with headers and clear sections.
Make sure your data is easy to look through at a glance. A client that has never seen your report before should be able to find the information (s)he is looking for quickly and easily.
We also crafted a list of the 7 golden rules for creating kickass client dashboards if you want more tricks and tips like these!
Now that you know what should be included in your SEO report and how to present it, where do you start?
3- Build and share your SEO report

There are two ways to build your SEO reports; automatically or manually.
With automated solutions like DashThis, creating a beautiful, client-friendly SEO report is as easy as 1-2-3! Let me show you how:
Steps to create your SEO reports automatically
Connect your integrations;
Choose your report type and pick a SEO template;
Customize it with your own KPIs, insight, comments, images, and headers.
Set up an automatic email dispatch;
Forget about it!

However, creating your reports manually takes a bit more time.
Steps to create your SEO reports manually
Go into each one of your digital marketing tools, SEO analyzer, and SEO audit tools, like Google Analytics, Google Search Console, Ahrefs, and SEMrush, to gather all the data you're tracking;
Fetch all your SEO metrics by entering into your (or your client's) account for each tool, going into each software, and searching for the right KPIs;
Adjust the time frame and hope you don't have to do it all over because you missed a date;
Find the way to export that data into an excel spreadsheet;
Copy-paste it into another excel spreadsheet;
Try to make it readable by creating some graphs, playing with the values, columns, layout, alignment, colours, and fonts;
Noticing it looks pretty bad and give it to your graphic designer so that (s)he can take care of the layout for you;
Trying to export your designer's document into a pdf to present it to your client;
Repeat this process with every one of your clients' data.
Export your report as a PDF;
Attach your report in an email;
Make sure you didn't make typos;
Send to your client;
Repeat steps 1 to 4 for all your clients;
Repeat the entire process next month, and the month after that, and the month after that, hoping your client doesn't request a weekly report.
You know the drill!
So, why are you creating your reports manually when this can all be automatic?
It takes about five minutes to set up your automatic SEO report, and your clients will get them in a timely manner, with up-to-date data, every month. You heard me, you don't have to come back and enter the new data monthly, it's all updated automatically!
Look at that!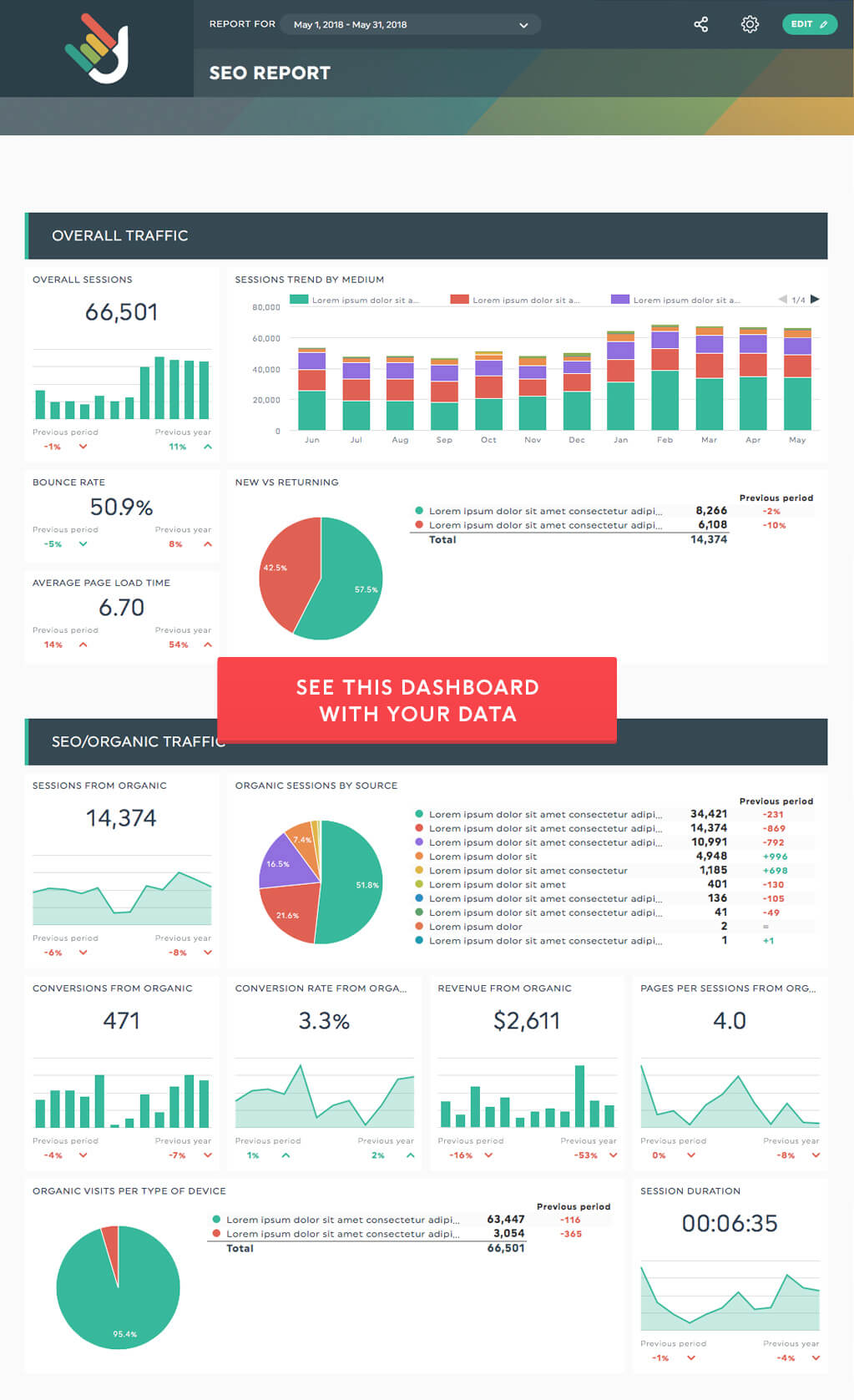 You can even clone your reports for all your clients, whether you have 5, 30, or 100, and add personalized comments and insights for each of them.
You don't want to lose your unique style? Don't you worry, if you need more customization in your reports, you'll love the white label options; you can have your own branded URL and uniquely designed custom reports, just how you like them.
Here's a short video on how to create and customize your SEO report in 5 minutes:
You now have everything you need to create efficient, simple, and beautiful SEO reports that your clients will love!
Not sure if DashThis is the right solution for your reporting needs? Try it free for 15 days! A free trial never hurt anybody!
We know we made the best SEO reporting software, but don't take my word for it, just read what our clients have to say about us!