Thank-you to Radomir Basta, CEO and lead SEO strategist at Four Dots inbound marketing agency and lecturer at the Digital Marketing Institute, for this article.
SEO campaigns don't work on a "set it and forget it" principle and typically take weeks or even months to bring tangible results. Precisely because of this slow results delivery time, the entire campaign needs to be based on specific goals and include precise metrics that help in assessing its performance. In an ideal world, all these would be possible to define according to a unique SEO schema. In reality, however, defining the right KPIs and deciding on the most actionable data to track is much harder than that. While an increase in organic search traffic is normally the single most important goal of an SEO campaign, each website may need to use a different set of performance metrics in order to evaluate the actual campaign success. Therefore, defining the right KPIs is largely based on a webmaster's idea on what brings most value for his or her business. Based on this knowledge, a range of metrics can be taken into consideration depending on the set of tools the SEO team has access to.
The power of SEO tools for performance assessment
Essentially a technical practice, SEO can hardly work without solid behaviour-tracking and data analytics technology. Fortunately, as the practice grew in popularity over the last several years, so did the number of tools and services used to extract the most relevant data on users' behaviour. Among the tools that can help you get precise results of your efforts and help you reach your SEO goals faster, Google Webmasters Tools and Google Analytics are still irreplaceable for most webmasters. Yet there are many other services that help you monitor and analyze additional aspects of an SEO campaign to gather as many details on your audience as possible. Ahrefs and Moz tools, for example, are handy for measuring specific properties of your or your competitors' websites, while CrazyEgg and KissMetrics can help you improve user experience to ensure your website delivers what the audience expects. Depending on the goals set, you may use one or more of these to bring your data together and ensure a more successful campaign. First, of course, you need to know exactly what makes KPIs relevant to track.
What can SEO do for my business?
Like with all the other online marketing efforts, an important aspect to consider when starting an SEO strategy is what your most tangible business goals are. With Google search results improvements and amazingly tight competition in specific industries, you need more than "I want to be on the first page of Google" in order to execute the strategy right. For example, studies have shown that online marketers value SEO for a range of different reasons.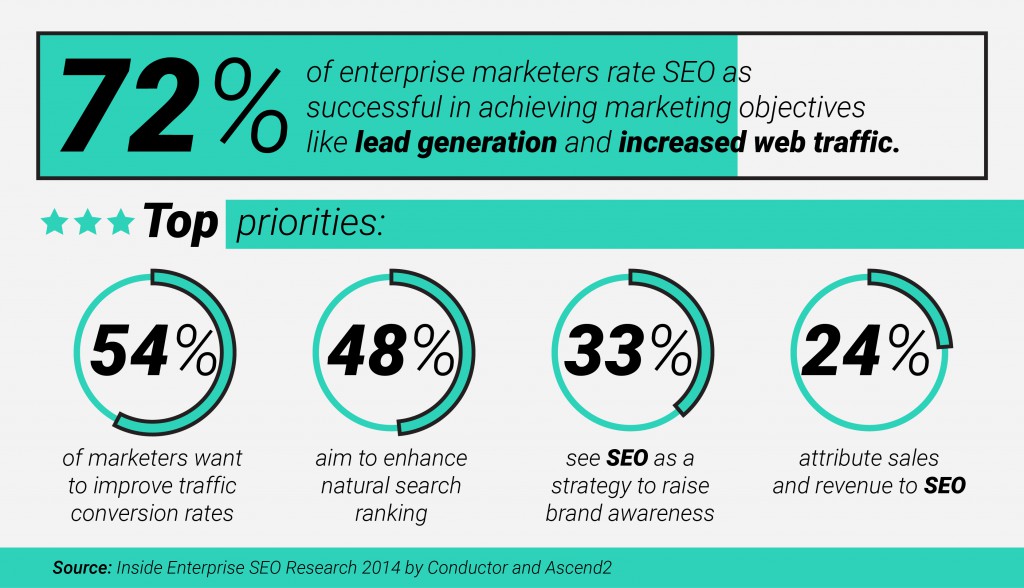 Therefore, a good way to start with determining your own KPIs is to consider which of the following make sense for your business and how they can be executed:
- Increase organic traffic to attract more sales/marketing qualified leads or buyers.
- Rank better for a specific set of keywords that historical data shows has value for your business.
- Improve the overall content performance to be established as an authority online.
- Drive targeted traffic to increase conversions on specific pages.
- Increase the number of brand mentions online to raise brand awareness.
KPIs to use to assess SEO performance based on your business goals
Now we're coming to the juicy part. Out of all the metrics you can track, the following are most likely to match your current business goals and bring new growth opportunities. Once you've analyzed your business goals and the potential of SEO strategy to help in achieving them, you can use the following common KPIs.
Organic traffic volume
Typically, organic traffic increase is the primary goal for an SEO strategy and with good reason. Namely, studies have shown that organic search traffic drives significant conversions, regardless of your industry or business model. Though quite complex to achieve, this is one of the most straightforward goals to track, whereupon you can use the following tools and metrics:
- Google Analytics: Traffic Sources, which show you the channels/mediums through which people most frequently come to your website.
- Google Webmaster Tools: Click-Through Rates, which reveal how many clicks you receive for specific keywords and what volumes or traffic are generated this way.
Keyword ranks
The very fact you rank well for a specific word doesn't have to mean anything for your entire SEO campaign. In other words, you should specifically determine the sets of keywords that are actually valuable for your business and try to push them up on Google. The pushing part is typically achieved through strategic link building or content distribution, while the measuring part can be done via the following tools:
- Semrush
- Google Rank Checker by SERPs
- iWebTool
Number of backlinks
While a large number of backlinks doesn't necessarily mean much, it definitely helps you improve your search positions. A backlink portfolio is directly correlated to better search results and this is why link building needs to be a part of your SEO strategy. Here, what matters is the quality of websites that point back to you, which is particularly important if you're planning for some link building campaigns.
- Ahrefs
- Open Site Explorer by Moz
- Majestic
Overall website performance
Now a somewhat abstract notion can easily be translated into a set of metrics you can track to ensure your website works just fine. Among these, you also want to watch for specific technical issues and make sure you fix them as soon as you identify them.
- Pingdom website speed test
- Webpagetest.com
- Online Broken Link Checker
- Google Webmaster Tools
Content engagement
Similar to overall website performance, content engagement metrics can seem quite abstract unless you previously define what it is that you want to achieve. Some of the most important engagement metrics are bounce rate, time on site and click through rate, but they don't have to mean anything unless you put them in a context. Most of these could be also monitored through Google Analytics, which offers some advanced reports that show you where improvements can be made. Some of the additional metrics you may want to consider are Average Scroll Depth (measured by CrazyEgg) and Form Submission Rate (KissMetrics or HubSpot).
Conclusions
More often than not, novice (and even some more experienced) webmasters get confused with the variety of opportunities SEO gives that they frequently forget what their priorities are. Depending on your skills and team, you'll be able to use different techniques to climb Google results. Using the KPIs and tools outlined above, you can also track your progress, report on it with a KPI dashboard or KPI report, and use the available data to continue improving your campaigns.