"It's all the same, only the names will change, and every day, it seems we're wastin' away."
Rumor has it that way before even being the opening lyrics of a good ole' Bon Jovi hit, those exact words were quoted from dozens of thousands of marketers from all around the world, lost in hundreds of marketing KPIs (or Key Performance Indicators), struggling with their marketing reports, and that, sadly, you're probably a part of, am I right?
Marketing reporting, however, should never be synonymous with wasted days. It's in fact what you should drive the most revenue from. Your reporting process should never be so tedious that you wonder if you'll come out of it dead or alive (see what I did here?).
"How can that be?" I'm hearing you ask. The answer is actually quite simple: know which marketing KPIs to track, and use an awesome reporting tool in the likes of DashThis.
Know which marketing KPIs to track
You probably use multiple different marketing strategies and marketing campaigns, so the number and types of digital marketing KPIs you could keep track of are only limited by your imagination. However, the following are the top 30 (in no particular order) that we, here at DashThis, believe are the most useful.
Overview
You have multiple marketing activities, but there are some digital marketing KPIs that you most likely need to track no matter what!
1. Conversion rate
Knowing what percentage of visitors took a desired action is an essential marketing KPI for which you should definitely save a special place in your report. Your conversion rate can be broken down into several ways, such as:
Landing page conversion rate
Social media conversion rate
Conversion rate per channel
Conversion rate per device
Conversion rate for specific keywords
Conversion rate for specific campaigns
2. Traffic (number of sessions)
Follow your daily, weekly, monthly, or yearly progress by tracking the number of website traffic you're getting. This marketing KPI can also be broken down into various categories like:
Organic traffic
Social media traffic
Paid traffic
Referral traffic
Direct traffic
Page views
Traffic sources
3. Session duration
Do people take the time to read your content thoroughly, do they opt for a quick scan, or rather do they bounce right off your page? Tracking the session duration will allow you to get an overview of all this.
4. Conversion path
What are the actions taken by a customer before (s)he converts? This marketing KPI will let you see where converting visitors come from and which pages they tend to consult before hitting the "Buy" button.
5. Bounce rate
What is the percentage of people who immediately leave your website without taking any action? Since these bouncing visitors probably landed on your website by mistake, your bounce rate is a marketing KPI that's bound to help you better orient your targeting strategy.
6. New vs returning visitors
Does your brand generate recurring business? This rate is what will help you know if your website and content are interesting enough to get visitors to come back for more. However, a high number of new visitors could also mean your branding campaigns are successful. Either way, this is a marketing KPI that absolutely deserves its spot in your overview section.
Gather all these KPIs in one automated marketing report in seconds!
Try DashThis for free!
E-commerce
7. Sales revenue
Your sales revenue says a lot about your marketing success, because let's face it, it's pretty much what it all comes down to. So your sales revenue is nothing less than a vital marketing KPI to track in order to gradually weed out the parts of your strategy that don't work as well as expected.
8. Cost per transaction
This is an average number that's based on your AdWords (Google Ads) investment. You can figure out this metric by dividing the amount of money you put into your AdWords campaigns by the number of transactions these campaigns generated. This KPI will help you see if your AdWords results are worth the original investment.
9. Revenue per transaction
This essential marketing KPI is an average you can calculate by dividing your total revenue by the total number of transactions. It gives a macro idea of how much your website and content incite visitors to spend when the time comes to complete a transaction.
10. Cart abandonment rate
Getting many cart abandonments is normal, but keeping track of this marketing KPI will help you notice any unusual increase or decrease of that level. Perhaps you've changed your website's payment process and the additional step is discouraging to your visitors. Maybe, on the contrary, your checkout process has been optimized and the results really live up to your expectations. Having your cart abandonment rate in mind will certainly help you orient several marketing decisions.
Pro tip:
Use an e-commerce report template to get started right away!
Check it out!
Email Marketing
11. Open rate
This is a marketing KPI that says A LOT about the efficiency of your email subject. There's no point sending a newsletter, or any other type of email to your users, if it's not even being read. The open rate is thus the perfect indicator that'll tell you if your subject line is compelling enough to get people to read what you have to say.
12. Unsubscribe rate
Even worse than having a low open rate is having a high unsubscribe rate, as this means you might be sending your messages to the wrong people, that these messages may appear as spammy to your audience, that your email format might be unappealing, etc. In any case, a high unsubscribe rate is an indicator that something is wrong, and that you need to take a close look at your emailing strategy.
13. Click rate
Getting people to read your email content is great, but getting them to click on your CTA is even better! The ultimate goal of an email is, of course, to generate traffic and conversions. A high click rate is thus more often than not synonymous with success. Find out how this is working for you by keeping track of this marketing KPI.
Social Media
Social media is all about brand awareness so make sure you check those KPIs:
14. Page likes and followers
How popular are your social media pages? This is exactly what the number of likes and followers will allow you to see.
15. Social media engagement rate
The engagement rate is the percentage of people who interact with your content in comparison with the number of people who saw said content. On Facebook, for example, an interaction can either be a post like or reaction (heart, angry face, sad face…), a comment, or a share. Is your social media content compelling enough? This marketing KPI answers that question.
16. Reach and impressions
The reach of a message corresponds to the number of people who saw it, while the impressions are the number of times this message was seen (meaning that a person seeing this message three times equals three impressions).
17. Frequency
The frequency is a marketing KPI that indicates how many times people saw your message on average. This can be found by using the formula Frequency = Impression/Reach.
Track all your social media platforms from Facebook, Twitter, Instagram, LinkedIn, and Youtube, all in one report with DashThis!
Try it free!
Paid marketing (PPC)
18. Return on Investment (ROI)
The ROI is certainly one of the most commonly tracked marketing KPIs, as it helps you see the big picture when it comes to figuring out whether your ad investment is worth the profit it generates. This rate is calculated according to the following formula:
ROI = (Profits – Costs) x 100 / Costs
19. ROAS
Although ROI and ROAS are often used interchangeably, they really are two distinct marketing KPIs. In contrast with the ROI, the ROAS measures the profit each dollar spent on advertising generates. This can be calculated using this formula:
ROAS = Revenue from ad campaign / Cost of ad campaign
20. CPM (Cost per Thousand)
This is a marketing KPI that is used to track the cost for a thousand advertisement impressions on a single page. When a website charges a $3.00 CPM and your ad gets 10 000 impressions, you pay $30.00.
21. CPC (Cost per Click)
The Cost per Click is the amount it costs you for each click on any paid campaign. You can use this marketing KPI to compare the success of your advertisement on various channels and decide which is more profitable to your business.
22. Cost per Conversion
Similar to your CPC, Cost per Conversion is a KPI you can track to evaluate which channels generate the lowest cost for every conversion, in comparison to the amount of money invested in advertisement. You can also track similar KPIs such as Cost per Acquisition.
23. CTR (Click-through Rate)
Your CTR is a marketing KPI that establishes a ratio of the users who clicked on a specific URL compared to the number of users who were exposed to it. This can be used, among other things, to measure the effectiveness of your AdWords campaigns.
SEO and content Marketing
24. Number of Backlinks
One of the main influences on your search engine ranking, which also greatly affects your domain authority, is the number or URLs that link back to your website. Keeping track of this marketing KPI is thus a great way to know how your SEO efforts are paying off.
25. Number of Referring Domains
The more relevant referring domains your website has, the higher ranking it's bound to get on search result pages.
26. Blog Performance
Your blog is a precious traffic-driving ally and can become a SEO gold mine if you use it wisely. A lot of marketing KPIs can be tracked to ensure you're making the most out of your blog, but we suggest you take a closer look at these three:
Number of Visitors
Number of Conversions
Conversion Rate
27. Search Engine Ranking / Position
Your website's position on search engine result pages, such as Google, can vary according to numerous factors, such as your domain authority, your page authority, your number of backlinks, your chosen keywords, the person who is searching… Take a frequent look at your SERP position to get an overall picture of how globally healthy your SEO is.
From Moz to Google Analytics, Ahrefs to Google my Business, every SEO platform can be gathered under the same, good-looking automated marketing report with DashThis!
See by yourself!
B2B marketing
28. Number of Leads (organic, social media, paid, referral, direct)
This is certainly one of the most relevant marketing KPIs in a lead generation context. The definition of a lead varies from one company to another, and from one advertisement campaign to another. If your business offers new customers a free trial, then a lead could be someone accessing their free trial.
29. Cost per Lead
Your cost per lead is a marketing KPI determined by dividing your total cost for a lead generation campaign by the total number of leads this campaign generated. Use this number to figure out which channels work best for lead generation purposes.
30. Lead Value and Customer Lifetime Value
This number is, of course, an approximation, but it's always a good idea to keep in mind how much each generated lead and each customer is worth to your business.
Of course, there are thousands of other KPIs you could use depending on your marketing strategies, and the marketing performances you'd like to keep track of, such as Customer Acquisition Cost (CAC), organic searches, Marketing budget, Lead conversions, churn rate, etc. With the right KPIs on hand, you can make sure your marketing investment and web analytics are perfectly on track!
Use a reporting tool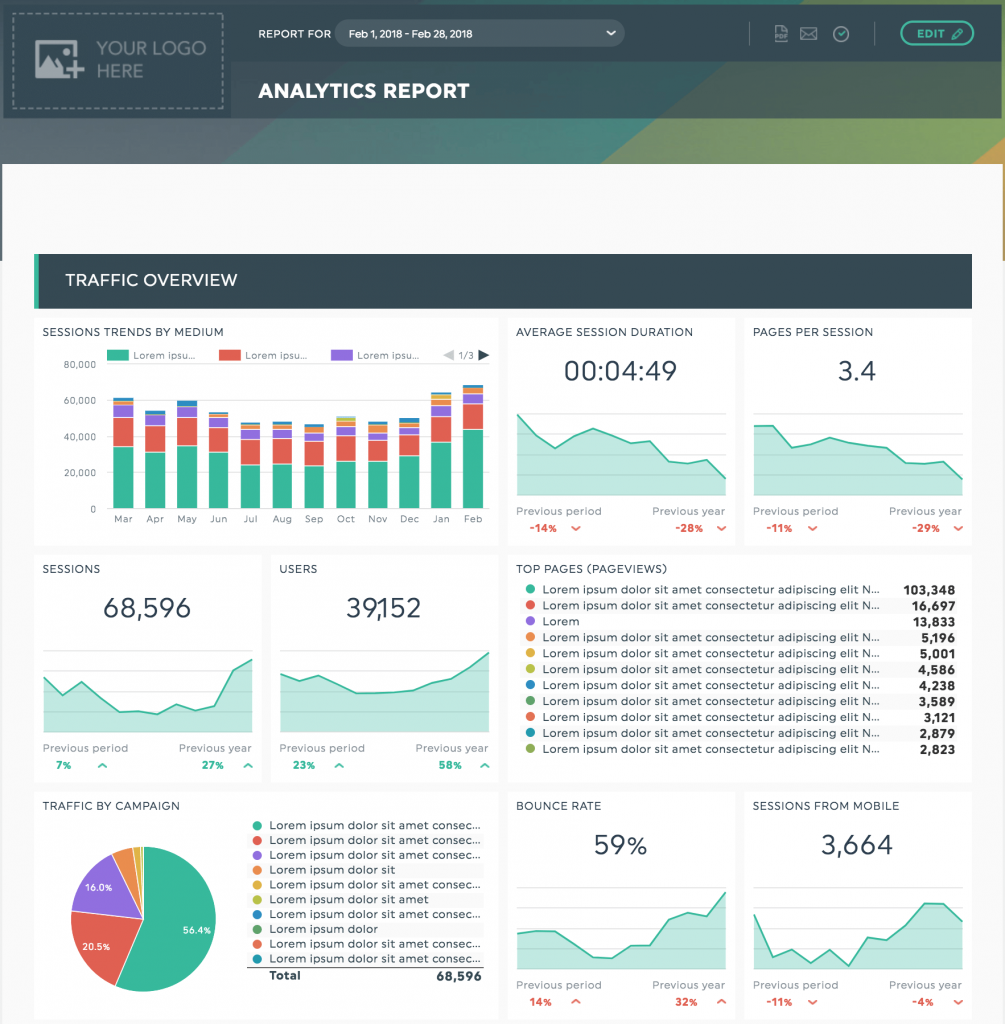 Now, I know that makes a lot of marketing KPIs, and that 24 hours in a day isn't nearly enough for you to fetch all the data for every one of your clients, and build good-looking reports on time.
You already have to work on your marketing efforts, get your qualified leads, and work with your marketing team on different marketing channels and strategies, you have no time to go through ALL your marketing metrics one by one. You can't just go in your Google Analytics account, Facebook account, Linkedin, and gather all your important metrics manually.
The thing is, though, things don't HAVE to be done this way.
A much, much simpler solution exists, and I hereby introduce you to… a reporting software!
There are a lot of tools out there. Not that I'm biased or anything, but I personally strongly recommend you use DashThis.
See, DashThis is the steel horse that's about to take you for the reporting ride of your life. With our tool, there's no need to go and get all this data manually, only to copy and paste it until your fingers hurt into dozens of different dashboards that end up looking exactly the same. Nope, nope.
DashThis does ALL of this for you, automatically. It gathers your marketing KPIs and allows you to create beautiful, slick-looking, personalized dashboards in the nick of time. It's simple to use, the dashboard creation is beyond user-friendly, and our customer service is completely out of this world.
Save time, focus on growing your business, get more results. That is exactly what DashThis has to offer.
Go ahead, up your reporting game in ways you didn't even think were possible.
Start your free trial now!