There's only one way to know if your marketing efforts are paying off.
And that's by measuring your marketing KPIs.
But how do you know if you're focusing on the right metrics? The last thing you want to do is track a tsunami of KPIs that add noise and distract you from your marketing goals.
In this post, let's look at the most critical marketing KPIs you should measure today. 
Whether you want to convert a potential customer to a loyal buyer for an ecommerce store; or optimize your return on investment (ROI) for your favorite client, this guide's got you covered.
What are Marketing KPIs?
Marketing key performance indicators (KPIs) measure the results of your marketing channels.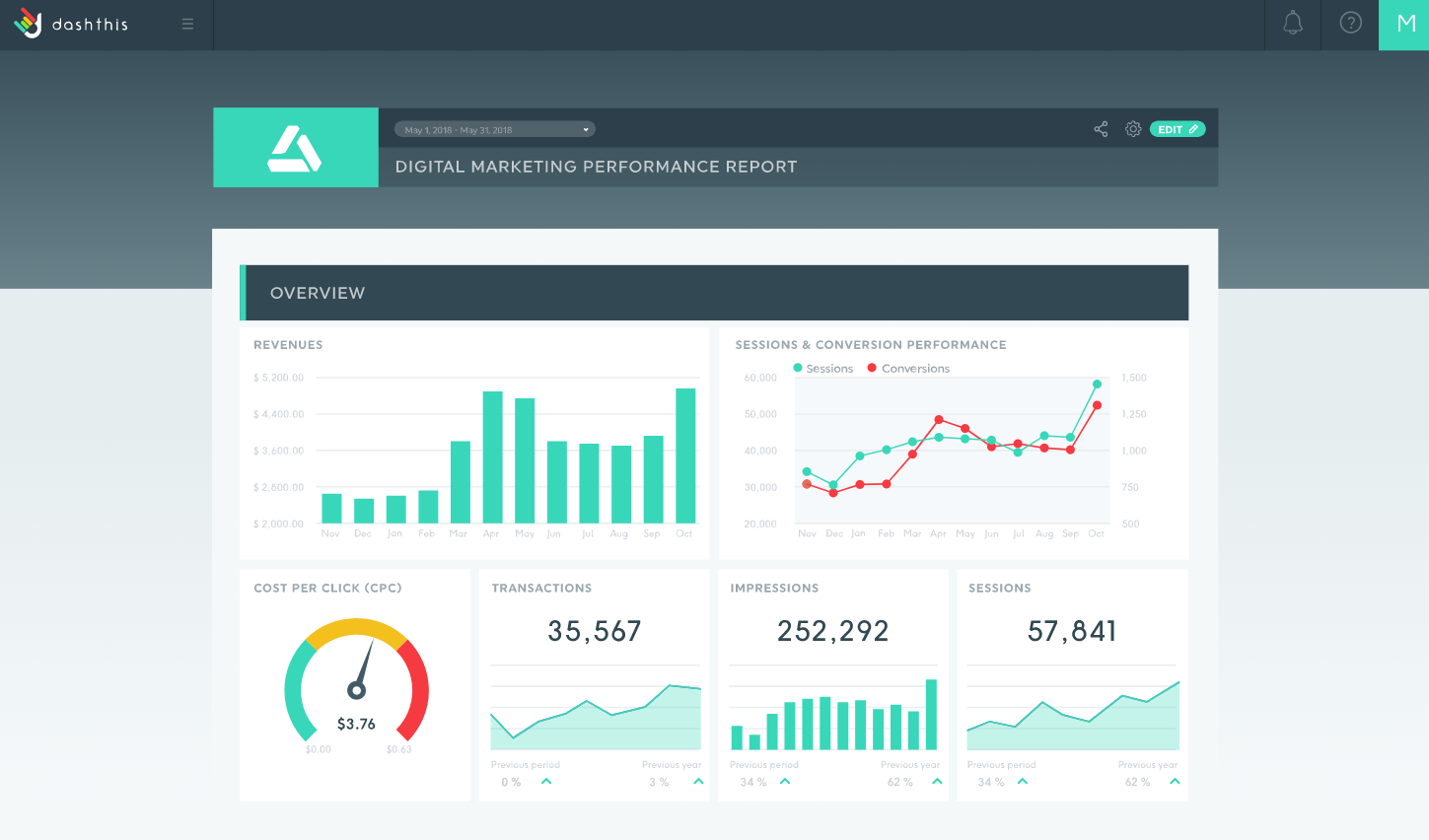 [DashThis' marketing dashboard includes preset KPIs, saving you time from grabbing data across multiple channels]
These KPIs show your marketing ROI, so marketers can:
Optimize the overall marketing performance

to attract new leads and customers 

Allocate the proper marketing budget

(down to the specific amount of money!) to the best-performing channels and focus on more productive marketing activities

Work more efficiently with the sales team

to boost sales growth 
Marketing KPIs shape your overall marketing strategy. Don't skip it.
Marketing KPI Examples
So, what are the most crucial marketing KPIs you should measure? 
This will depend on factors such as your business model, marketing campaigns, and levels of management (i.e., a VP of marketing will have different KPIs from a marketing manager). 
Let's explore the most popular marketing KPIs. 
KPIs for Social Media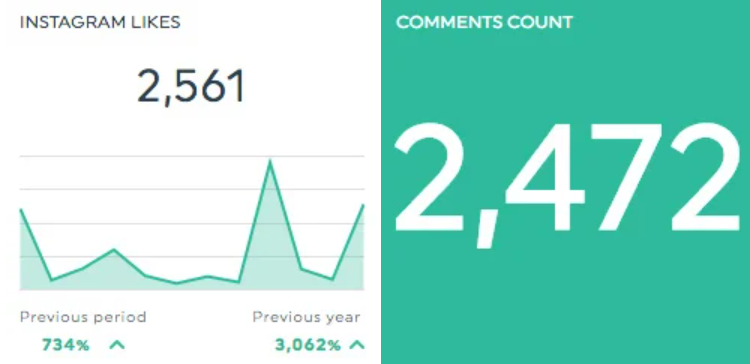 Ah, social media. Endless grids of picturesque photos and 280-character posts that captivate attention... Since social media's all about brand awareness, these are the top social media KPIs you want to focus on:
Pages likes and followers

(e.g., total subscribers, total followers, new subscribers, new followers)

Social media engagement rate

(e.g., likes, reactions, shares, retweets, comments, replies)

Reach and impressions

(e.g., total reach, total impressions)

Frequency

(calculated by Impressions/Reach)
You shouldn't spend too much time filling out the KPIs in your social media report. Here's an easier way in just two steps:
Connect your social media platforms to

DashThis

Click

Preset Widgets

(it should take you seconds to spot the ones you're looking for, as DashThis sets up these widgets based on the most popular KPIs)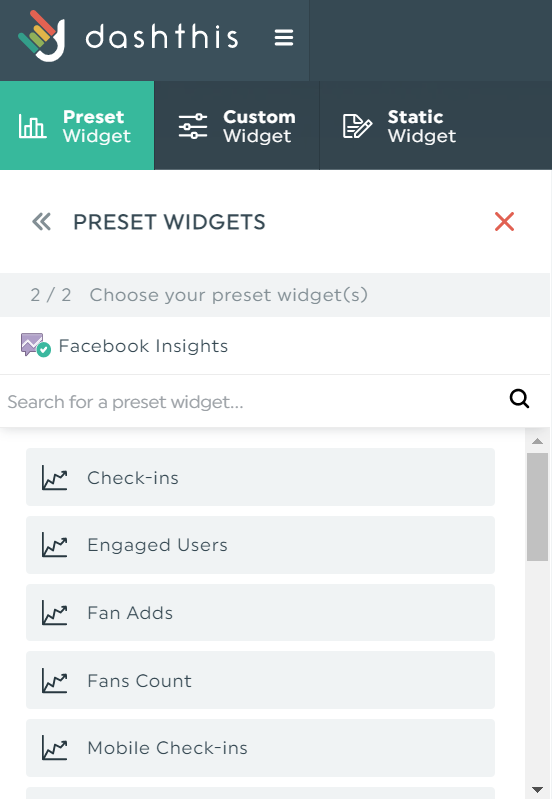 [To grab KPIs for your Facebook Insights report, click Preset Widgets and select your desired KPIs. Here, you'll set popular Facebook KPIs such as Check-ins, Fan Adds, and Engaged Users.]
KPIs for SEO

It's a long-term game investing in organic search. Do it well, and you'll reap the benefits for many years to come. Just imagine the number of leads you'll attract just by ranking for one profitable keyword on the SERPs! 
Want to amp up your lead conversion? Start by prioritizing these popular SEO KPIs:
Backlinks

(e.g., number of backlinks, number of referring domains)

Web analytics

(e.g., website traffic lead ratio, unique website visitors, conversion rate, organic traffic, organic sessions, bounce rate, load time, page views, average session duration)

Search engine ranking

(e.g., click-through rate [CTR], keyword rankings, search ranking, domain authority)
In the SEO report, connect your SEO agency tools and select your KPIs under the Preset Widgets.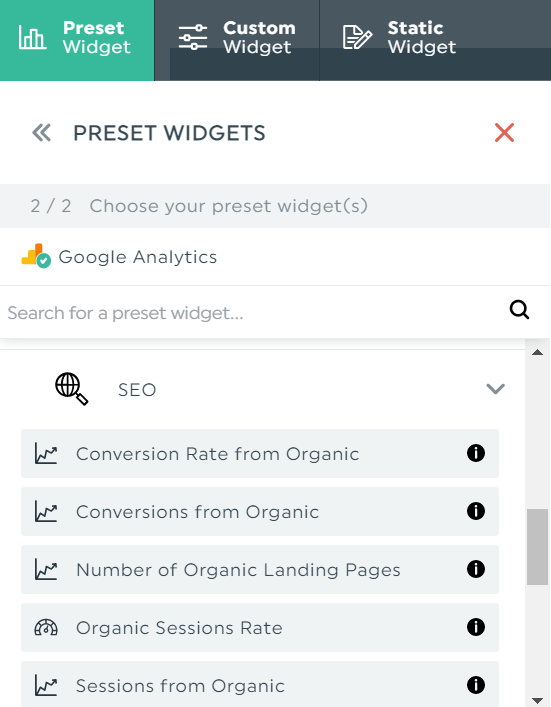 [Scroll through the preset widgets and drag and drop your SEO KPIs within the report instead of grabbing them manually]
To edit the appearance of your SEO KPIs:
Click

Edit Widget

Select

Data Display

to change the style, layout, and your display preferences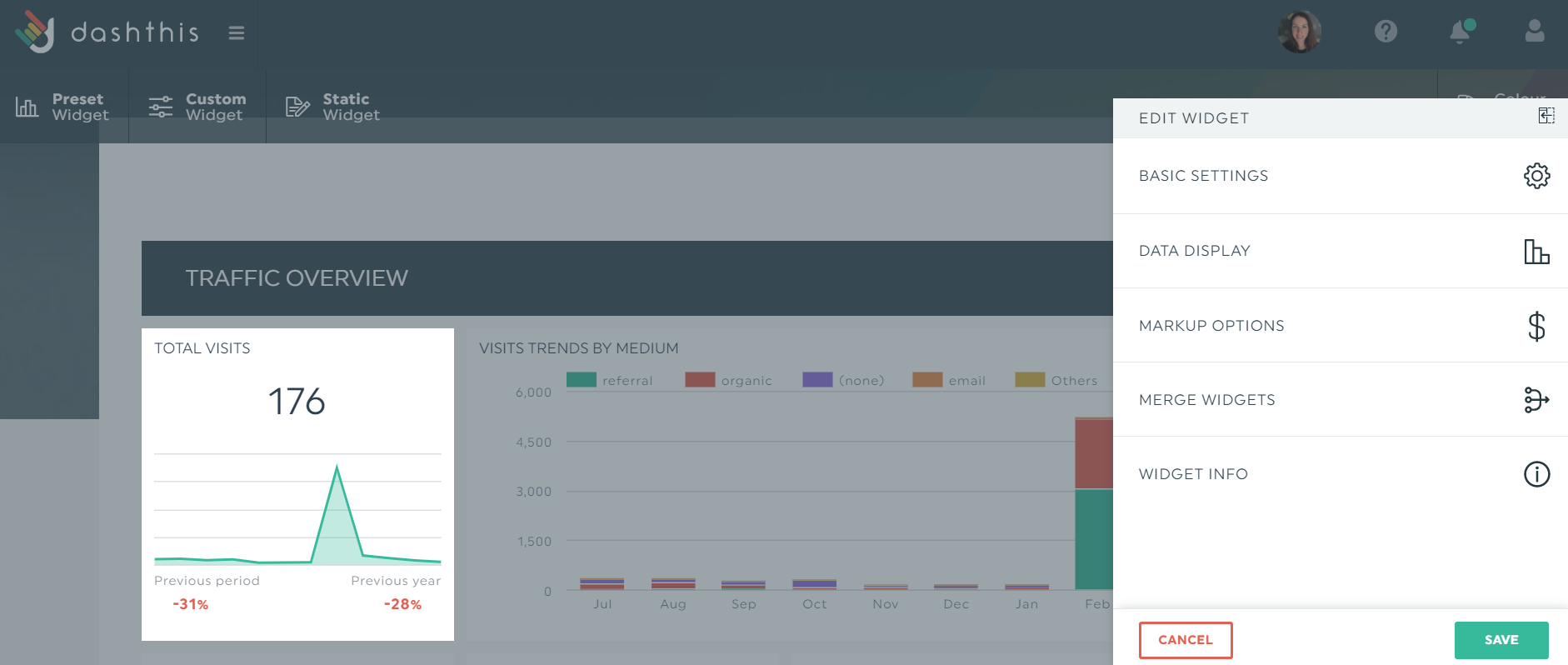 [Click Edit Widget to change how your SEO KPIs look. You can also change the title and data parameters under Settings. You can even merge different KPIs together.]
KPIs for Content Marketing

Content marketing isn't just about SEO alone—it also involves infographics, ebooks, and webinars. That's a mouthful, isn't it? 
Here are the content marketing KPIs you should measure:
Website performance

(e.g., number of page views, time on page, bounce rate, traffic volume, landing pages by session)

Lead generation and qualification

(e.g., lead quality, cost-per-lead, marketing qualified leads [MQLs], sales qualified leads [SQLs], leads and attribution channels)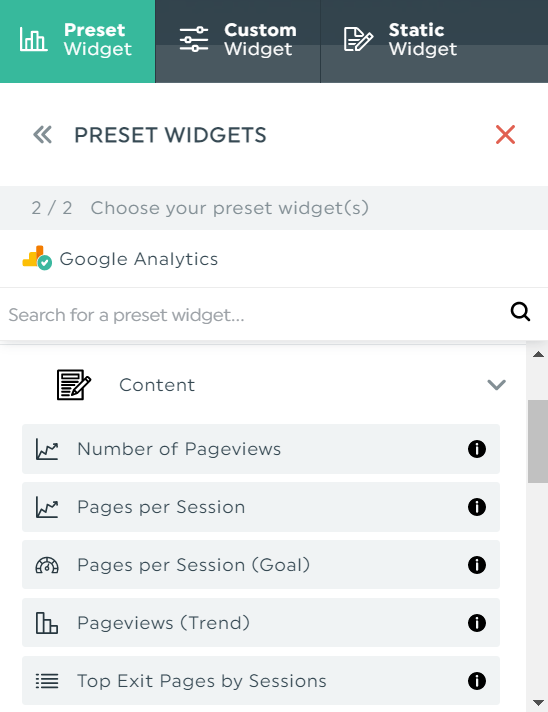 [As soon as you click the content marketing KPIs, DashThis will automatically grab the relevant data from your channels]
Overdeliver in your content marketing report. Include your recommendations directly in the dashboard instead of emailing your client.
Select

Add Note

Enter your recommendation 

Click

Save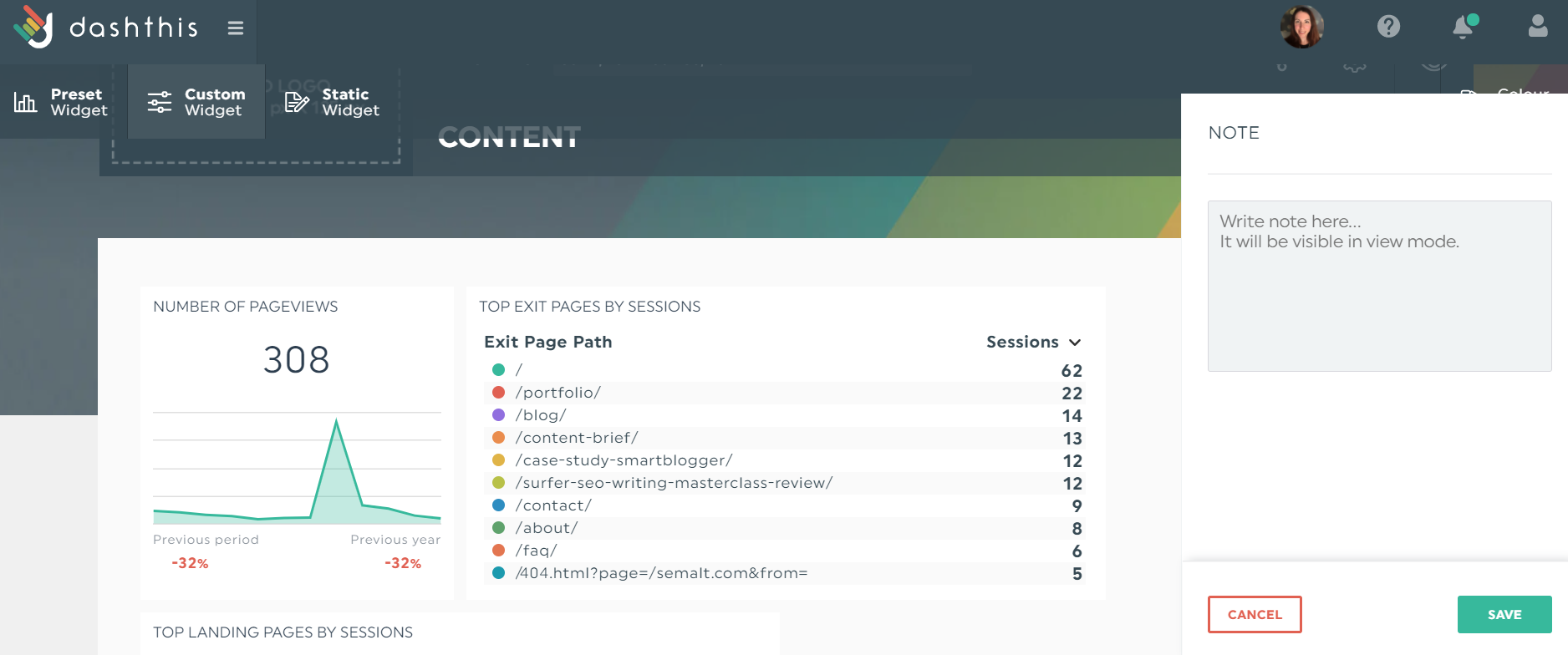 [Write your recommendations or action steps under Note. It'll become visible to the client in live mode.]
KPIs for Ecommerce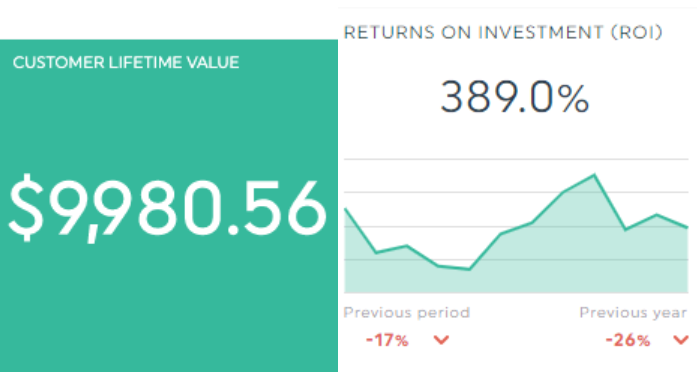 You know you have a robust ecommerce sales funnel when you're consistently attracting new and repeat customers. Want to continue to slay your sales revenue? Here are the ecommerce KPIs you should pay attention to:
Sales metrics

(e.g., top-performing products, shopping cart abandonment rate, average conversion rate, average order value [AOV], number of transactions, total revenue, customer lifetime value [CLV or LTV], customer retention, average referral count)

Website metrics

(e.g., total traffic [users], traffic sources, number of top organic keywords, customer acquisition cost for paid traffic]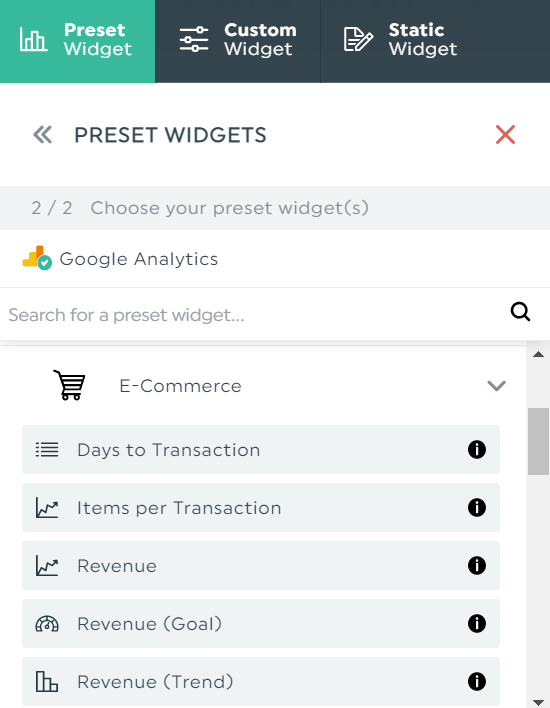 [You know the drill. Click your ecommerce KPIs and let DashThis handle the rest] 
Instead of creating a report from scratch, use DashThis' ecommerce template:
Select the

E-Commerce Dashboard

Add your data sources under

Predefined Integrations

. DashThis will automatically pull the relevant KPIs in your report.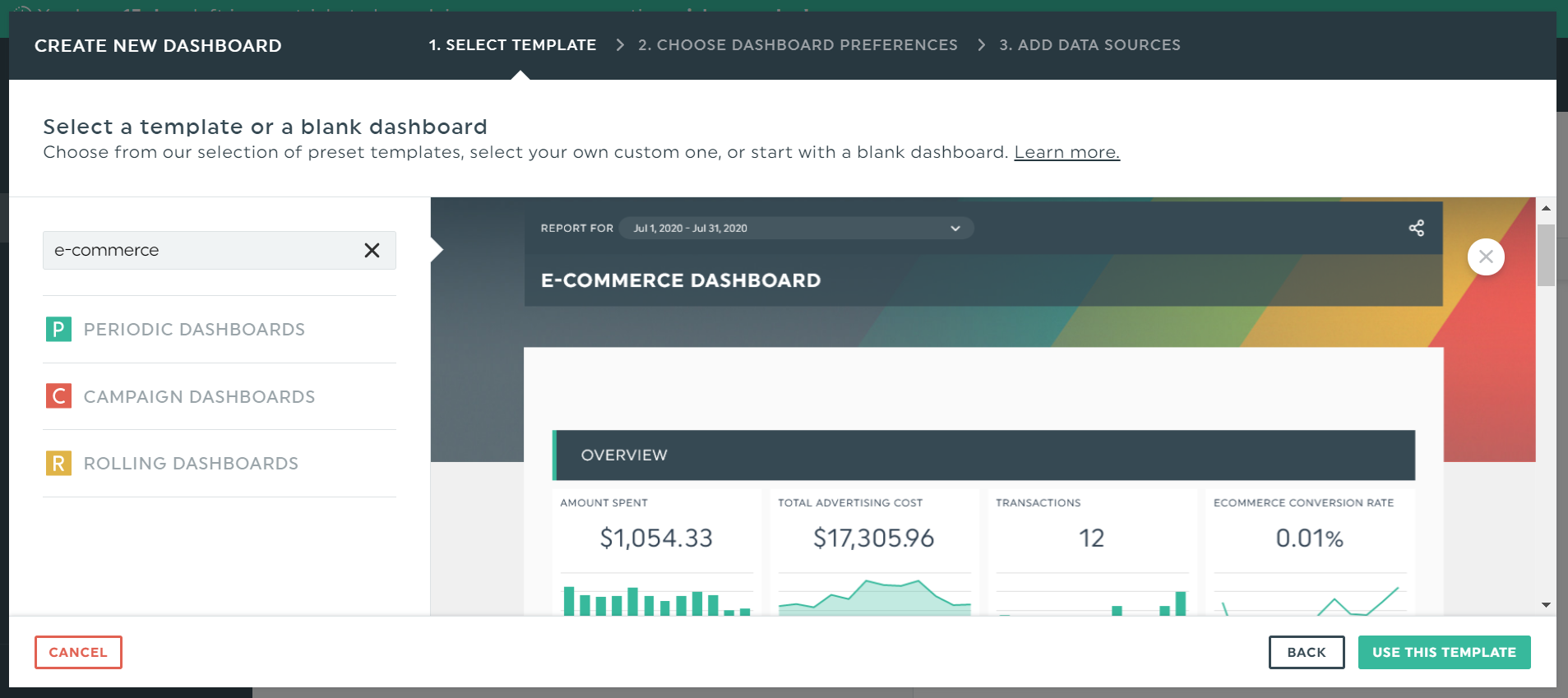 [DashThis' premade ecommerce marketing report includes KPIs like amount spent, total advertising cost, transactions, and ecommerce conversion rate.] 
KPIs for PPC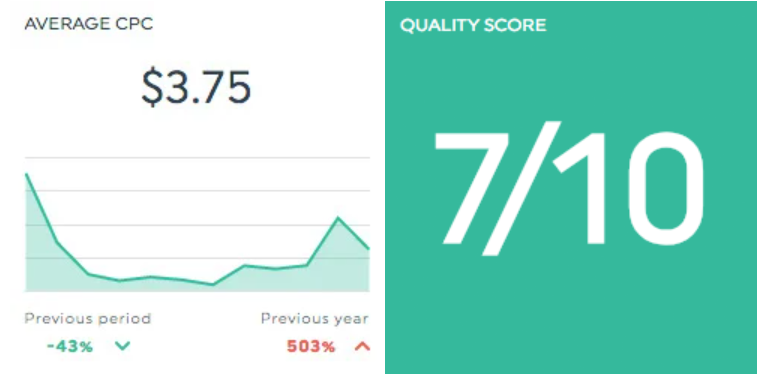 Pay-per-click (PPC) ads are a no-brainer if you want immediate traffic and sales. If you want a powerful traffic and sales engine, invest in both SEO and PPC! Here are the popular PPC KPIs you should track today:
Revenue

(e.g., ROI, return on ads spend [ROAS], revenue share [RPC])

Clicks and costs

(e.g., cost per acquisition, cost per thousand [CPM], cost per conversion, cost-per-click [CPC], CTR, customer acquisition cost [CAC])

Ad performance

(e.g., quality score, impression share, average position)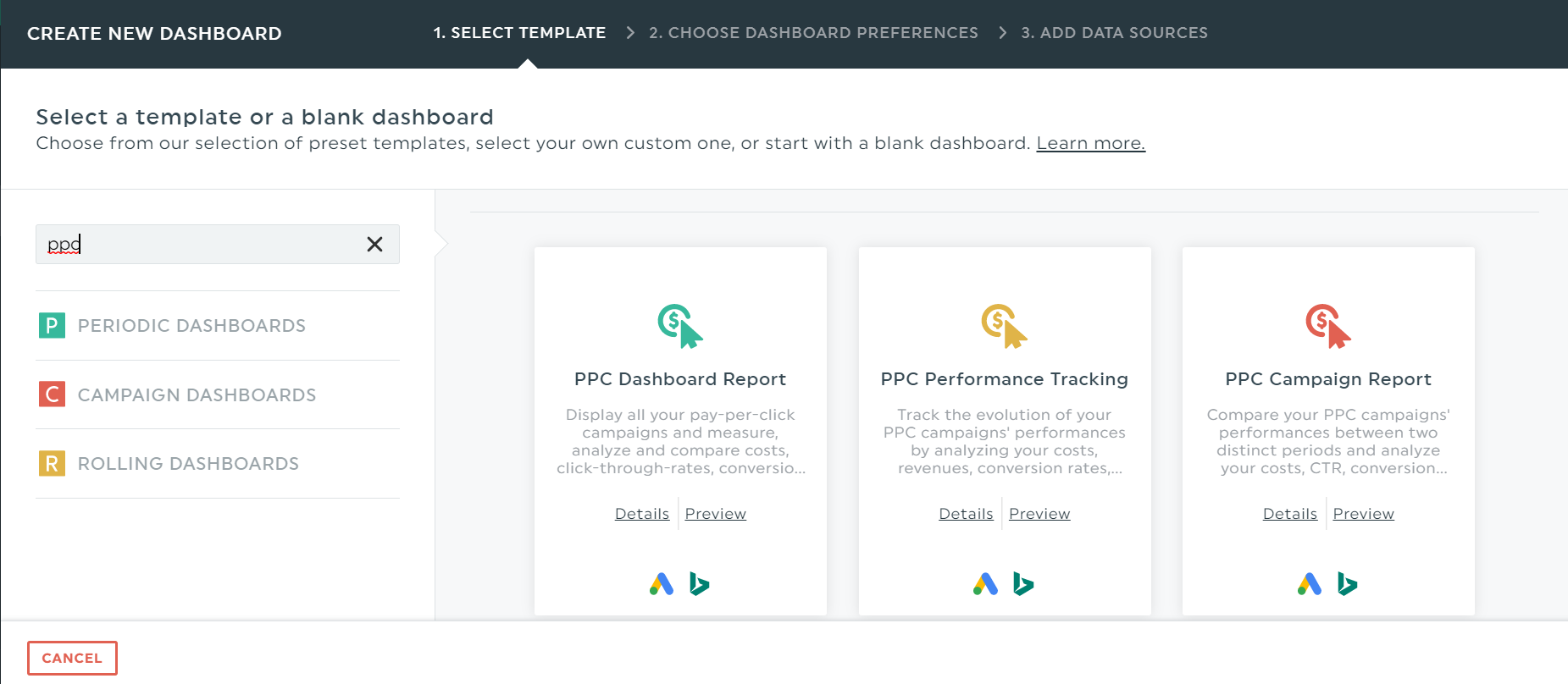 [Take your pick. DashThis offers multiple pre-made PPC report templates. Want to compare two PPC campaigns over a specific period? Or track the evolution of your best-performing PPC campaign? DashThis can do them all.]
Your PPC report can even display data from multiple channels. Here's how it looks when you pull your PPC KPIs from Google Ads, LinkedIn Ads, and Bing Ads.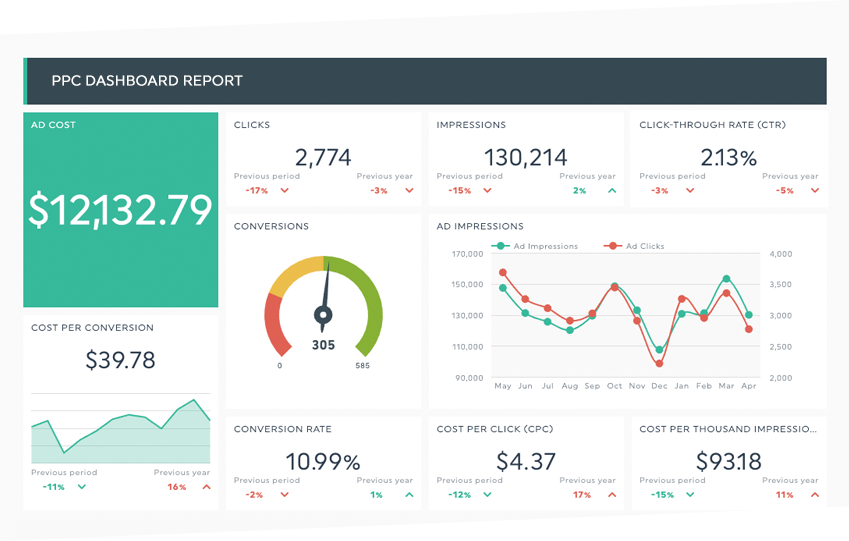 [Work with an ambitious client that wants maximum online visibility? Create a multi-PPC ads report on DashThis.] 
KPIs for Email Marketing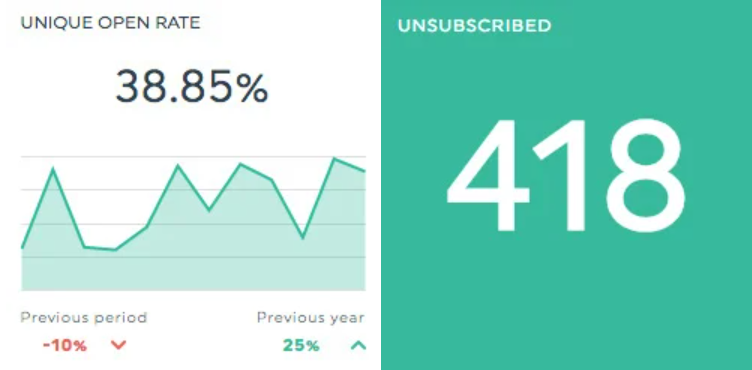 Email generates $38 for every $1 spent—that's a massive amount of dollars. Want to grow your email list, boost subscribers' engagement, and acquire new customers? Here are six popular email marketing metrics:
Open rate

Unsubscribe rate

Click rate

ROI

Conversion rate

CTR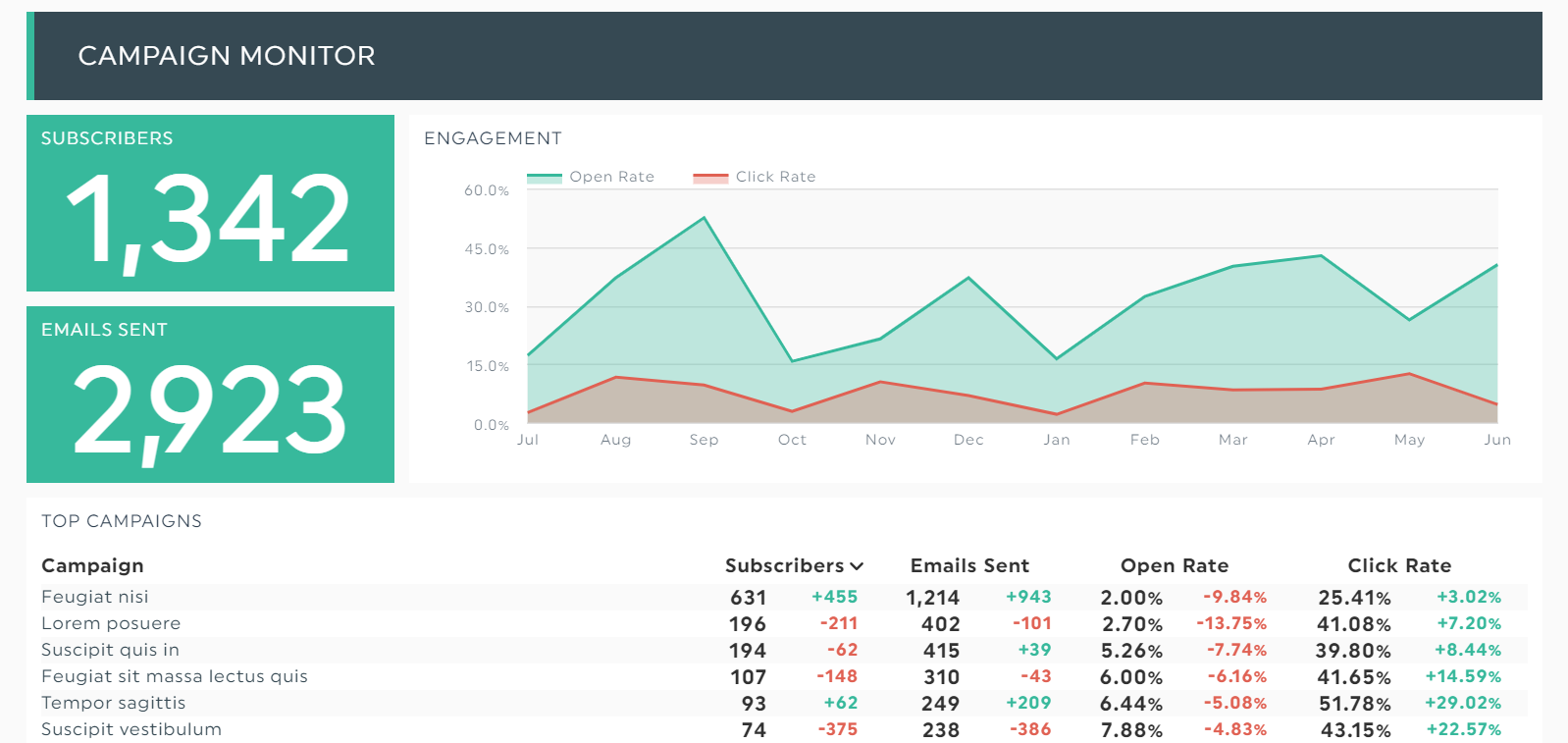 [Easily create your Campaign Monitor or MailChimp email report with a few quick clicks on DashThis]
You know what to do. Grab your free email marketing report template and let DashThis pull your email stats automatically. Next, share it seamlessly with your client.
Click

Sharing Options

Select

Share by Email

,

Export as PDF

, or

Copy Shareable Link

[DashThis offers three main sharing options. Take your pick! Send a URL link to your team member for approval, or email a PDF copy to your client for final review.]
What KPIs Should You Be Tracking?
Look at the business model and marketing goals to select your must-track KPIs. 
A content marketing agency specializing in blog post optimization should track KPIs such as keyword ranking and organic traffic. 
What if it's an ecommerce marketing agency that creates drip campaigns to reduce churn? Easy, focus on KPIs like unsubscribe rates and time spent on site. 
Create Your Own Marketing KPI Dashboard
Creating reports shouldn't eat into your productivity.
Run a full-service marketing agency and need an easier way to create an all-in-one marketing KPI dashboard? 
Start your free DashThis 15-day trial and create one automatically today. All DashThis marketing report templates include pre-defined KPIs for ALL digital marketing channels.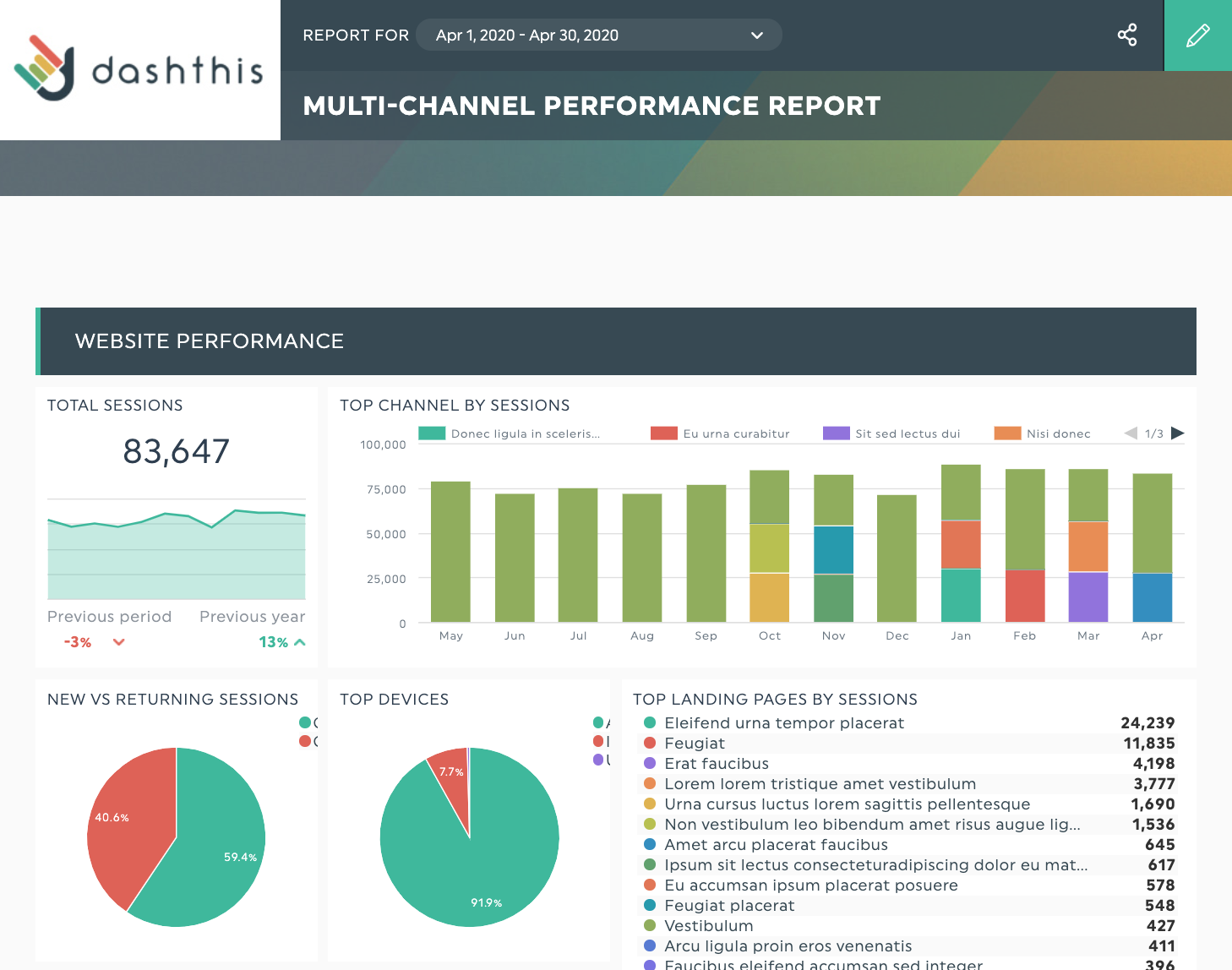 DashThis is also hyper-customizable. It offers unlimited client accounts, data sources, and users (great for big marketing teams!).
Clone reports, white-label them, and save time collecting cross-platform data. Grab your free DashThis 15-day trial, and automate your reporting today.