Top 5 KPIs for Social Media Reporting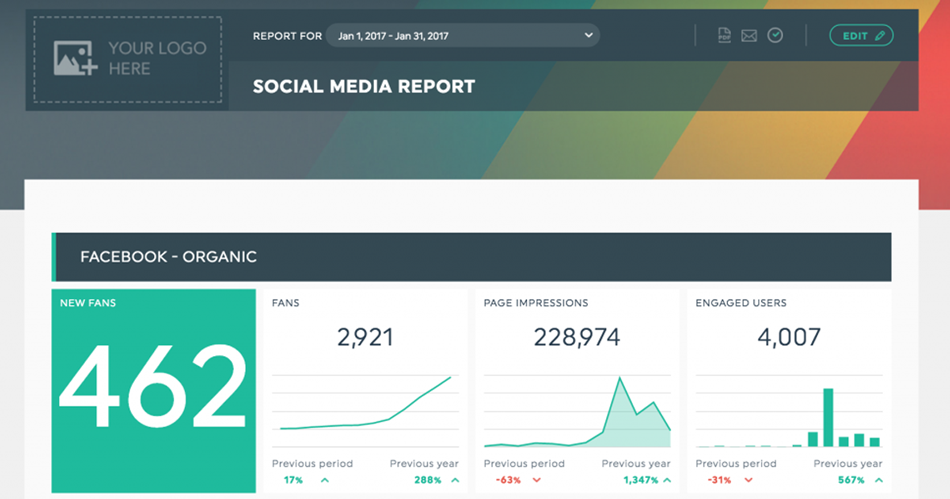 Facebook, Twitter, Instagram, LinkedIn, Google+… your company is on all these social platforms, and you dedicate time and money developing marketing strategies to improve your brand presence and attract new customers. Do they work? How do you know if your efforts are actually benefiting your business? To help you figure it out, you want to create a report, but now you're faced with a long list of possible metrics. To help you make the right decision, our marketing experts have made a list of the top 5 KPIs for social media to measure the effectiveness of all your social media campaigns.
1 – Reach
You take time to write great content. It's flawless. Then, you post it. However, no matter how perfect your content is, if nobody sees it, it won't matter. This is why measuring reach is crucial. Two metrics are important to consider:
Total Reach: the metric Total reach shows you how many unique users in total have seen your content. Having a broad reach is crucial to improve your brand awareness; many potential consumers might not be in your first targeted group, and therefore might have never heard of your brand or message.
Total Impressions: Impressions consist of the number of times content from your page is displayed. Increasing impressions leads to a growing community as well as to more engagement.
Reach/impressions is the first social media KPI to add to your list in order to judge the success of your marketing strategy. People can't interact with you if they don't know you exist.
 2 - Community growth
Once you know how many people are aware of your brand or message (and you've made sure that this number is growing), it's time to see if they want to be part of your community by clicking on the Follow or Like button. This is why you should also analyze your community growth, our second KPI. Among all people you've reached, how many of them have liked your page or followed your account? The specific metrics used to quantify your audience growth are:
Fan Adds/New Followers/New Subscribers: Depending of the platform, the name of the metric might change. What you want to measure here is how many new followers or subscribers you've gained within a given period of time. You can then quantify which kind of posts or ads attract more people, or if a specific campaign has convinced new fans to hit that button.
Page Likes/Total Followers/Total Subscribers: In order to keep the big picture in mind, you should also track the total number of likes or followers you have. It gives context to the growth, and represents your potential reach, engagement, and customers. Measure this metric side-by-side with concrete actions in order to understand the impacts of these actions on your community.
You can measure your audience growth with either a rate or an actual number. We suggest you use both values. Analyzing your audience growth allows you to see if you've reached the right audience with the right content.
3 – Engagement Rate

However, size is not always what matters. You need to build a community, yes, but you also need to keep it. To do so, you need to interact with your fans. With your engagement rate KPI, you can measure either how people engage with a particular post, or with your entire page. It shows how many people are actively connecting with your brand, which allows you to build relationships with your fans. Depending on the platform, engagement/interactions can have many different names, such as:
Likes, Reactions, etc.
Shares, Retweets, etc.
Comments, Replies, etc.
Taking into account the engagement rate of your posts and page is essential because it allows you to understand your fans' preferences, and therefore, how to keep your community active. Moreover, the higher the engagement rate, the greater the reach, since the content your fans like and comment on shows up on their friends' newsfeeds. By always keeping in mind what your community likes, and optimizing your social media content accordingly, you'll really get the most out of your strategy!
4 – Website visits from social media

A fourth KPI that helps you evaluate the success of your social media marketing strategy is your website traffic. You've built an engaged community on your social platforms. Great. But how many of your fans take the next step and visit your website? Driving your fans to your website brings them one step closer to conversion. If you're using Google Analytics – which is a must-have for anyone working with social media – two dimensions are essential to keep in mind:
Channels: The category Social shows you the traffic that all your social media combined have driven within a given period of time.
Source/Medium: This dimension will give you a more precise picture of the origin of your traffic by segmenting the data and displaying from which specific social platform the visitors came from. It will help you measure the performance of each platform, where your strategies have worked the best, and where you can improve them.
Dimensions are specific characteristics of your data, the use of which can help you isolate the data that is particularly relevant for your social media. For these dimensions, we suggest you use the following metrics:
Sessions: Sessions are the basic metric to measure the amount of traffic your website gets. It tells you how many times people have visited your domain.
New users: Among the number of sessions you just measured, it's also important to know how many people have visited your website for the first time. You can measure this metric within a given period of time, and see the efficacy of a specific campaign at driving new traffic.
Pages/Session: People go on your website, but are they interested in your content? Knowing how many pages in average visitors see during one session informs you how compelling they find your content, and if they explore.
Average session duration: This is how long, in average, a visitor spends on your website during one session. Reading this metric side by side with Page/Session  gives you a good idea on the behavior of the visitors, and interested they are.
Combining these dimensions and metrics tells you how many people have been redirected to your website through a link they've found on social media, and how they behaved once they landed on your site. It's important to remember that not all visitors will click on the link right away, but the impressions they get might influence them to visit your website later. So don't forget to optimize your presence and be active on every platform!
5 – Conversion from social media

The last KPI to keep a look at relates to the last step of the conversion path. It shows you the different steps taken by visitors from the first interaction to the final conversion. We suggest you track these two metrics in order to see the role social media played in the process:
Last interaction conversion: This shows what the last interaction was before the visitor converted.
Assisted conversion: This shows any and all interactions that occurred along the conversion path with the exception of the last interaction.
By analyzing the entire conversion path, and the role of social media in it, you can give yourself a better picture of your visitors' overall behaviour. When you understand how visitors first find you and what they do before converting,  you can determine the true value of the different channels you're using! You've created a report that shows you all the KPIs mentioned above, and it's giving you a good idea of what kind of strategy works for your social media marketing. Now comes the fun part: exploring different ways to reach new audiences, and figuring out how to deliver the right content to the right people. Keep tracking and measuring your KPIs, optimize your strategy and your content accordingly, and you'll be golden.
All these metrics, and more, are available at DashThis. With our KPI reporting tool, you can create dashboards with data from all your social media platforms! Start your free trial!