Here at DashThis, the marketing team produces A LOT of content. Blog posts, help center articles, in-app content, Facebook ads, you name it. It's always rewarding to get positive feedback from our clients, so we were pretty stoked to receive all the great comments for our article about how to create an awesome Google Analytics client report template.
What we came to realize is that we had so much to say on that topic that each type of dashboard could on and of itself be its own article. We decided to start by elaborating about how Google Analytics and your social media results intertwine. And how you can track all of them in a social media dashboard like this one: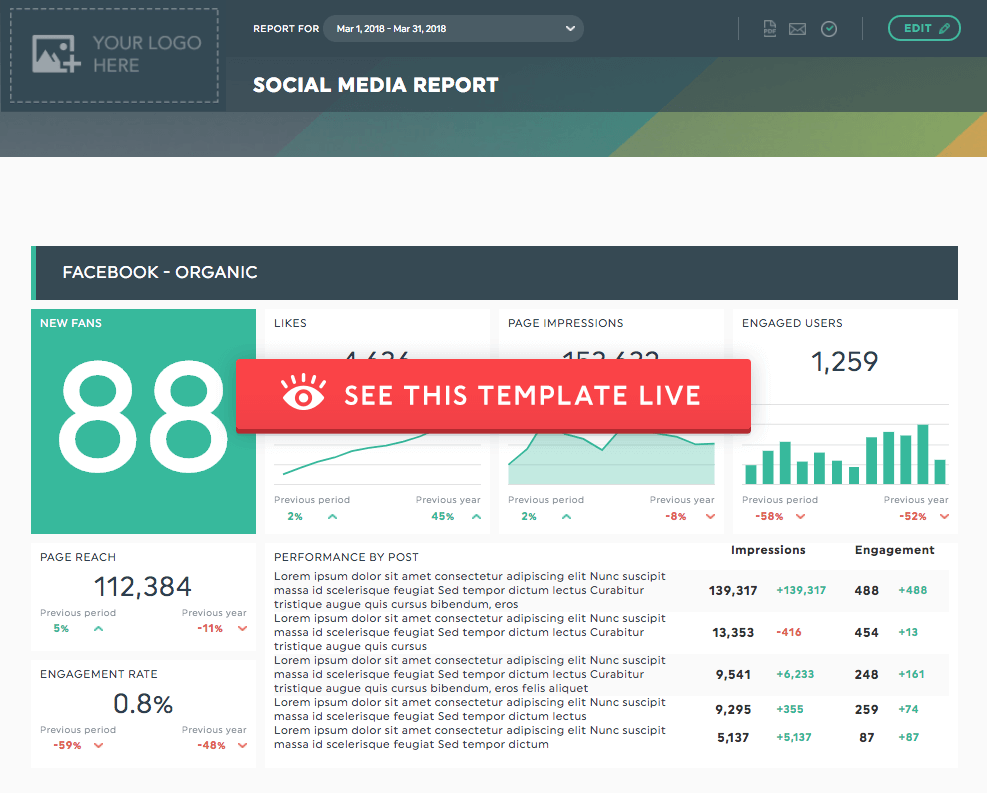 See this template live | Use this template with your own data
So how exactly should social media be a part of your marketing strategy? Which social media KPIs are paramount when it comes to social media marketing?
Read on, for this article holds a lot of the answers you may be looking for.
Why social media is crucial
Let's face it, it's the 21st century: social media is at the core of pretty much every marketing strategy out there. In fact, in 2018, 95% of marketers claim that social media is important to their business, and brand advertising spend on social media was up more than 60% from 2016 to 2017. Now, it's no wonder the social network industry is considered one of the fastest-growing industries in the world.
Social media is probably the most direct way of boosting your brand's awareness and connecting with your clients. Yes, that's what it's all about! Interacting with people means humanizing your brand, and humanizing your brand greatly contributes to higher conversion rates. Yay! And as if that's not enough, very low social media ad costs allow you to advertise way more than through traditional media.
How social media reporting makes you a better marketer
Facebook, Twitter, LinkedIn, Instagram... your company is on all these social platforms (and most probably many others), and you dedicate time and money to developing marketing strategies to improve your brand presence and attract new customers. Do they work? How do you know if your social media efforts are actually benefiting your business?
These are exactly the kind of questions social media reporting allows you to answer. All these social networks already provide built-in reporting tools, but copying and pasting all your data from these platforms to your spreadsheets is certainly not the most efficient way for you to track your progress. This is where a social media reporting tool comes in handy: it gathers all of your social media KPIs automatically in a single place, allowing you to save countless hours.
What is a social media KPI?
Social media KPIs (short for social media key performance indicators) are the measurable metrics that demonstrate how successful a company is at meeting its business goals and objectives. Social KPIs come in a wide range of possibilities and it's easy to get lost among all these numbers.

To help you make the right decision, our marketing experts have made a list of the top 5 KPIs for social media to measure the effectiveness of all your social media campaigns.
The team at DashThis' top 5 KPIs for social media
As the marketing experts of DashThis, we put together the following KPIs for social media that are most useful to us and compared our list with what our clients use most in their social media dashboards too. Turns out the results were pretty similar, because although there are thousands of social media metrics and KPIs to choose from, some of them appear to be pretty universal, and the good news is DashThis allows you to track all of them super easily (see for yourself here).
1 - Reach KPI
You take the time to write great content. It's flawless. Then, you post it. However, no matter how perfect your content is, if nobody sees it, it won't matter. This is why measuring social media reach is paramount.
Two metrics are important to consider:
Total Reach: The metric

 

Total reach

 

shows you how many unique users in total have seen your content. Having a broad reach is crucial to improve your brand awareness; many potential consumers might not be in your first targeted group, and therefore might have never heard of your brand or message.
Total Impressions:

 

Impressions

 

consist of the number of times content from your page is displayed. Increasing impressions leads to a growing community as well as to more engagement.
Reach/Impressions is the first KPI for social media to add to your list in order to judge the success of your marketing strategy. People can't interact with you if they don't know you exist.
 2 - Community growth KPI

Once you know how many people are aware of your brand or message, it's time to see if they want to be a part of your community by clicking on the Follow or Like button. This is why you should also analyze your community growth, our second KPI for social media. Among all the people you've reached, how many of them have liked your page or followed your account? The specific metrics used to quantify your audience growth are:
Fan Adds/New Followers/New Subscribers: Depending of the platform, the name of the metric might change. What you want to measure here is how many new followers or subscribers you've gained within a given period of time. You can then quantify which kind of posts or ads attract more people, or if a specific campaign has convinced new fans to hit that button.
Page Likes/Total Followers/Total Subscribers: In order to keep the big picture in mind, you should also track the total number of likes or followers you have. It gives context to the growth, and represents your potential reach, engagement, and customers. Measure this metric side-by-side with concrete actions in order to understand the impacts of these actions on your community.
You can measure your audience growth with either a rate or an actual number. We suggest you use both values for this social media KPI. Analyzing your audience growth allows you to see if you've reached the right audience with the right content. If it's not the case, it might be a good idea to review your strategy to grow your social media brand.
Remember though: community growth means nothing without community engagement. It's important to track these numbers, of course, but without actionable metrics to correlate them with, the number of likes and followers are just vanity metrics, meaning that taken alone, such numbers represent nothing more than a pat on the back.
To turn the number of likes into an actionable number, you could, for example, see if an increase in the number of page likes occurred at the same time as a change in content distribution, and see if that showed in your conversion rate.
3 - Engagement Rate KPI

As previously established, size is not always what matters when it comes to your community. You need to build a community, yes, but you also need to keep it. To do so, you need to interact with your fans.
The engagement rate is one of the most important social media marketing KPIs, as it allows you to measure either how people engage with a particular post, or with your entire page. It shows how many people are actively connecting with your brand, which allows you to build relationships with your fans.
Depending on the platform, engagement metrics/interactions can have many different names, such as:
Taking into account the engagement rate of your social media posts and page is essential because it allows you to understand your fans' preferences, and therefore, how to keep your community active.
A high community growth combined with a poor engagement rate usually means the community you're targeting isn't the right one. A smaller audience that's highly engaged is more likely to convert, as you're offering them content that they want to consume, and therefore, are satisfying a need of theirs.
Moreover, the higher the engagement rate, the greater the reach, since the content your fans like and comment on shows up on their friends' newsfeeds. By always keeping in mind what your community likes, and optimizing your social media content accordingly, you'll really get the most out of your strategy!
4 - Website visits from social media KPI

A fourth social media KPI that helps you evaluate the success of your social media marketing strategy is your website traffic. This is where, as mentioned earlier, Google Analytics and social media intertwine.
You've built an engaged community on your social platforms. Great. But how many of your fans take the next step and visit your website? Driving your fans to your website brings them one step closer to conversion.
In order to really grasp how your online traffic from social media is doing, we suggest you use the following metrics:
Sessions: Sessions are the basic metric to measure the amount of traffic your website gets. It tells you how many times people have visited your domain.
New users: Among the number of sessions you just measured, it's also important to know how many people have visited your website for the first time. You can measure this metric within a given period of time to see the efficacy of a specific campaign at driving new traffic.
Pages/Session: People go on your website, but are they interested in your content? Knowing how many pages in average visitors see during one session informs you how compelling they find your content, and if they explore.
Average session duration: This is how long, in average, a visitor spends on your website during one session. Reading this metric side by side with Page/Session gives you a good idea on the behaviour of the visitors, and interested they are.
Dimensions are specific characteristics of your data, the use of which can help you isolate the data that is particularly relevant for your social media. If you're using Google Analytics - which is a must-have for anyone working with social media - two dimensions are essential to keep in mind:
Channels: The

 

Social

 

channel shows you the traffic that all your social media combined have driven within a given period of time.
Source

 

or

 

Medium: This dimension will give you a more precise picture of the origin of your traffic by segmenting the data and displaying from which specific social platform the visitors came from. It will help you measure the performance of each platform, where your strategies have worked the best, and where you can improve them.
Combining these dimensions and metrics tells you how many people have been redirected to your website through a link they've found on social media, and how they behaved once they landed on your site. These can all be tracked in a social media KPI dashboard, which will allow you to view your Google Analytics data, combined with metrics from all your other integrations, in a very user-friendly way.
It's important to remember that not all social media users will click on your website link right away, but the vibe they get might influence them to visit your website later. So don't forget to optimize your presence and be active on every platform! Show the best social media performance possible to get the best return on investment that you can.
5 - Conversion from social media KPI

This last one is absolutely one of the best KPIs for social media that should be included in your Google Analytics dashboard.
The whole point of being active on social media for a business is, of course, to create brand awareness and social media engagement by reaching your consumers and qualified leads directly. At the end of the day though, what you want is for all your marketing efforts to pay off by converting your followers into revenue drivers.
Conversion from social media is the last step of the conversion path. It shows you the different steps taken by visitors from the first interaction to the final conversion. We suggest you track these two metrics in order to see the role social media played in the process:
Last interaction conversion: This shows what the last interaction was before the visitor converted.
Assisted conversion: This shows any and all interactions that occurred along the conversion path with the exception of the last interaction.
By analyzing the entire conversion path, and the role of social media in it, you can give yourself a better picture of your visitors' overall behaviour. When you understand how visitors first find you and what they do before converting, you can determine the true value of the different social media channels you're using. Which will help your conversion rate tremendously. After all, that's the bottom line of any social media manager or marketing expert, to gather more link clicks, a higher number of qualified leads, an out-of-this world lead conversion rate, a very small bounce rate on their landing pages, and at the end of the day: sales revenue.
Start working on your strategy right away
You've created a report that shows you all the best KPIs for social media marketing mentioned above, and it's giving you a good idea of what kind of social media strategy works for your social media marketing campaigns. Now comes the fun part: exploring different ways to reach new audiences, and figuring out how to deliver the right content to the right people. Keep tracking and measuring your social media KPIs, optimize your digital marketing strategy and your content accordingly, and you'll be golden.
Using DashThis: what's in it for you
All of the above KPIs for social media marketing, and so, so much more, are available with DashThis.
Now, of course, all your social networks provide analytics platforms, but not only is it complicated to look at each network individually, it's also counter-intuitive from a marketing point of view. The results of your efforts on these social media platforms are all interrelated and should be looked at accordingly, as a whole rather than individually. Speaking of which, we've created a kickass social media dashboard template that's ready to use, and that brings all these numbers together in way that makes sense and needs to effort to decipher.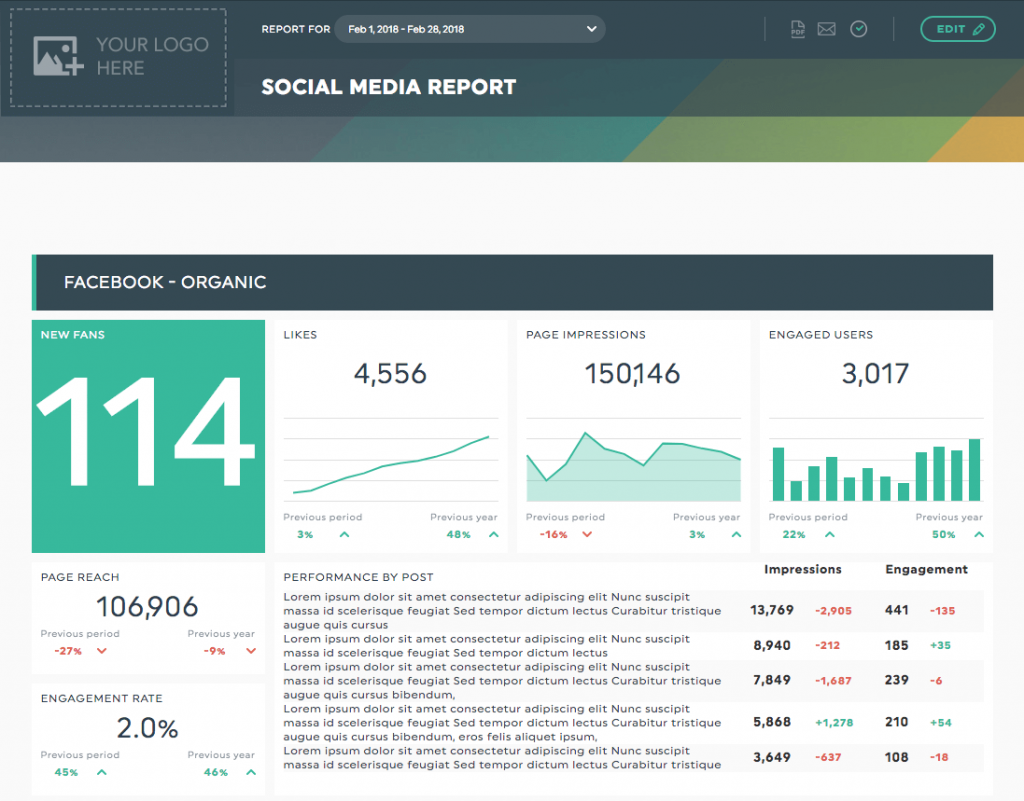 There are a lot of reporting tools out there, but DashThis certainly is one you're bound to love. It gathers your data from across all your social media integrations and displays it into slick, good-looking social media KPI dashboards. We know learning that how to use a whole new system can be scary, so this is why DashThis is is so simple to use. Create an account, connect your integrations, select your data sources, et voilà! Easy as one-two-three.
Here's a video showing just how easy it is to create your social media report in DashThis:
DashThis is more than just a KPI reporting tool: by automating the whole data-fetching process and dashboard creation, it allows you to save countless hours you can now spend on what matters most to your business.
Don't know how to create the perfect social media reporting template? No worries, we've got your back. Get started with our social media report template.
Still hesitating? Why don't you let a free trial (and our stellar customer service) convince you? Start your free trial now!