When it comes to social media marketing, you're probably killing it with multiple campaigns, across many different social networks, right?
That's why you're great at your job.
And you know as well as I do that it can be a real pain to have to get your performance results from every one of these platforms just to see your overall return on investment for your efforts.
And therein lies the importance of your social media reports.
Your social media reports will show your results succinctly, and in one place. So you can see your ROI, show your results to your boss and/or client, and keep doing what you do best: creating kick-ass marketing campaigns, influencer campaigns, and more.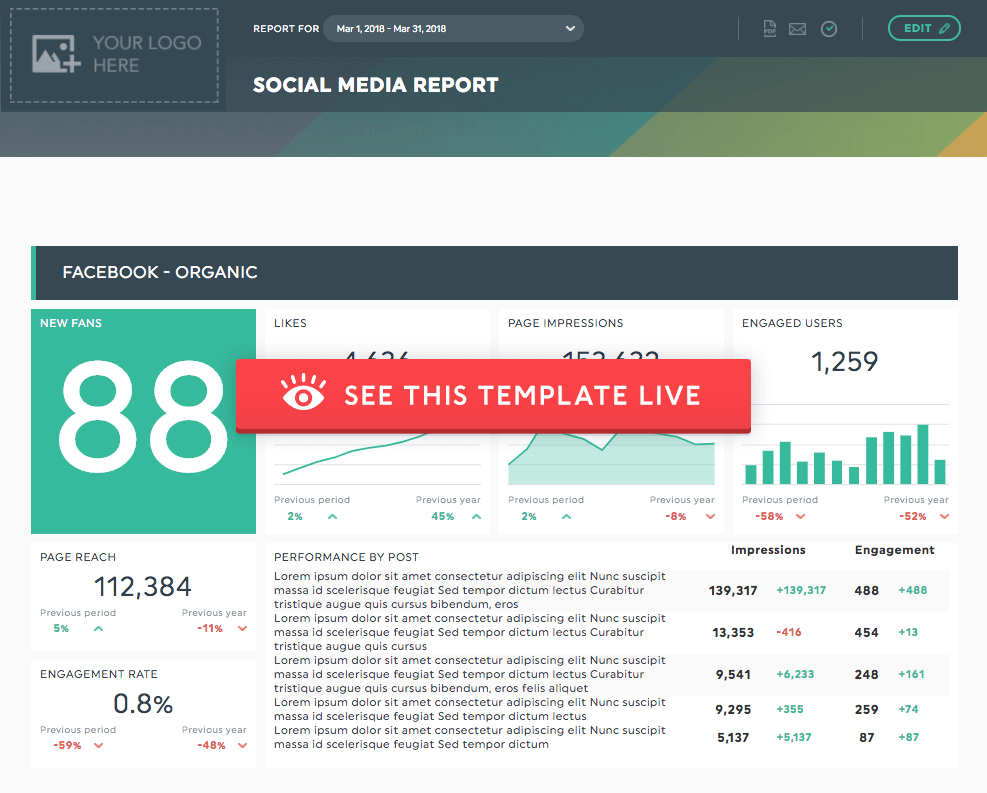 Use this social media report template with your own data.
You can create a social media report just like the one above in 3 easy steps:
Choose our social media preset report template
And that's it! It's as easy as that! 
You can also customize your report with all the most important KPIs for YOUR business by adding new preset or custom widgets.
Social media is all about end results
Your social media marketing strategy isn't just one platform, one network… it's several of them. You might be working with a few of them, or perhaps creating campaigns and managing accounts on all of them at the same time. Either way, each of these social channels – from Facebook, Twitter, LinkedIn, YouTube, Instagram, and others – have their own individual uses and audiences.
But one thing is for sure; they may be separate, but the results you're looking for requires that all of them work together towards a common digital marketing goal. So even though it's important that your boss or client see the work of each individual campaign on each individual platform, you're still going to need to show them the big picture.
Showing these stats in easily digestible social media marketing reports with tables and graphs is going to make things a lot easier to understand for your boss or client.
An automated tool that brings all this social media performance data from across your different social media channels and turns it into those beautiful tables and graphs?
Well, that's just gravy. (and it's also exactly what you get with DashThis)
Now that you're all set with the right reporting tool, here's how to determine exactly what you should include in your social media report.
Step 1: Determine your general social media goals
The first step in creating any social report is determining what are your marketing team's goals.
As I mentioned above, your social media goals are intrinsically linked to your general marketing goals, which are based on your overall business goals.
So yeah, this is where you're going to have to sit down with either your boss or client and figure out exactly what you're trying to accomplish, with what means, through what channels, and over how long a time period.
Is your client a new business? Maybe your goal is to increase brand awareness?
Does your department have a new promotion running? Maybe your goal is to have the maximum number of clicks back to the promotional landing page?
Are you cranking up your SEO efforts, and your social media campaigns are a way of increasing that referral traffic to the new content?
These are all discussions that you're going to be having whenever you start with a new client anyway, because these goals directly inform the types of strategies you're going to be using and the campaigns you're going to be running.
By understanding your specific business goals (and hopefully, you should be able to focus on just a select few at a time), you'll be better equipped to choose the KPIs you should be tracking, as well as the right time-period for your report.
Which brings me to my next point…
Step 2: Figure out what time period you should be looking at
Writing a social media report might seem like an unnaturally daunting task if you imagine that you have to create a 50-page document detailing everything you've done in the past year.
But honestly, a great social media report probably shouldn't be a yearly project.
Monthly social media reports are usually best: a month is a long enough time to have statistically relevant data, but it's still short enough to have time to change strategies without doing too much damage if things aren't working out the way you want them too.
You can also add to this a few campaign-based reports that are written just for a specific campaign.
But the nice part about writing a social media report for each month is that at the end of the year, you already have those 12 reports written!
Plus, throughout the entire year, your boss or client was always in the loop as to what was going on and how your strategies were working out.
Step 3: Determine which social media KPIs are the most important to you
Jump into any of your social media accounts, and even Google Analytics and you're going to find a myriad possible KPIs that you could be tracking closely and including in your monthly reports.
But how do you know which ones are actually important, and which ones you can put aside?
That's where those goals that you established earlier come in handy!
Brand awareness
I'll be the first to admit, tracking the number of followers across your different social media channels can be a bit of a vanity metric; the number of followers you have doesn't necessarily correlate with the number of engaged users, or revenue, or any other metric that is directly actionable and affects your bottom line.
However, if brand awareness is what you're looking for at first, a growth in followers can be beneficial before getting into the more business-oriented metrics.
Plus, more followers increases the organic reach you can get with your shared content, so along the line, it's still an important metric.
A few relevant KPIs to keep in mind for general brand awareness are:
Fans or follower growth
New fans or new followers
Engaged users
Post impression
Post organic impressions
Best performing posts
Reach
Views
Frequency
Remember that these KPIs will have different names depending on the social media platform you're analyzing, but the general idea stays the same: how many people are *potentially* interested in seeing your content and learning more about your brand.

Track these metrics in our social media report template - Try it for free
Follower engagement
Now that you've increased the number of your followers and grown your content's potential reach, it's time to figure out whether the content you're putting out there is actually interesting to your target audience.
Whether increasing engagement is a long-term strategy, or whether it's tied to a specific campaign, there's really no use publishing content and managing your social media accounts if no one actually cares to interact with you. Right?
That's why these KPIs are particularly important if you want to track how your social media content strategy is faring:
Clicks
Total engagement
Post engagement rate
Top posts by engaged users

Track these metrics in our social media report template - Try it for free
Brand ambassadors
Taking your follower engagement to the next level means driving not only clicks, but shares and retweets, which in turn, shows an increased loyalty to your brand and its content.
Someone who clicks on a piece of your social media content is interested in what your brand has to say.
Someone who shares your content or engages with it more actively (for example, by commenting on a tweet or tagging someone in your social posts), is SO interested in your brand's content that they feel like others in their inner-circle should also get in on it.
Those types of interactions indicates that your strategies are reaching your target audience more than superficially, and that's when it really starts to pay off.
KPIs in this category are things like the following:
Post comments
Post shares
Engagement per follower
Retweet
Again, the type of active interaction is going to be different depending on what platform you're looking at.

Track these metrics in our social media report template - Try it for free
Social referral traffic
Ahhh…. The Holy Grail.
The mother of all KPI categories.
The point of all of this.
Okay, I'm getting carried away, but honestly: at the end of the day, if your social media strategies aren't driving relevant traffic back to your site and ultimately, driving up revenue… what really IS the point?
That's why you need to be tracking those KPIs that show the correlation between social media campaigns and general site traffic.
Social media referral traffic works two ways: long-term and short-term.
Much like SEO, a social media content strategy is for the long-haul; your content and community engagement should increase brand awareness, which will increase traffic, albeit largely indirectly.
On the other hand, running remarketing campaigns and sales promotions can increase your numbers in the short-term.
BOTH of these are equally important: long-term strategy to build brand awareness, and short-term strategy for quick bumps in numbers.
KPIs that you're going to want to include here are:
Clicks
Traffic per network referrals
Referral by channel
Network traffic bounce rate
Network traffic avg. page views

Track these metrics in our social media report template - Try it for free
Feeling a little overwhelmed with the possibilities?
I got you.
Ideally, over the course of many discussions with your boss or client, pinpointing the exact KPIs that you need to include in your report is just going to come naturally.
Sometimes, starting with a simple social media report template, just to kick things off, is really the best way to go.
Over time, you'll find which KPIs you tend to skip over during your discussions, and which ones you find yourself wishing you had.
Step 4: See how each individual platforms requires that you fetch your data
Now comes the grunt work: actually retrieving all the social data that you want to include in your social media report.
I'm sure it won't come as a surprise to you if I say that each social media platform doesn't exactly work the same way when it comes to fetching your performance data.
How Facebook reports work:
For Facebook, you'll find all your organic and brand awareness-type KPIs under the "Insights" section of your business page. Depending on which KPIs you're looking at, you can pinpoint certain dates or date ranges, or display your data for today, yesterday, the last 7 days, or the last 28 days. If you don't want to copy everything by hand (who does?!), you can then export this information in the form of a spreadsheet report.
In terms of paid campaigns though, these KPIs are going to be found in your Ad Manager section.
To have this data on hand quickly, you have two options.
You can export your data directly in the form of a basic excel-spreadsheet-looking report (a wee bit complex to read if you want my honest opinion).
If you prefer, you can also create a custom report with your desired time period and filters by campaign, ad sets, and ads directly in your Ad Manager. Of course, if you want this data to be found in the same report as your other social media platforms' data, you're going to need to export the numbers anyway though.
How Instagram reports work:
Instagram is very similar to Facebook: your organic data is found under the "Insights" section in your business profile.
You can display your data by post, story, or promotion, and choose from a variety of date ranges.
Paid campaigns, on the other hand, are created and managed through your Facebook Ads manager, so it'll be the same process as Facebook Ads for generating the reports you want.
How Twitter reports work:
Twitter data can be found under your "Analytics" section, and much like Facebook, you can also isolate date ranges of your choice and export your data automatically.
How LinkedIn reports work:
LinkedIn's only real difference with Facebook and Twitter is that you can't choose your own date ranges when you're looking at your KPIs.
You can choose the last 7, 15, or 30 days, as well as the last 3, 6, or 12 months, but that's about it. If you wanted to see your data for another time period, LinkedIn wouldn't show it to you.
And since ideally, you're writing a social media report that includes all your social media platforms on the same report, it's important that the dates line up. This is a situation in which having an all-in-one social media reporting solution is very helpful, since this pretty much becomes a moot point.
We'll get into that later though!
How YouTube reports work:
To see your YouTube data, you simply go to your "Creator Studio", in the "Analytics" section.
Here, you can find your overall data, by video, by traffic source, and a lot more. You also have practically all the date-range choices you could ever want.
As with the other platforms, your reports are exportable too, albeit, they tend to have a lot of information packed into them, which can make them a bit overwhelming to go through.
Final step: Bring all your social media data together in one report
Whew, got all your different reports exported and ready to put together?
Now, you could of course input your numbers into a spreadsheet, compile everything together, and then transcribe them into your final report.
That's the "regular" way to do things, I suppose.
But you aren't "regular". You know how important your social media reports are, but you have better things to do that cut-and-paste data from one page to another.
Since that's the case, you might need an automated social media reporting tool that does the heavy lifting for you. That way, you can spend your time creating those kick-ass campaigns and strategies we talked about earlier.
Your social media reporting tool of choice should make everything we talked about earlier easier; it should:
Find yourself a tool that does all of that, and your social media reports will take care of themselves, and you can keep doing what you do best!
By the way, DashThis does all those things…
Give it a whirl… I dare ya.
​