These days, you can't afford to leave social media out of your digital marketing efforts, whether it's through a Facebook page, Twitter profile or other social media platforms.
The reach of social channels is enormous (there are over 2 billion active users on Facebook every month), and social media marketing can increase brand awareness and loyalty as well as inbound traffic to your website. 
But you can't just push out content every day and hope for the best - you need a good social media marketing strategy in place. The strategy must be data-based and should tell you what platforms and what kinds of content are really helping you achieve your overall goals. 
That's where social media reporting comes in: you need a reporting tool to keep track of how your social media strategy is performing and make sure you're reaching your business goals.
You most likely already use paid or free social media tools to help you with your social media management and social listening, like Hootsuite, Buffer, or mention. So why not use a tool to help you with your social media analytics reports as well?
DashThis' social media analytics report lets you stay on top of your social strategy performance across all your different social media channels all from one convenient dashboard.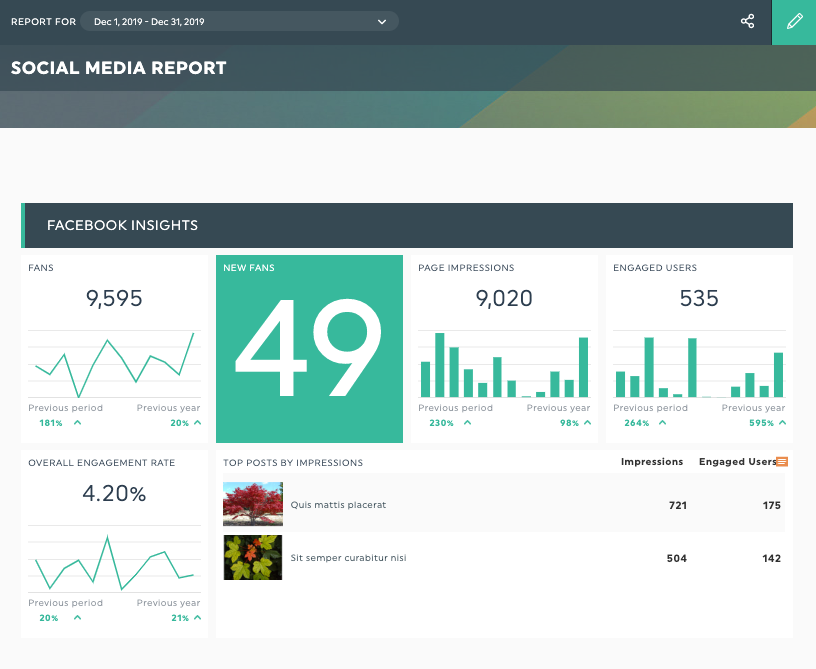 See this template live or use it with your own data!
You can easily create social media reports that contain all the essential info that your team, clients, or marketing executives will need (a PDF report can even be automatically delivered).
We recommend tracking social media metrics that give you actionable insights and tell you (and your clients) how your content strategy is performing. 
You can use automated monthly reports to track your social data, your target audience's whereabouts, even your SEO, all in the same report.
Follower count is always fun to brag about but it doesn't tell you much about how the followers are engaging with a business. Try not to get hung up on these 'vanity metrics' and read the section below on what to include in a social media analytics report for more tips on social media metrics and KPIs.
What to include in your social media analytics report
With so many KPIs to choose from and so many social networks, it can sometimes be overwhelming deciding just what to include in your social media performance reports so you can track your social media goals.
We recommend keeping it simple and sticking to predetermined KPIs that give you relevant data points. Here are some of the key KPIs we recommend including in your report template:
Engagement - this is a broad term that covers a few different metrics. It's basically how many people are engaging with your account and how often. Engagement metrics you'll want to include in your social media report include:
Likes, comments,

 

retweets, views, shares

 

- each

 

social platform

 

will have its own way people engage with your content and you'll want to track how often this happens
Engagement rate

 

- this is the number of engagements divided by the number of impressions. A higher number means more people are finding the content interesting. 
Awareness - this is another broad benchmark that encompasses some different metrics. They all focus on brand awareness:
Impressions

 

- this measures how many times content has appeared in a user's timeline/feed
Reach

 

- slightly different from impressions, this is the number of people who saw your content 
You should also think about tracking these other key metrics:
Likes and followers

 

(page likes, new likes, followers,

 

follower growth)
Top performing posts

 

(by engagement or

 

engagement rate, likes, reach, or nearly any other metric you want)
How to create your social media analytics report
Creating a social media analytics report is simple:
Create an account

 

- all you need is an email address and a password
Choose your integrations

 

- DashThis supports over 34 of the most popular digital marketing tools, including

 

Facebook Insights,

 

Twitter Analytics,

 

Instagram Analytics,

 

Instagram Ads, LinkedIn Pages, and more! Best of all, we take care of the data fetching so you won't have to plug numbers into

 

Excel

 

anymore. 
Select your template

 

- we've got a bunch of preset templates you can start with that have the most

 

important metrics

 

and

 

KPIs

 

already preloaded. You can customize a template, create your own, or even create a

 

custom report

 

from scratch.
The best
 

social media

 

report templates

 

Want to get started tracking and reporting on the success of your social media content? These preset templates will get you up and running in no time.

 
Social media
 

analytics report template

 

The social media analytics report template will have you and your marketing team tracking social media data and content performance quickly and easily. It comes preloaded with the top KPIs but it's also customizable so if you want to track different metrics or use custom data (just upload a CSV file) you've got the option. You'll get your Linkedin analytics stats, Facebook, Twitter, Instagram, basically all your social media efforts in the same report.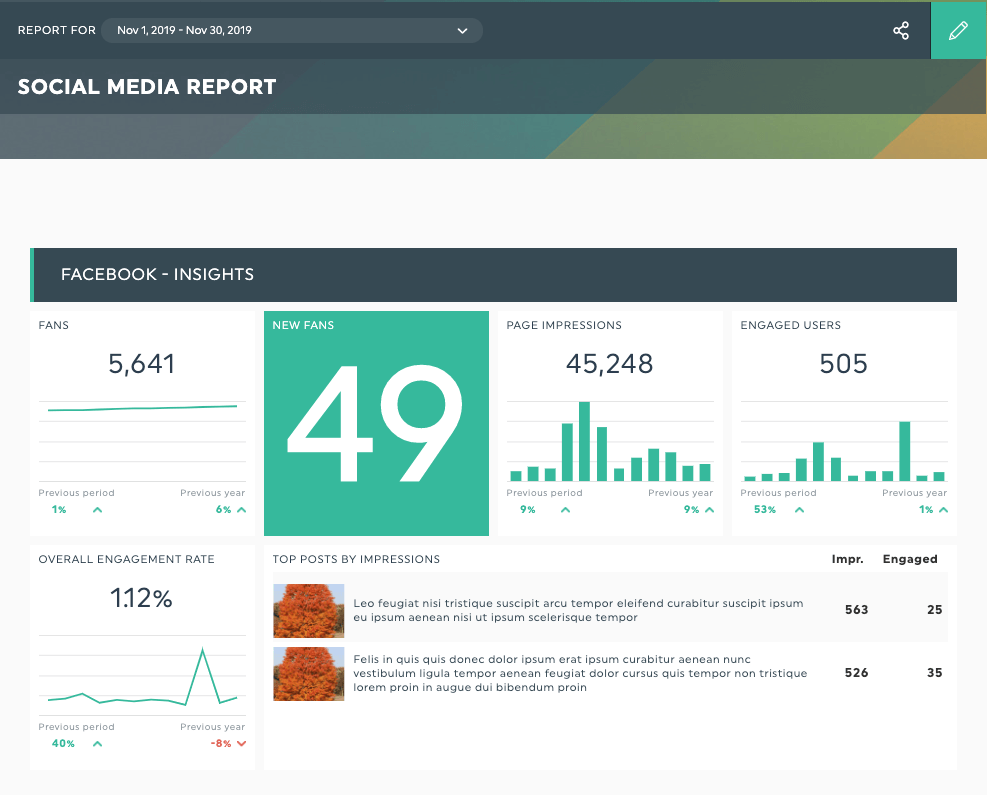 Facebook Insights
 

report template

 

Get your Facebook data working for you with our Facebook Insights report template. It's got everything you'll need to monitor and optimize your Facebook content.

 

Metrics that should be in your Facebook Insights report include:

 
Engagement
Reach and Impressions
Likes and followers
Top performing posts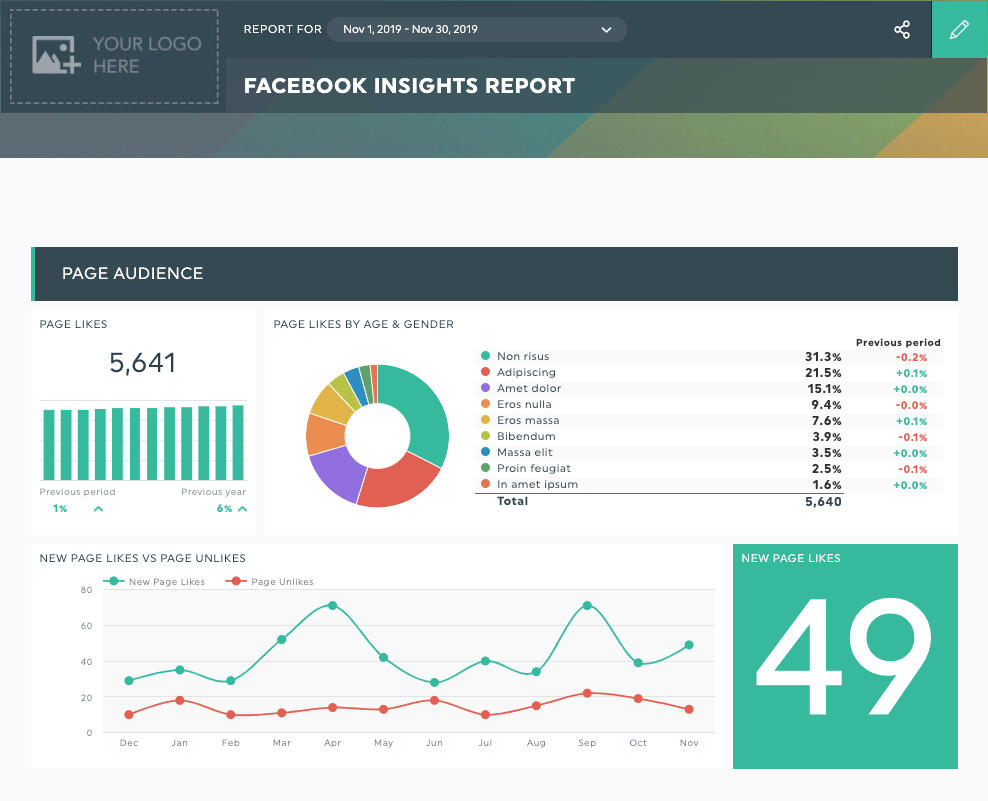 Facebook Ads
 

report template

 

Use our comprehensive Facebook Ads report template to report on Facebook Ads campaigns and optimize your Facebook Ads marketing campaigns.

 

A good Facebook Ads report will track these metrics:

 
Campaign performance (cost per click, clicks, conversions)
Ad performance (reach, frequency, cost per click, click through rate)
Cost per action
Website actions (conversions)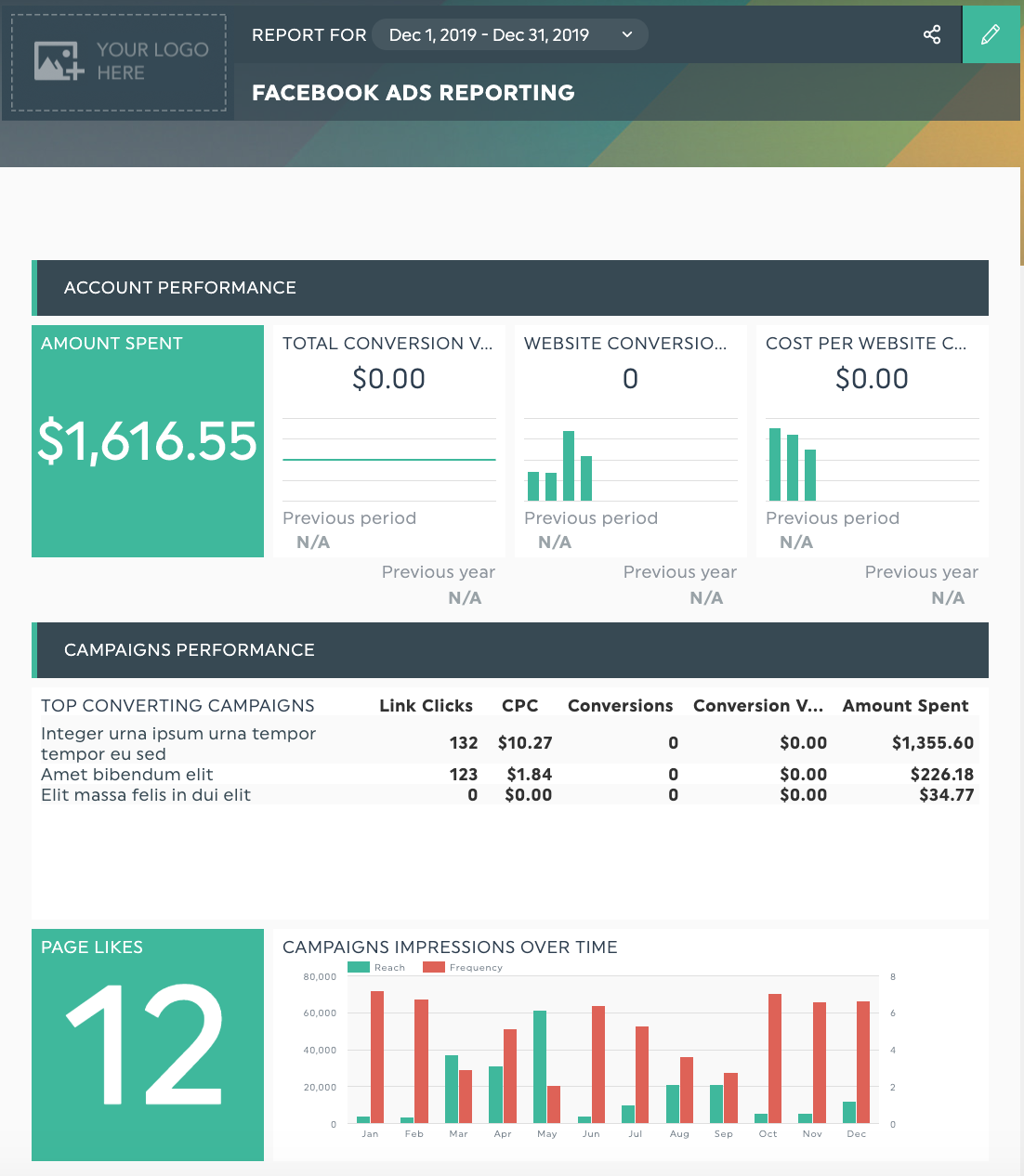 Instagram Insights
 

report template

 

Our Instagram Insights report template is purpose-built for social media marketers who want to make sure their Instagram accounts are optimized. You can check your posts' performance by hashtag, look up your influencer campaigns, and all your stats.

 

Be sure to track these key Instagram metrics:

 
Follows and likes
Reach and impressions
Interactions
Mentions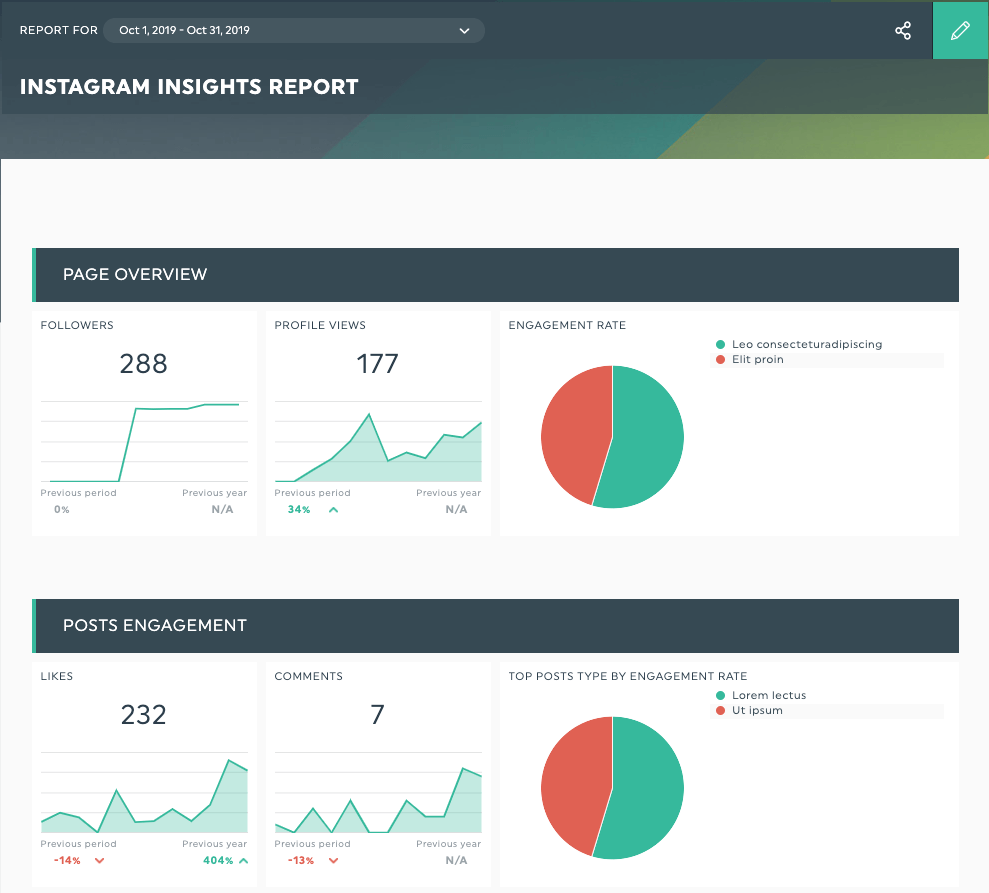 Google Analytics
 

report template

 

Google Analytics is an essential complement to social media marketing, particularly where the goal of a social media campaign is to drive traffic to a website or online store. Use our Google Analytics report template to see how your social media campaigns are affecting web traffic.

 

Metrics you need to track in your Google Analytics report include:

 
Sessions and users (sessions, page views, bounce rate, pages per session, session duration)
Goal completions and conversions (goal completions, goal conversion rate, first and last interaction conversions)
Channel performance (channel, source, medium)
Landing page performance (landing page sessions, conversion rate, revenue, bounce rate, page load time)
Campaign performance (costs, return on investment, return on ad spend, conversions, conversion rate)