In this social media management guide, you'll learn:
What is a Social Media Report?
A social media report shows the performance of your social media channels. 
In terms of design, it varies. The report can be an Excel spreadsheet containing many data points or an attractive automated report (yes, it's possible).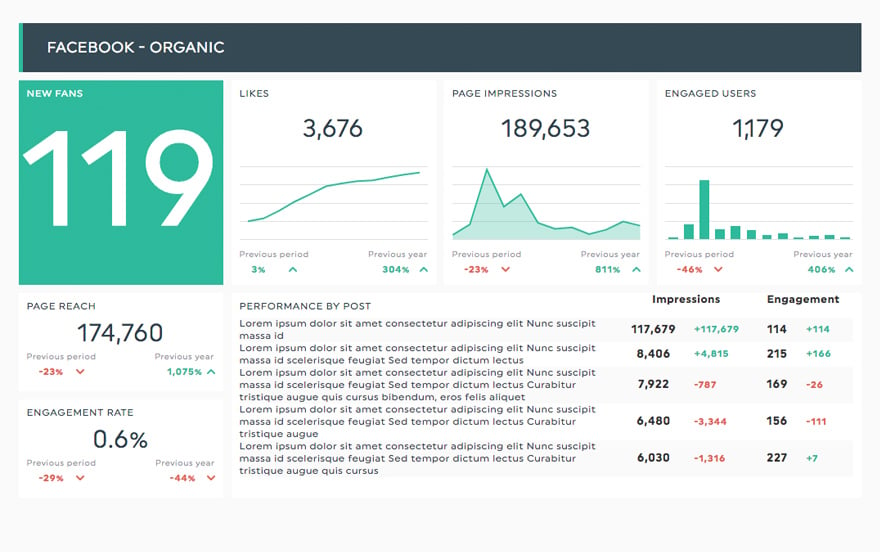 Connect your Facebook Insights account, and let DashThis pull relevant data. Automate your reporting and turn your messy data into a sleek, beautiful report.
Grab your Facebook Insights dashboard
The content of your social media campaign report will depend on how in-depth you want to get.
At the very least, a standard social media performance report will include KPIs such as impressions and follower count.
Why Social Media Reporting is Important
It's pointless to create content for social media marketing campaigns if you're not tracking your performance.
Imagine spending the past three months on your client's LinkedIn Page when none of the posts generated traffic and quality leads. Unbeknownst to you, the YouTube videos that you created sporadically were actually the ones attracting your best customers.   
This all-too-real scenario paints a vital reminder: Always invest time to analyze results for your social media strategy. 
So, you'll know what's working (or not) and tweak your marketing efforts accordingly. 
What Should be Included in a Social Media Report
(i) All Your Key Performance Indicators From All Your Platforms

Ah, the main stars of the social media report. 
The social media KPIs will tell clients two main things: a) how their social networks have performed and b) what their next steps should be. 
In other words, these social media metrics will back up your suggestions as you move forward in the strategy (more about this in the next section).
If you're running Facebook Insights, focus on these KPIs: Page views, total actions on page, total reactions on page, page engagement rate, page impressions, page organic impressions, and page paid impressions. 
Side note: Key Metrics like click-through rates [CTRs] are more important in PPC campaigns.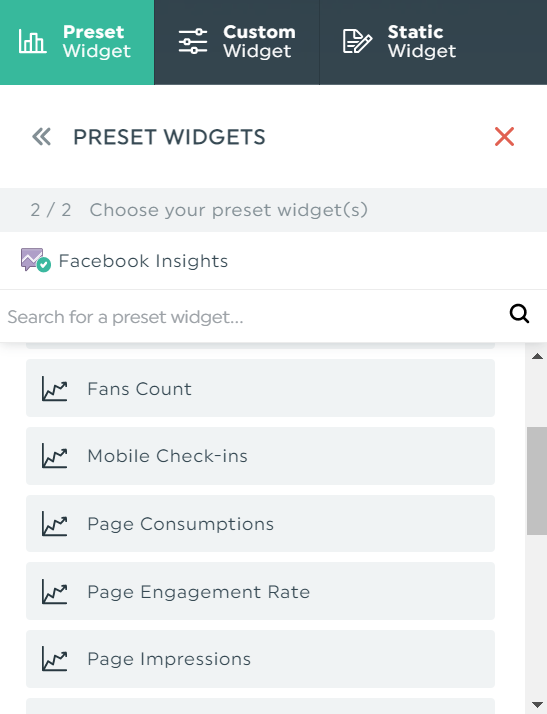 Either scroll through the preset KPIs or enter them in the search field. Once you click it, DashThis will automatically add it within the report.
Whereas for Instagram Insights, you'll want to keep an eye on important metrics and KPIs that center around brand awareness: Follower growth, profile views, engagement review, likes, comments, and top-performing posts by engagement rate.
B2B clients that want an optimized LinkedIn page should monitor the number of followers, impressions, clicks on page, post actions over time, post likes, comments count, shares, and social interactions.
Click any of the preset LinkedIn KPIs, and DashThis will automatically grab the relevant data for your report. Pro Tip: If you need a refresher on what the KPIs mean, click the "i" icon.
Meanwhile, for Twitter Analytics, you should zoom in on followers count, followers engagement rate, interactions over time, post engagement, likes, comments, and retweets. 
Fun Fact: DashThis also allows you to create a KPI to get Twitter impressions for your hashtags. That's right, you can easily track brand-specific hashtags that influencers are using within their social media posts!
(ii) Executive Summary
Set your marketing reporting on the right foot— display an executive summary at the top of your social media report: 
Click

Static Widgets

Select

Comments

Enter your executive summary

Add bullet points, include thumbnails of your best-performing posts, and more. You can do pretty much anything in DashThis' comment box editor.
(iii) Comments and Notes
Effective reports go beyond the standard social media analytics. Smart and data-driven social media marketers will offer suggestions for improvements. 
Locate your desired KPIs and complete the following steps:
Click

Add Note

Enter your recommendations

Click

Save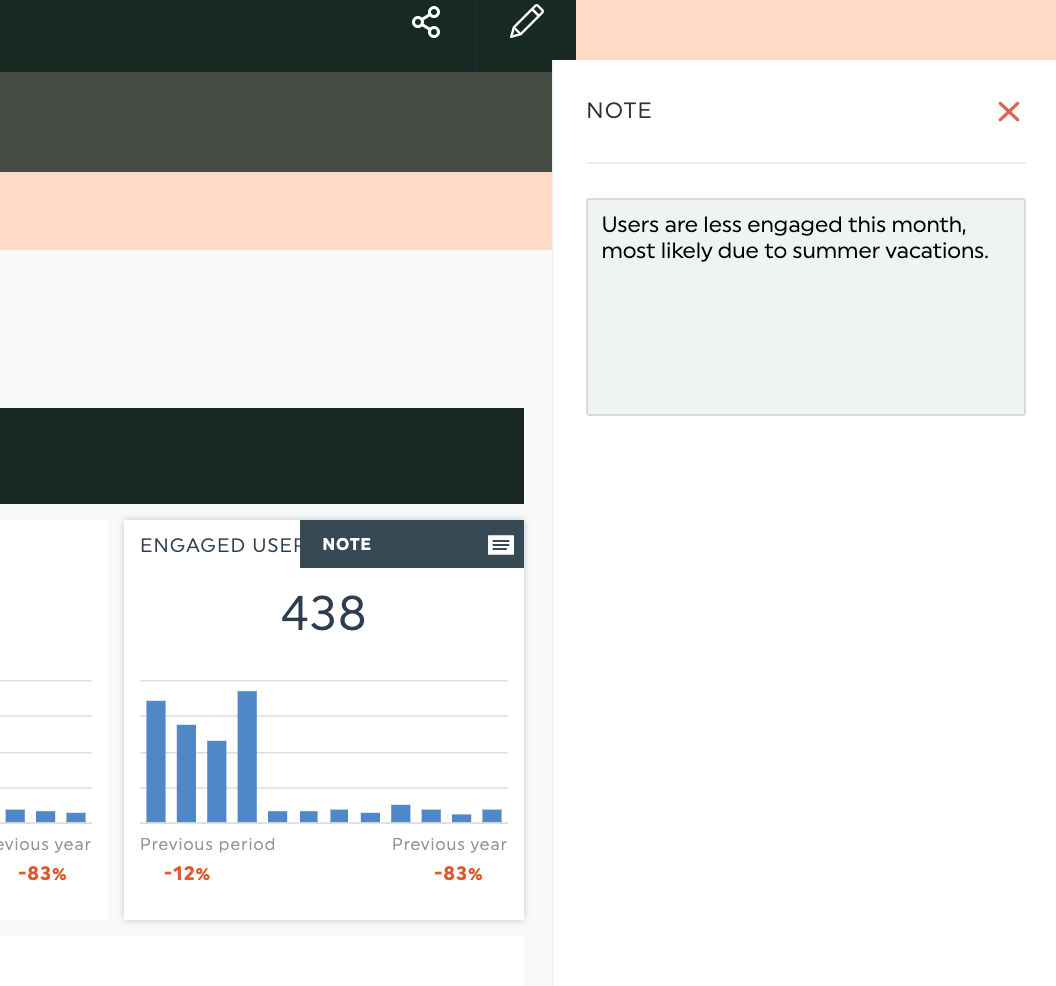 Share your actionable insights within the report instead of explaining them in your email. When clients view the report in live mode, these value-packed notes will become visible.
Use this opportunity to prove to your client that they'll get massive ROI from working with you.
You don't just want to be a typical agency they hire. You want them to think of you as a partner and asset.
Pro Tip: You can also leverage the Notes section for proofing. Send a draft of your report to the marketing team, social media team or other stakeholders. 
How Should You Create a Social Media Report
Long gone are the days when you log in to Twitter, take a screenshot of the analytics, paste it in the spreadsheet... and repeat steps 1-3 for Instagram, Tiktok, and Facebook.
You can easily spend 30 minutes for each client every week on these social media platforms! How much does that add up, say, in a month? Your time is better spent on more productive tasks. 
Instead of manually grabbing a multitude of data, automate your social media reporting on a single platform: 
Integrate your

social media reporting tools

with

DashThis

Choose your dashboard—either create from scratch or pick a premade

social media report template

Locate your KPIs under

Preset Widgets

Drag and drop the KPIs
Scroll through the built-in KPIs under Preset Widgets. And click to add them, then drag and drop them anywhere you see fit in the social media report.
All social media marketing dashboards include popular KPIs, saving you the extra steps of jumping from one platform to another.
How Often Should You Create a Social Media Report
There's no one-size-fits-all answer. Here's a good rule of thumb by Christine Elizabeth Cooper, VP of marketing and sales at KNB Communications:
"You must strike a balance between the time it takes to compile a report and the value it provides. Additionally, different roles within the company should be looking at different levels of reports, at different intervals."
1. Daily Reports
Pros: Easily monitor brand mentions and conversations. Tip: Use social listening tools (e.g., Hootsuite, Socialbakers) for this. 
Kristaps Brencans, CMO of On The Map, shares another excellent reason for creating daily reports:
"If there ever was a viral post with a large engagement boost, clients can see that reflected in real-time because of how close together the reports are presented."
Cons: Lack of engaged target audience and content strategy insights on social media.
2. Weekly Reports
Pros: View valuable insights on new and trending topics. Weekly reports provide more context than daily reports. 
Cons: Unable to measure the effectiveness of a campaign. 
3. Monthly Reports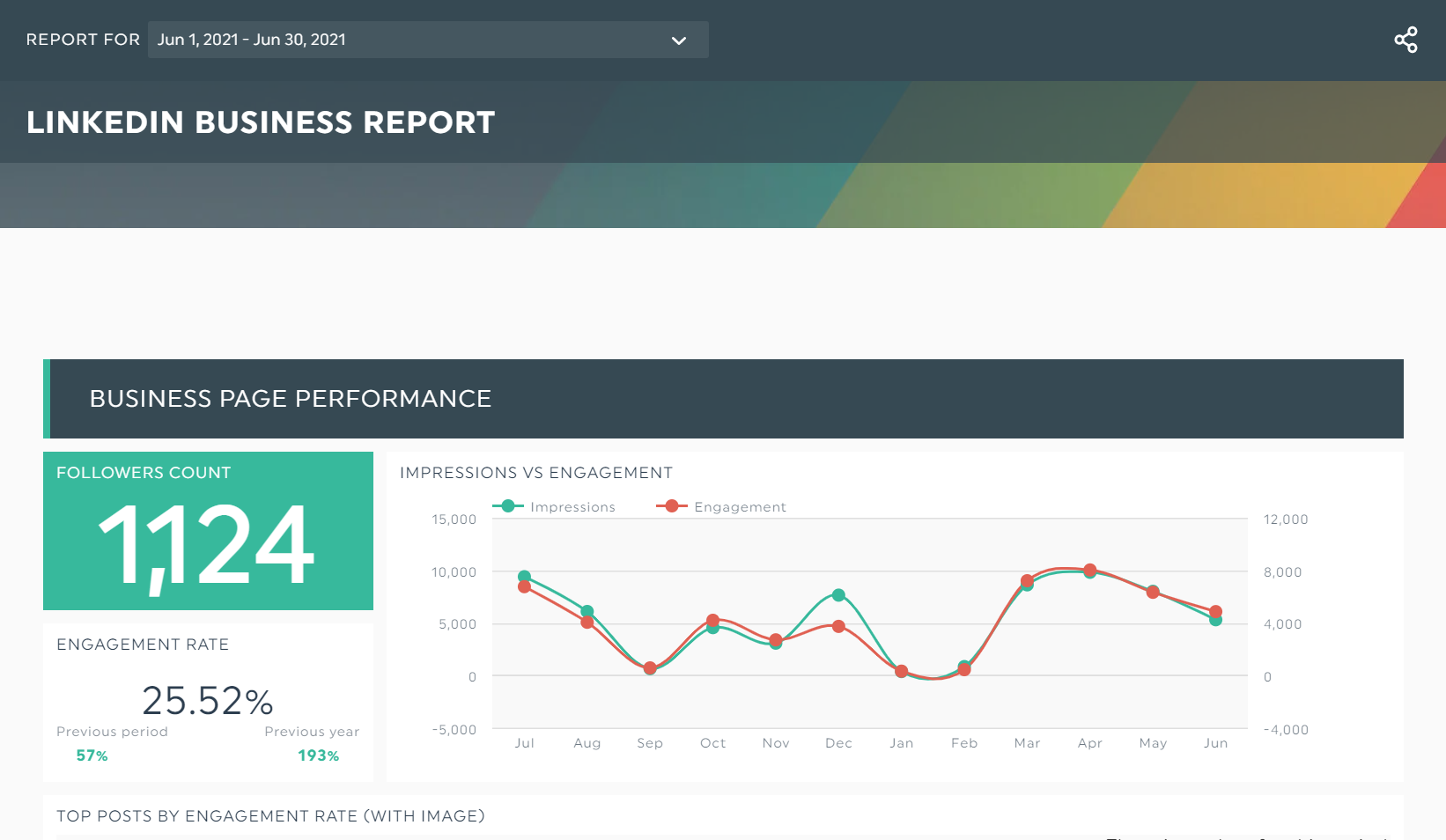 Pros: Assess data on how social media accounts have grown, impressions generated, links clicked, and conversions tracked.
Holly Medwid, CEO at Monarch Social Media, votes for monthly reports, explaining:
"You get a better understanding of awareness, engagement, and conversion metrics from your digital marketing campaigns. This shows true social media ROI for clients."
Cons: Time-consuming. Medwid explains, "There's usually a large educational component because you're measuring data points that most clients don't understand." 
Pro Tip: To overcome this issue, use DashThis' Notes feature. Explain your process in detail within the report—it'll save you time from writing another email to your client.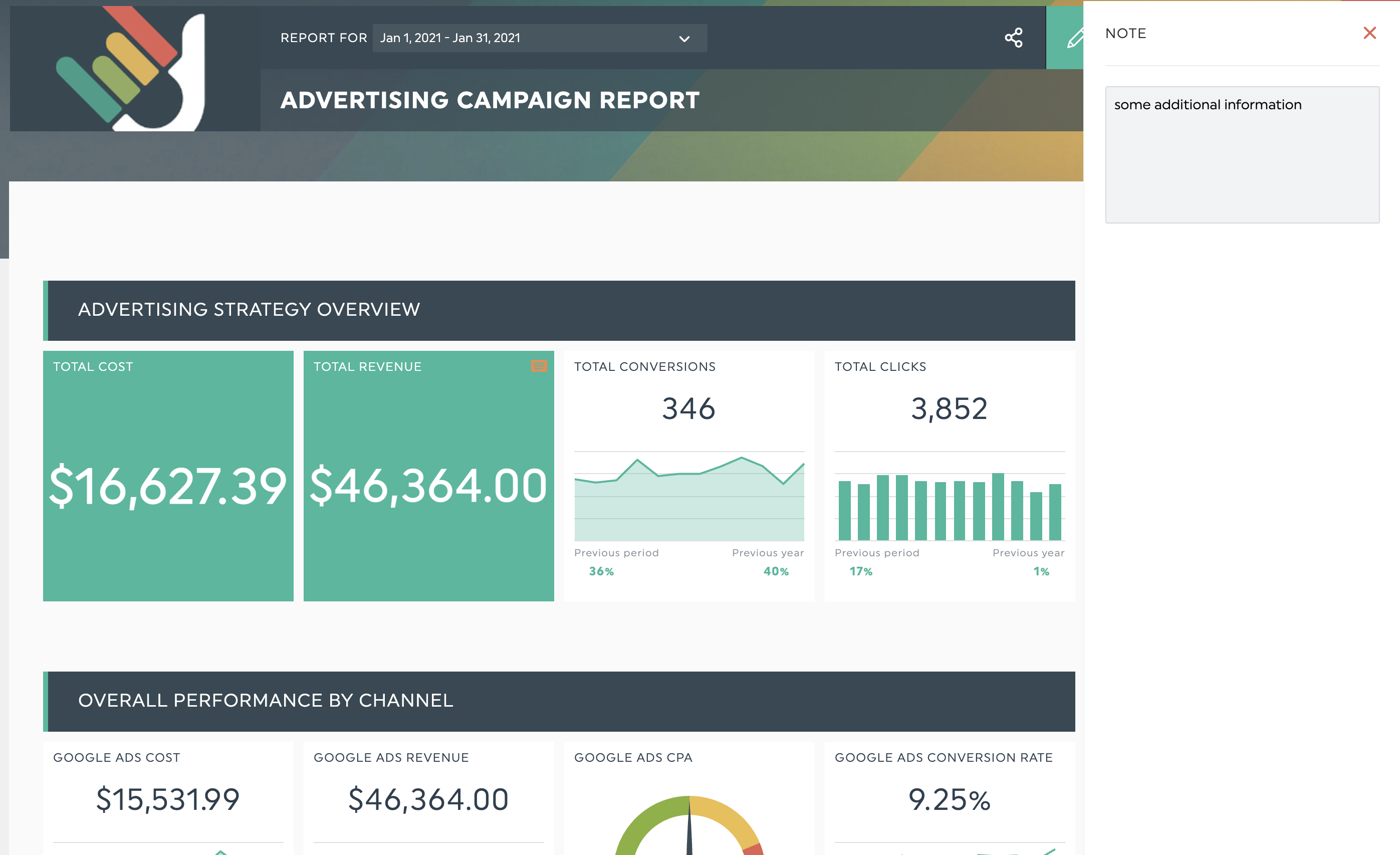 (iv) Annual Reports
Pros: Evaluate year-over-year comparisons and overall marketing strategy and create a yearly budget.
Cons: Unable to get a clear picture of best-performing social media content at a sustainable level.
So, which reports should you focus on? Short answer: You should create all of them.
Kristaps Brencans shares the best social media reporting advice: 
"Consistent monthly or quarterly reports with detailed social media metrics allow clients to see your marketing strategies at work. The main benefit you get from this is long-term client retention. When businesses see their clicks and new followers increasing on a monthly basis, they're more willing to invest in your agency."
Creating daily, weekly, monthly, and annual reports on DashThis is easy. Under Dashboard Preferences, click Time Period.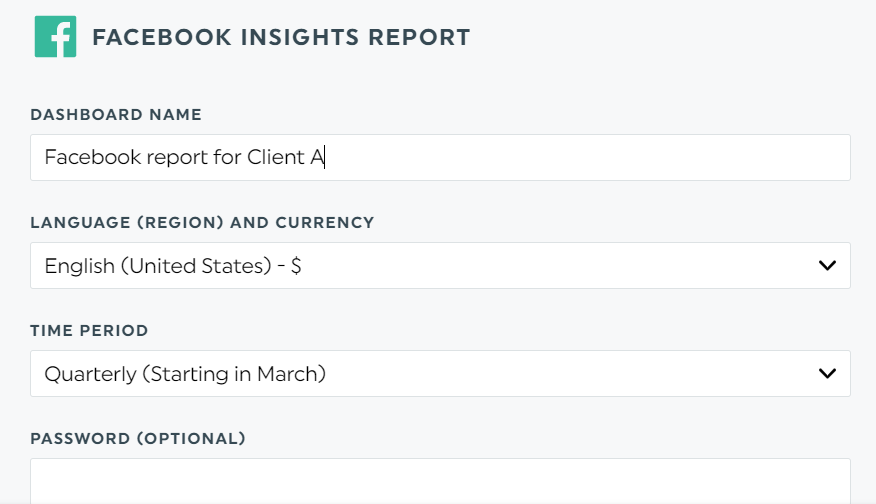 You can set your reporting to daily, weekly, monthly, quarterly, semiannually, or annually. Pro Tip: Add a password for an extra layer of security.
Once you're happy with your work, share it automatically with an URL link, email, or PDF copy.
Automate Social Media Reporting... Within Seconds
It's challenging to track analytics across multiple social platforms. It's exhausting when it involves dozens of different clients. 
Luckily, there's DashThis to help you gather all your social media data into one beautiful analytics report (psst, you can even white-label it with our custom reports).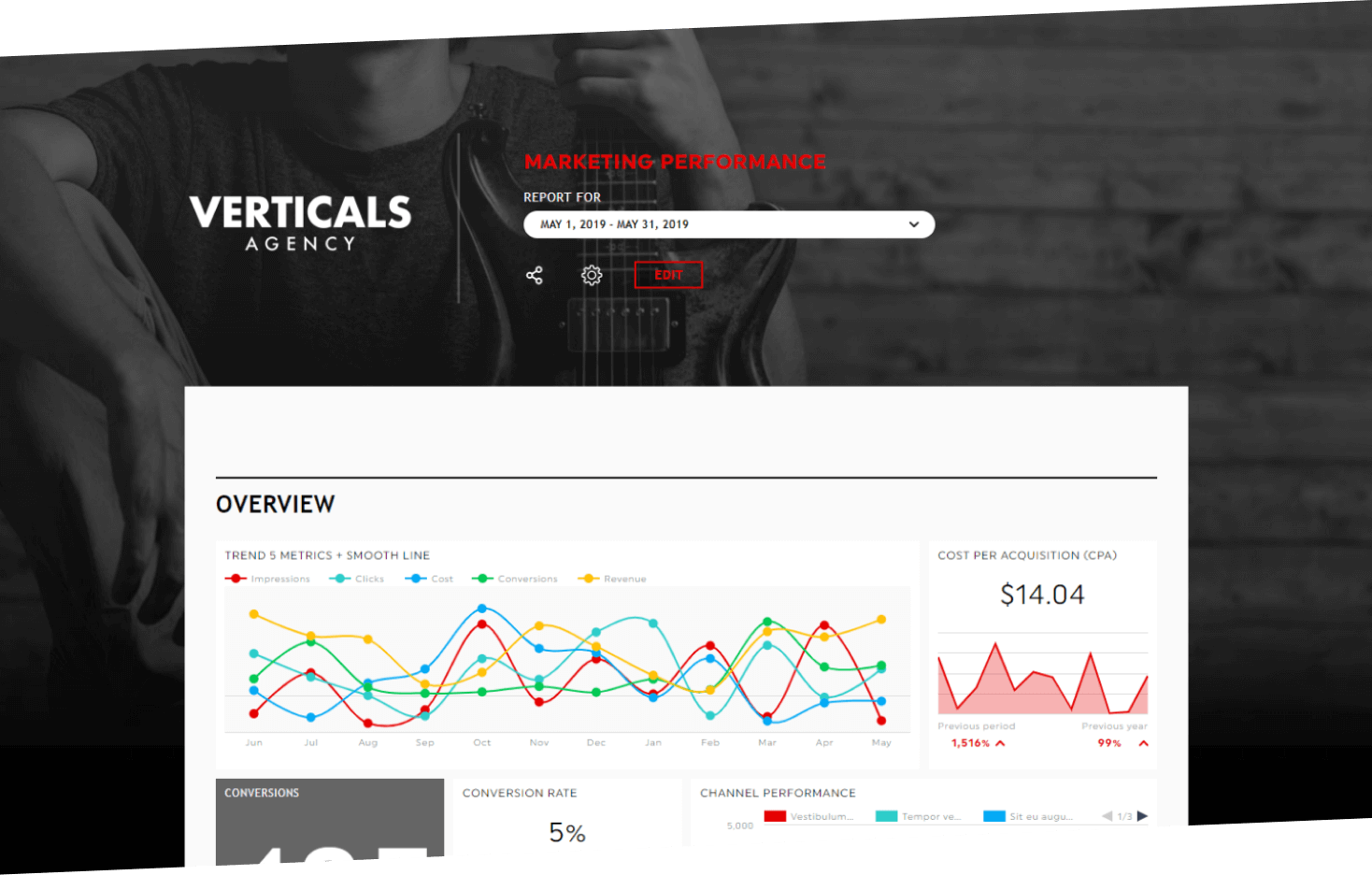 Whether you're using a free social media analytics tool (e.g., Google Analytics, Instagram Analytics) or an all-in-one digital marketing suite (looking at you, SEMrush), DashThis can connect all of them with a few clicks of the button.
Sign up for your free 15-day trial and automate your social media reporting today. 
Here's a short video on how to create your social media report in seconds with DashThis: