Did you know that Facebook is the largest social media platform in the world, with 2.4 billion users?
Whether you're interested in presenting your social media analytics to your team, a client, or you're simply looking to measure the progress for your own Instagram account, making sure that you track your social media metrics with a social media report is essential to ensure that you continue growing your social media accounts.
We've created a complete guide to help you better understand the importance of social media reporting and how it can help you to build a social media strategy that keeps you in front of all of your competition.
What Is a Social Media Report?

A social media report is the best way for you to track and measure all your social networks' stats. With it, you can track anything from your influencer marketing campaigns, your best tweets, your new followers, or your overall social media performance. It can be presented as an Excel spreadsheet or even better, as an automated, graph-filled report from your preferred social media reporting tool.
Before building your social media report, there are a couple of questions you need to ask yourself. These questions are:
What are your business goals?
What are your social media goals?
What are your KPIs?
What should your social media report look like?
Are you making a social media report for a specific result or campaign?
How frequently will you be creating these reports?
Who are those reports for? Your clients, your marketing team?
As you can see, there are some questions about your social media strategy and business goals, because you first need to know what to track, and why; is my goal to gain more likes and followers, or is it to get more clicks on my blogs for my content strategy?
Then, you need to know what your report should look like, is it a monthly report? Should it include all your social platforms? Who will read it? Your clients, your marketing team? A social media report should be concise and easy to understand, all the while having all the needed information and KPIs.
Why Should You Use a Social Media Report?
There are several reasons why you should consider using social media reporting to step up your social media strategy. Every marketing team needs to have a clear report to know which campaigns are working at a glance and be able to adjust their social media efforts accordingly.
If you're an agency, here are some other benefits:
Marketing Reports Allow You to Regularly Interact With Clients

If you're an agency, you know that great client-agency communication is key. By providing your clients with social media reports on a regular basis, you'll be able to demonstrate the status of their current campaigns, and engage the conversation.
Sending out consistent social media reports is a great segway into discussing the key metrics that you've collected, it helps you create a stronger business relationship, and even save time during your meetings.
Reports Help You Educate Your Client

Your average client may not have an understanding of what KPIs are and why they matter to their social media. Creating social media reports for your clients is a way for you to educate them on your capabilities, and all the marketing efforts you've put on their campaigns.
There are multiple other great reasons to create a good social media report for your clients or boss, it really depends on each situation. However, reports are always a good way to open communication and make sure your strategies and campaigns are bringing the intended results.

What Should You Include in a Social Media Report?

When you're creating your first social media report, it can be overwhelming trying to figure out what data matters enough to put in your report, and what data isn't relative to the information that you're trying to display. If you're not sure what you should include in your social media report, we listed some of the most important metrics for you.
Follows and Likes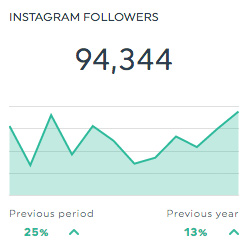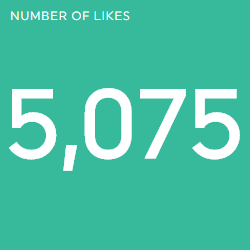 While the followers and likes that you're receiving on your social media accounts may be considered to be a vanity metrics on other marketing reports, it's important to include this information on a social media report as it identifies how your social media channels are performing. Also, including followers and likes on your social media report identifies the potential reach that your company could market to, as well as if the content you're producing is quality enough to encourage people to follow your account.
By having an understanding of the number of likes and followers that you're receiving on your social media account, you'll have a better understanding of if your current social media marketing strategy is working for growing your brand or not.
Impressions and Reach


This social media statistic identifies the potential number of people that have seen your post on their social media platform. You should be sure to include the number of impressions and the wreaths that your accounts have received, as this will help your organization to better understand the visibility that your posts are having beyond the number of followers that you have.
Post Engagements


Perhaps one of the most useful and important pieces of data that you're going to include on social media reports, post engagement reports the number of times people have interacted with your posts. If you're looking to create a very detailed social media report, you can even break down post engagement to how many times a follower is engaging with your account in total, how much engagement one post has received, and the total engagement of your account overall.
Identifying the engagement your social profile and social posts are having will help you to better understand how your content is resonating with your audience, as well as how many potential customers are interested and interacting with your account
What Are the Different Types of Social Media Reports?

For you to be able to develop an effective marketing measurement strategy for your social media accounts, you must understand there's a selection of social media reports for you to use to deliver a solid foundation of information.

A social media report divided by social channels will provide your social media management team or clients with all the information they need about your campaign results.
You can use a monthly report to dive deeper into the data that's been generated over time from your social media accounts. Or you can create weekly reports for your short term campaigns. You could also create social reports with a specific campaign's timeframe for more real-time tracking of your results.
Here are some examples of social media reports divided by social channels:
Facebook Insight Reports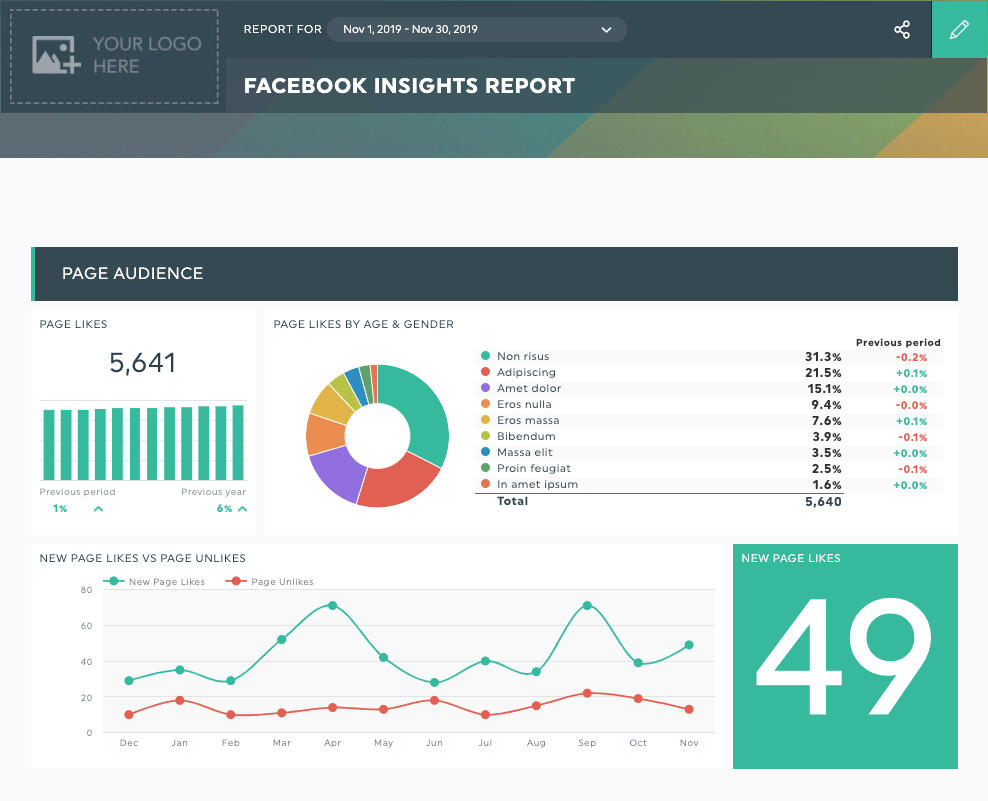 A Facebook insight report will help you determine how your Facebook organic campaigns are evolving, what is working and what needs to be reconsidered. Some of the most popular KPIs for such reports are:
Page views
Total actions on page
Total reactions on page
Page engagement rate
Page impressions
Page organic impressions
Page paid impressions
Instagram Insights Report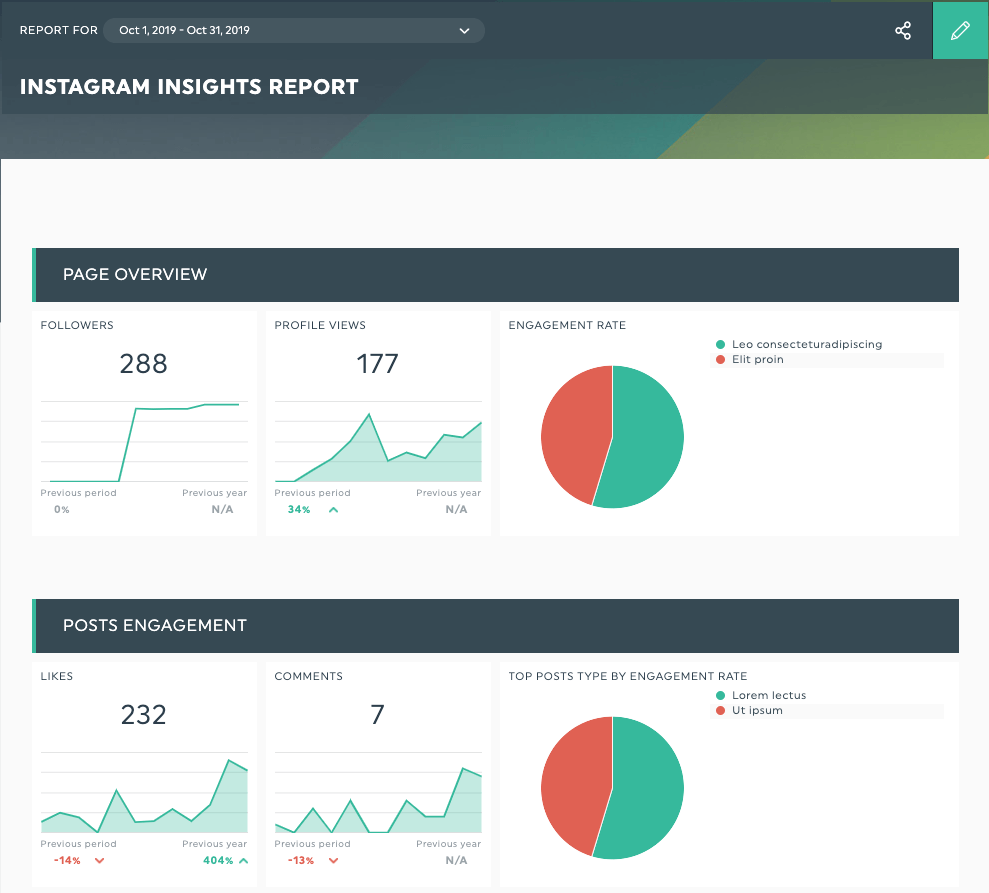 You can use an Instagram insight report to know the impact of your Instagram strategy, here are a couple key metrics to track:
Followers
Profile views
Engagement review
Likes
Comments
Top posts type by engagement rate
Linkedin Pages Reports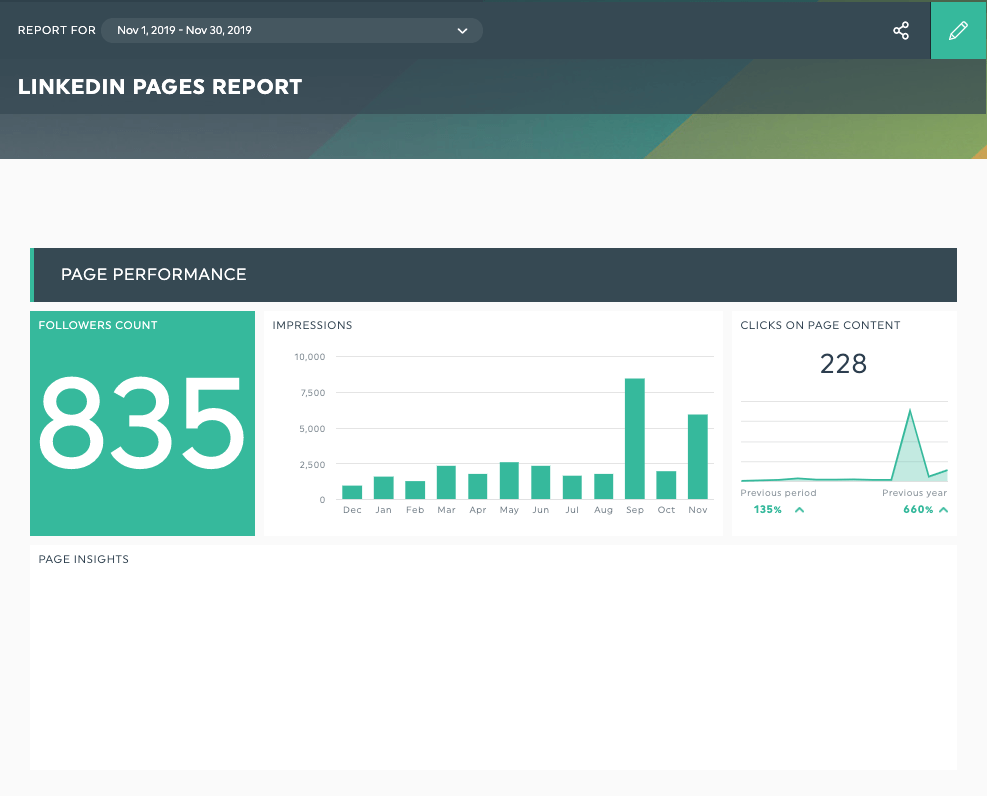 A Linkedin Pages report will help you determine what actions or strategies are the most effective for this particular social platform. You should include the following metrics:
Followers count
Impressions
Clicks on page
Post actions over time
Post likes
Comments count
Shares
Social Interactions

Twitter Page Report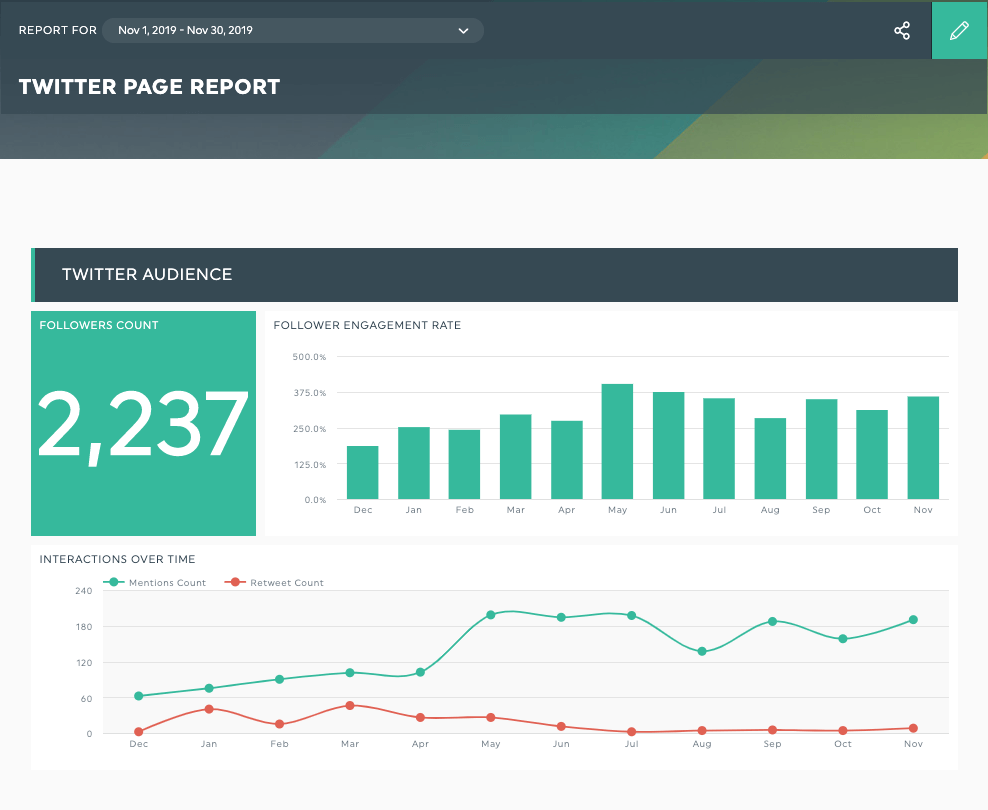 You can use a Twitter page report to track all your organic marketing efforts on Twitter, you can track metrics such as:
Followers count
Followers engagement rate
Interactions over time
Post engagement
Likes
Comments
Retweets

Complete Social Media Report
You can also create one report with all your social media campaigns and marketing efforts so that you can see any correlations between your different campaigns. In a complete social media report, you can include all your social media channels such as Facebook, LinkedIn, Twitter, Instagram, as well as your website's performance with your Google Analytics data.
And to simplify your life even more, you can simply use a social media report template like this one: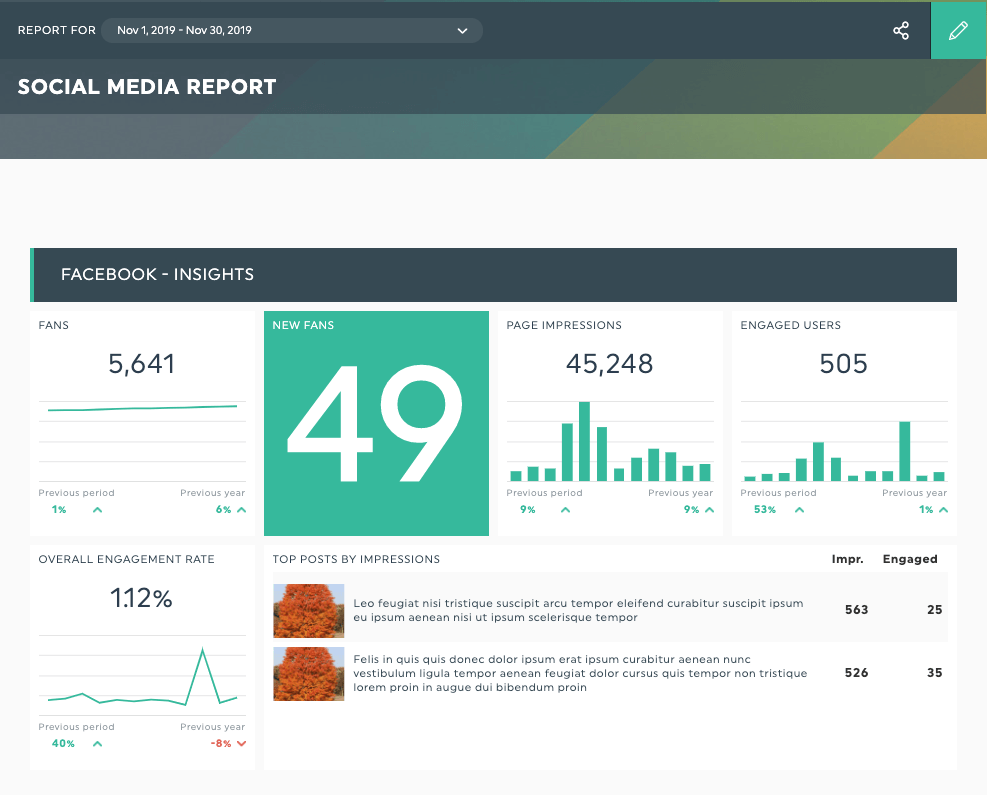 See this template with your own data

The Importance of Social Media Reporting

Understanding the importance of social media reporting is key to ensure your brand continues to stay relevant on social media. By creating reports that are easy to understand, you and your company will be able to gain better insight into the content creation that's valuable for your brand on social media.
Create your own social media report very easily thanks to our automated social media reporting tool. You can even try it out for free for 15 days!