We get it.
Finding the perfect SEO tool that helps you do your best work isn't easy.
If you don't want to spend hours comparing dozens of SEO software tools on G2, you've landed on the right post.
Here are nine exceptional search engine optimization (SEO) tools sorted by category.
Whether you want to improve a client's link-building strategy, address duplicate content, or perform competitor research to gain an edge over those pesky rivals, these SEO agency tools got you covered. 
Best Technical SEO Tools
1. Google Search Console (Formerly Google Webmaster Tools)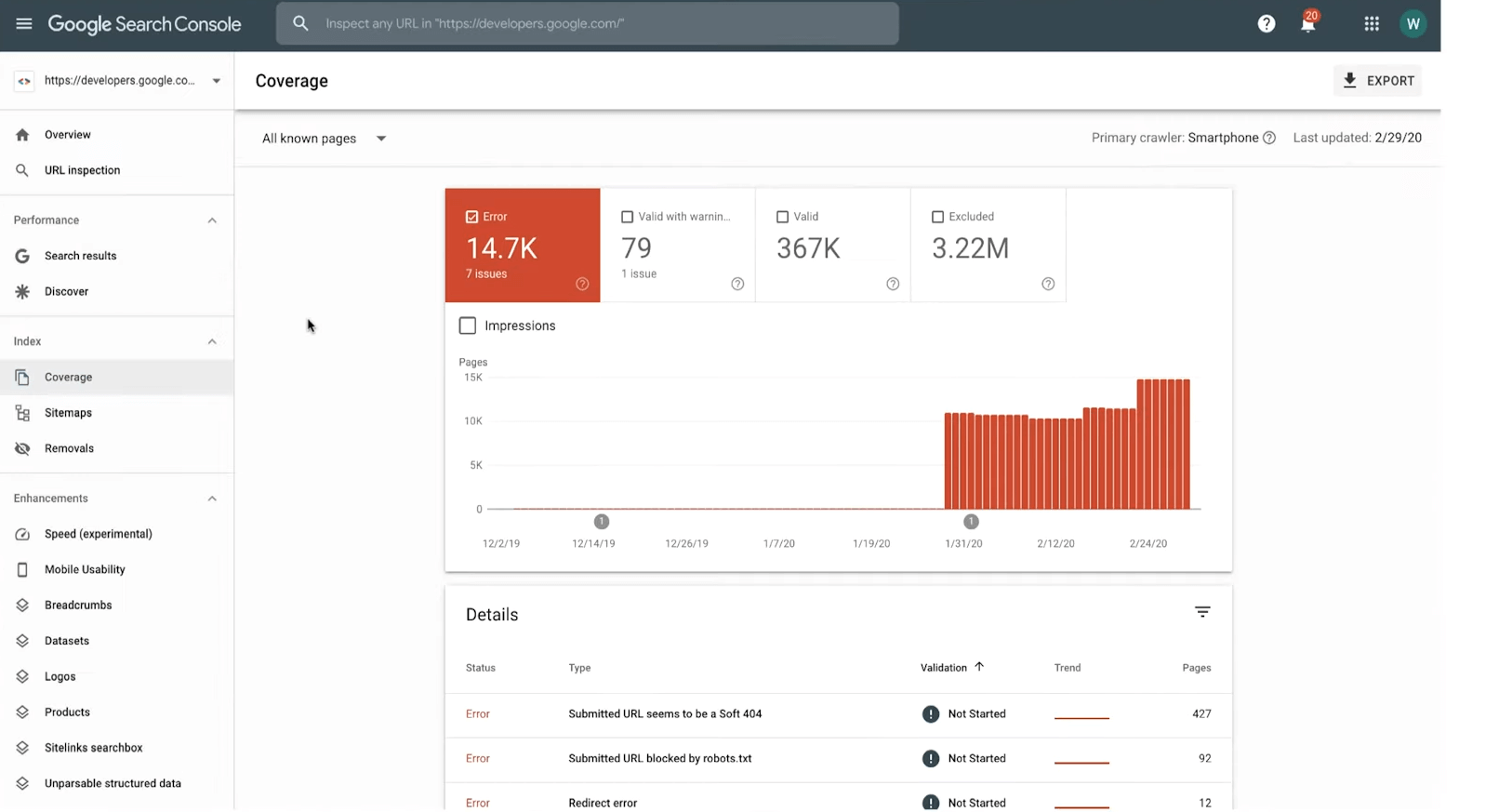 Source: YouTube
Standout features: Coverage report and performance report.
Google Search Console (GSC) is a staple SEO tool jam-packed with actionable data on how clients' websites perform in organic search.
Justin Knott, president and CEO of Intrepy Healthcare Marketing, is a fan of the performance report. He says, "When you add a page URL, you can see the clicks, impressions, CTR, and average position for the keywords it's ranking for." 
Dave Ashworth, a technical SEO consultant at Organic Digital, likes the coverage report best. He explains, "It gives insights into what Google can and cannot (or will not) index on your website. This helps uncover issues and opportunities that you might have missed from crawling."
Being a free tool, GSC doesn't give a complete snapshot of your website's performance (e.g., you only get a sample of links). However, as Dave mentions, it's enough to get you by if you run a smaller site. 
Want to get your crawl rate optimization in order? Here's a pro tip from Dave:
"Export the coverage and search performance data, and cross-reference them against site crawl Google data (e.g., Screaming Frog) and XML sitemaps via Excel VLOOKUP. This approach gives you a good idea on what's indexed, what can be crawled, etc."
To grab data from Google Search Console easily, connect your GSC account to DashThis in only two steps.
Drag and drop our preset widgets to display your client's organic performance, audience analysis, and more. Select from our default widgets, including total impressions, average CTR (pages), and country and device type dimensions.
Use automation and schedule your GSC report in a few clicks today!
2. Screaming Frog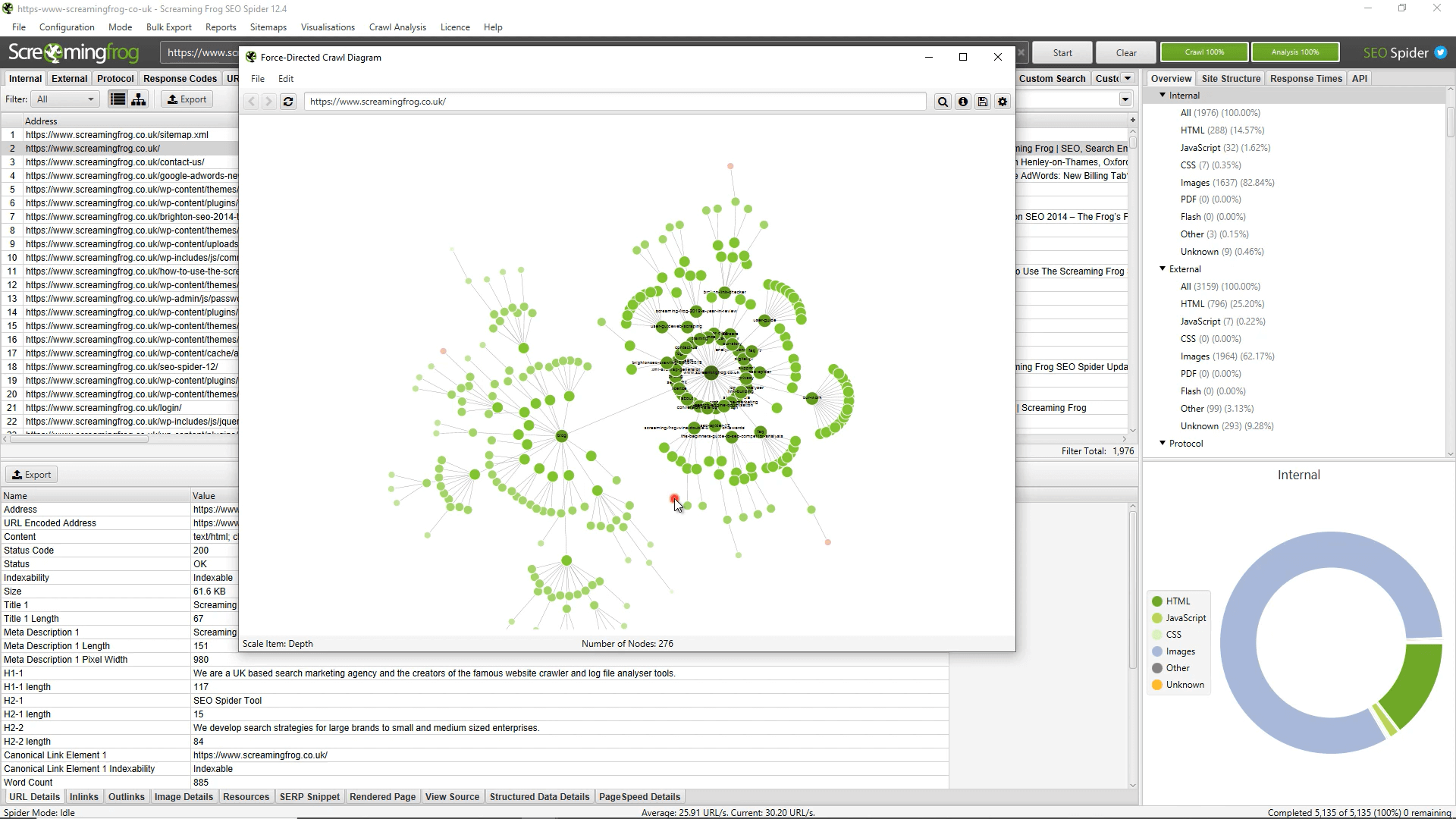 Source: YouTube
Standout features: XML sitemap generator, site architecture, and crawl visualizations.
Whether it's finding broken links, generating XML sitemaps, or visualizing a website's architecture, Screaming Frog can do it all.
Shane Pollard, CTO at Be Media, counts it as his all-time favorite SEO tool. He shares: "The crawler expands to include a visual map of the crawl results. I enjoy looking over the visual maps as much as the crawl maps. Every website has its fascinating nuances."
For greater insights, integrate Screaming Frog with Google Analytics. 
According to Shane, one way to get the most out of the SEO technical tool is to export your data into a spreadsheet. This will allow you to manipulate the data, so you'll have a view "that works for any lense you have on the results." 
Just a word of caution: Screaming Frog is best for an SEO expert. If you're new to SEO, brace yourself for the learning curve, as it doesn't show you outright how to fix SEO issues.
3. SE Ranking Website Audit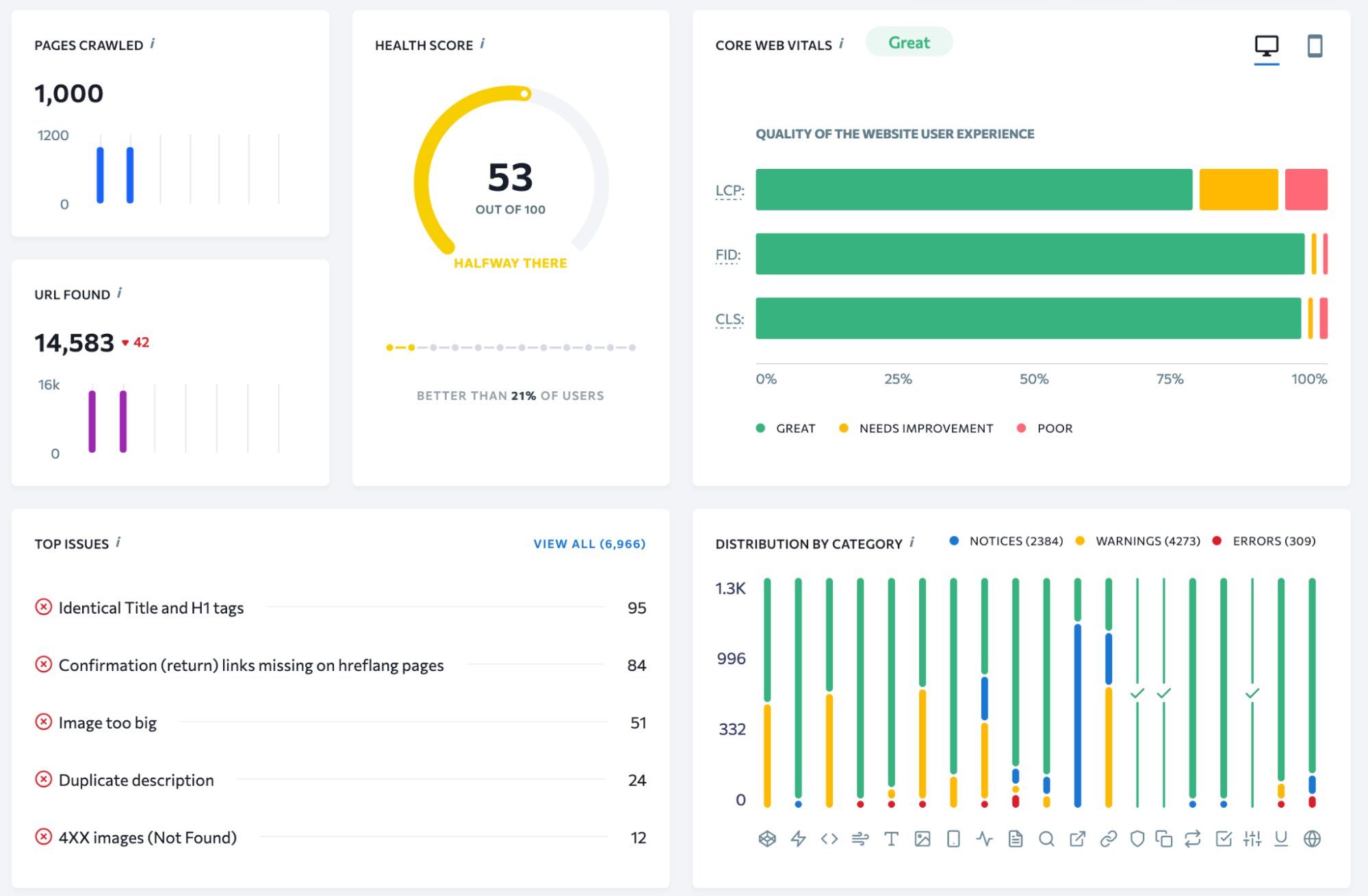 Source: SE Ranking
Standout features: Automated website's SEO health report, page crawler, XML sitemap generator. 
Website Audit tool by SE Ranking has a built-in automatic website health monitoring feature and a powerful page crawler. It tracks HTTP status codes, broken links and redirects, page depth, server response time, meta robots and other tags, provides data on external and internal links, and other issues that may prevent your website from ranking higher.
With SE Ranking Website Audit tool, you can clearly see the major errors and minor issues you can fix to improve the SEO. SE Ranking provides more in-depth technical metrics reports compared to free tools and has a user-friendly interface with issue descriptions and a how-to-fix guide.
Besides critical crawling errors, you can discover many not-so-obvious issues that may affect the performance or SEO of the website. SE Ranking Website Audit covers Core Web Vitals, detects duplicate content, and helps with mobile optimization.
The verdict is straightforward: SE Ranking is one of the best SEO software for digital agencies and businesses, especially technical optimization monitoring and comparing audit results for greater insights.
Best SEO Reporting Tool
4.
DashThis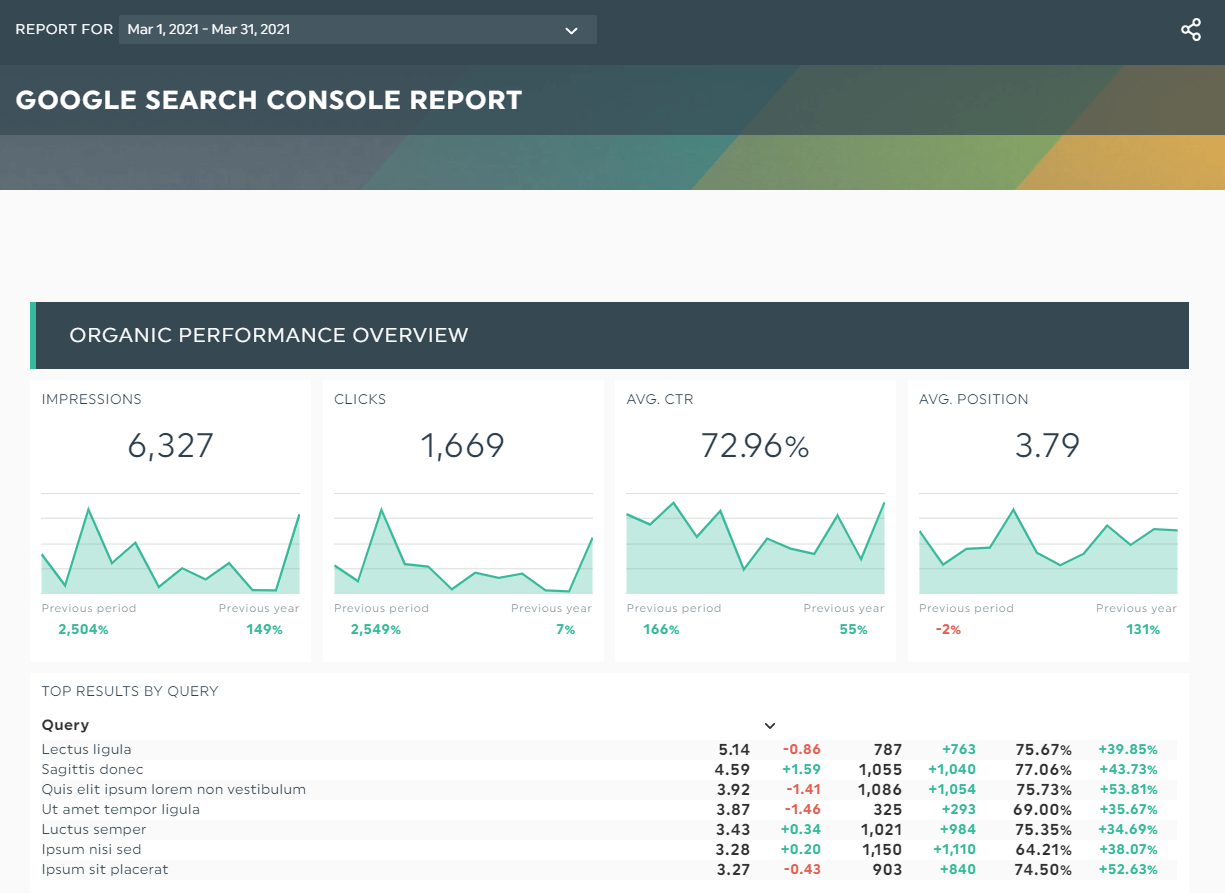 Standout features: Automated reports and sharing, preset templates and KPI widgets, white-label dashboards, and 34+ integrations with marketing channels like YouTube, Facebook Ads, and Twitter. 
Go from spending hours each week per client to minutes across ALL clients in your marketing reports. 
Reintroducing: DashThis, an automated marketing reporting tool that helps you create reports in the blink of an eye. With DashThis, you no longer need to painstakingly hop from one SEO platform to another to grab all data.
Here's how a DashThis client describes it:

Source: G2
DashThis offers 34+ integrations. Even if you can't find the integration you're looking for, our CSV File tool is here to save the day. Simply upload your file, define the fields, and let it do the rest.
Use our preset templates and KPI widgets instead of creating your reports from scratch. Anyone can create a beautiful report with DashThis — yes, even if you have zero design skills.
Need a fresh pair of eyes to review your report before sending it to the client? Add your co-workers to your account and have them edit it. Once you're happy with everything, share it by email. Your client will receive a link to review their reports whenever they want. 
Better yet? Schedule it every month. Get your reports up and running in no time. Sign up for your 15-day free trial at DashThis.
Best Backlinks Tracking Tools
5. Ahrefs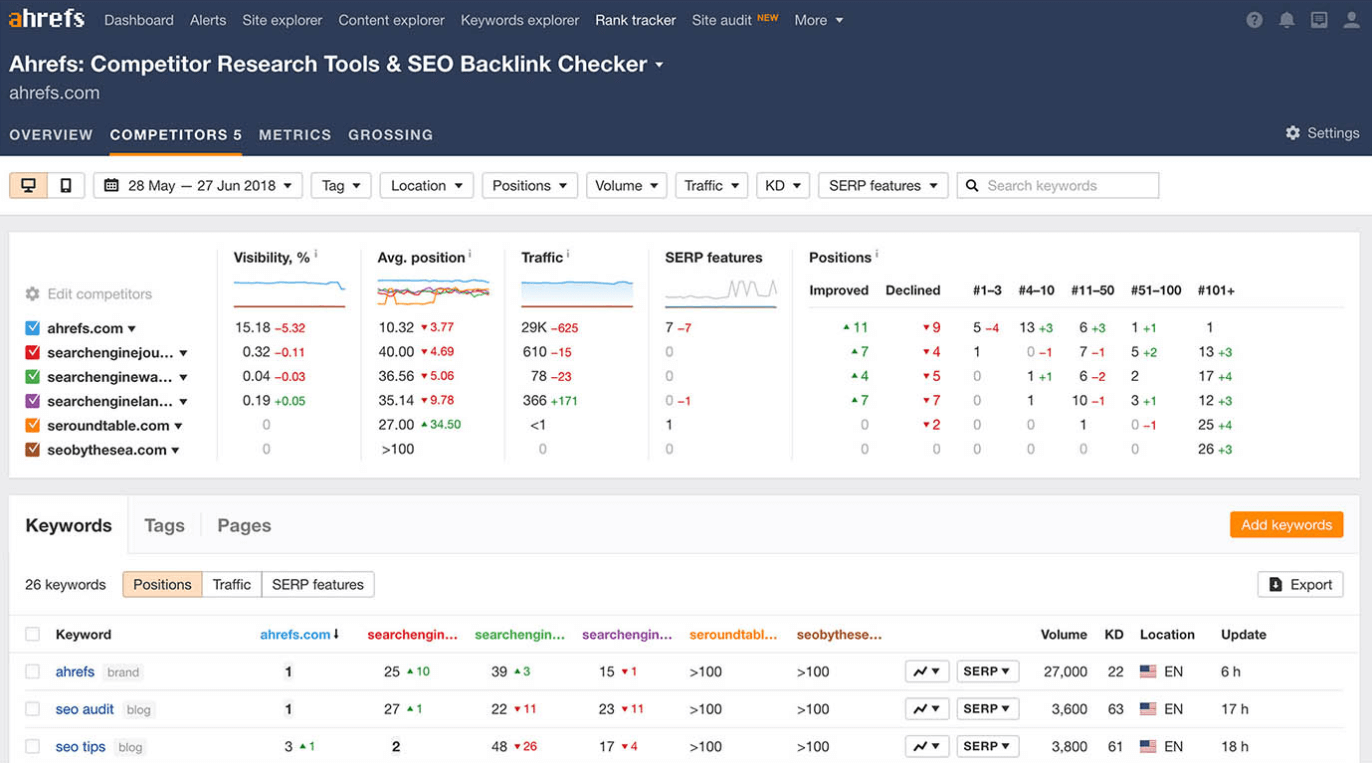 Source: Ahrefs
Standout features: Content gap, rank tracker, competitor analysis, site explorer, backlinks tracker, and keyword suggestions 
It's hard to imagine SEO without Ahrefs. 
For Kevin Miller, co-founder and CEO of GR0, it offers the biggest value in his agency. 
A fan of the top pages report and keyword explorer, he says, "We can do a comprehensive site audit and more. The keyword data is exceptional because it shows how difficult a keyword is on a scale of 1-100."
Lohralee Williams, an SEO specialist at Jelly, picks the competitors rank tracking feature as her favorite: "I like how easy it is to input your competitors and how clearly it shows how your results stack up against theirs."
Mladen Maksic, SEO consultant and CEO of Play Media, is also a massive Ahrefs fan. In terms of room for improvement, Mladen wishes there are more filters for analyzing keywords. "You can only sort keywords according to a couple of parameters, and that's it."
To grab data from Ahrefs easily, connect your account to DashThis with our DashThis and Ahrefs integration.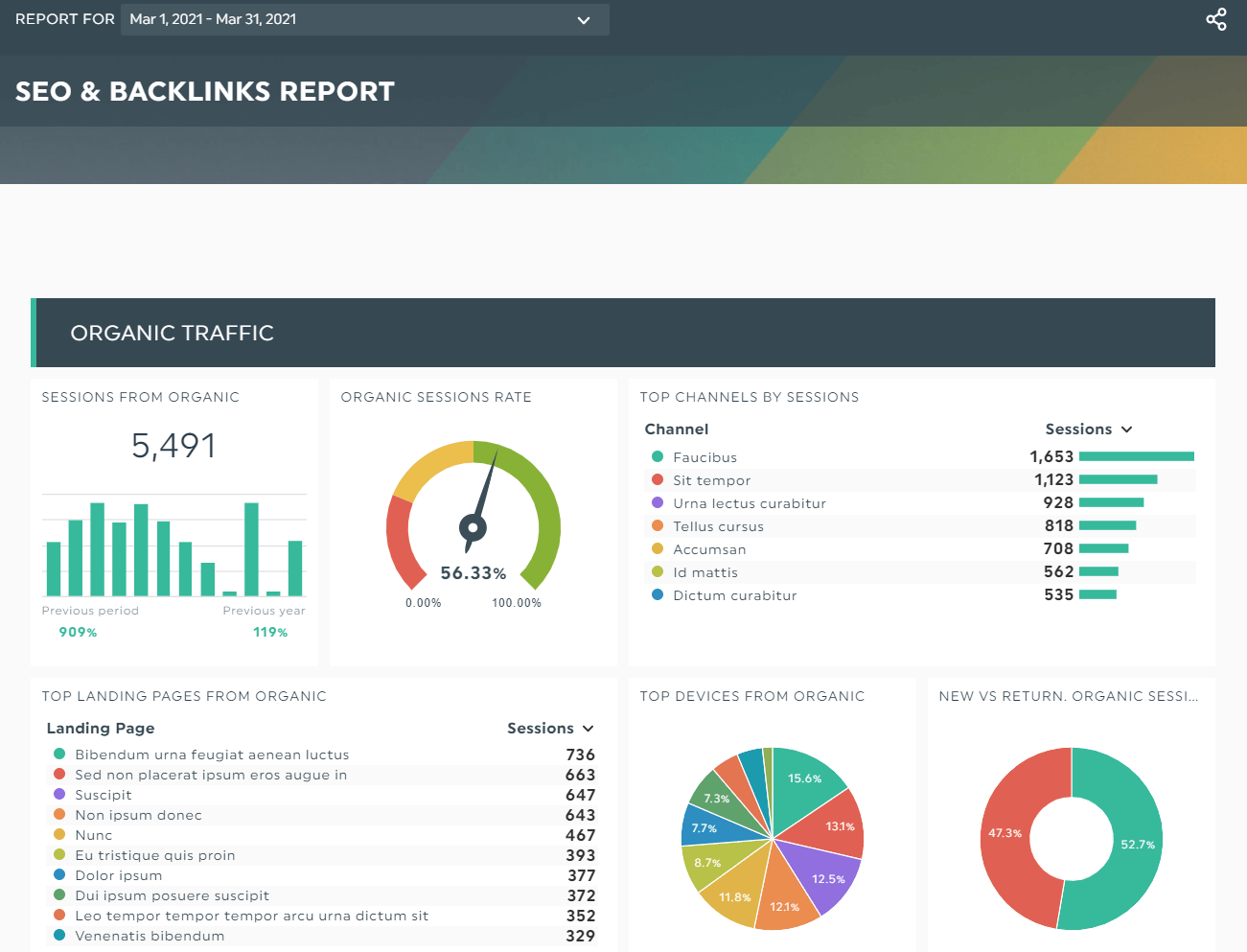 You know the drill. Select our preset widgets to display a website's domain rating, backlink profile, and the anchor text that links to it. 
It takes only a few quick clicks to show how your clients are outranking the competition. Automate and schedule your Ahrefs report today!
Best SEO Keyword Research Tools
6. KWFinder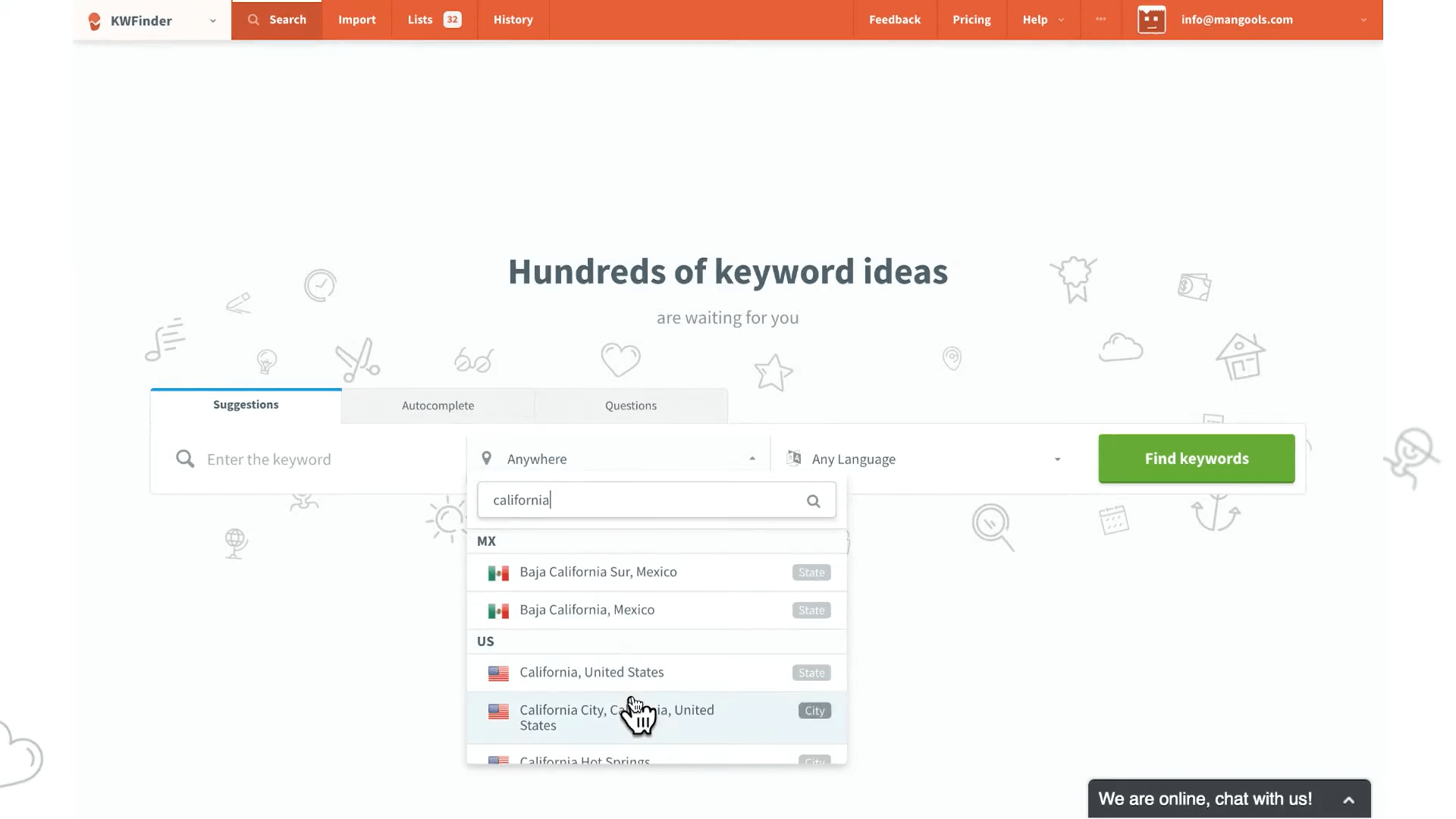 Source: YouTube
Standout features: Local keyword research, keyword difficulty, search volume and keyword metrics, and Google suggest integration.
KWFinder is one of the reigning champions for finding long-tail keywords with low SEO difficulty. 
Do a quick search on review sites like G2 and Capterra, and you'll see it's a must-have tool for local search. KWFinder allows you to find keywords by location (Think: Perth instead of Australia; North Yorkshire County instead of England).
Hands down, this is the SEO tool you want if your business or client targets an audience in specific locations (e.g., a concussion clinic based in Ottawa).
7. UberSuggest
Standout functionalities: Domain overview, keyword overview, content ideas, and backlink checker.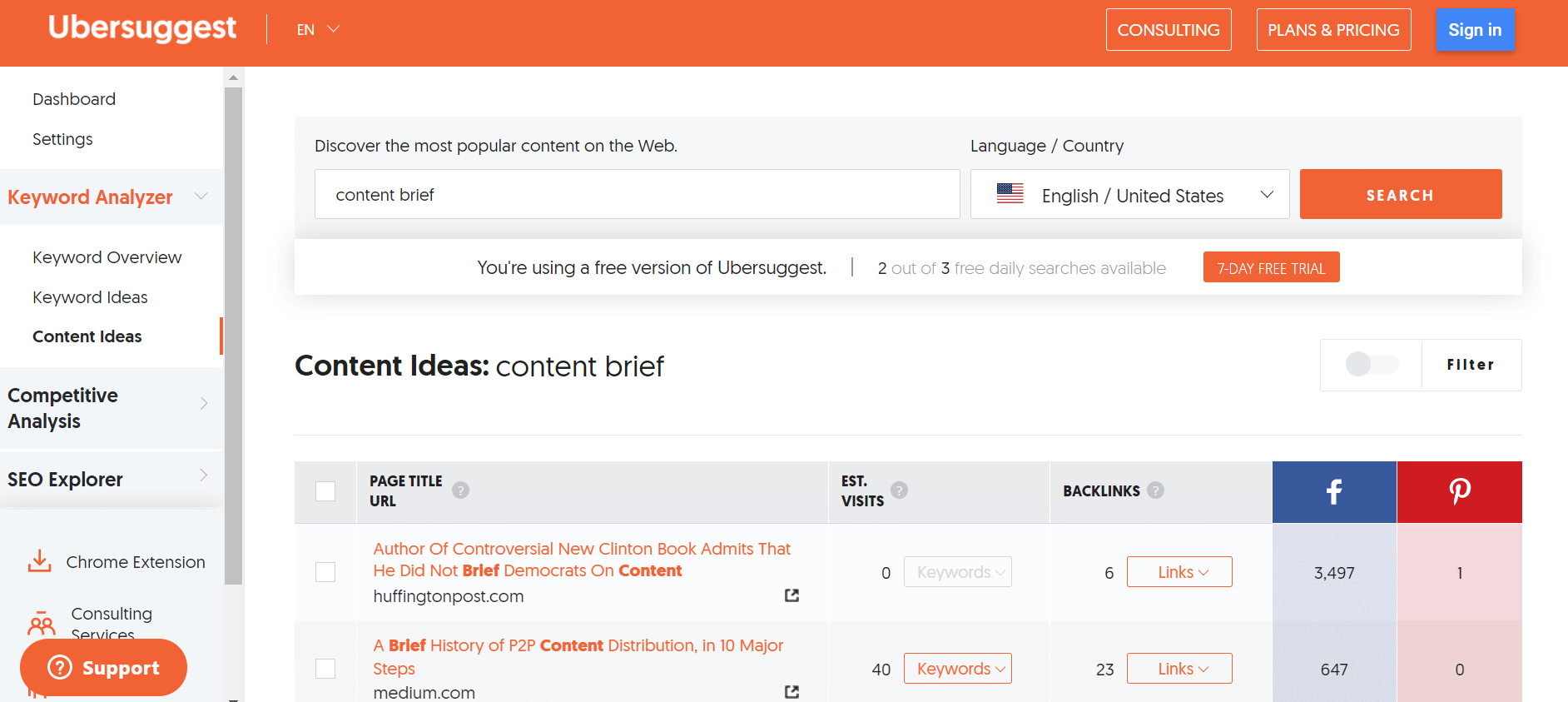 Source: UberSuggest
A popular option for smaller agencies and freelancers, UberSuggest is a free keyword tool that helps you keep up with and stay ahead of competitors. 
Plug in a keyword and generate search terms you never thought of. Conduct competitive analysis and steal an idea or two to create your SEO strategy. With its user-friendly interface, you can start within seconds.
UberSuggest may not be as extensive as full-on SEO suites like SEMrush, and its Chrome extension also tends to be buggy, but it offers just enough essential features to amp up your SEO game. 
8. SEMrush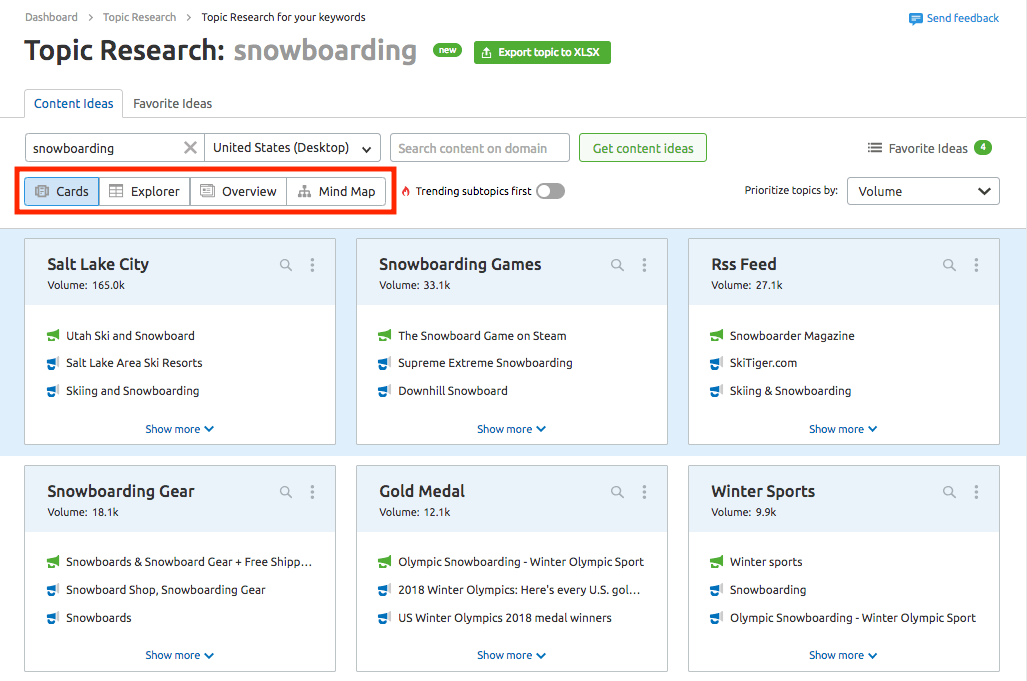 Source: SEMrush
Standout features: Topic research tool, traffic value, and position tracking.
Kevin Miller, the co-founder and CEO of GR0, picks SEMrush's position tracker and traffic value metric as his top two features.
He explains, "I use SEMrush to choose my top 25 keywords per brand and monitor their fluctuation day over day, week over week, and month over month. It's fantastic to keep track of where you are for your most valuable keywords."
Jay Arsenault, the SEO product lead at Bloom, votes for the topic research tool. 
It allows him and his SEO team to enter a keyword and assemble related topics, competing content, and FAQs by groups. Jay adds, "This is tremendously helpful in the ideation phase of our clients' content mandates."
Of course, like the tools in this list, SEMrush isn't perfect. There's a lack of pricing packages for multiple users (note: SEMrush scales linearly with the number of logins). If you run a smaller digital marketing agency or are a freelancer SEO professional, you might want to consider other affordable alternatives.
To grab data from SEMrush easily, connect your SEMrush account to DashThis today.
Choose from 10+ premade widgets (e.g., organic visibility, keyword ranking distribution) to help clients understand their hard-earned results.
Automate and schedule your SEMrush report via DashThis today!
Best Content And Optimization Tools
9. WooRank 
Source: WooRank
Standout features: Technical website audits (site crawling).
WooRank offers many features, and website auditing is one of its top strengths.  
What's great about this on-page SEO software tool by Mangools is that it's built for beginners in mind. 
There are contextual helpers to help you better understand technical jargon, and you can even schedule your web crawls every week or two as new web pages and posts are added to your site.
Work with a team? Download the site crawl results and share them with them. If you often perform SEO audits for clients, check it out.
10. Clearscope
Standout features: SEO optimization and keyword research tools.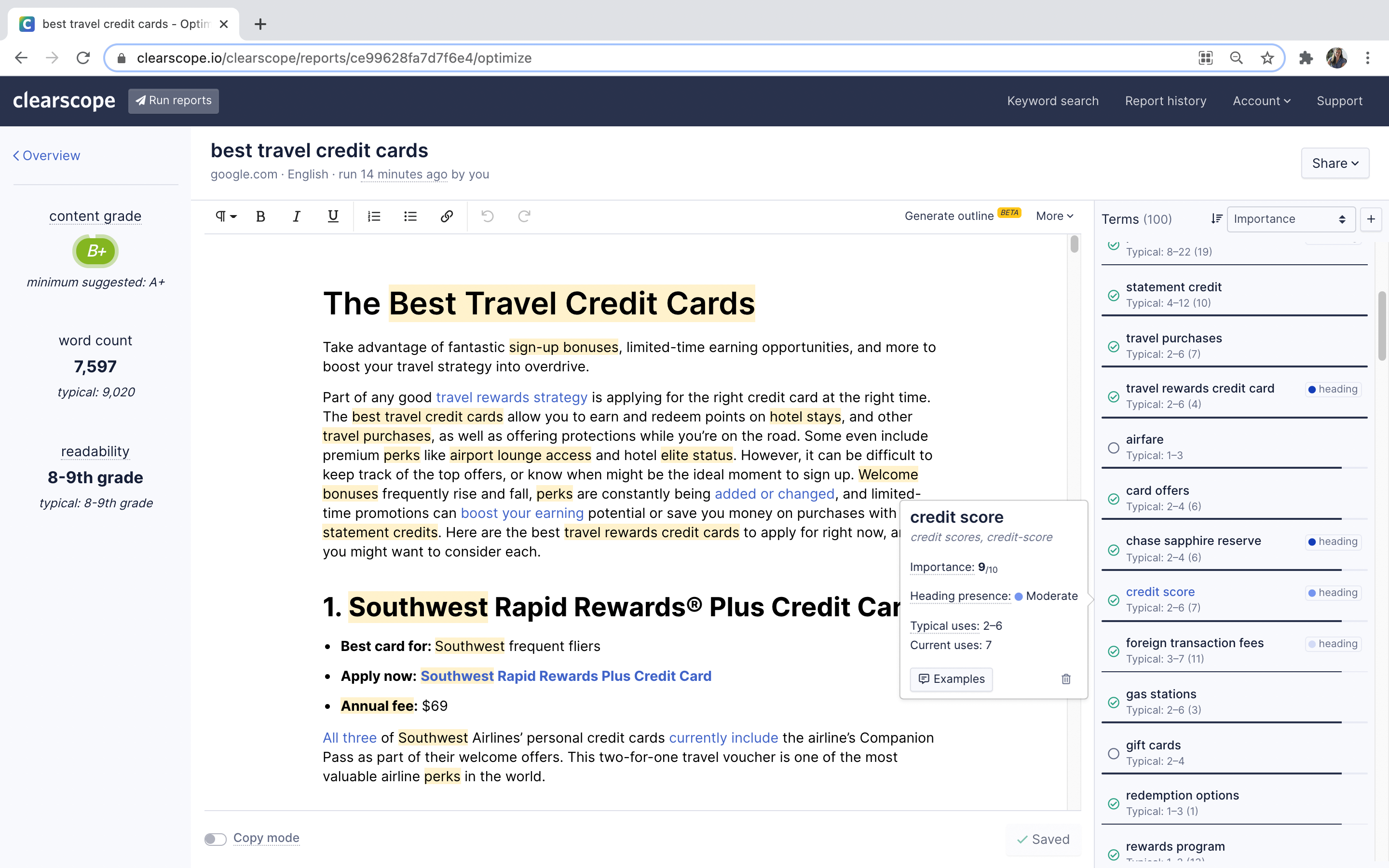 Source: G2
Content marketing is so much more than great writing. On top of nailing research, you also need to make sure your post is optimized for organic traffic. 
Don't know if your post will show up on the SERPs? Try Clearscope.
This content optimization tool grades your post and suggests latent semantic indexing (LSI) keywords to bring your post score up to A++. Clearscope uses real-time data, increasing your odds of ranking on the first page on Google. (Fun fact: We use Clearscope at DashThis, too!)
Due to pricing (Clearscope's cheapest plan costs $170/month), it may not be suitable for new freelancers and marketers from small businesses with modest budgets.
Which of these best SEO tools will you use today?
We'll tell it to you straight: You need more than one SEO tool.
If you're a new freelance content marketer offering content strategy and technical SEO services, start with UberSuggest and Google Search Console. Explore these free SEO analysis tools before investing in the bigger ones. 
Whereas, if you're a "fully done for you" content marketing agency with a big budget? 
Focus on SEO agency tools with backlink analysis (e.g., Ahrefs to identify referring domains, so you can reach out to influencers in a backlink outreach strategy) and content ideation features (e.g., SEMrush's keyword planner to generate keyword ideas). 
Using these SEO reporting tools to support and optimize your client's SEO campaign is only one-half of the equation. 
To create an unforgettable impression and improve client retention — you know, the type of experience that makes them go, "Holy smokes, I finally found the BEST agency/freelancer!" — show off your hard-won results in an attractive report.  
That's what DashThis is for. With our automated SEO dashboards, you can:
Track ALL your SEO data from Ahrefs, SEMrush, and more in one customized report,

without hopping from one platform to another (By the way, you can do this for your

PPC

and

social media

campaigns, too!),

Create beautiful and effective marketing reports

even with zero design background (Our premade templates and widgets and cloning and white-label options are here to save the day!),

Schedule automatic reports via email

for easy sharing with clients and the marketing team, and so much more.
Save hours of work with DashThis. Your clients will thank you for it.
Here's how to create your SEO report in just 5 minutes with DashThis: