We've already talked in depth about the importance of proper SEO, and subsequently, the importance of tracking your SEO successes and shortcomings. Once you've admitted that SEO tracking and reporting is a priority, our previous article (What does the perfect SEO report look like?) explains the basic gist of how to set up an effective and attractive SEO report.
And now, we come to the next, crucial step: deciding how to go about creating this awesome report! There are a multitude of options for you in terms of marketing reporting tools, ranging from web-based reporting software, to Excel and/or other client-side reporting platforms.
So, how do you decide what's best for you?

Excel: complex, but powerful

We all know Excel (and the multiple other spreadsheet tools available) as an almost limitless but very complex calculation and graphing tool. Digital marketing reporting initially started with Excel; the process includes endless hours of copying your data from each of your tools (Moz, Google Analytics, and everything else), and pasting the data into Excel. Then, you actually have to MAKE your reports… and this is where you might realize that using Excel isn't as sustainable a method over the long term as you thought it would be.
Sure, there are now numerous plug-ins and add-ons that enable these tools to compile data from a wide variety of sources and automate the process. And while some marketing specialists have the need (and the ability) to take full advantage of the powerful capabilities this option provides, for most, the complexity of this combination is overkill. Honestly, Excel is amazing for data mining and statistical analysis, but for reporting, it's a bit much.
Let's break down the pros and cons of using Excel to make your dashboard reports, shall we?
Pro – infinite flexibility
If you're already familiar with Excel (and know how to use it to its full potential), well… there's that… you don't need to learn a new system.
You can customize absolutely every aspect of your report – it's all in your hands.
There is quite literally no limit to the amount and type of data you can include, since anything your plug-ins don't catch, you can cut and paste in yourself.
Excel is pretty much accessible to anyone with a computer.

We promise you, we tried very hard to find more advantages, but this is pretty much what it is.
Flexibility: that's the advantage of Excel.
Con – time-consuming & offline
It's based offline, so you have to actively update your data each and every time.
Potentially countless hours of copying and pasting data from multiple sources.
Unless you're really proficient with Excel (or you have a developer with you who is), it's really hard to actually create something worthwhile.
If you want to set up different types of charts and diagrams, or move things around easily, it's going to take some time.
While the end report might look professional, your audience won't really get the "wow" factor in terms of experience.
So yeah, Excel is nice because you can choose everything you can put into it, but it's supremely time-consuming, and the end result is often more complicated than what your audience wants or needs anyway.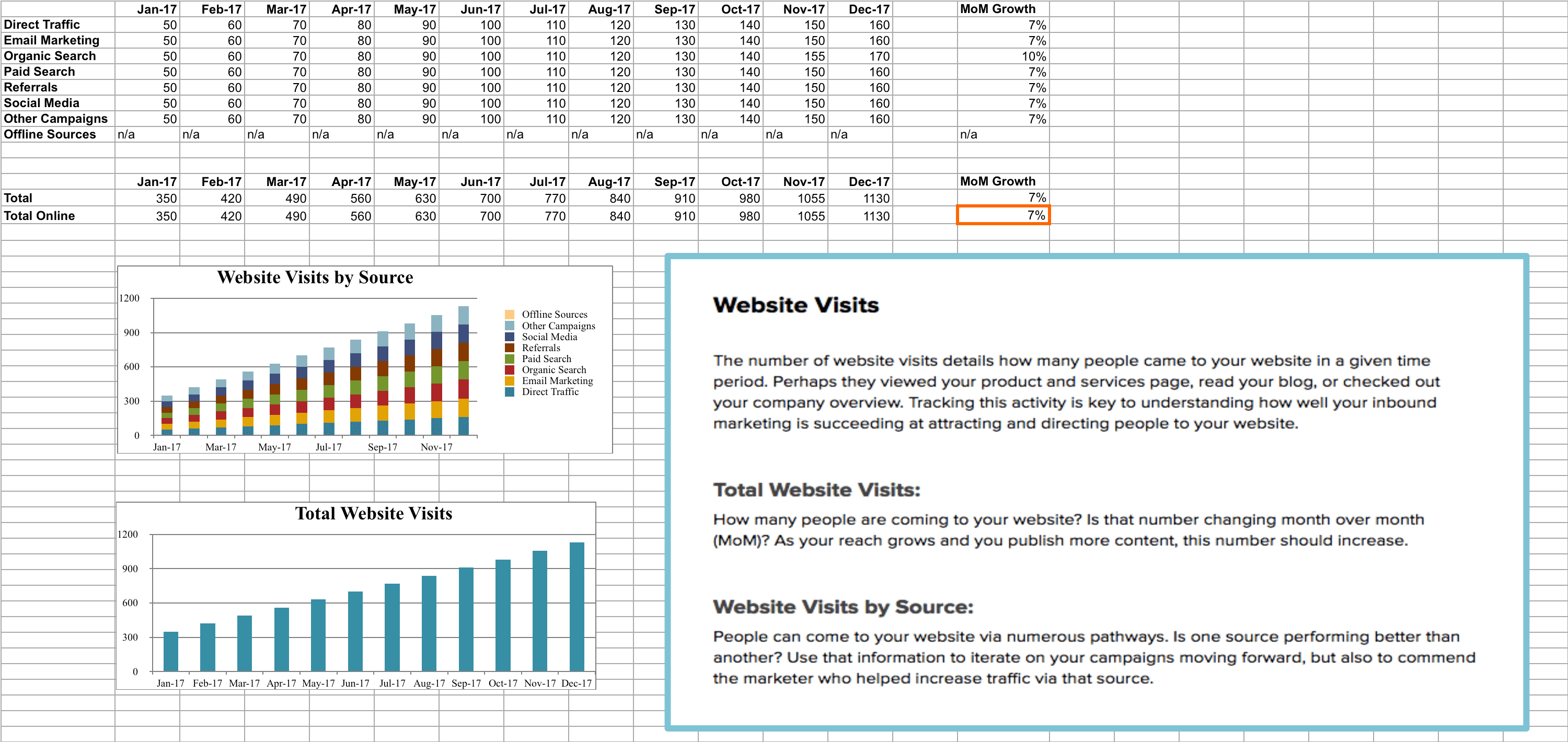 It's also super expensive (particularly for a large agency), to have your best employees spend hours and hours creating the hundreds of reports needed for all your clients (take a look at our calculator to see exactly how much time is wasted!). An automated tool saves that money and time, and allows SEO marketing specialists to spend their time creating real value (therefore generating more profits)!
Tedious and time consuming: what, are you made of time now?
Is there another way?

If you're anything like us, your first time in the office, when you were put in charge of making a SEO report, you were super psyched for choosing the metrics and KPIs you wanted. You went through your data, finding your clicks, positions, sessions, conversions, page authority… you took your time to create the perfect Excel report that represented all the hard work you'd done.
Then, you showed your report to your boss or client. They had been asking for a report showing your SEO results, but when you finally showed them, they were less than interested in the report itself. Maybe you chalked it up to them being busy.
But after another 5 or 6 times of taking the time to create your reports and no one really taking the time to look at them in depth, you're just not having much fun anymore. And obviously, you have other things to do with your time that are more important… like maybe a keyword research for your next SEO campaign, on-page optimization of meta descriptions, and so much more.
Let's be honest, you're a lot more valuable when you're optimizing your SEO instead of copy-pasting data into an Excel spreadsheet.
How about you dump Excel for your reporting, and instead go for a specialized tool, one that was created precisely with your needs in mind?!
Finding an online tool that works for you

I'm not going to lie here, of course, I'm a fan of DashThis for SEO reporting. So although each online tool you might find will have a different set of features, there are certain features that you should look for to make sure that your online tool truly makes your reporting life easier (and yes, DashThis has all of them).
It's important that you have the ability to link the sources you already use into the tool in question: Google Analytics, Google Search Console, Moz, Facebook, Twitter, Linkedin… whatever you need, you should be able to link it. If the native integration isn't included, it should be easy to upload your data with a CSV file.
The aforementioned integrations should all be available in each of your reports – the capacity of Excel to have data from different sources in the same report should be carried over into whatever online tool you decide to use.
It's important that your data be updated automatically whenever you want it to – no manual work on your end! This should include your CSV file data… you don't want to be uploading a new file every time!
If you want to make your report your own by either adding your logo or your client's logo, you should be able to.
Sometimes, it helps to comment your data in order to clarify certain points – make sure that notes and comments directly in your report are possible.
Not all data should be shown in the same way – you need to have an arsenal of different types of charts, tables, and metrics available to you.
You may also want to compare results over different periods of time – make sure that you have charts that allow for period-over-period or year-over-year comparison.
The numbers you see aren't always the one your clients see – you need to be able to add markups directly to cost data so that your clients see their actual ROI.
Speaking of your clients, you want to be sure that you have various choices in terms of sharing your reports: automatic email dispatches, password-protected URLs, downloadable PDFs, etc.
You also never know what type of device your audience will be using, so having a different URL for each report allows for easy access no matter the device.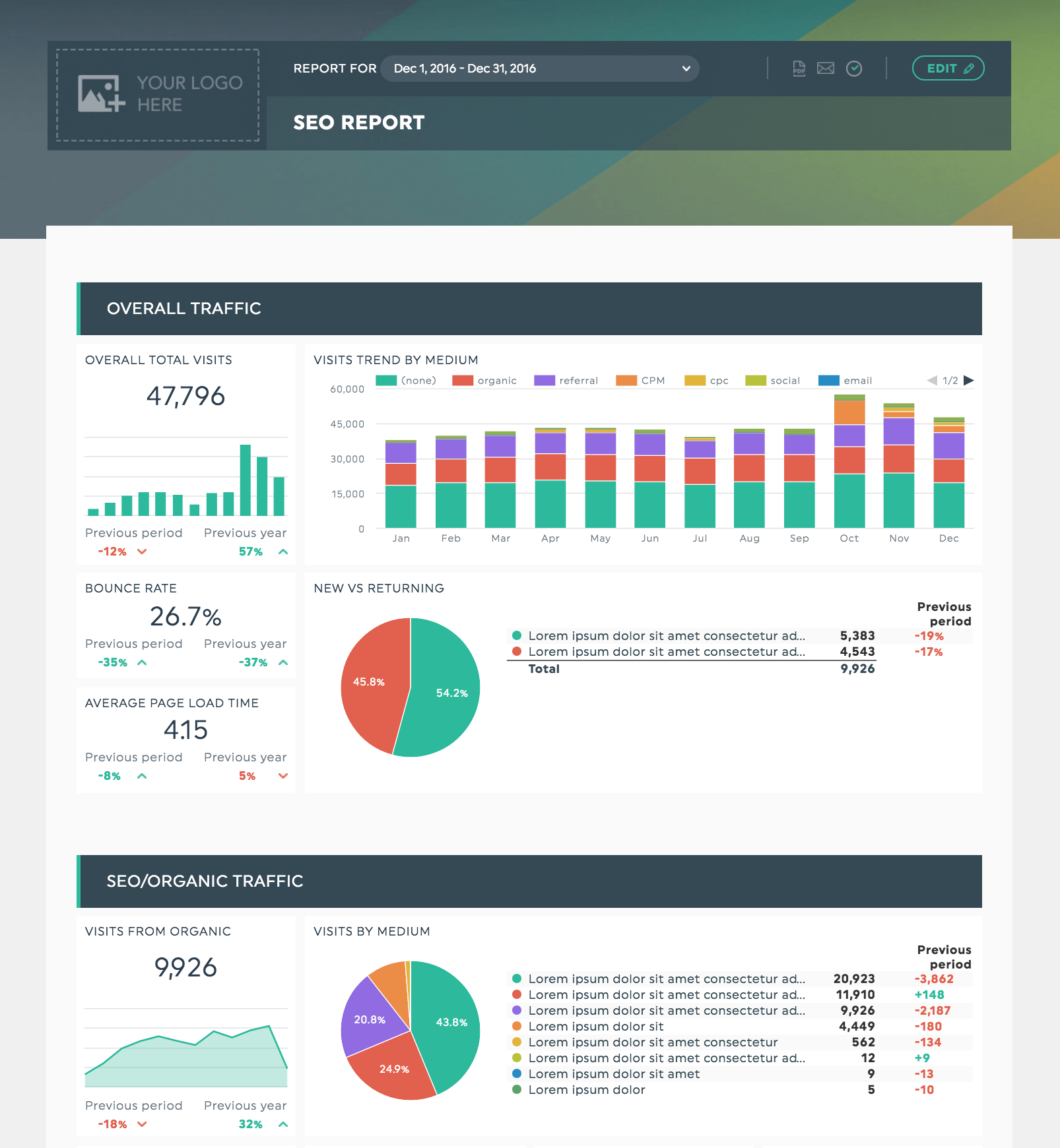 By going for a web-based option, you can create amazing reports that your clients will actually want to look at, in a fraction of the time it used to take you. This extra time can be used to create more value in your SEO campaigns… and your boss and clients will love you for it.
Using an automated tool for SEO reporting

To me, the most amazing feature of DashThis and other tools like it is the fact that you can connect so many different sources into the same place. Ranging from Google Analytics, Moz metrics, and everything else I might need, all my important data can be under one figurative roof.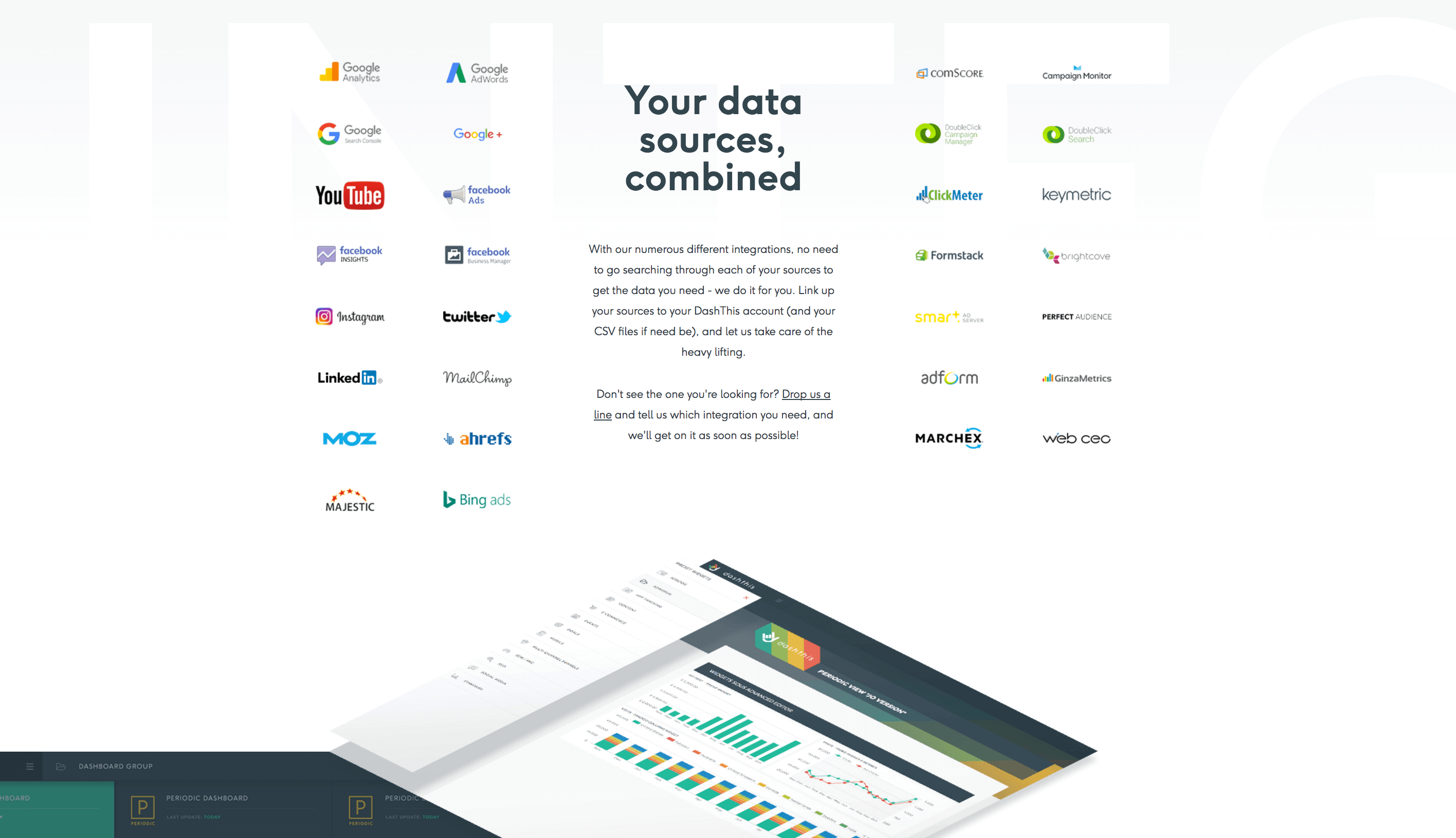 I can also easily show my client their month-to-month progression. Whether for their positions and CTR from Google Search Console, MozRank and MozTrust, or their conversion rate or landing page visits from organic traffic from Google Analytics, everything will be in one, easy-to-read report.
DashThis is obviously a very powerful tool, but it's super easy to use, which makes life easier.
Oh, and another cool feature is that you can include the cost of your services directly in the dashboard, so if your client doesn't know that much about SEO, they'll still be able to easily understand their true ROI.
Powerful + easy-to-use = putting that time and money to better use… like generating great ROI for your clients.
And what does a great ROI mean? It means contract renewal… right? :)
Want to give DashThis a try? Get to know the tool with a free trial – trust me, once you go DashThis, you never go back!
If you want to learn a little more about SEO reporting, check out the rest of the Ultimate Guide to SEO Reporting series:
Part 1 – The Ultimate Guide to SEO Reporting: Starting with the Basics

Part 2 – The fundamentals of the ideal SEO reporting dashboard

Part 3 – What does the perfect SEO report look like?