Can you believe this? Google Analytics just released their AdSense integration in the Google Analytics Core Reporting API (this morning actually) and we already updated our Google Analytics integration to include some new AdSense Key Performance Indicators (KPIs) and metrics.
New available AdSense metrics:
Ads Viewed
AdSense CTR
Adsense Page Impressions
AdSense eCPM
Ad Units Viewed
AdSense Revenue
Ads Clicks
AdSense Revenue Per Visit
Plus, we created those standard widgets available from the indicators list:
AdSense Revenue
AdSense Revenue Per Visit
AdSense CTR
You can easily add those widgets into your Google Analytics Dashboard from the drop down KPIs menu.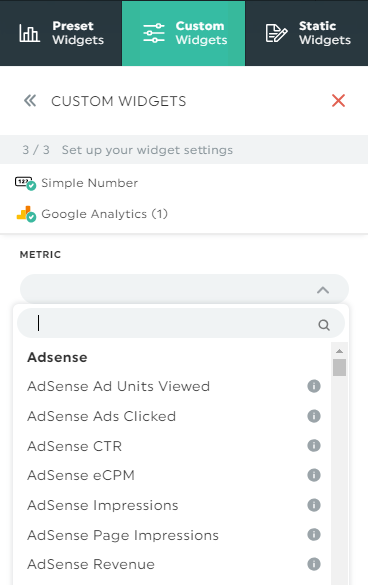 Note that you have to link your AdSense account into Google Analytics. Click here to learn more.