We get it – we're sharing many blog posts regarding GA4. But before you exit this page, hold up because we have awesome updates and news to share!
Introducing: GA Universal Dashboard Archiving
Get ready for a blast from the past (and the future!) because Dashthis just rolled out an absolute game-changer – the GA Universal dashboard archiving feature. This feature lets you safely keep your old GA Universal dashboards, allowing you to consult your old data even after GA Universal sunsets completely. In addition, it will save you time and money by eliminating the need to download tons of PDF files or hire a developer to back up your data.
Simply migrate your GA Universal to a GA4 with our migration tool, and your old dashboards will magically appear in the archive folder under your dashboard groups. For more information about this new feature and its limitations, look at our help center article highlighting everything you need to know.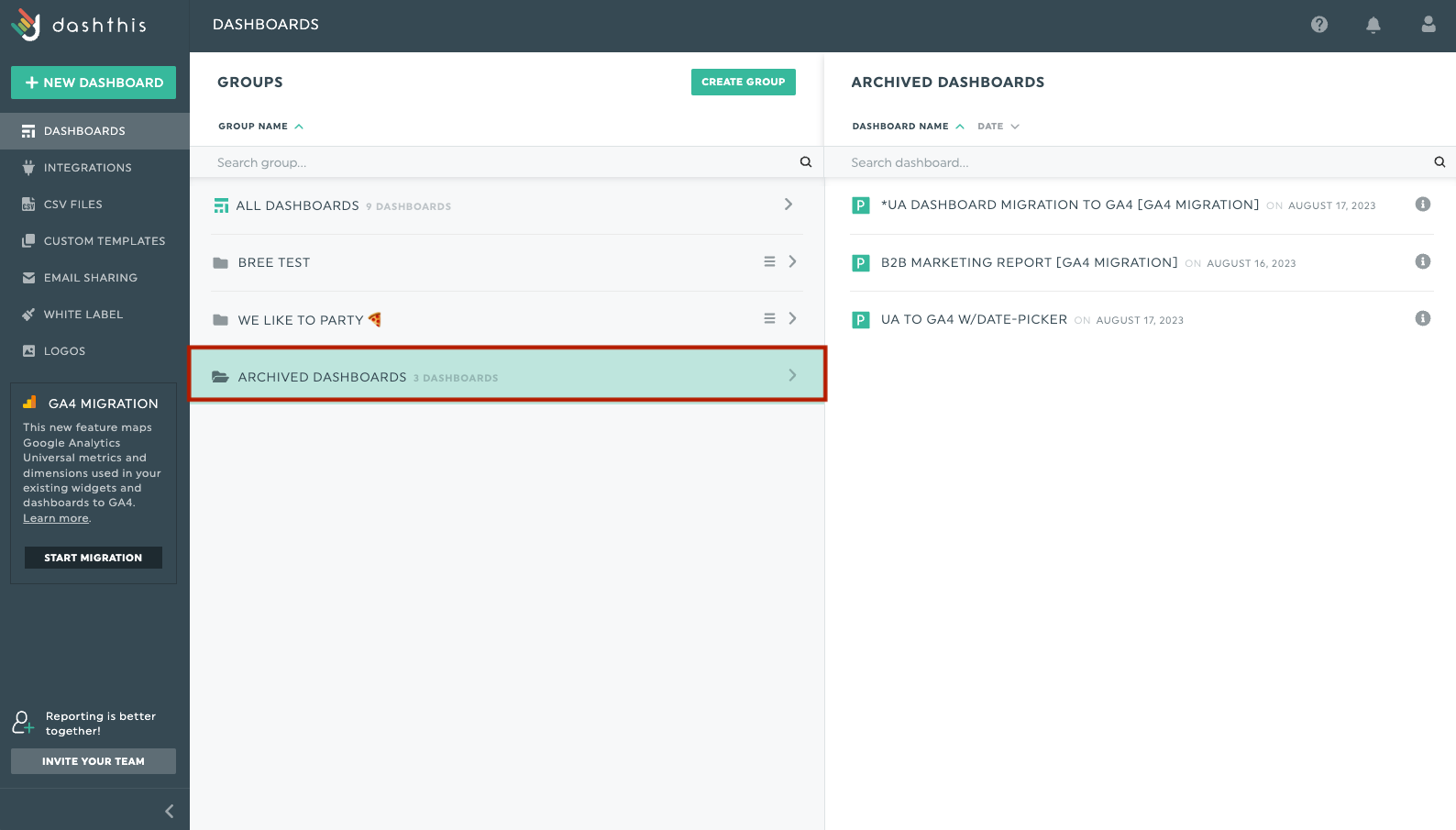 Note: Quick heads-up –  this feature is available only for those who have used our GA4 migration tool! 
If you already used our GA4 migration tool, your original UA dashboards will automatically appear under the UA archived dashboard group in your account!
It's not too late to migrate to GA4
While we're on the topic, if you haven't used our GA4 migration tool, now is the time, especially if you want to archive your old Google Analytics data. Dashthis has created a migration tool that simplifies this transition, preserving your data and ensuring a smooth shift to GA4. 
But wait, there's more! We've got an arsenal of GA4 templates, a super-detailed migration guide, fresh new widget bundles for GA4, and a treasure trove of help center articles to guide you through every step of this exciting journey. 
Your thoughts and suggestions are pure gold to us, so remember, our support team is just a message away if you've got questions or cool ideas to share.
Happy Reporting!