In our endless quest to always listen to our users and find new ways to make them happier and your reporting faster and easier, we're starting a progressive roll-out of a new Google Analytics update today!
Check out what's in store for you with this new update:

Quicker Data Importation
Much like our Facebook Ads integration update from a few weeks ago did, our Google Analytics integration update should speed up not only the use of the integration, but it should also make your daily data importation quicker.
New and Updated Metrics & Dimensions
In order to make sure that our preset widget, metric, and dimension names match those in Google Analytics, we've modified many of them to follow Google's terminology. Don't worry though, all our widgets, metrics, and dimensions can still be found easily when you're creating a widget, regardless of whether you search using the old name or the new one!
In addition, we also added some new metrics and dimensions to make sure you always get the most out of your Google Analytics data.
The new metrics are:
ROAS (in $) – Goal value only
ROAS (in $) – Revenue only
Avg. Page Load Time (ms)
Page Load Sample
The new dimensions are:
AdWords Customer ID
Goal Name
Goal State
Ad Group
Content Group 1
Content Group 2
Content Group 3
Content Group 4
Content Group 5
And to make sure that you always find what you're looking for when browsing through our metrics and dimensions, we added definitions to all of them – just hover over the little ( i ) next to the name to see the definitions!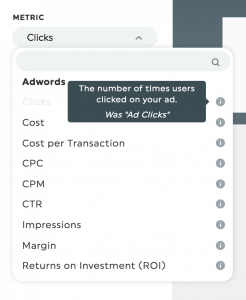 You can get a more in-depth look at all your available metrics and dimensions in our article here!
Two Brand-New Filters
Some of you have asked us for a few new filters, namely, one that would allow you to filter your data by goal name, and another by goal state (as in, whether the goal status is active or inactive).
The issue was that neither of these exist in the Google Analytics API.
But that's not a problem – we've created them for you!
Although you obviously won't find them on the Google Analytics end, both are now available in DashThis!
Did we just say that we're giving you ways to use your data that no other tool does? Yep. We did.
The filters, aptly named Goal Name (ga:goalName) and Goal State (ga:goalState), are available whenever you use the Goal Completions, Goal Value, or Goal Starts metrics.
If you want to see the proper syntax to use and where you can incorporate your filters into your widget data, explore the details of all our Google Analytics filters here!
We hope that these upgrades will make your reporting even easier and more fun!
If you have any questions regarding any improvements we've made (or suggestions of how we can make your reporting even better), let us know – we love to hear from you!
And without further ado… ready to check out all this cool new stuff? Head over to your account and get exploring!