Imagine a glowing neon sign for your small business shown to thousands of people every day. And it's all for free. 
If this sounds crazy, it isn't. 
Because that's exactly what a Google My Business listing (now called Google Business Profile) can be for small, local businesses if you play your cards right. 
Like a beautiful storefront window in a busy shopping district draws attention to potential customers, a complete and verified Google Business Profile attracts people to find your local business on Google.
Don't neglect this key growth channel if you run a local business or optimize local SEO for small businesses. Let's discuss what metrics to watch for when optimizing your Google Business profile. 
What is Google Business Profile?
People visit Google's search engine and its products a massive 80 billion times per month (for context, the world population is around 8 billion today) by people looking for products, services, and information.
A Google Business Profile helps people on Google Search find your local business online. For example, if you're an auto dealer serving a particular location or a vet within a city, a complete and verified business profile with: 
Google's more likely to consider your business reputable.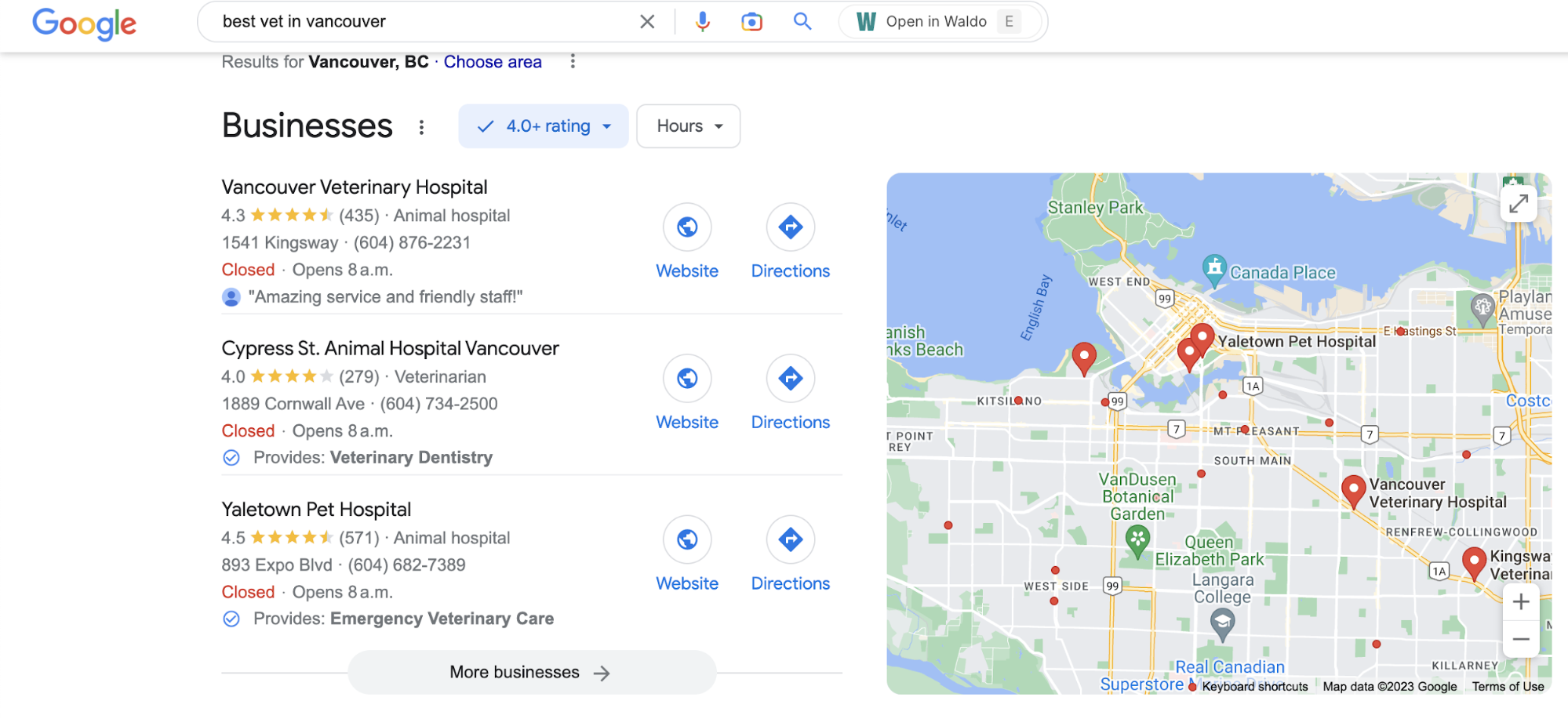 Local businesses with a 4.0-star or higher appear higher in Google insights and search results.
Why GMB analytics matter to local firms
A complete Google Business Profile is the virtual equivalent of a beautiful window display for a physical location. It's all-in-one brand awareness, key lead generation, and sales channel for your business.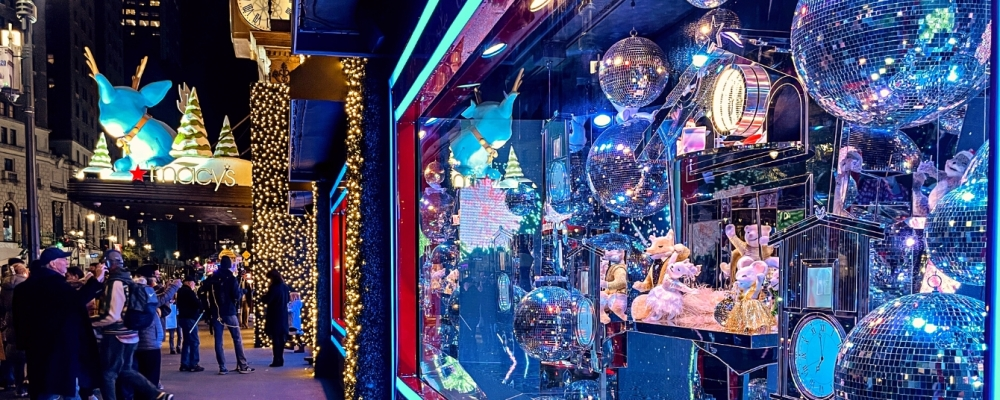 The 2022 holiday window display with foot traffic of 7,000 people every hour at Macy's Herald Square, New York.
When 78% of consumers actively find information about local businesses online more than once a week, optimizing your Google Business Profile listing and analyzing results makes customers more likely to visit and purchase from your company. 
Hence, it's worth taking the time to understand your Google Business Profile insights and which metrics are essential for your business goals.
8 top Google Business Profile analytics KPIs to track
1. Total searches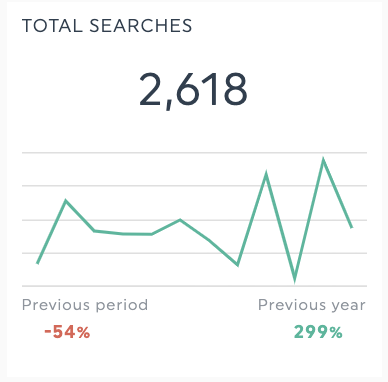 Total searches measure how often your Business Profile appears for a specific search query or search term. For example, if you're an Italian restaurant in Vancouver, total searches measure how many times your restaurant has popped up across Google Maps or in Google's search results. 
Why track this metric? 
Total searches determine if your business is showing up for the correct search queries or whether there's a mismatch between your business's listed category and what it does. For example, if you're a grocery store, you shouldn't show up for search queries around hospitals any day of the week. 
2. Website clicks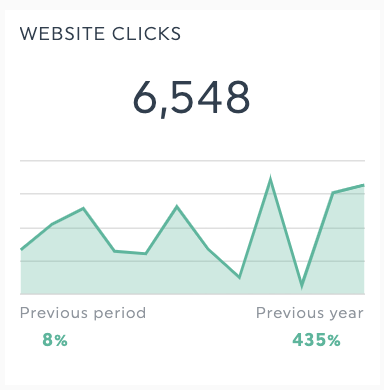 Website clicks measure the total number of times people click on your website link while looking at your Google Business Profile.
Why track this metric? 
Are people visiting your website from your Google Business Profile? This metric shows how well your local search engine optimization (SEO) or targeting efforts perform.
3. Phone calls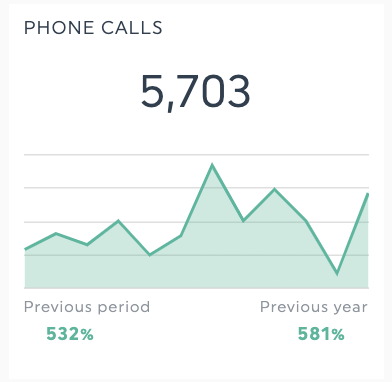 A practical customer action, phone calls measure the number of clicks on the call button on your Google listing. 
Why track this metric? 
Local searches and the number of calls signal exceptionally high purchase intent. Google's data shows 76% of people who conduct a local search on their smartphone visit a business within 24 hours. 28% of those searches result in a purchase. If most of your business sales or appointment bookings come through phone calls, tracking how often people call your business phone number is worth it.
4. Direction requests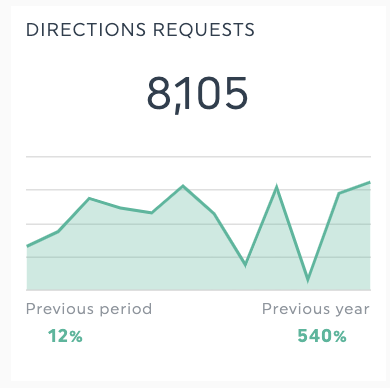 If your business has a physical location, potential customers and visitors can get GPS driving directions from their mobile devices by clicking on the "Directions" button from the map view on your business listing.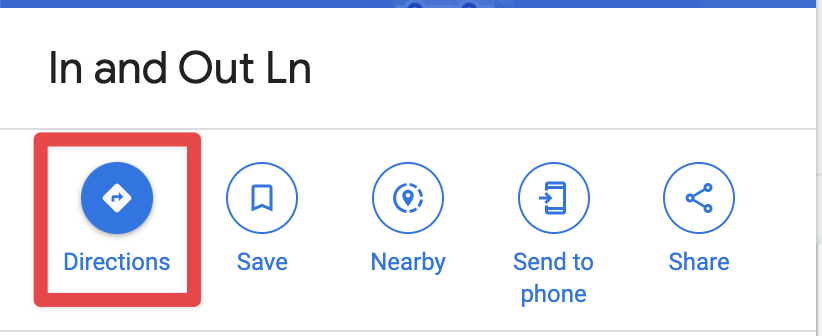 Why track this metric? 
Direction requests show interest in your physical location for a specific time period. With enough data, you'll know where people looking for directions to your business are located, which can help you understand where to set up ad campaigns or which locations need more marketing effort. 
Too high a number might also show a lack of awareness or confusion about your business's location. Educate your customers about the nearest parking locations or how to get to your business with public transport. 
5. Average rating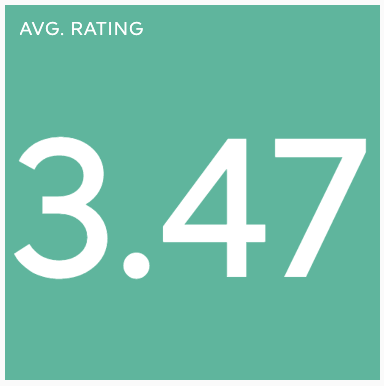 This metric measures the average rating for each customer review published on your business profile. 
Why track this metric? 
Social proof taps into our psychology of looking to other people's experiences when we feel uncertain about trusting something or someone. 
Ratings indirectly measure your business's reputation and establish social proof. These ratings matter in 2023 more so than in other years. According to BrightLocal's 2023 Local Consumer Review Survey, 
87% of consumers used Google to evaluate local businesses in 2022, up from 81% in 2021

A high star rating would make 58% of people feel positive about choosing a local business
People prefer working with businesses they trust, so ensuring you provide an excellent customer experience will help improve this metric. Take the time to request reviews and respond to positive and negative reviews on your business profile. 
6. Review count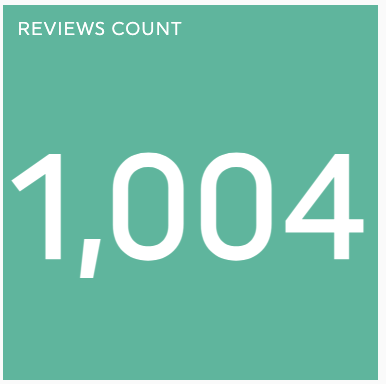 Review count shows the number of reviews on your Google Business Profile. 
Why track this metric? 
Besides the average rating, people also look to the number of reviews to assess the trustworthiness of your reviews. Somewhat paradoxically, perfect product scores invite suspicion. Some readers also look at review content to evaluate the validity of a review, so you'll want to encourage customers to leave reviews that capture the positives and negatives of their experience. 
7. Top reviews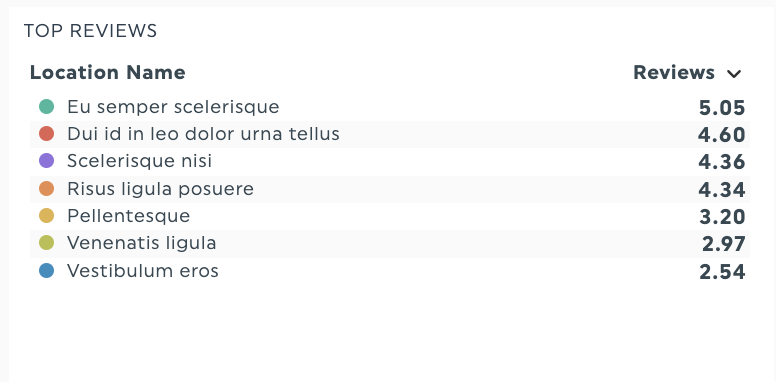 An overview of your top review scores across different business locations. 
Why track this metric? 
If you manage multiple locations and business profiles, top reviews help you get a bird's-eye view of your customer's impressions of each business. 
8. Top search types

Direct searches count how often your customers search on Google for your exact business name and address. In contrast, discovery searches count how many people found your business through a keyword or phrase and found a product. Another category, branded searches, is any search engine query including the name of your company or brand, e.g., Nike shoes. 
Why track this metric? 
This metric shows how your customers and visitors find your business listing. Similar to the ''new vs. returning customer" metric in Google Analytics, direct searches can show people who already know of your business. In contrast, discovery searches can show people discovering your business for the first time through a search query or category. 
Setting different KPIs for each search type can help you adjust your marketing efforts. Need to improve visibility in search results and bring in new customers? Focus on tracking and improving your number of discovery searches. 
How to create a GMB insights report in minutes
Google's Business Profile manager is a good starting point for accessing verified businesses' Google My Business insights data. 
But if you want to combine Google insights with Google Search Console data and track local SEO campaign performance for your local service business, use a reporting tool like DashThis to get complete visibility in one tool for easy analysis. 
How to get started with DashThis: 
Sign up for our 15-day free trial.

Connect your Google Business Profile account (use our

Google Business Profile integration

to make this easier) and whichever digital marketing account you want to see in your dashboard. Combine all your Google Business Profile location listings in one dashboard and get 18 months of historical data to analyze past performance or identify trends.

Select your metrics from DashThis' preset widgets (or create custom widgets to visualize the data you need)

Drag and drop as you desire

Repeat this process for other digital marketing platforms like Google Ads or social media platforms like TikTok or Facebook. 
Sharing your newly created report with your clients or stakeholders is easy! We've got automated email dispatches and sharing via URLs to send to your clients in seconds. Prefer a printed version? Export your report to PDF format for accessible printing—more details on DashThis sharing options are here. 
Create a custom Google Business Profile report template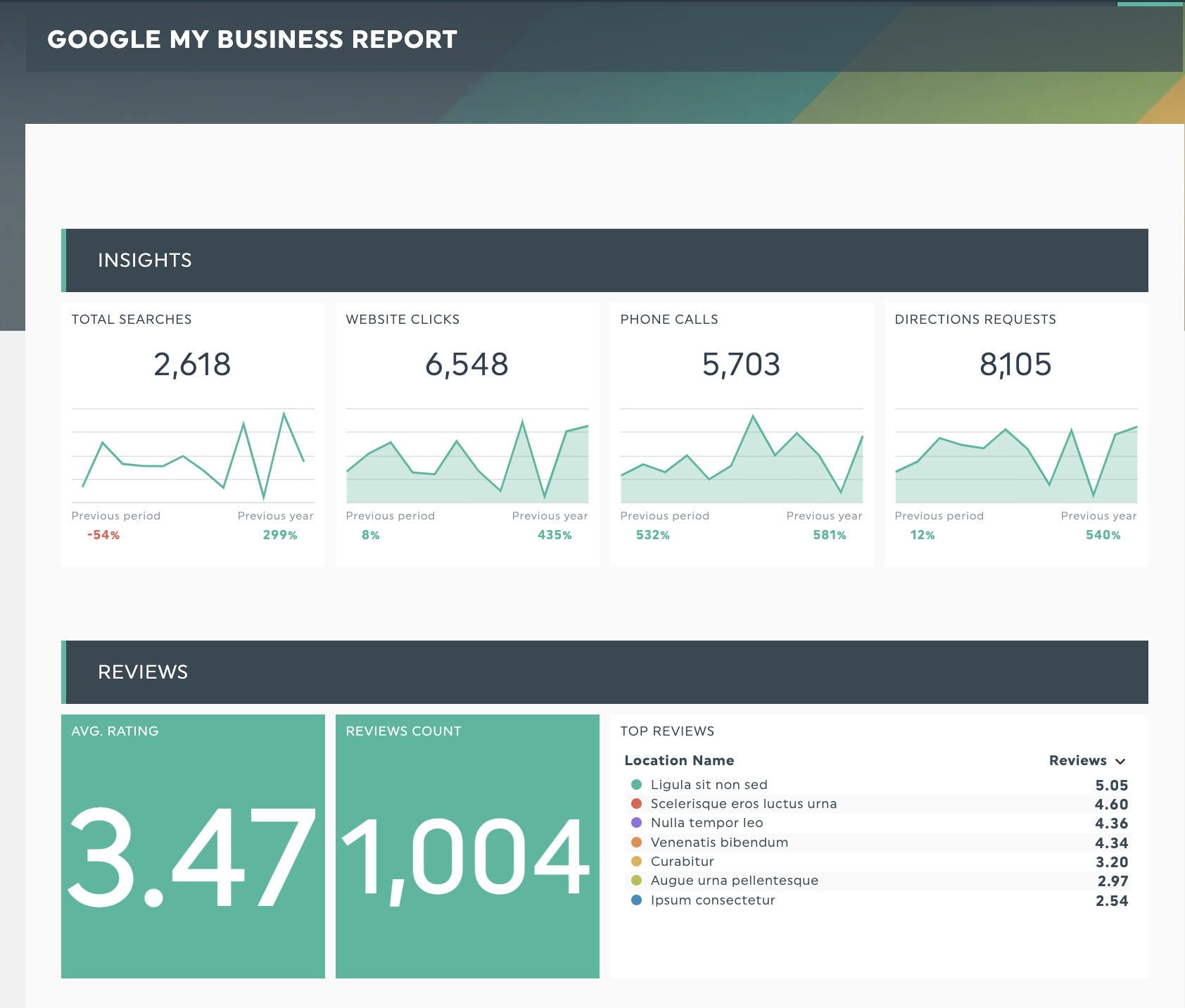 Get this Google Business Profile template with your own data.
Try our done-for-you Google Business Profile report template and visualize your GMB data in a neat, visually attractive business dashboard for your clients. Connect your GMB data and profile listings in one dashboard and view metrics trends over an 18-month time frame for easy analysis and marketing strategy planning.
Automate your Google Business Profile reporting with DashThis
Optimizing your Google Business Profile for local search is hard work. Manually generating reports is a tedious, time-consuming task you can save time on. Let reporting tools like DashThis help automate the reporting process and save you hours each month staring at your insights page so that you can focus on your clients. 
Sign up for your free 15-day trial of DashThis today.