Content marketing isn't going anywhere.
Brands are creating 66% more content in 2022 and spending 52% more on content marketing. 
But in a 2022 survey, nearly half of the marketing teams surveyed don't understand how their content is performing.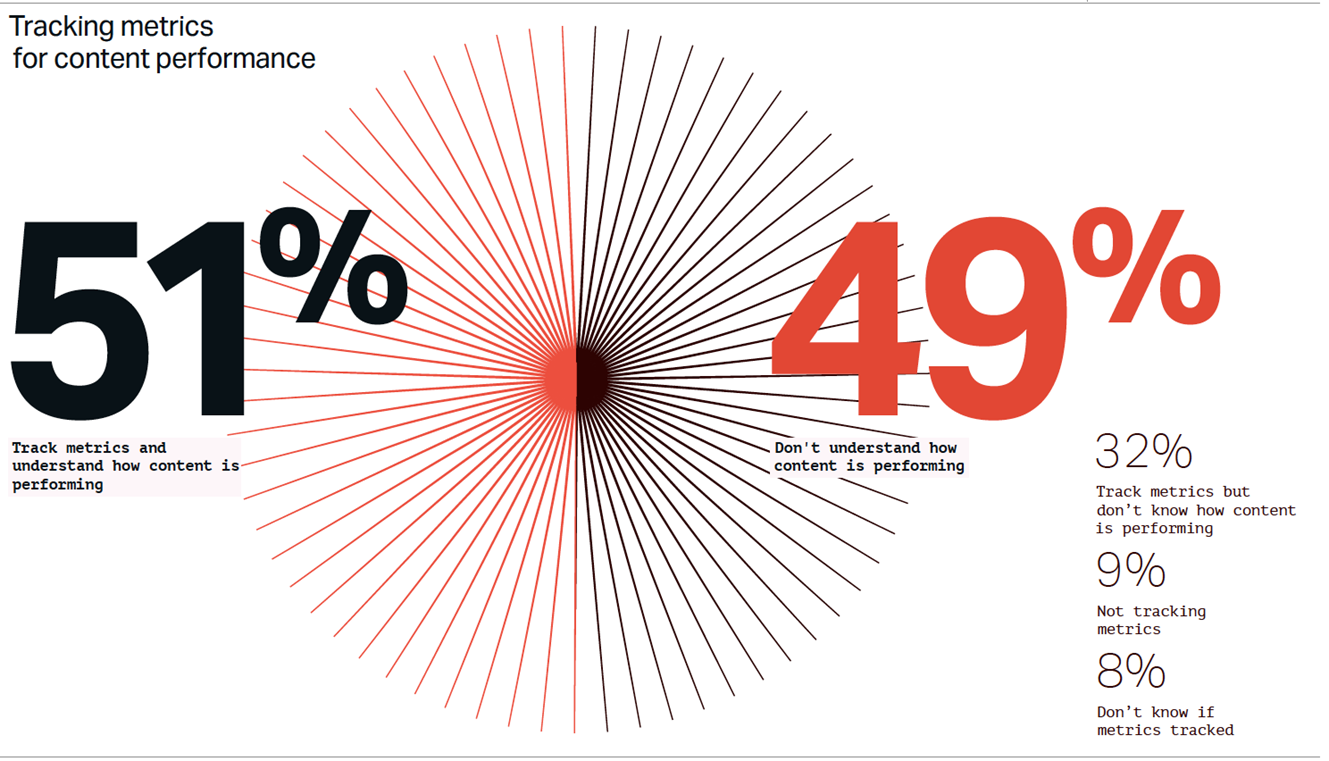 Image source: Content Matters - 2022 Report 
A survey respondent stood out, saying: 
"Our biggest challenge is measuring the impact of content to justify further investment."
Does this sound like you? 
How much are your content marketing efforts contributing to the business? Do you possess a structured mechanism for monitoring and communicating key metrics in this regard?
If not, a content dashboard can help you measure the success of your content marketing strategy and report on your content performance. We'll walk through how to create one, why it's essential, and suggest vital metrics to start. 
What is a content marketing dashboard?
A content marketing dashboard tracks how your content marketing initiatives perform in a single report to inform your content strategy and answer stakeholders.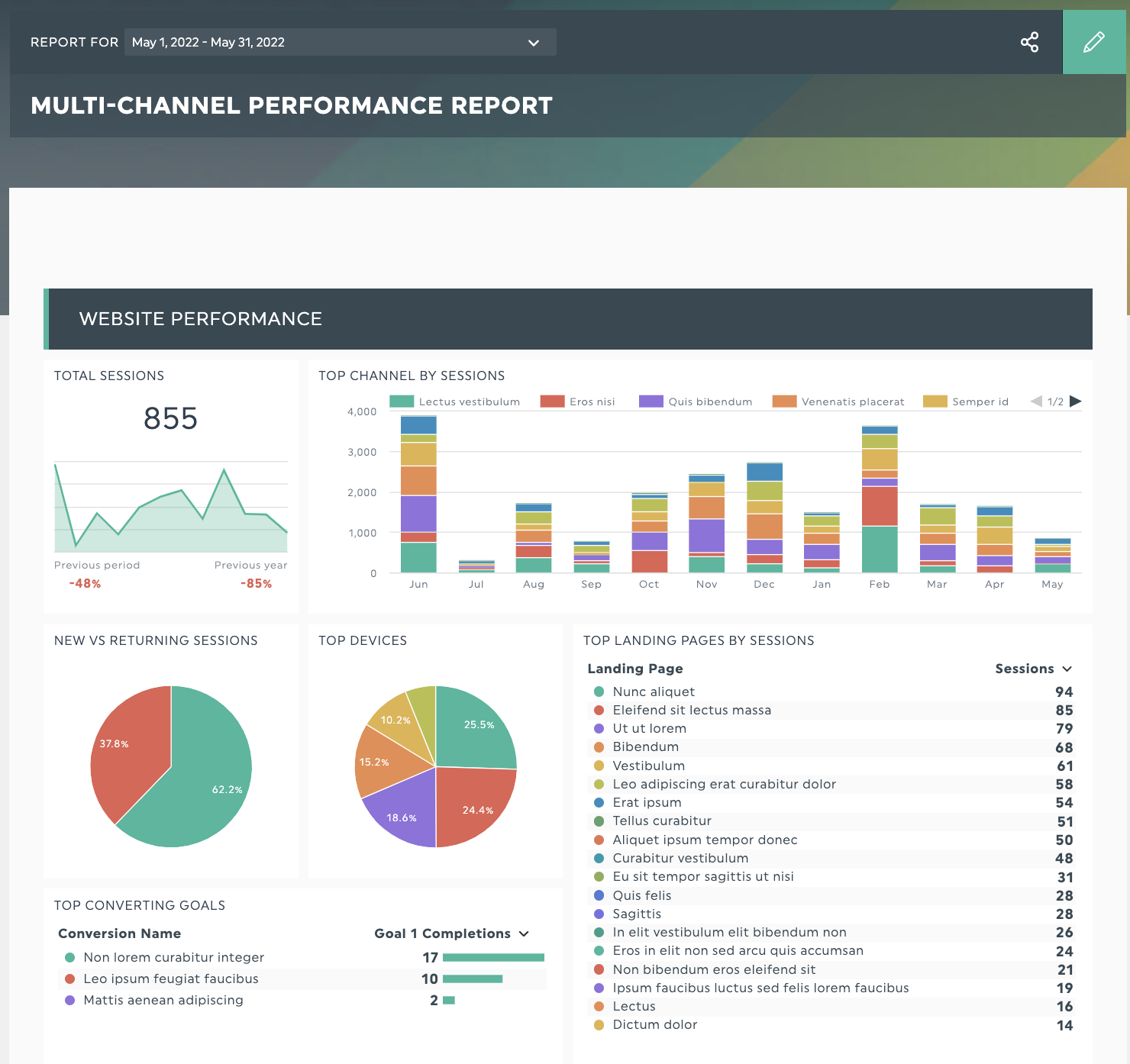 DashThis's content marketing report template. See this with your data
With the correct information, you'll answer questions like: 
Which are the keywords attracting the highest organic traffic?

Which channels are bringing in the most qualified conversions? 
How to find the content marketing key performance indicators that matter most to you: A 3-step process
Here are three questions to consider:
What is your aim for content marketing?

How can content marketing help your target audience, and where are they active?

Which channels do you want to focus on? 
Step 1: Link KPIs to your overall marketing and business goals
Before going into operational metrics, take a step back to think about what you want content marketing to do for your organization. 
Content marketing helps organizations drive: 
Brand awareness

Organic traffic and lead generation from search engine optimization (SEO)

Thought leadership 

Sales enablement and client engagement
Step 2: Define your target audience and where content marketing can meet their interests 
Every marketing activity starts with meeting the needs of your target audience, and quality content marketing is no exception. 
What topics interest your target audience? What content types do they read, watch or listen to? Where do they hang out and get their information?
Answering these questions helps you in the next step. 
Step 3: Identify your primary channels, and determine channel-specific KPIs
Once you've identified where content fits in your marketing strategy, review the types of content to focus on and the metrics to assess performance.
This helpful chart from Content Marketing Institute outlines some of the best metrics to analyze the performance of different content types.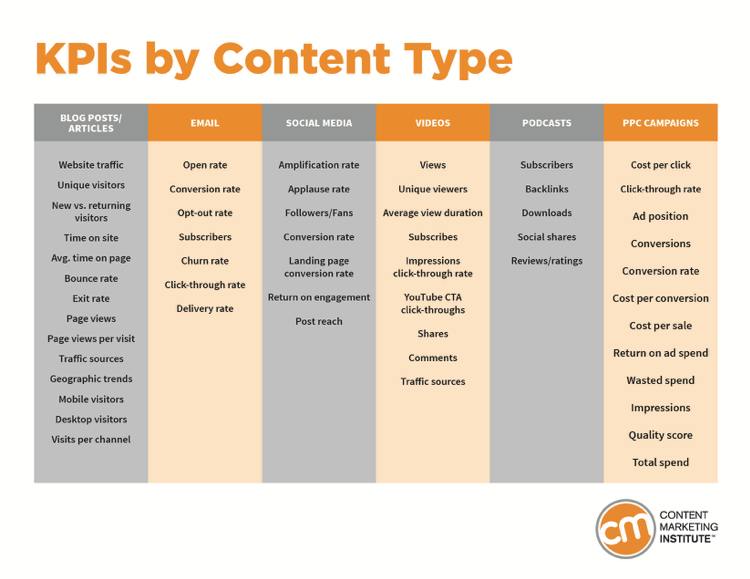 How to track content marketing KPIs with DashThis
Step 1: Sign up for an account with DashThis (your first 15 days are on us!)
Step 2: Connect your favorite marketing tools and data sources in seconds (we support over 40 integrations with top-rated content marketing apps and digital marketing tools 

Step 3: Select the content marketing metrics (like organic search traffic and page views) you wish to track from DashThis' preset widgets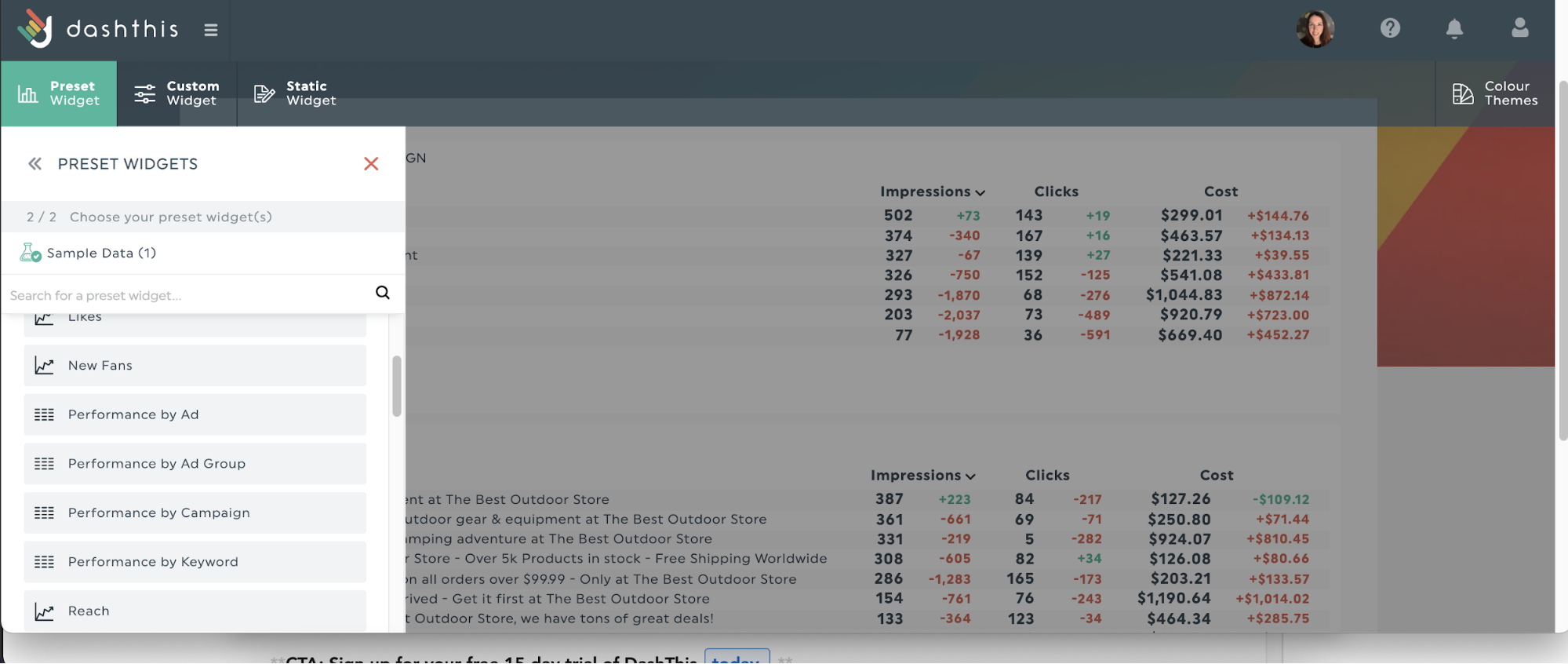 Step 4: Drag and drop as many data points as you desire to create your custom dashboard. Or use our content marketing KPI template to get started. 
Sign up for your free 15-day trial of DashThis today.
Six best content marketing KPIs to add to your performance dashboard
1. Traffic sources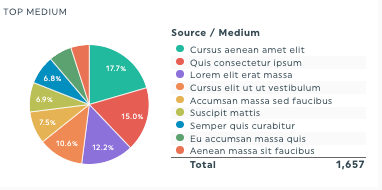 Traffic reports tell you how many people visit your website and which marketing channel they come from. 
Traffic reports inform us which digital channels are performing better and what to focus on. But used together with other engagement and conversion metrics, you get a more detailed picture of which channels are best for your business. 
2. Conversion rate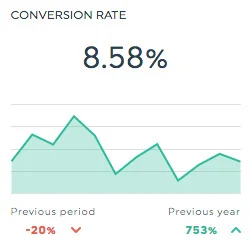 Your content marketing may be attracting lots of traffic.
But without conversions that directly impact business revenue, your content doesn't drive business value. 
The conversion rate describes how many people did what your campaign wanted them to do. It's a crucial metric that helps you demonstrate the value of content marketing to other teams and internal stakeholders. 
For content marketing campaigns, everyday conversion actions include: 
Filling in a contact form or sales consultation inquiry form

Downloading a content asset 

Signing up for a marketing newsletter
3. Return on investment (ROI)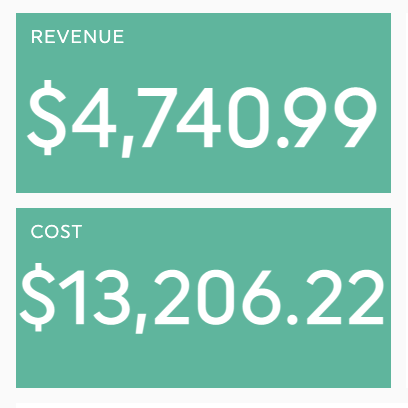 Together with conversion rates, ROI is a crucial metric to prove it's worth investing in content marketing. It shows how much revenue you gained against what you spent to produce the content. 
Tip: Calculating content marketing costs includes all labor costs, paid advertising campaigns, and software used in any campaigns. 
Calculation of content marketing ROI: (Revenue - Cost) / Cost
Attributing content marketing ROI can be tricky, however. 
The average B2B buyer consults 13 pieces of content and information sources along a non-linear path to purchase. We suggest using the first-touch attribution model along with goals to measure leads from content. Review your attribution analytics in your Google Analytics dashboard or marketing tool of choice to accurately calculate the value of content marketing.
4. Backlinks and referring domains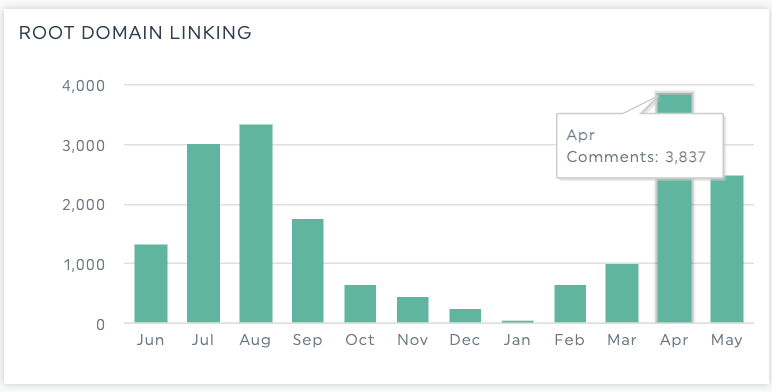 Content marketing and building SEO performance organically go hand-in-hand, and having a backlink report in your metrics dashboard comes in handy to measure progress.
Tip: What is the difference between backlinks and referring domains? 
Backlinks are a link from an external website to your website. They serve as a vote of approval and authority from others of your content. In comparison, referring domains are external websites where your web page gets one or more backlinks. If you have three links from Ahrefs, it will count as three backlinks.
You want to balance the number of backlinks and referring domains for the best SEO ranking performance. Add a referring domains report to your content marketing report and watch this ratio to avoid search engine penalties.
5. Bounce rate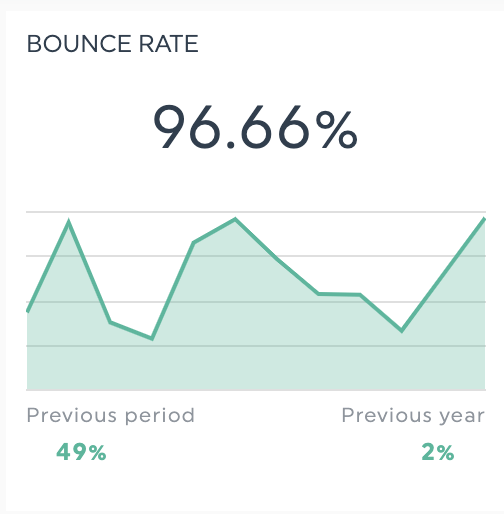 Bounce rate is the percentage of web visitors that don't interact with any other pages during their web session. 
While common practice includes keeping bounce rates as low as possible for landing pages, high bounce rates aren't always bad for content marketing.
Let's say people find your content organically or through social media. 
If someone finds your content through a search engine and it satisfies the user's search query, they will naturally leave your site after getting the information they need. 
The same goes for social media sites. Visitors naturally go back to the social media site after clicking on the post in their social media feed to read a piece of content. 
Average bounce rates also vary across industries. In an analysis of 1.3 billion web sessions, data from SiegeMedia found average bounce rate for blogs across multiple sectors was 82.4%. E-commerce and lifestyle blogs trended higher than average, whereas blogs in business, finance, insurance, and real estate had lower than average bounce rates. 
If you're unsure whether your content effectively engages your audience, refer to other metrics for context. There may be other issues if you're seeing high bounce rates and low time on the page relative to the page's length and depth of content. 
6. Social media engagement metrics (social media engagement, shares, comments, etc.)

Distributing your content on social media is another part of a content marketer's role. 
It's where your prospective customers and existing brand audience live and engage with your content. Some platforms are better suited for various audience types. For example, LinkedIn might be better for you if you're trying to reach B2B decision-makers.
Tracking these social media engagement metrics across platforms helps you see which social media posts your target audience engages with and what to focus on in your content strategy.
While most social media channels share standard engagement metrics (shares, likes, and comments), each platform has its unique metrics to track content effectiveness. Track the channels your brand is active on for the best results.
Prove the effectiveness of content marketing with the proper KPIs
Content marketing is a powerful vehicle for brand building, lead generation, and customer advocacy. 
To reach its full potential, you need to track content marketing's effectiveness in your marketing strategy. Go beyond monitoring clicks, views, and likes, and start looking at content marketing metrics that prove its effectiveness to your business. 
Once you've decided which KPIs to track, use an automated data visualization tool like DashThis to generate reports for your team and stakeholders to help them make business decisions. 
Sign up for your free 15-day trial to automate content marketing reporting, showcase all critical metrics in a single report, and wow your clients or stakeholders today.