The fast-paced world of marketing overlaps with practically every industry, as companies rely on digital marketing to spread the word about their products, services, and general brand personas. Marketing teams usually have their own toolkit of enterprise applications to support internal and external functions.
However, in order to meet this constant demand and pace while being able to adapt their workflow's to different clients' needs, it's best to turn to a no-code/ low-code software because it is the perfect complement to a whole bevy of tasks, such as high-level data analysis, rapid delivery, and cross-team collaboration.
In this article, we will summarize the ins and outs of this category of software and its benefits and of course, how to use it to empower your own marketing team's efforts.
What is no-code/low-code software?
No-code platforms are structured to make it easy for individuals and teams with zero coding experience to assemble applications using functional building blocks—often drag and drop— that can be moved easily throughout a process or duplicated for a new workflow.
Low-code platforms on the other hand do require a bit of coding know-how but make it smoother and faster for developers to crank out new applications. In general, low-code is more difficult to use if you don't have true development knowledge, which can make scaling a real challenge.
Not sure if you've ever worked with these kinds of tools before? Canva, a widely popular visual content creation platform, and Buffer, which helps automate social media posts across many channels are both considered no-code/low code marketing tools because of their ready-made and customizable features that let you create systems and content with a headstart.
Ultimately, both of these tools increase efficiency, productivity, and can save your marketing team time on tasks that would otherwise require coding—a resource-intensive and complex ordeal. But lack of resources is only half of the battle, there are a number of roadblocks for marketing teams when it comes to developing app solutions.
5 challenges marketing teams face when it comes to app development
Marketing teams can struggle to equip their teams with the tools necessary to meet their unique needs because there are so many functions involved for even one campaign, whether it's conducting campaign management, monitoring and managing social media accounts, or producing internal communications.
A lot of these challenges can be attributed to:
Lack of bandwidth: IT teams and their developers are flooded with requests and don't have the capacity to meet the demand for custom apps.
Inadequate budget: it can be very costly to purchase apps or even hire experts to create the tools they want. Depending on the intricacy required, hiring a freelance mobile app developer, for example, could cost upwards of $100 per hour.
Difficulty in implementing legacy systems: most marketing agencies have a sense that they have a few systems that are due for some modernization, or replaced altogether. It can get pretty messy, especially when you have to keep certain business processes in place.
Skills gaps: non-technical marketers usually don't have the more specific knowledge and experience required to build code-intensive apps they require in their day-to-day workflows.
The need for rapid action: the most common measurement of success for content marketing efforts is total sales, according to Hubspot. Simply put, marketing teams typically can't afford to wait for the slow process of app development.
3 ways marketing teams can benefit from no-code/low-code applications
Luckily, no-code/low-code platforms can address the challenges above and then some.
In the case of your marketing team, we know you need to move fast and measure impact in real-time so your efforts can be successful. No-code/low-code apps help you build tools and features to do both autonomously. Here are three other main benefits:
1. Improved productivity
Automation can be used for everything, from notifying colleagues when designers have materials ready for review or setting reminders for milestones throughout a campaign. Equally beneficial is the ability to automatically populate dashboards with your data, such as the number of creatives dedicated to print vs. digital ads in a quarter, or the status of work
[A digital marketing dashboard from DashThis]
By reducing the time spent on these types of tasks— like emailing a colleague or burning the midnight oil to make a decent report—no-code/low-code platforms like monday.com can help you achieve success in a more efficient way.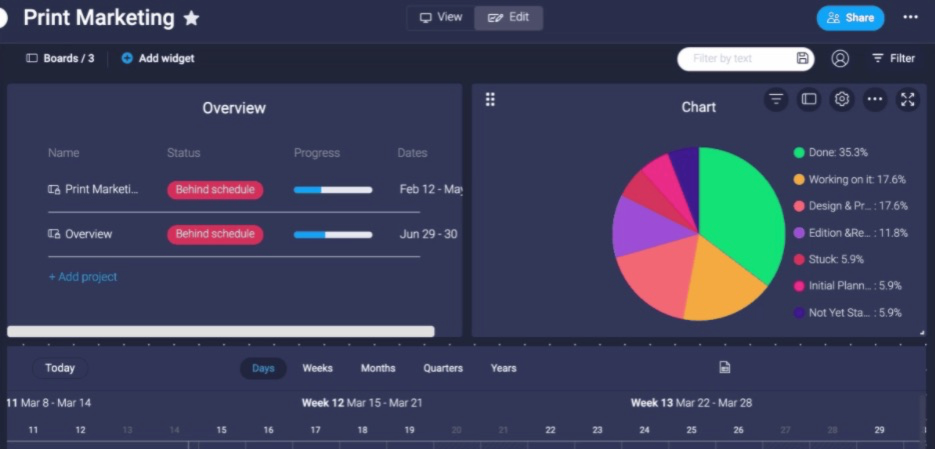 [A marketing team productivity dashboard from monday.com]
2. Rapid innovation and reduced dependency on IT
No-code/low-code platforms empower marketing teams to achieve the level of speed and customization they're after, without heavy reliance on IT. The autonomy that no-code/low-code platforms offer fosters an attitude of self-sufficiency and efficiency in marketing teams.
How? Well, most of these platforms have significantly smaller learning curves than traditional development tools, which means marketing teams are able to source, learn, and customize them as their needs change and develop.
They also usually allow for integrations, so a team can modify or grow their tech stack. For example, monday.com offers a Mailchimp integration for your email marketing efforts on top of its ready-made templates and drag and drop building blocks. With all of this, IT won't have the impending burden of continuously installing, integrating, and updating other tools that can easily be created and customized with low-code options.
3. Improved workflow experience
Most marketing teams at some point or another have already created their own unique way of getting things done i.e. a workflow. Workflows are crucial because, in addition to balancing workloads against timelines, they play a big part in maintaining alignment with company objectives.
Teams typically take the management tools they have available to them and create workflows in a way that fits the platform. This can lead to inefficient processes because the focus becomes on the tool's infrastructure and not the team's unique needs.
A Work OS is the remedy to this because it provides a no-code/low-code open platform for creating custom widgets, workflows, integrations, and apps. Let's explore some of the best options out there for your marketing team.
Top no-code/low-code software for marketing
DashThis

DashThis is known for taking the hassle out of reporting on your digital marketing campaign performance. With stellar customer service, automated reporting, and fully customizable dashboards, you'll spend less time sifting through marketing metrics and more time building your brand.

monday.com

monday.com is a Work OS built for organizations of all sizes and industries— it offers a full suite of tools and perfect for marketing like file sharing, multiple view options, forms, and more, not to mention a fully charged Template Center with marketing templates. Its flexibility and use of color also make it something your marketing team will actually want to use.
Wibbitz

Wibbitz is an online video editor that makes it easy to create short, impactful marketing videos for blogs, websites, social media, or email. Anyone can create professional-looking videos using Wibbitz regardless of prior experience.
Marketing of the future
Marketing teams engage in speedy and multi-faceted work that makes them rely on many tools.
To be more productive and better-suited for their clientele—and to address their challenges—no-code/ low-code software is a welcome solution for their workflows because it reduces the reliance on time-costly internal or external developer work to conduct high-level data analysis, deliver rapidly, and facilitate cross-team collaboration.