Happy that your website traffic is up? You should be! But don't revel in the glory yet. Traffic alone doesn't say anything about your website performance. To gauge whether or not your online marketing strategies are taking you closer to your specific business objectives, you need to befriend Google Analytics KPIs.
With nearly 57 percent of all the websites on the internet using Google Analytics to measure their performance, the analytics platform has become an industry standard in the online marketing space. Google Analytics KPIs (key performance indicators) can offer interesting insights about your website performance when assessed alongside your business objectives.
In other words, all the most important KPIs you monitor should be viewed with respect to your business goals. For instance, if your objective is lead generation, so to generate qualified leads and improve lead conversions, you will need to measure the conversion rate or your site's ability to persuade visitors to take the desired action.
If you'd like to track the most common Google Analytics KPIs you can also simply use a preset report template such as this one: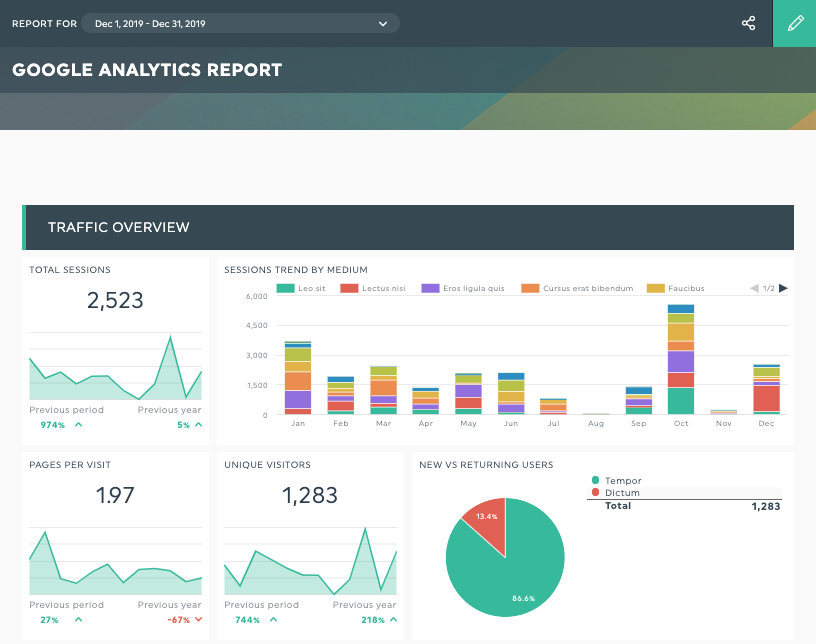 Using a Google Analytics report template will save you some time since it's already filled with the most common KPIs. You can then customize it with the specific metrics you need for your own strategies and objectives.
To give you a better idea of the KPIs you can track, below is a list of Google Analytics KPIs that you should track on a regular basis, classified as per their website goals.
Measuring Overall Website Performance
Depending on the type of business and marketing goals, a marketer may have to track different KPIs. The below-mentioned KPIs are tracked by most businesses to assess the overall website performance.
1. Audience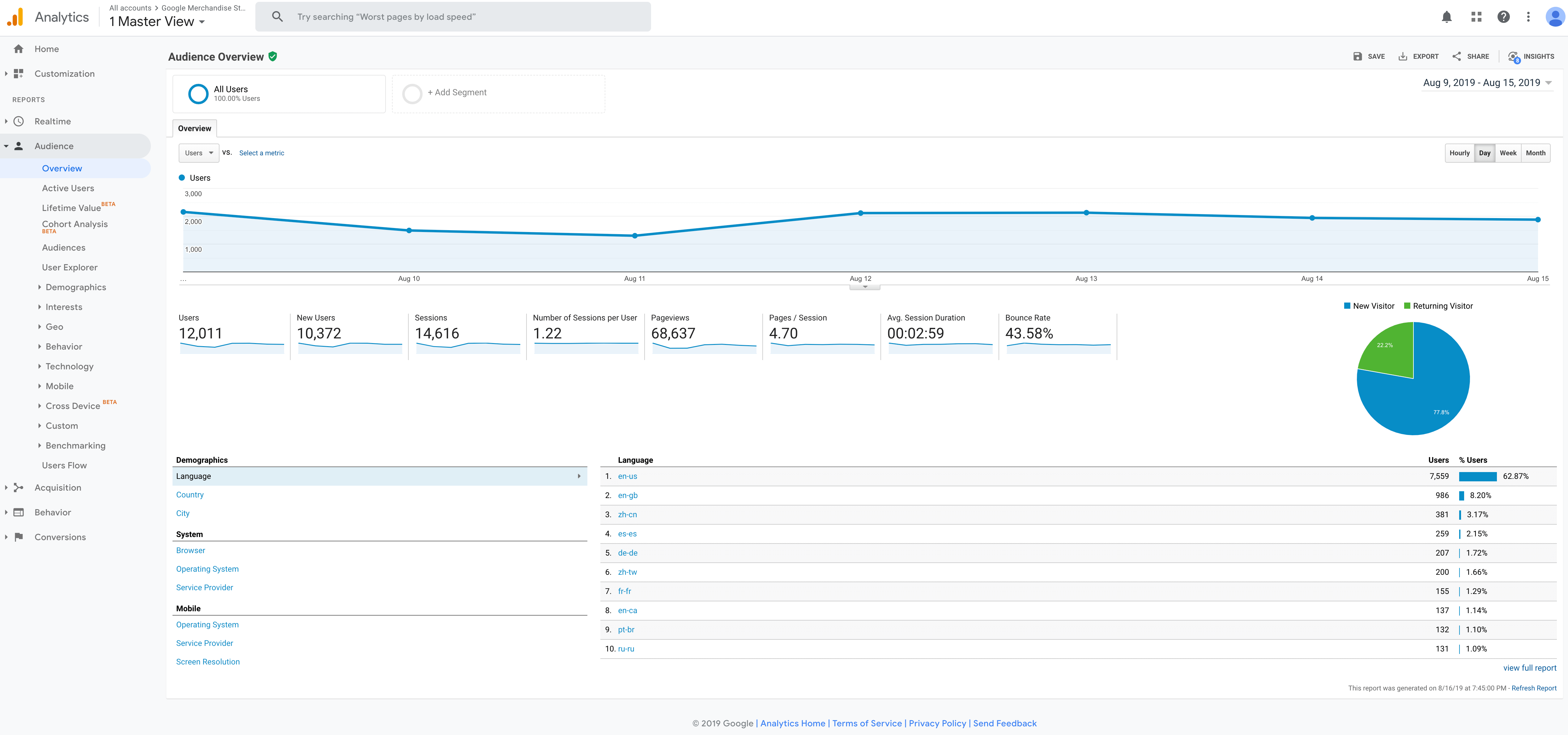 This category offers information pertaining to the type of visitors frequenting your website. You can track the following Google Analytics KPIs to know your audience better.
- Number of Visitors indicates the popularity of your website and the loyalty of your visitors. If your website is user-friendly and offers value-adding content, it will enjoy more views and repeat visits.

- Ratio of New vs Returning Visitors is tracked by Google Analytics through cookies. If you have a large number of returning visitors it means that your site is engaging. If you have a considerable number of new visitors versus returning ones, you can safely assume that your online branding and SEO tactics are working well.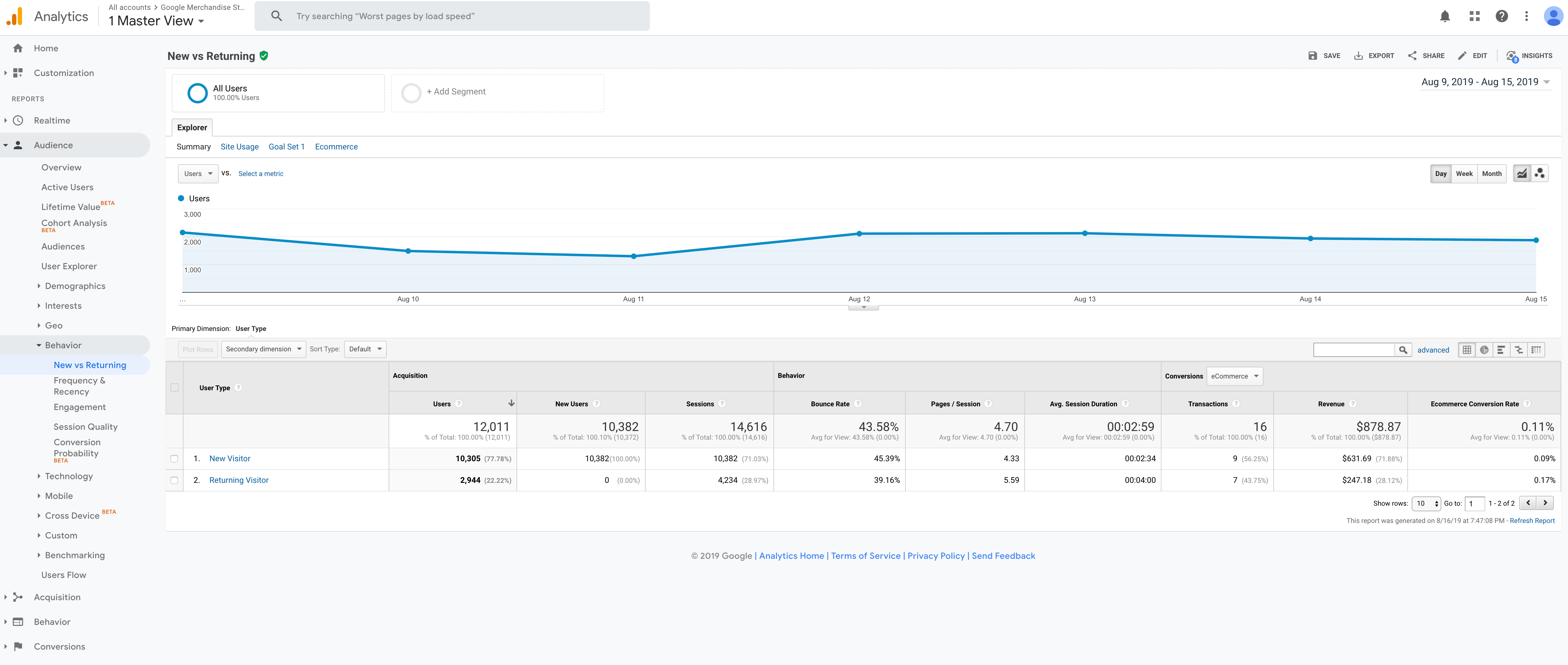 Thus, this KPI will enable you to measure the success of your marketing activities.
2. Conversion Rate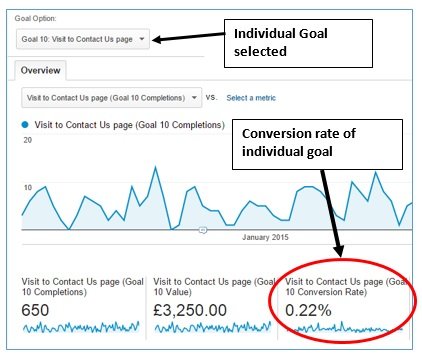 Conversion rate reveals the percentage of visitors who have taken the desired action as per your website goals. A digital marketing blog may define its goals with respect to the number of visitors subscribing to the blog, submitting a contact form, or reading a post. In this case, the conversion rate will be the percentage of visitors subscribing to the blog. Similarly, an e-commerce site's conversion rate will be determined by the percentage of visitors making an online purchase.
3. Acquisition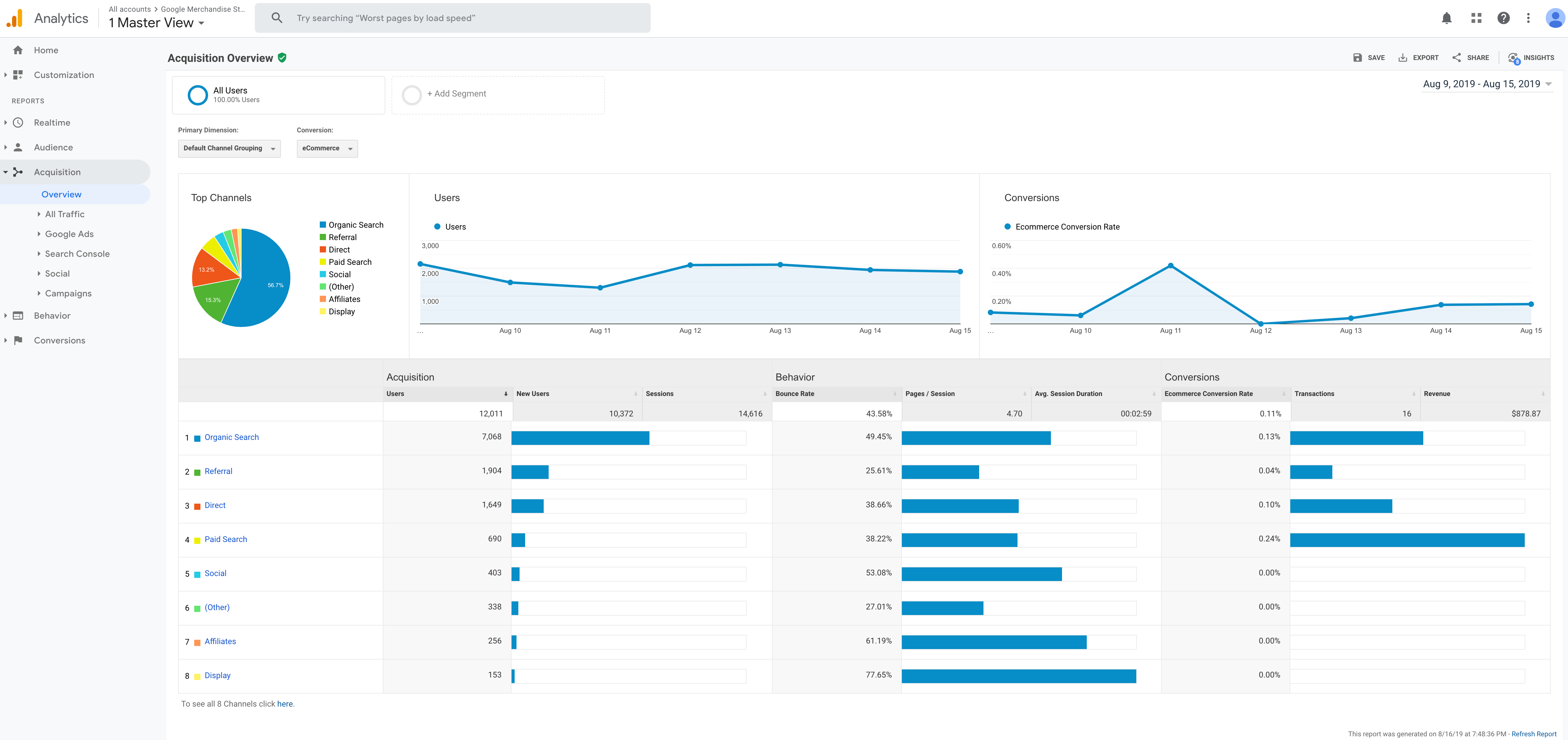 The 'Acquisition' tab tells you about your website's source of traffic, which can be organic, referral, direct, social, or any other. Thus, using this KPI allow you to easily see the number of visitors coming to your site through organic search.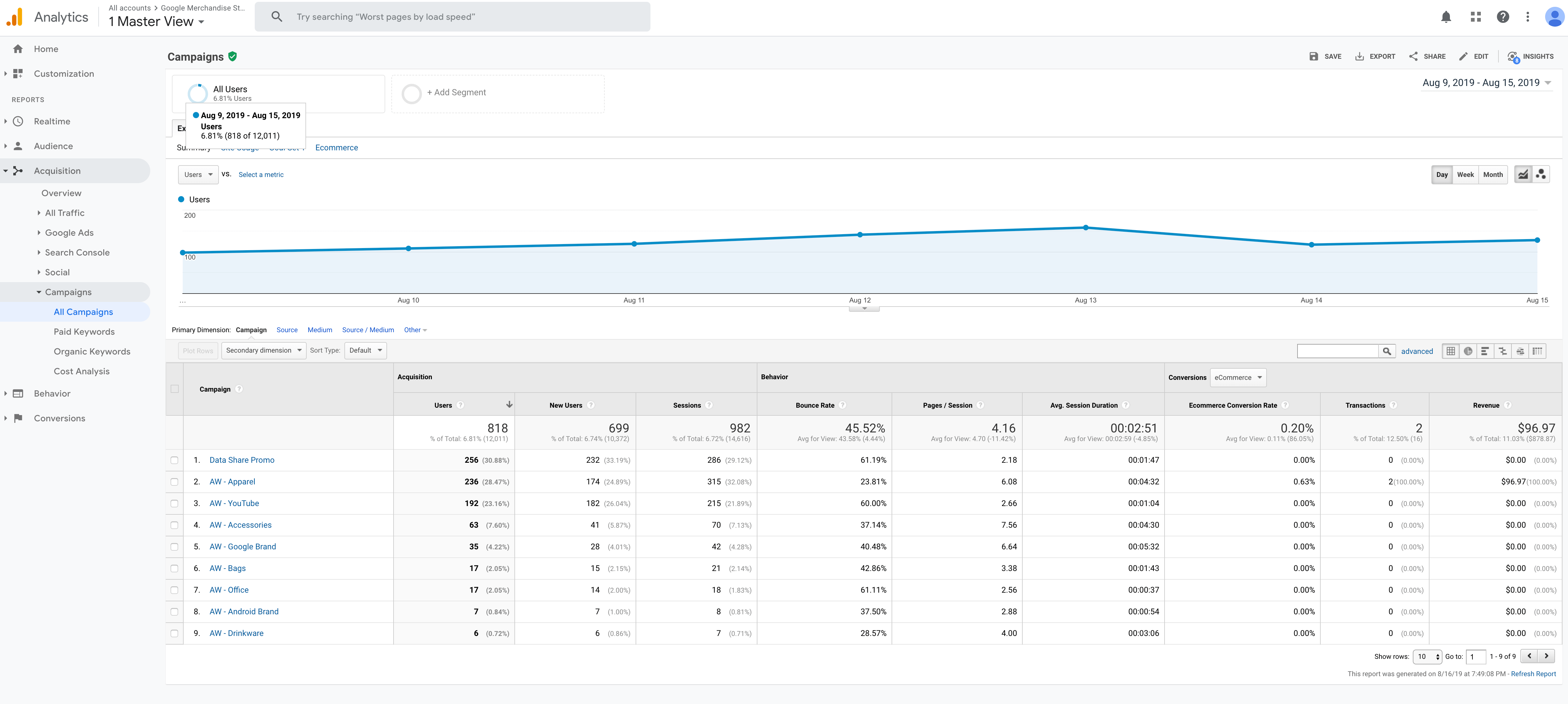 Further, the 'Campaign' section under the 'Acquisition' tab lets you get an overview of the performance of all your marketing campaigns.
4. Behavior
Behavior captures details about how users interact with your site's subpages and content.
- Average Time on Page refers to the amount of time spent by a visitor on a particular page. This is a great KPI for bloggers who want to know whether or not their content is being read.

- Average Page Speed determines your site's user experience. Long site loading time can negatively affect your site's user experience and search engine ranking, as well as increase its bounce rate. And of course, you don't want a high bounce rate.
Assessing Online Transactions
Besides tracking their overall website performance, you should measure your websites (especially if it's an e-commerce site) with the below-mentioned KPIs to determine the success of your marketing efforts.
1. Average Order Value (AOV)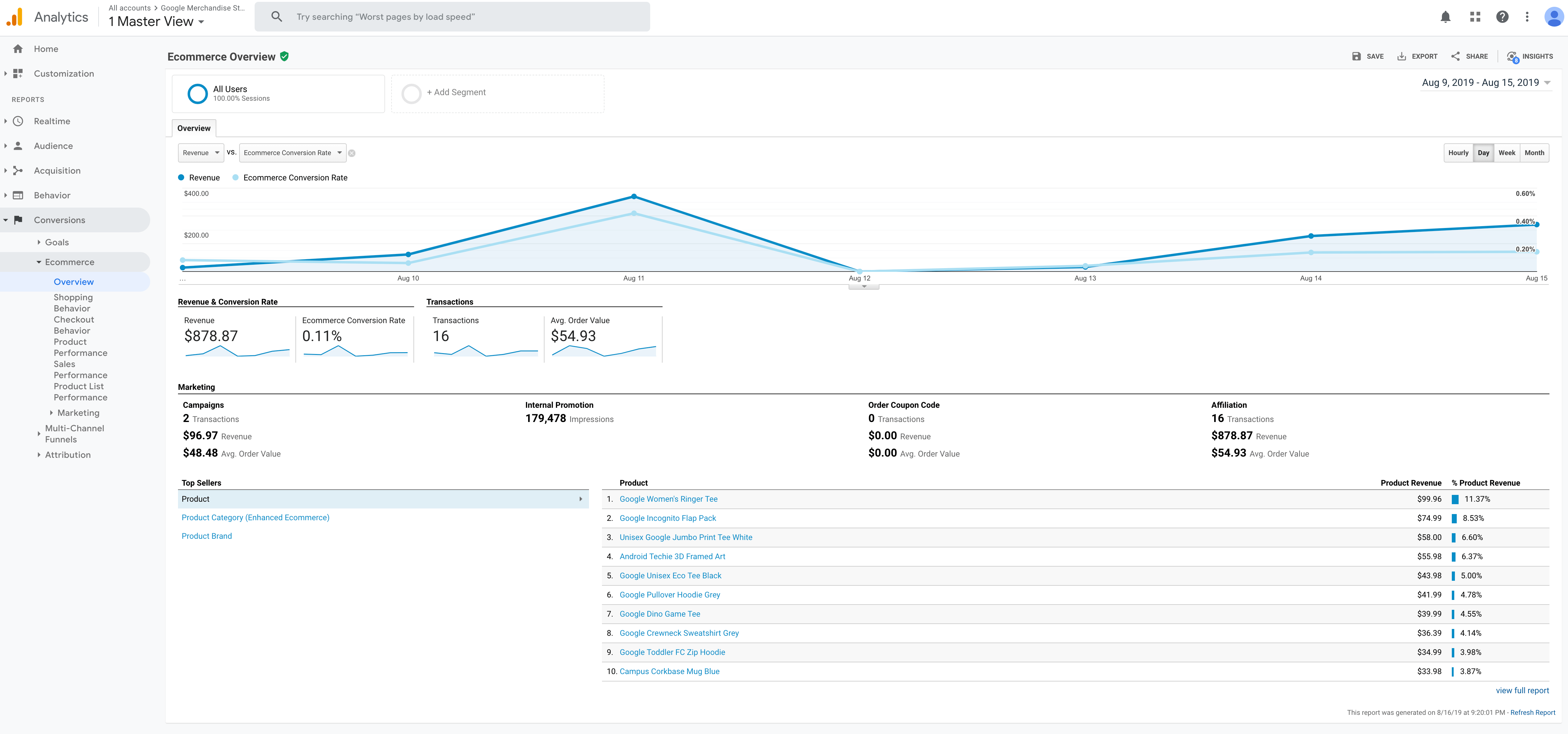 Encouraging your visitors to spend more using upselling or discount tactics can improve your site's AOV. The higher the AOV (revenue generated divided by the total number of orders) the more revenue your site will generate.
2. Shopping Cart Abandonment

Shopping cart abandonment gives you an overview of your sales funnel along with the number of customers who have completed or abandoned the transaction at each step. A high abandonment rate could be caused by -
Customer finding unexpected costs when checking out
Your services are unable to keep up to the promises made earlier
Absence of security badges or trust seals
Extra-long registration form
Slow page loading

3. Revenue on Advertising Spend (ROAS)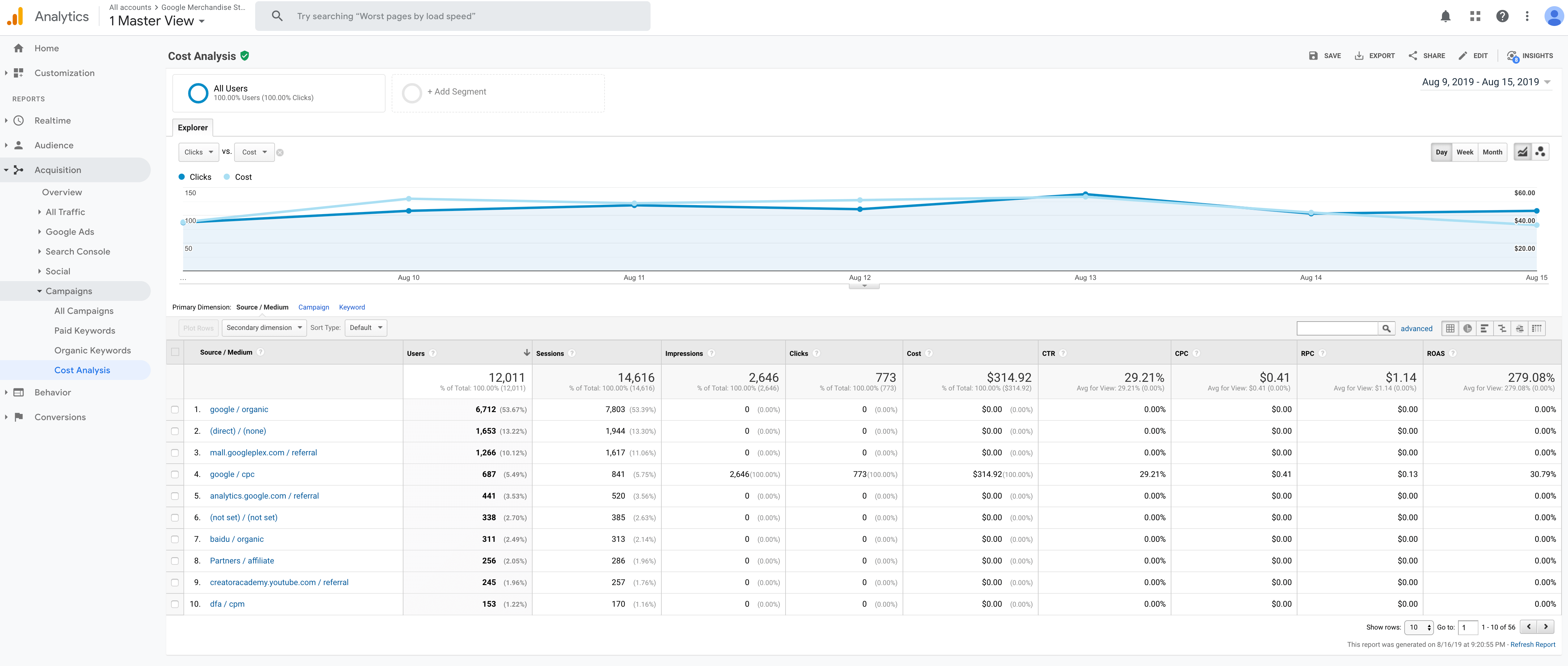 ROAS tells you whether or not you are getting the best bang for your buck. Thus, if you want to make your advertising campaigns effective you should raise your ROAS.
4. Customer Lifetime Value (CLV)
CLV is the amount an average customer is expected to spend on your store over his/her lifetime. Gauging your customers' CLV will help you estimate your long-term marketing cost and customer acquisition strategy.
5. Cost Per Conversion (CPC)
Cost per conversion helps you calculate the profit and return on investment, ensuring you do not pay more for acquiring a customer than their worth. A poor CPC can adversely affect your bottom line. Hence, it is important to track this KPI on a regular basis.
KPIs for Geo-Targeting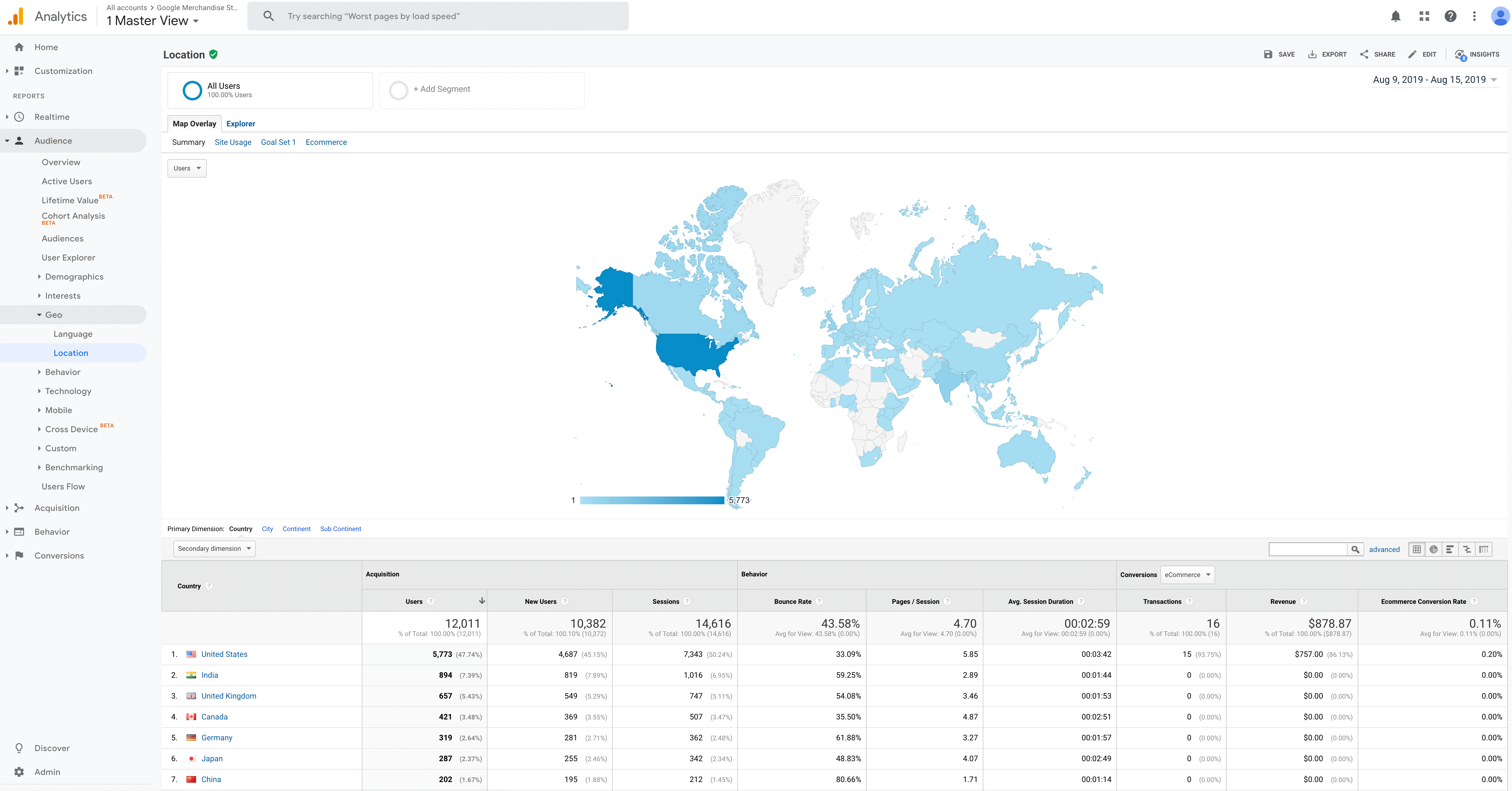 Google Analytics geo-targeting KPIs can help you target your marketing efforts to the most profitable geographic locations, thereby generating more conversions. You can use two reports, namely the distribution of users per country, city, or continent and the bounce rate per geography to assess where most of your traffic and transactions are originating from.
Calculated Metrics
There are several other performance metrics that should be tracked but do not exist on Google Analytics. Since these need to be calculated using the existing GA KPIs, they are referred to as calculated metrics.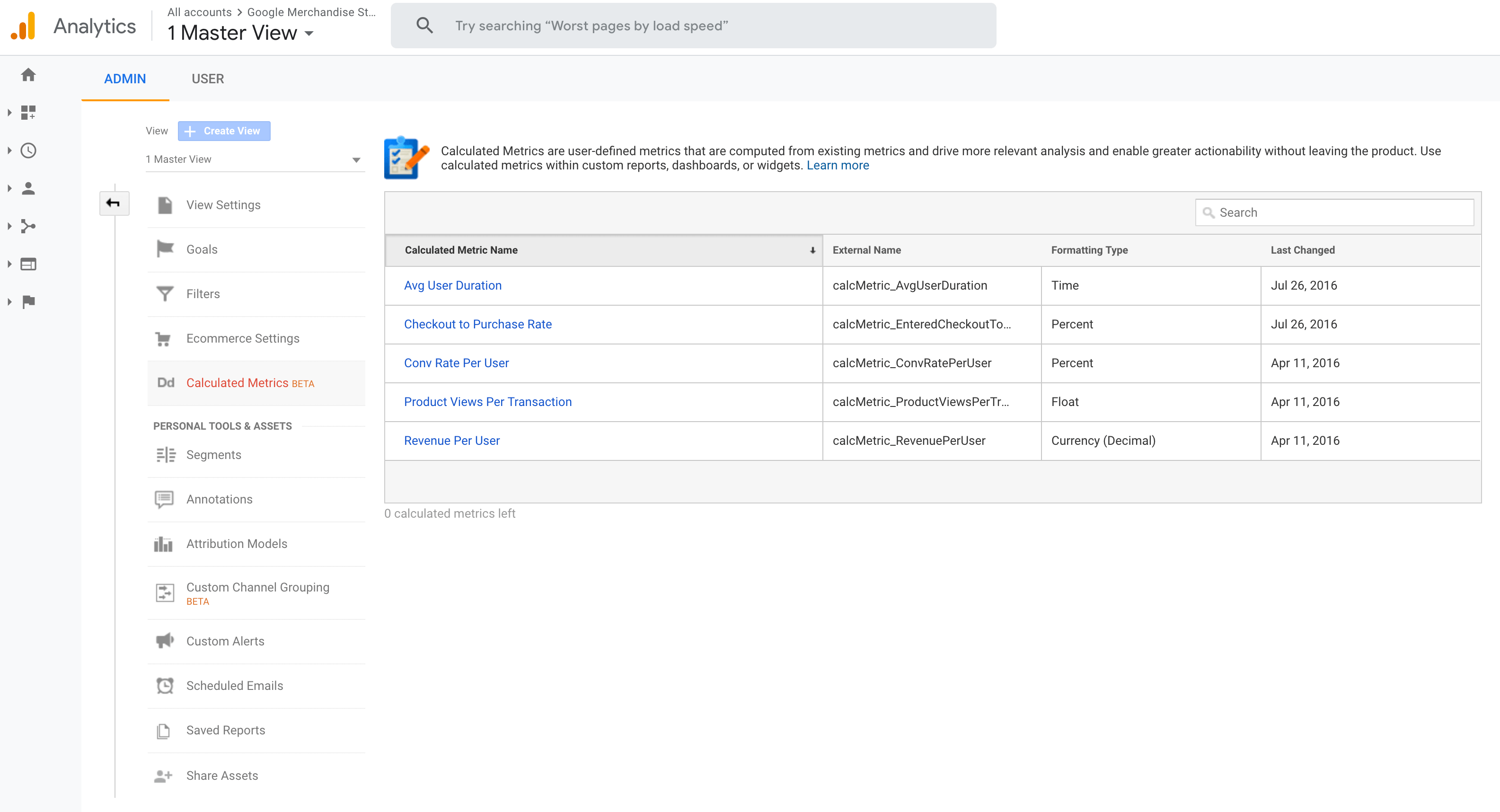 For instance, page views per session is a default website KPI on GA and is a great indicator of overall engagement and the popularity of the page. However, if you need more insights on your user's behavior at each stage of the buying cycle, you may use page views per user which is one of the calculated engagement metrics.
Here are the top calculated metrics and why you should be tracking them.
Average User Duration (Session Duration/Users): It tells us how long the user has spent navigating the site. A longer duration indicates higher engagement.
Average Event Per User (Total Events/Users): A single user can do multiple sessions. This metric tells us the number of unique events per person.
Non-Bounce Rate (Sessions-Bounces/Sessions): It tells you the percentage of people who did not bounce or leave your website. This metric helps you learn about the traffic coming to your site. For instance, you can study the keywords that attracted this traffic to your page.

Bonus!
Here are a few considerations when experimenting with each of the above-mentioned KPIs.
Don't rely on one or two KPIs to draw inferences about your website's performance. As we have already seen, Google Analytics can offer a myriad of data to track sales and customer behavior. However, when measuring intangible performance parameters like customer satisfaction, you may have to combine multiple KPIs, namely average time on page, session duration, average site speed, average order value, and others. So, don't shy away from using multiple KPIs to draw insightful inferences.
Automate it!
It can be overwhelming to consolidate all the data for each of your PPC, SEO, and other marketing campaigns. Cloud-based digital marketing reporting software like DashThis can help you create reports and inclusive dashboards for Google Analytics and other analytics platforms without any hassles.
You can gather all your Google Analytics KPIs, all your digital marketing data from any platform, in the same good-looking dashboard.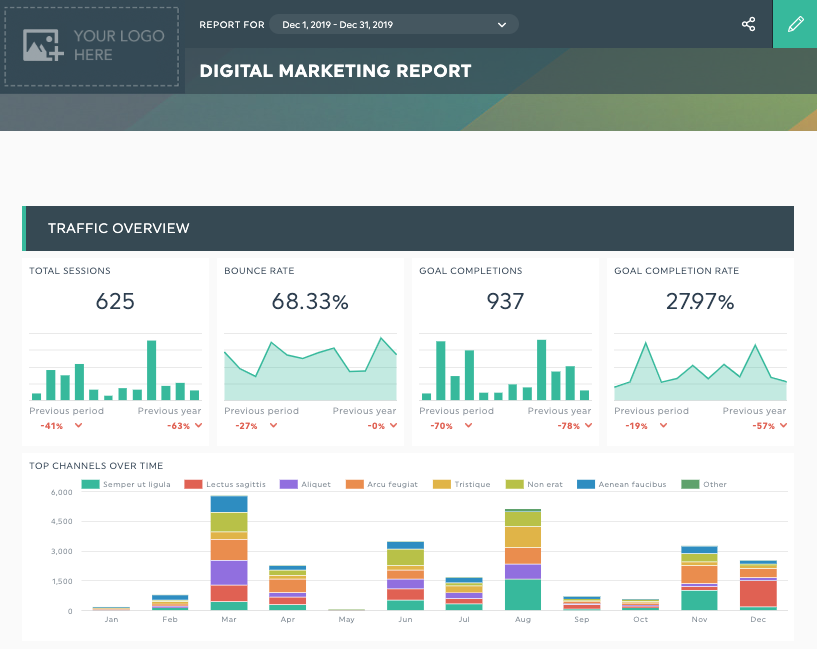 Investing in such automated software will simplify the process of managing the massive volumes of data, enabling you to focus on revenue-generating activities.
You won't have to go into Google Analytics anymore to find each KPI individually as shown previously, all you have to do is create your report with your preferred KPIs once, and then it's automatically updated with fresh data daily!

Summing Up
Platforms like Google Analytics allow marketers to access data and gain insights into what's working and what's not. The KPIs share in this post will help you measure the performance of all your online marketing efforts. Leverage the power of Google Analytics by using these KPIs, in an automated report, to boost your site's performance in no time.