Big news today: Google My Business is officially a new, native DashThis integration! With 2 new dashboard templates, 14 preset widgets, and 24 metrics and dimensions, staying on top of your local SEO results just got that much easier.
What is Google My Business?
Launched in 2014 and commonly called GMB, Google My Business is a pillar of local SEO by providing business owners with a way to control how (and when) their business name and information shows up in Google's local search and Google Maps results.
With Google My Business, you can include specific information like open hours, address, phone number, and photos in your business's profile. You can also gather customer reviews, and even post product announcements, business events, or sales offers.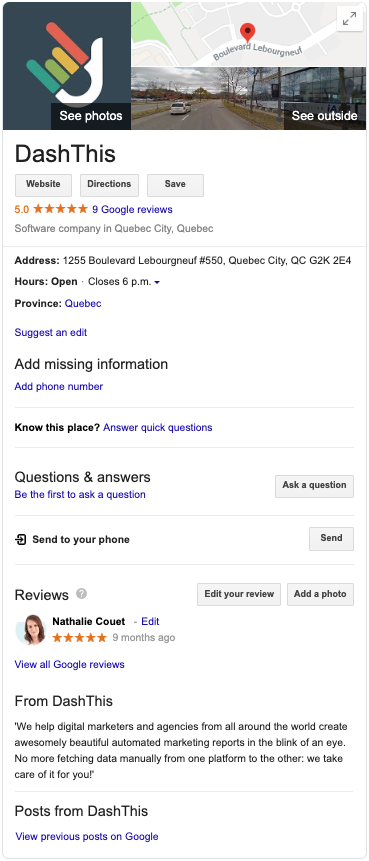 Google My Business allows you to create and manage as many business listings as you want, so this tool is especially useful for agencies or franchises that manage a multitude of business locations simultaneously.
Why is local SEO important?
We all know the importance of search engine optimization in general, but what's local SEO about, and is it as crucial?
The short answer is: yes.
Almost half (46%) of all Google searches are local searches, indicating that users are looking for a local business, service, or product that they can find near them at that specific moment. Considering that 78% of local mobile searches result in an offline purchase, it's safe to say that being at the top of those organic search results can really give you an edge in terms of conversion rate.
Plus, considering that the vast majority of people get their news and business information online rather than through traditional channels, local directory digital marketing has vastly higher conversion rates than traditional advertising options like newspapers or the like.
Suffice it to say, no matter the size, location, or niche of a business, having your Google My Business listing shown accurately in local search results is a no-brainer nowadays.
See all your SEO performance at once
With Google My Business as DashThis' newest integration, tracking your SEO performance across all channels and mediums just got that much easier.
Track your local search performance through your GMB listing data, your organic keyword ranking with SEMrush, your top landing pages with Google Analytics, your total impressions with Google Search Console, your linking root domains with Moz, your PPC results with Google AdWords… all within the same tool, and even the same dashboard!
What can you include in your GMB dashboard?
If you're wondering what types of KPIs that are built-in with this new Google My Business analytics integration, look no further!
DashThis' Google My Business integration includes the following, one-click-set-up, preset widgets:
Direct searches
Discovery searches
Branded searches
Total views by Google service
Customer actions
Website clicks
Phone calls
Direction requests
Total searches
Top search types
Total views
Top Google services
Top posts
Top reviews

The available GMB insights metrics are:
Direct searches
Discovery searches
Branded searches
Views on Search
Views on Maps
Website clicks
Phone calls
Direction requests
Total searches
Total views
Total actions
Posts views
Posts actions
Reviews count
Rating

And finally, here are the dimensions you can use to drill down in your insights data:
Search type
Google service
Customer actions
Post
Review
Location name
Location store code
Location address
Labels

If you want to learn more about how to connect GMB to your DashThis account and create a Google My Business dashboard, take a look at our Help Center article here. If you'd like an overview of what your GMB dashboard could look like with DashThis, take a look at our integration GMB page here.
Ready to get started with your very own beautiful and easy-to-make Google My Business insights report?