As usual, the year is off to a running start!
After a few exciting updates towards the end of 2018 (aka. The ability to create your own custom dashboard templates and a faster and improved Google Search Console), the beginning of 2019 is all about making your DashThis experience even smoother.
Here are all the great upgrades we've done in the past 6 weeks to cut down your reporting time even further:

Keep your custom templates organized...
A few months ago, we released the new custom template feature; you can now speed up your dashboard creation process with your very own reusable custom templates!
What's more, getting the most out of your custom templates just got easier thanks to all the details we've included in the "Template Manager" section.
Now, you can see the integrations used in a template, as well as the dashboards you've created with a template, just by clicking on the template's (i) icon.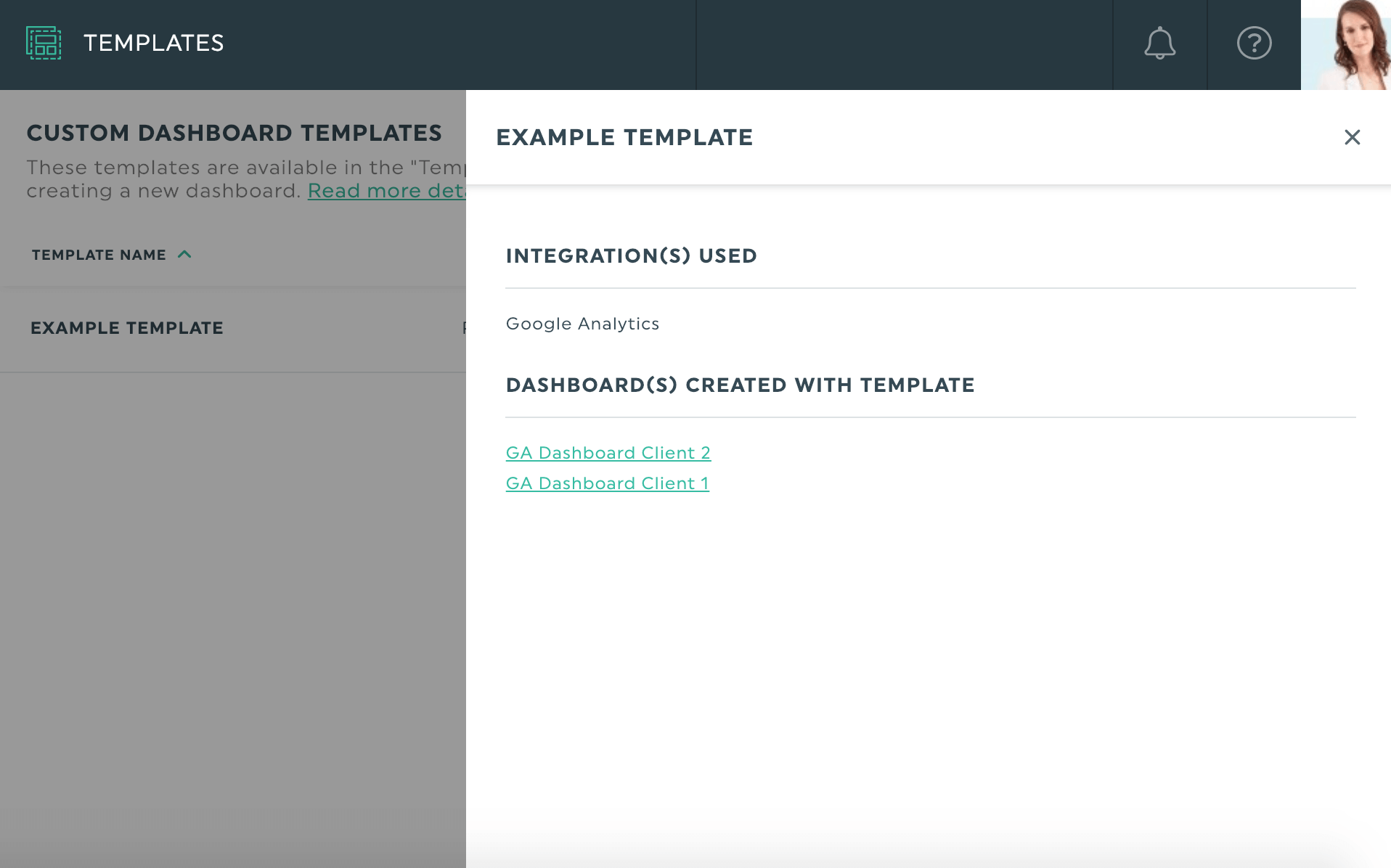 … or use some brand new preset templates
We know how much DashThis users love some great preset dashboard templates to help them create reports in the nick of time.
That's why we're always keeping our existing templates up to date with the newest KPIs and integrations. This past month, we even created some new preset templates to help you get your KPIs together quickly!
Here are just a few new preset templates you'll find when creating a new dashboard:

Know your widgets in detail
Our widgets are the building block from which you create each of your dashboards, so it's important that you choose exactly the ones you need, when you need them.
That's why we've made a few tweaks that we think you're going to love:
More detailed preset widgets
Have you sometimes been unsure of which preset widget you need to pick to show the results you're looking for?
From now on, your preset widgets will show you everything you want to know from the get-go, so that you know precisely what the widget is going to show you before clicking on that "create widget" button. When you click on the (?) icon next to each preset widget, you'll not only see the description of the widget, but also the metric(s), and any dimension involved.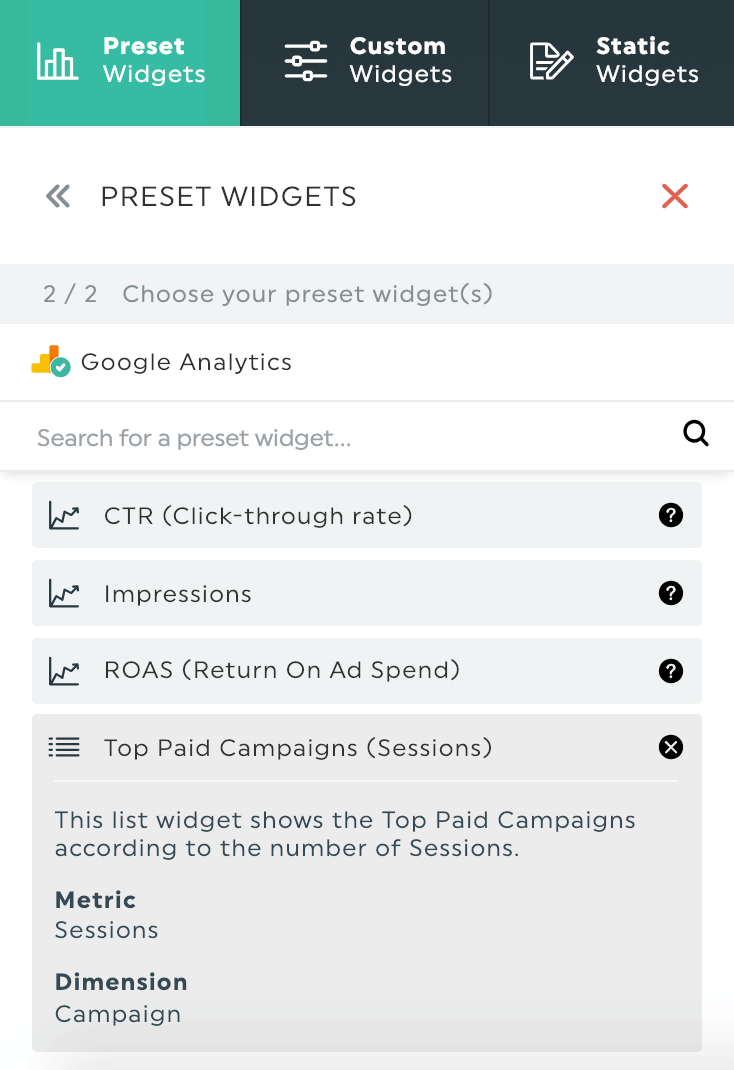 Clearer edit widget blade
Wondering what's in this widget that you renamed for some reason? Forget what metrics are included? Forgot which calculation is involved in this merged widget, and what integrations were combined in it?
No worries! All of this information can now easily be found in the "edit widget" blade, in the "details" section!
No need to be left in the dark!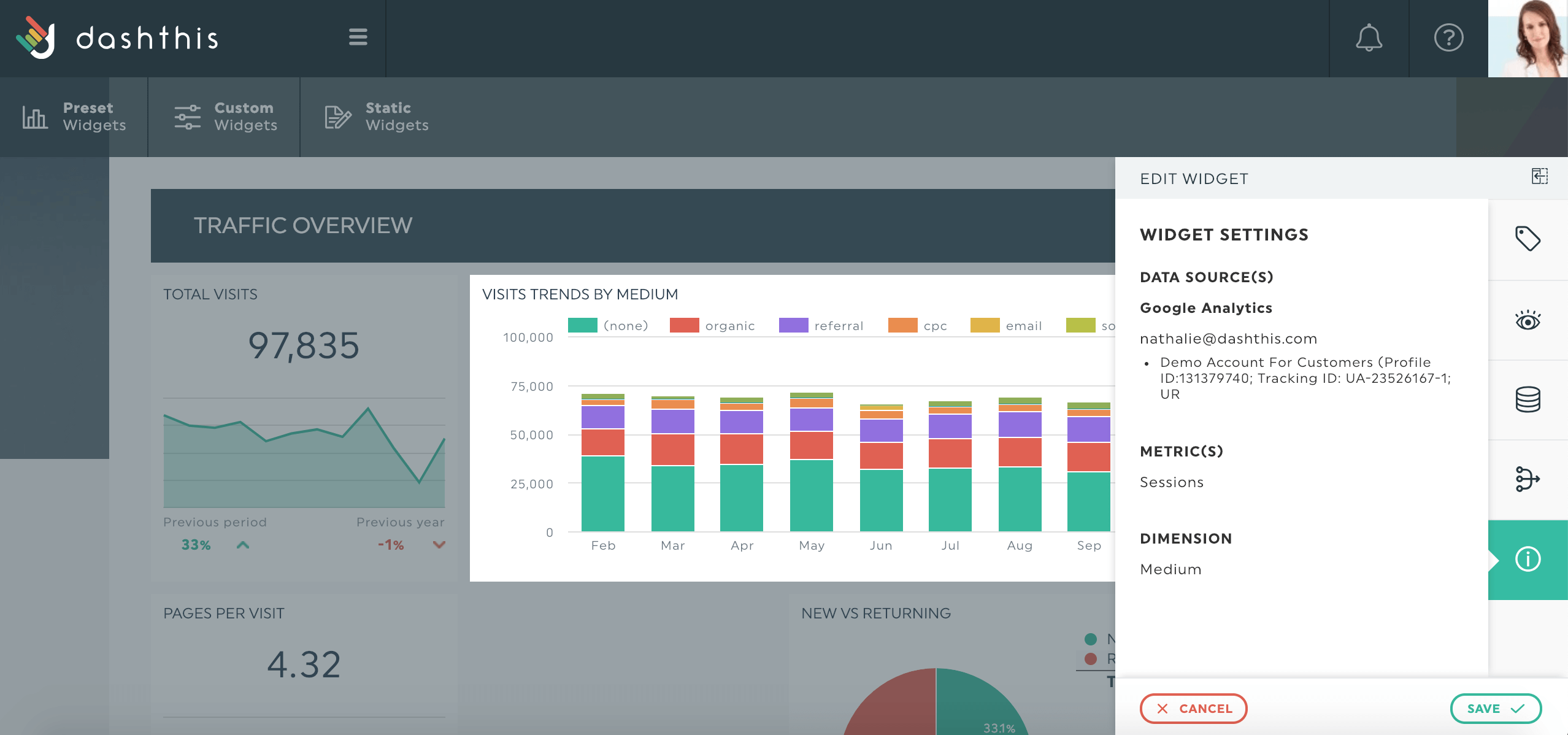 Add new integrations when you need them
Have you ever been in the middle of adding a new widget to a dashboard only to realize that you hadn't connected the integration you needed to your dashboard yet? Or maybe while you were creating a new dashboard entirely and didn't have the source you needed?
It happens to the best of us.
That's why we've added new ways to access your integration manager right when you need it: namely, during the dashboard creation process and in the add-a-widget blades.
Now, even if you forgot to connect all your marketing platforms in the beginning of the process, it won't ever slow you down.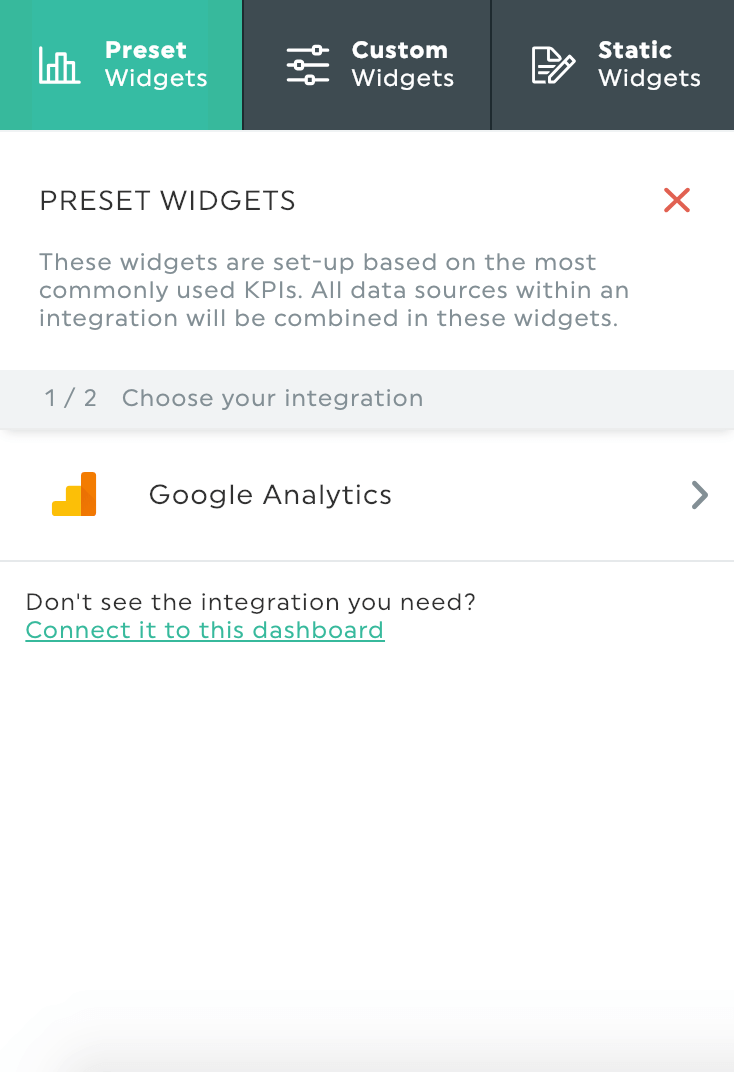 Other quick fixes:
Facebook Ads has gotten some great upgrades!

First off, we streamlined some data-fetching processes making your widget loading about 50% faster than before.
Also, we added 3 new metrics for you: Website Checkouts Initiated, Cost per Website Checkout Initiated, and Cost per 10-second Video View.

Google Ads added the option of including a 3rd headline in your ads. So now, if you've created Google Ads with 3 headlines, you'll be able to see all 3 in your DashThis widgets.