Summer came and went in minutes, it seems!
Even if some of us took some well deserved vacations, we never stopped thinking about the next great upgrade we could do to improve your reporting and make you save even more time!
We kept working on the tool and delivered several new projects, upgrades and updates during the last few months!
Let's take a look shall we?
Lightning fast AdWords for all!
You probably saw our last feature release, announcing the arrival of a faster, stronger AdWords (now called Google Ads) integration. Well, it is now up and running for every single DashThis user!
You've probably already noticed the difference, since your AdWords widgets are now loading an average of not 2x… not 10x… but 36x faster!
Yes, you heard me, 36! I told you it was going to be fast!
New metrics, dimensions, and preset widgets!
We also added the following new AdWords metrics and dimensions:
Metrics
Viewable impressions
Unique Cookies
Phone Impressions
Phone-Through Rate
Cross-Device Conversions
Dimensions
Customer Name
Age Range
Gender
City
Metro area
Region
Search Term
We know that there are some of these new metrics that you will want to use on a regular basis, so instead of having you create a custom widget each time with them, we wanted to speed up the process a little bit by creating brand new preset widgets for you!
Preset widgets
Conversions by Campaign
Phone Calls Performance
Top Cities
Top Countries
Top Regions
Not only that, but now the AdWords dimensions dropdown menu is pre-filtered to show only the options available with your chosen metric. It's going to make your choice so much easier! Less scrolling, more reporting!
Sign in with style!
Last time you signed in to DashThis, you might have encountered our brand new sign-in page!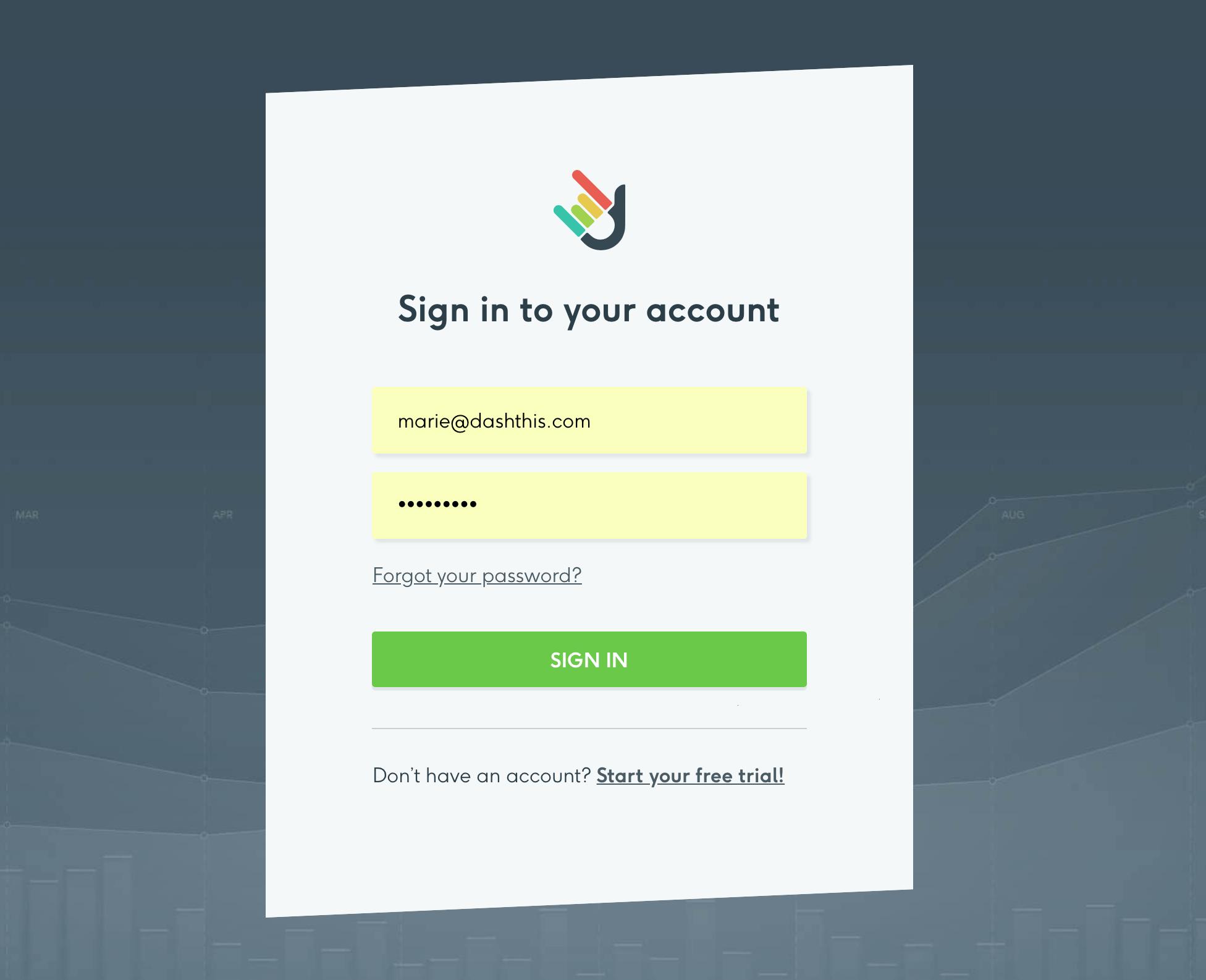 It's now cleaner, clearer and has the same very pretty branding as the rest of our website and tool. It looks fabulous, don't you think?
But that's not all, here are some other quick fixes we did this summer:
Other quick fixes
We added new metrics, dimensions, and preset widgets for you!


Facebook Ads has the new metrics "Website Content Views" and "Cost per Website Content Views", and the new preset widgets "Page engagement", "Website Conversions".
Google Analytics has the new coupon dimensions "Product Coupon Code" and "Order Coupon Code".
And we added new Facebook Insights metrics for more accurate page reach data. You now have the options of "Daily Total Page Reach", "Weekly Total Page Reach", and "28 Days Total Page Reach".

We also added a brand new Facebook Ads dashboard template, containing all your most relevant Facebook Ads KPIs such as: Website Conversions, Reach, Amount Spent and Total Conversion Value.
In LinkedIn Ads "Sponsored InMail" and "Sponsored Video" preset widgets, the ads' ID numbers used to be displayed instead of their names, which was quite confusing. It has been fixed and you can now see your ad's names clear as day!
When creating a new annual periodic dashboard, you can now choose a period that spans from June to May.
Stay tuned, more updates and new features are coming up!