One perk of search engine optimization (SEO) - you can measure everything related to your efforts.
But with over 200 Google ranking factors out there, how do you determine which metrics to track?
Having a precise method to track your SEO success shows the value of your SEO efforts towards marketing performance and business bottom line.
We'll go into the critical SEO metrics to track to assess performance, evaluate tools you can use to collect the data and format the data into a beautiful yet accessible report to present to your client or internal stakeholders.
What is SEO tracking?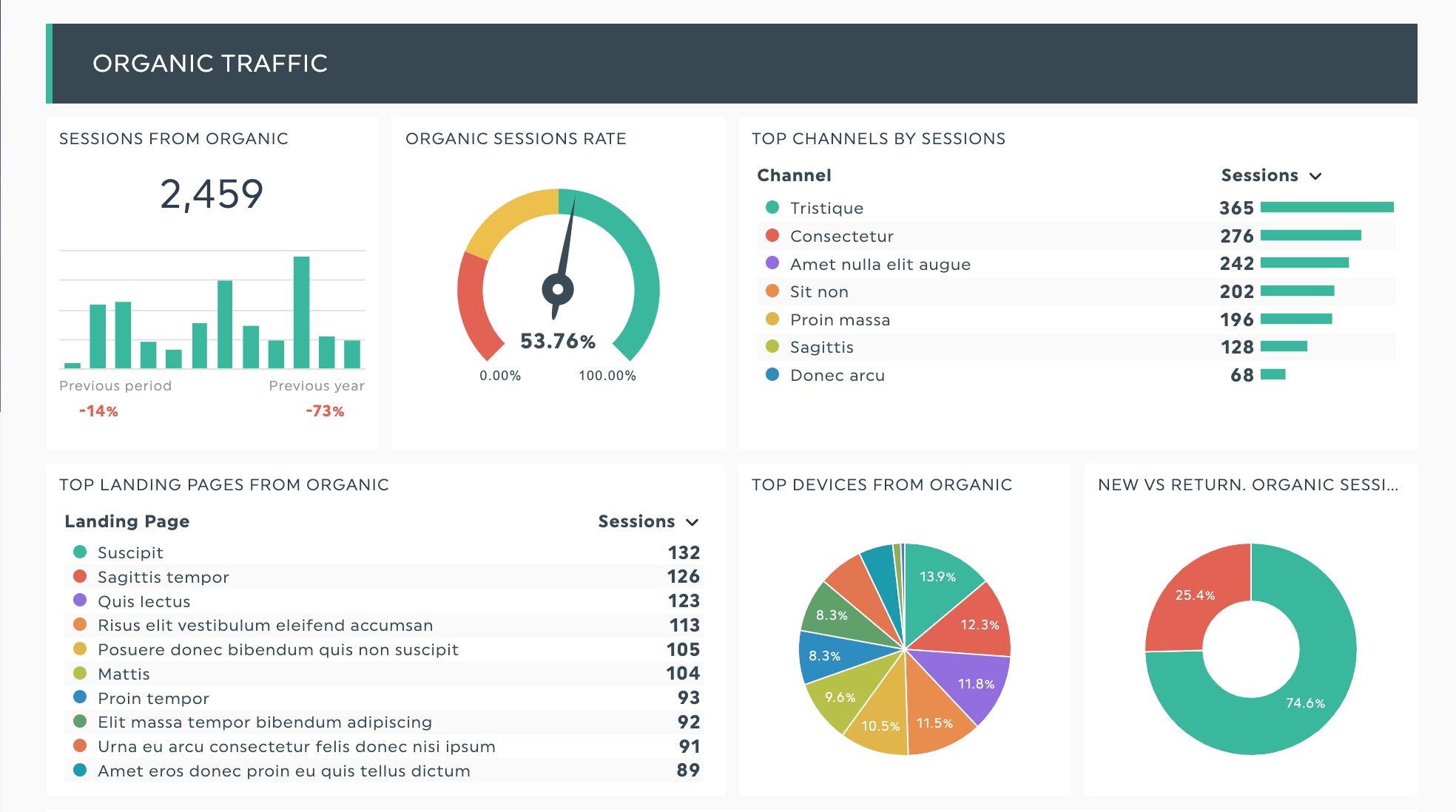 DashThis's SEO and backlinks report template. See this template with your data.
At its core, SEO metrics tracking is a three-step process.
 

Determine the aim of your SEO campaign

 

Select the right SEO metrics to track the effectiveness of your campaign.

 

Measure and review these metrics over time
SEO tracking is the process of analyzing quantifiable SEO metrics to measure, reporting on the effectiveness of your SEO efforts and adjusting your marketing strategy or execution process based on what the data tells you.
The top 7 SEO metrics to track to evaluate your SEO performance
If you're unsure, begin with tracking these essential metrics for your campaign.
1. Conversion rate

Conversion rate shows the quality of your organic traffic. 
It's a business metric assessing the value of marketing to the business and is usually one of the first metrics your clients and stakeholders will pay attention to. 
Conversion rate affects how many leads, goal completions (form submissions on a contact form, for example) and prospective customers your SEO efforts attract.
Monitoring conversion rate also shows whether your campaign brings in the right organic traffic for your business.
For example, if you're seeing high organic search traffic but low conversion rates, review if you're attracting people who find your landing page offer attractive or whether your offer aligns with the searcher's intent. Look at the organic search keywords bringing most of the traffic to your site that don't result in conversions and evaluate if they match the search intent of your prospective customers.
2. Organic Traffic / Traffic sources

Bringing in organic traffic is the first measure of effectiveness for any SEO or inbound marketing initiative. It forms the first part of your marketing funnel, bringing in new website visitors. These visitors subsequently turn into leads and paying customers as they engage with your site content and opt-in to your offers.
Organic traffic is site visitors that come to your website through unpaid sources, usually through a search engine like Google and Bing.
With this goal in mind, reviewing your organic traffic numbers should be your first point of the review to assess the effectiveness of your current SEO initiatives. Once you know your organic session metrics, analyze your website traffic sources report to see which channel brings more visitors.
3. Keyword rankings

Keyword ranking positions refer to your page's spot in search ranking results for a specific search query. This directly affects how likely a searcher will find your website listing and click.
Note: The first result in Google's organic search ranking has an average CTR of 31.7%, ten times higher than a page in 10th position.
Therefore, regularly monitoring your keyword rankings in a keyword ranking report helps you keep an eye on how you're performing and enables you to act quickly if you see a sharp drop in any keyword ranking.
Other actionable uses of tracking keyword ranking performance:
Find new ranking opportunities:

Tracking the keywords your prospective customers use the most and analyzing how your website ranks for target keywords.

Competitor research:

Researching the keywords your competitors are aiming for will help you track if they've launched a n

ew initiative to rank higher for specific keywords.
Responding to Google algorithm updates: Google core algorithm updates can drastically change your ranking or your site's appearance on the search results page. Previous algorithm updates have influenced what Google looks out for in websites. If you haven't already, set up an alert for any G

oogle algorithm updates so you can closely monitor any impact on your rankings.
4. Click-through rate
Click-through rate measures how relevant your content is for a search query. Naturally, it's another measure of effectiveness for your SEO initiatives.
Use clickthrough rate as a supporting metric when analyzing your overall keyword rankings and reviewing organic traffic sources.
5. Domain authority

Domain Authority (DA) is a search engine ranking score (from 1-100) developed by Moz that predicts how likely a website is to rank in a search engine.
A good DA score is relative to your competition and industry, but as a starting point:
Established websites like Google and Microsoft will have a high domain authority (95-100)

Conversely, new websites may have a DA score between 10-20
DA assesses your website's overall SEO health and is helpful as an overview metric to review your website's standing with your competitors and others in the industry. Its best used as a metric to compare against other websites.
How to use DA in your SEO efforts:
6. Time on page / Average time per session
Also known as dwell time, time on page measures a searcher's time on your page before returning to search engine results (SERPS). It indicates:
The value a searcher received from your site

How valuable your content was to answer their questions

Whether your content is relevant, easy to read and understand

How effective your content marketing was at capturing their interest.
You'll want people to spend longer on your long-form blog content and specific pages. A low dwell time here may indicate issues with the content's presentation or the accessibility of the page and warrant further investigation. Alongside that metric, you can also track the bounce rate, which gives a great indication that your visitors are having a good user experience.
7. Backlinks
Backlinks are incoming hyperlinks from one webpage to another, crucial in the realm of SEO strategy and link building. They serve as a key metric for evaluating a website's authority and popularity, playing a pivotal role in search engine ranking algorithms.
Tracking the number of backlinks is essential for assessing the effectiveness of link-building efforts and overall SEO performance. Pay attention also to the number of broken links and internal links, as they are also crucial.
Three leading SEO tracking tools to help track your SEO progress
Pro tip: DashThis integrates with all of these leading SEO monitoring tools. Get connected, import your data from these tools and present your SEO metrics in a beautiful, crystal-clear report.
1. Google Analytics

The first of two free to use Google products to analyze website performance, Google Analytics gives you the quantitative insights you need to analyze visitor data break down user traffic metrics by page, channel or marketing campaign.
Cost: Free
2. Google Search Console (GSC)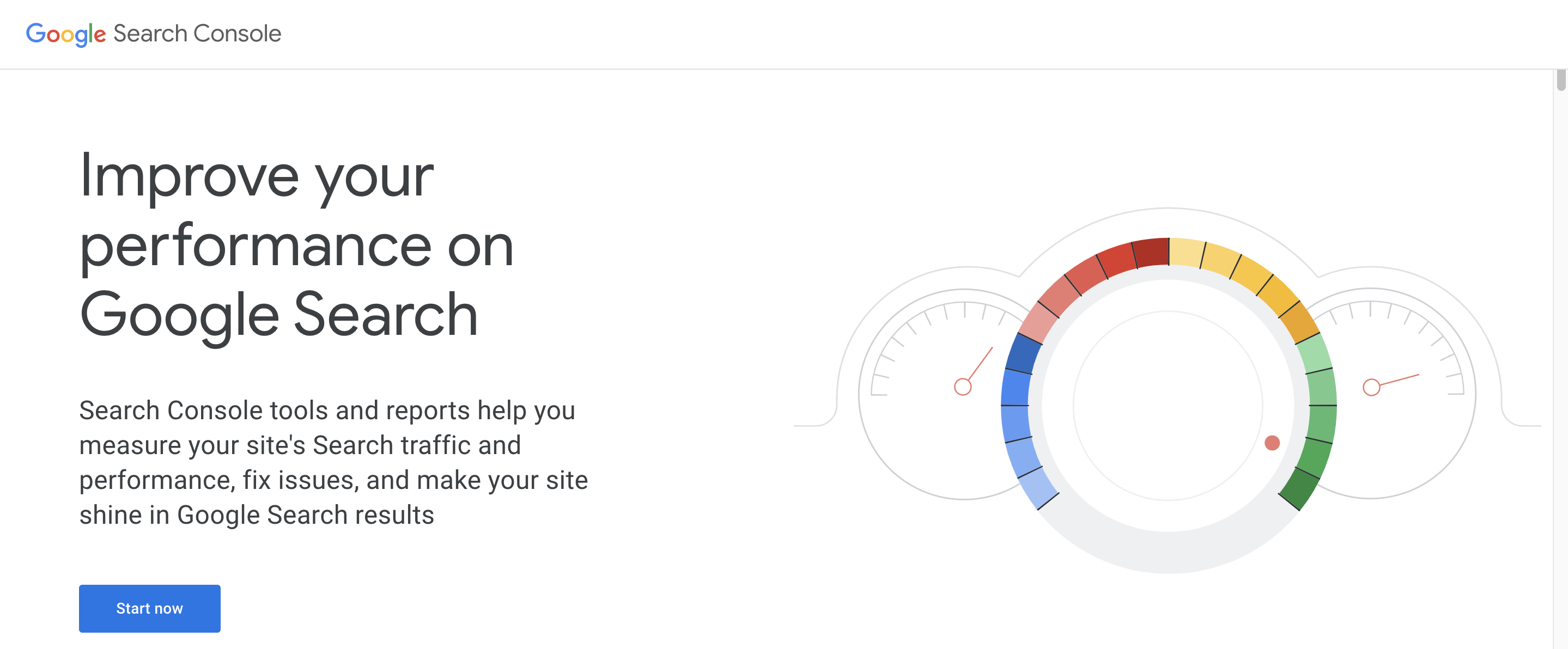 Another free offering from Google, Google Search Console evaluates the search performance and optimizing content for your website. You can see which search queries bring users to your website, the keywords you're ranking for and the devices people use to find your website.
Cost: Free
3. Moz / Ahrefs /SEMRush

These are some of the top paid all-in-one SEO software solutions that cover everything you need to evaluate your top paid all-in-one SEO software solutions SEO performance, from SEO audits to keyword rank tracker and technical SEO optimization.
How to track and present SEO progress with DashThis
With your important metrics in place, it's time to think about giving your data in a crystal-clear manner that your boss or client will understand.
DashThis allows you to plug all your SEO keyword research tools and digital marketing efforts - including your keyword ranking report and SEO performance - into the platform to generate monthly rank tracking reports. We bring all the data from your SEO tools into one report, allowing you to see how your SEO efforts are performing and flawlessly explain what's going on in your presentation.
Step 1: Connect your favorite marketing tools
Step 2: Select your KPIs from DashThis' preset widgets
Step 3: Drag and drop your desired metrics into your reports!
Make SEO tracking and reporting fuss-free
There are many SEO ranking factors out there. But now you know the ones to focus on and the tools you need to automate the entire data gathering and reporting process.
Sign up for your free 15-day trial to automate your SEO reporting in a visually-pleasing format. Track all critical SEO performance metrics in a single report and instill confidence in your SEO efforts.