The hotel industry is a time-sensitive business, you need to be able to track your hotel performance every day: Room revenue, the number of guest rooms booked on the hotel property, etc. Your hotel rooms occupancy and property management needs to be taken care of and looked at almost in real-time. 
Particularly with the new challenges that came with the Covid-19 pandemic, the number of room nights sold, your hotel performance, digital marketing efforts, and revenue need to be tracked without you wasting time on gathering all the information yourself. 
To do all of this, you need a hotel report. 
What kind of

 

hotel report

 

should you get?
For your hotel business, you need a hotel performance report that'll have all the performance data you need.
You could start off by using one of our many preset templates such as:
But how about a report that'll have all your specific hotel marketing data easily available to you?
With an automated report specifically for the hospitality industry, hoteliers like you can track their most important hotel marketing KPIs without having to spend any time gathering the data from all your different platforms. 
No matter the niche or hotel market you are in, your hotel management will be a thousand times easier with a complete report including every data for your hotel group.
Some Hotel KPIs to track
Your hotel's performance depends on multiple different factors, including the number of clients who book, the check-ins, the average daily rate, the number of available rooms, your revenue management, and much more! But you also need to track all your marketing performance, may it be SEO, PPC, or any other advertising efforts.
Of course, one of the most important metrics to track would be your RevPar, or Revenue per available room. This hotel metric is calculated by multiplying a hotel's average daily room rate (ADR) by its occupancy rate.
You should also make sure to track your:
- Total revenue
- Average room rate (ADR)
- Cancellations
- Hotel occupancy
Some other performance data you should keep on mind for your hotel marketing report includes:
- Country performance (the performance of your hotel locations in different countries.)
- Booking by room type (which room types are your most popular)
- ROAS (return on ad spend)
- Sessions (number of visits on your website)
- Conversion rate (the number of conversions divided by the total number of visitors)
- Bookings
- Average booking value
Get your own
 

hotel report

 

template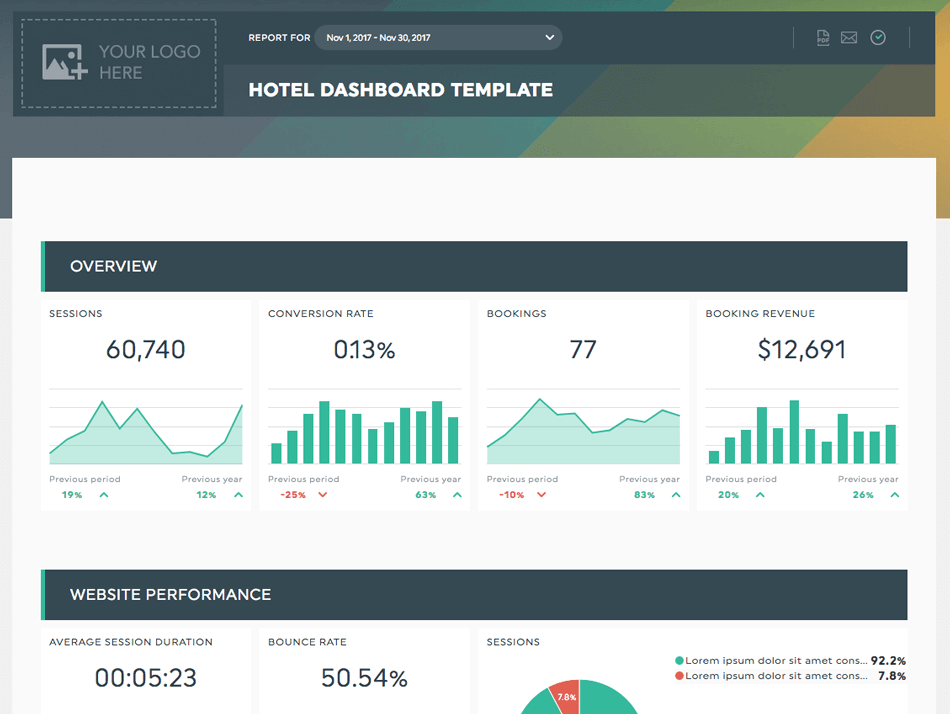 See this hotel report template live
With our preset hotel report template, made for hoteliers and hotel managers, you can easily track all your hotel business performance. Simply choose the time period you want, connect your marketing platforms (from Google Ads to social media, Google Analytics, Google My Business, and way more!) and voilà!
Your hotel report will automatically be updated every single day with your data. 
The best part? You can try it right now with your own data for free, no need to enter your credit card or personal information, just your email and name, and you're good to go!