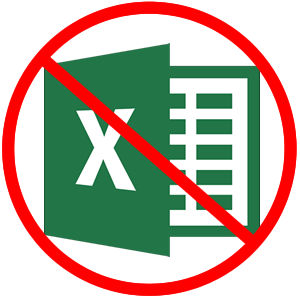 Microsoft Excel is, most of the time, the obvious tool when we think of generating Google Analytics dashboards and reports. After all, Excel rimes with numbers, right? You can even connect your Adwords or Google Analytics data pretty easily using plugins.
But how much time do you spend creating reports using Excel? A typical account manager of a SEO / SEM agency will spend 5-10 hours per week. That's close to 500 hours per year.
At 40$ an hour, that's 20,000$ per year!
This time wasting can be cut by 90% only by using an automated tool!
You need an automated data visualization tool that will let you connect all your data sources easily!
This tool should enable you to connect all your sources from all your Google Analytics accounts and digital marketing tools, create your KPIs in seconds with preset dashboard templates and widgets, add comments, and send your reports automatically every month.
In a nutshell, it should help you save hours of work!
Where can you find such a tool? Well, right here! All you have to do is give DashThis a try.
After all, you want to provide your clients with clear Google Analytics dashboards, that will show them how well you performed and let them know that their business is in good hands with you.
And that's exactly why we created DashThis! To help you generate business through amazing reports, like this one: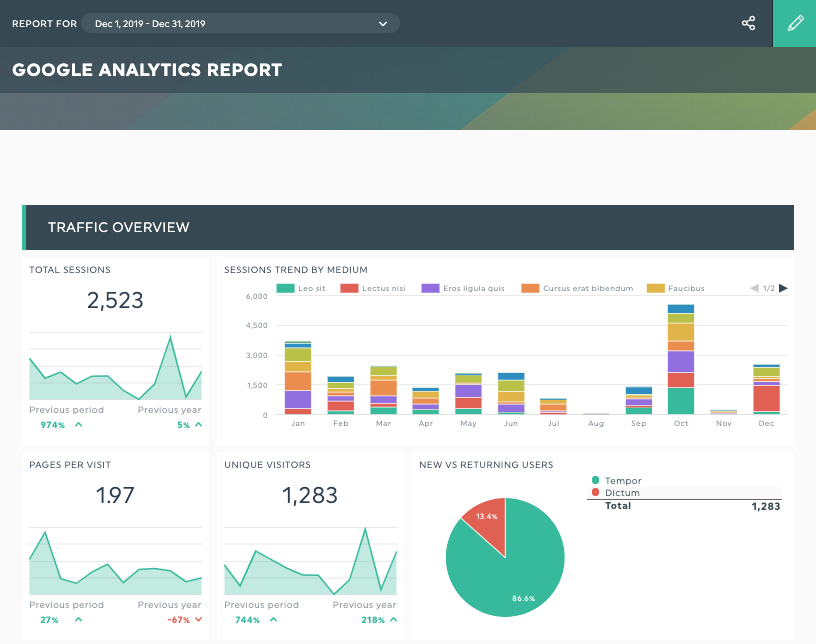 On top of that, we automate the process, so you don't have to waste any of your time copy-pasting data ever again!
Not only can you get Google Analytics reports, but you can also create e-commerce, social media, web analytics, and PPC reports in seconds.
With tools like Google Data Studio or Google Sheets, you need to pay extra for add-ins like Supermetrics to get all your digital marketing platforms automatically in your report, whereas with DashThis, everything is included and at the same place! You can even track every single platform you use in one report! You can connect Adwords, Google Analytics, Google Search Console, Facebook, Twitter, and many more in your dashboard in just minutes.
With our Google Analytics report template you can track all your KPIs, directly from the Google Analytics API, like bounce rate, landing page performance, pageviews, traffic sources, and much more, in seconds! So why waste time creating it all from scratch in an excel spreadsheet?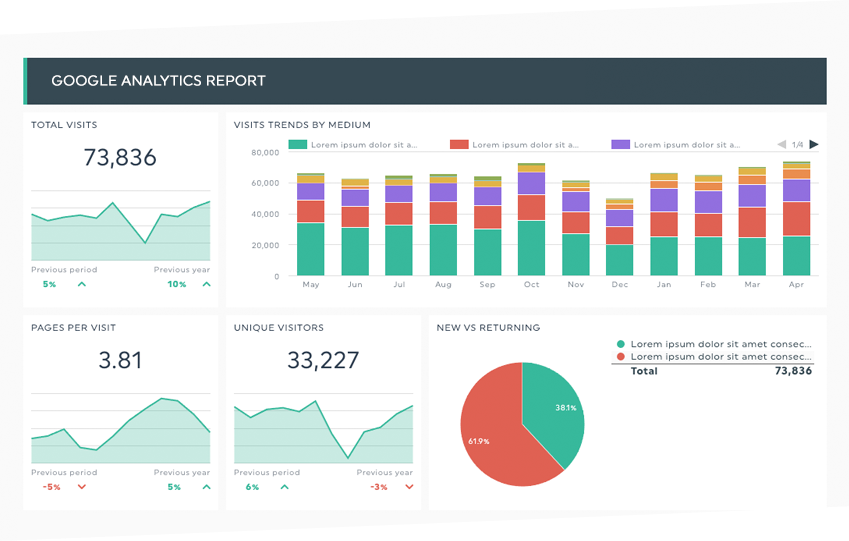 Create reports and dashboards in seconds with an excellent analytics tool like DashThis. You can then have your new report ready every month with updated data. Just add your comments and voilà!
Rinse and repeat.