Converting customers across all touchpoints is essential to any eCommerce business strategy. Today, it is more essential than ever in a world where customers face unlimited choices and businesses are up against the increasing competition. But, spreading your marketing campaign across social media, Shopify, email marketing, and more, it can be challenging to get a real-time view of what is working, what isn't working, and what elements of the omnichannel customer experience need improvement.
Yet, for a business to succeed, it needs to have this knowledge.
Omnichannel reporting is the essential solution to this problem. It allows business owners to leverage automation to optimize their campaign performance and customer experience without spending countless hours reviewing dozens of singular KPIs and reports that only tell part of the story.
In this article, we will go over everything there is to know about omnichannel reporting, including:
What is omnichannel reporting?
In sales and marketing, omnichannel refers to the numerous aspects of the customer experience, including online, in-store, or third-party purchasing. For example, this can cover their subscriptions or customer support experience in person versus online through a call center. And, due to the pandemic, we all learned how essential a smooth online experience has become in any cross-channel strategy.
So, omnichannel reporting is the process of pulling all the data from different channels, like social media KPIs, into one singular omnichannel database, where you can understand your omnichannel capabilities, product lifecycle, and more.
Why omnichannel reporting is important
Most individual platforms today provide their analytics dashboard—think Instagram, Google, or Shopify analytics pages where you can get a nuanced view of customer engagement across each digital channel. But how are you supposed to understand them as a whole package? That's where omnichannel reports come in. It provides:
A better understanding of progress: By seeing your data all in one place, with your profitability reconciled against customer service ratings, subscriber counts, or messaging trends, you gain a bird's eye view of how your business is succeeding and what needs work.
Consistency:

By locating the gaps—for example, maybe customers have a much better experience in person because the SMS wait times for customer support tend to be hours long—you can make your customer experience more consistent across channels, allowing the customer journey to be more predictable.
Improved collaboration between teams or departments: When you see what works well, you can implement and test similar strategies in other departments to ensure your customer needs are met across the board. Configure notifications to be identical across channels if they work, or consider routing elements of the customer journey to the most successful parts of your omnichannel offerings.
How to create an omnichannel report: Best practices
Set the bases
Because incorporating data from numerous channels means there will be information overload, focusing on the KPIs and metrics most relevant to your business goals is essential. Therefore, when you are setting up your report, take two necessary steps:
Gather your data sources:

Make a comprehensive list of all our channels and data sources to ensure you wind up with all the relevant information in one place. Collect your Instagram, Facebook, TikTok, SalesForce (or other CRM), Shopify, Email Marketing data, and more to ensure you have the necessary context to create a thorough report.
Find tools that fit your needs
So many data reporting tools on the market today are overly complex and require programming to make them effective. For example, BI tools can be overwhelming to work with and don't necessarily connect to all the data sources you may be looking for. When finding a tool that fits your needs, focus on the following criteria:
User-friendly: Make sure that the platform or program allows you to quickly and seamlessly input new information, modify your parameters, and work with all the tools and features available.
Visual: Part of what is so helpful about Omni-reporting is the ability to see clear charts that genuinely reveal the story behind the numbers. Don't get stuck staring into a spreadsheet.
Create a clear and concise report that you can share with your team or clients
Once you have set up the tools you need, you can start making visually-appealing reports that allow you to communicate ideas big and small across your business and stakeholders. With charts that provide a comprehensive understanding of your omnichannel platforms, you will have all the data in one place, making it seamless to present and communicate your business strategy.
Connect all your data sources into one awesome, omnichannel report with DashThis
Working with DashThis, creating omnichannel reports is simple. We offer templates for various businesses, industries, social media accounts, and KPI goals. For example:
We have non-profit, marketing, healthcare, or franchise industry-focused reports that organize the essential metrics for those business types, helping you deduce your numbers and tell the story.
We also offer templates based on various reporting needs, whether eCommerce, PPC & SEM, or Marketing.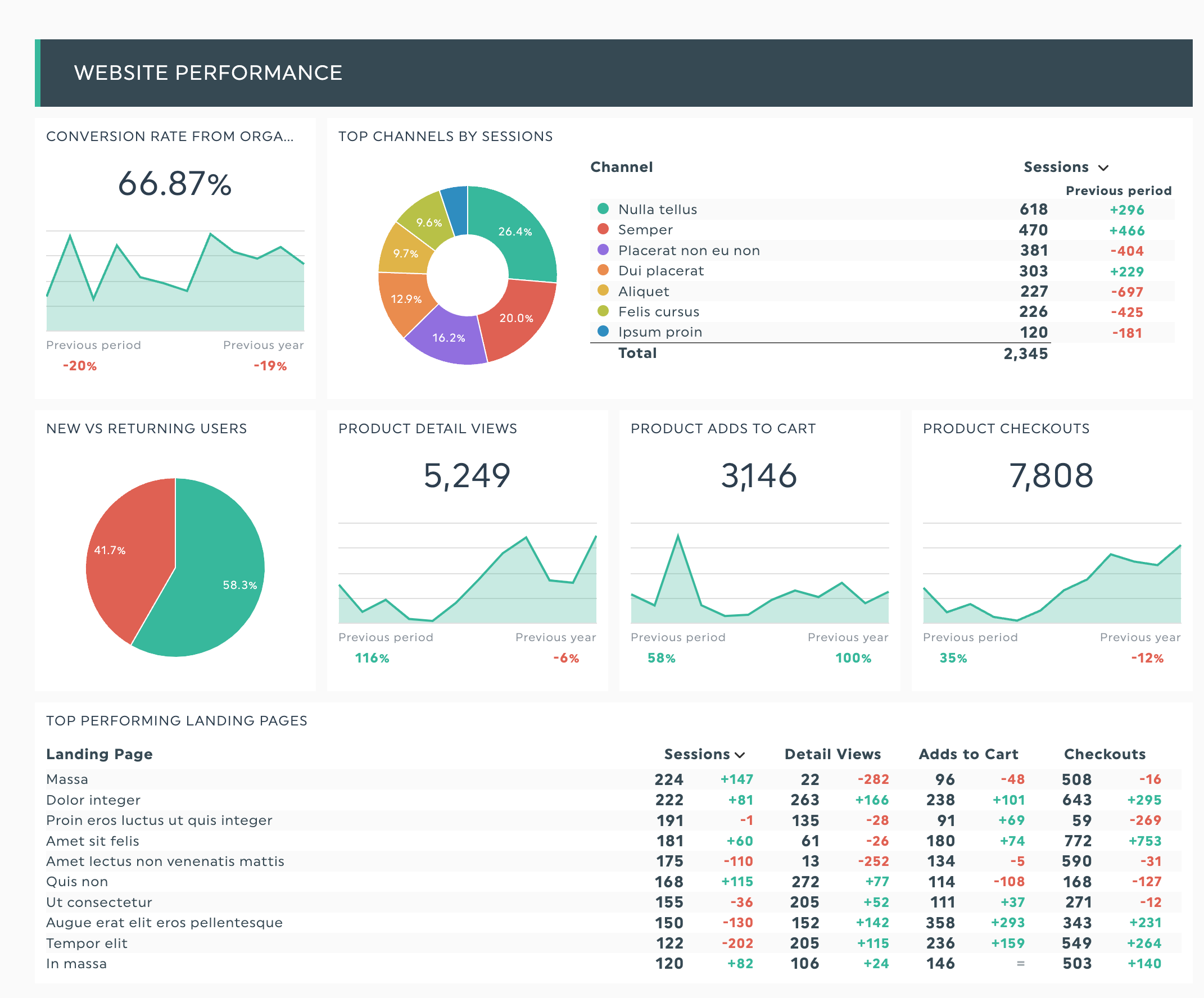 With DashThis, it's easy to set up a report using three easy steps. First, our software connects to all of your marketing tools—with over 30 integrations, including Google Analytics, Facebook Ads, LinkedIn, YouTube, and more—you are sure to find the data sources used by your business.
After connecting your data:
Select your metrics from DashThis' preset widgets, such as Conversion Rates, Top Channels, Order Count, Total Advertising Cost, and more. Customize these widgets to fit your SMART goals and business strategy focus.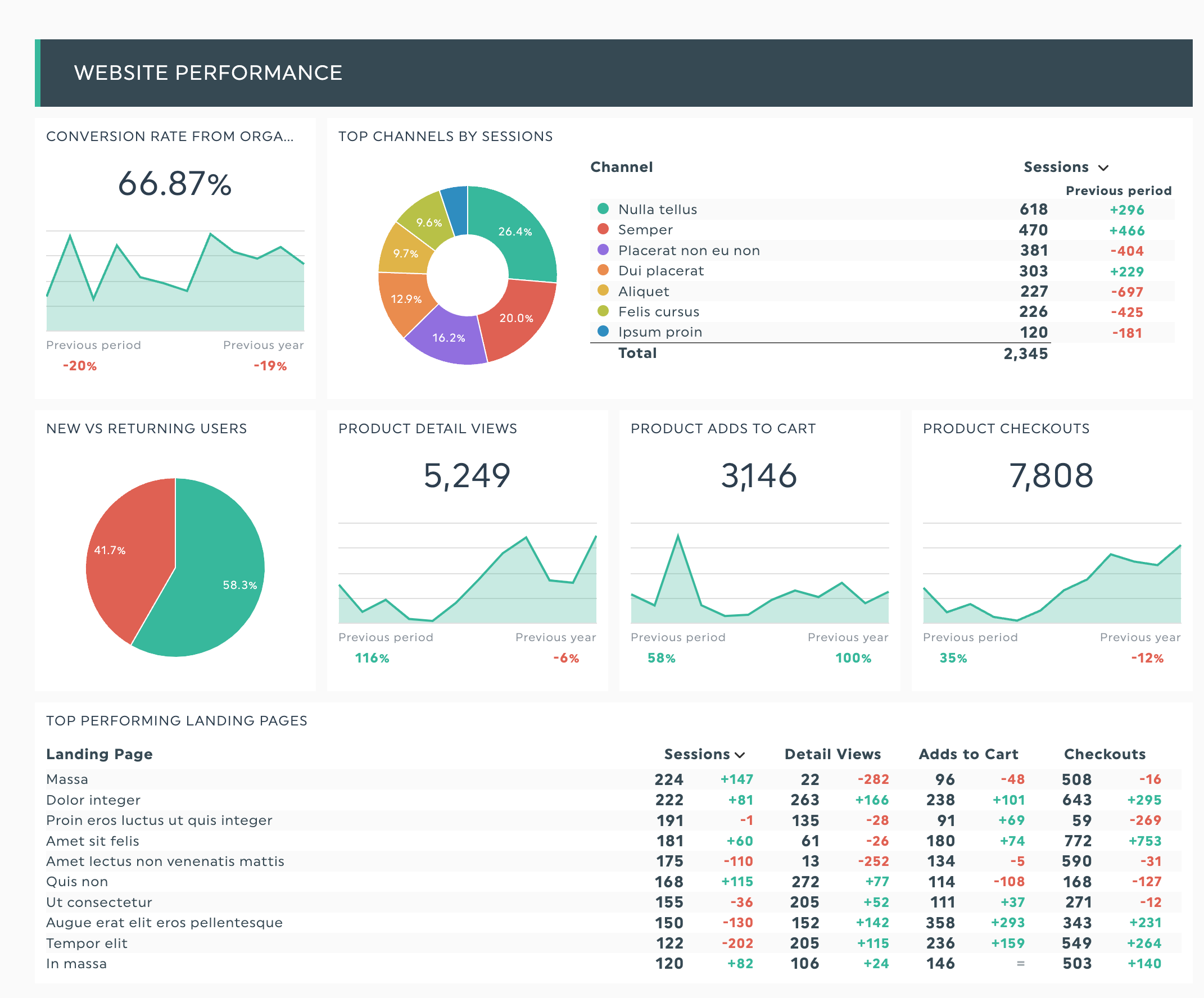 Or, if you see all the features you need in one of our pre-made templates, use that format to simply plug in your data and share it with your teams and stakeholders.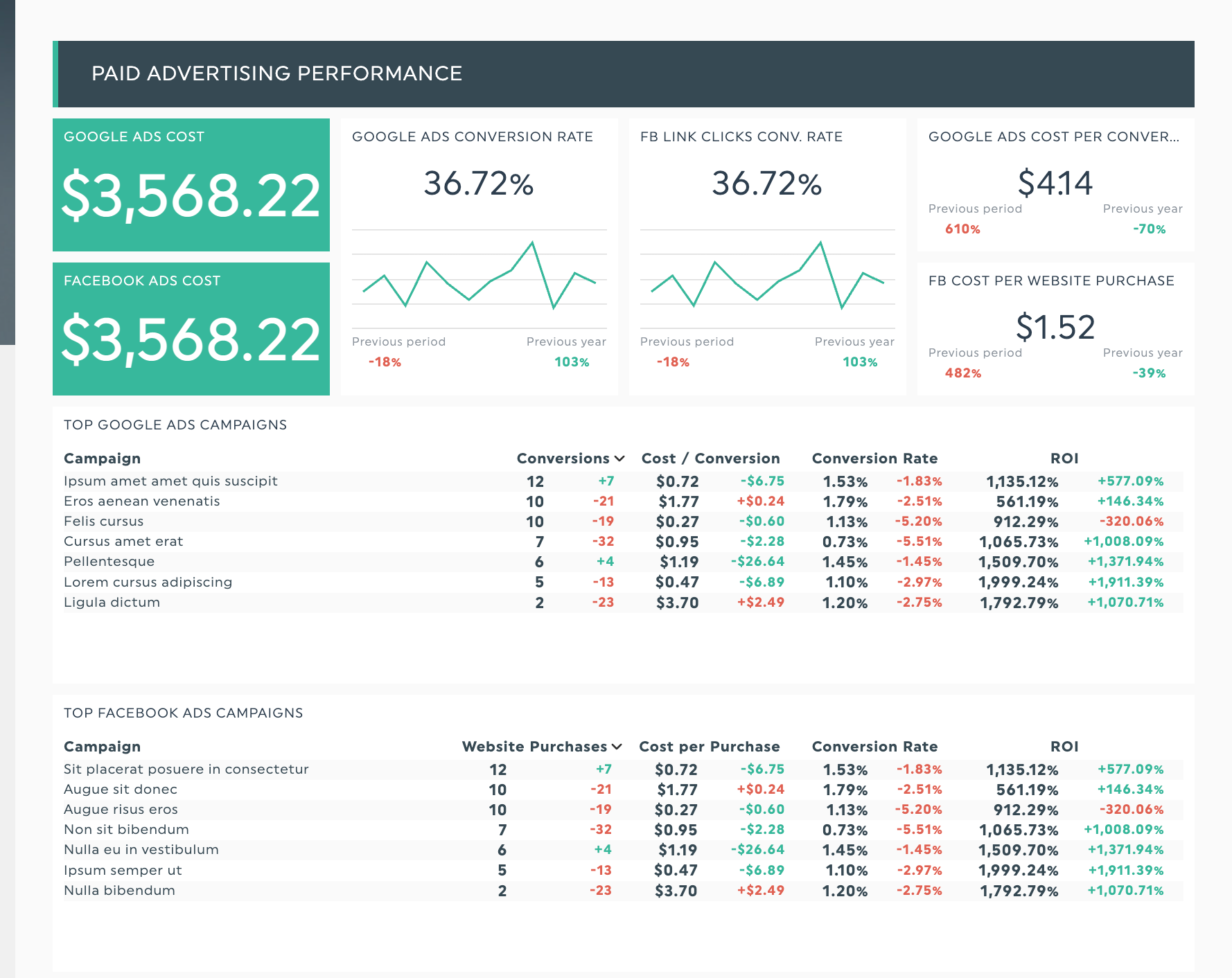 Sign up for your free 15-day trial of DashThis today!