First of all...
There's a fast and easy way to create a monthly marketing report already filled with all the most important KPIs depending on your marketing strategy, you can use a preset report template!
Here's an example: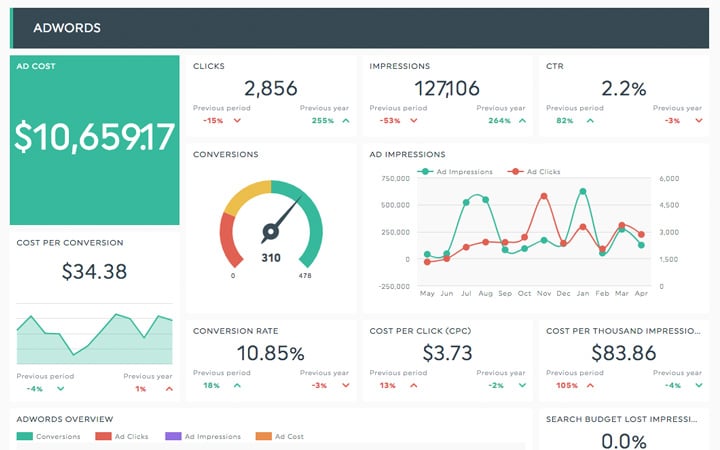 You can easily plug all your digital marketing into DashThis and choose among our dozens of report templates for PPC, SEO, Social media, multi-channel marketing, and much more! Here's how: 
1- Start your DashThis 15-days free trial.
2- Plug your marketing platforms. (Facebook, Google Ads, Google Analytics, SEMrush, any tool you use!)
3- Choose your preferred report template.
And you're done! Your automated report will fetch new data and be updated every single day! Even better, you can schedule automated email dispatches so that your reports will be sent to your boss or clients every single month! 
And of course, you'll be able to customize your report by adding or modifying it as you please with any KPIs you want to track. 
And talking about that, here's more detail about what your monthly report is, what it should look like and include, and why it might be the perfect type of report for your needs:
What is a monthly marketing report?
A monthly marketing report is a document used by marketers and agencies to showcase the results of their marketing strategies and campaigns to their clients. Monthly marketing reports can also be used as a way to communicate with clients on a regular basis, by adding comments, notes, or following up with a phone call or video conference.
Sharing marketing reports on a monthly basis with your clients can help them understand the work you've done and prove your worth through clear and concise data.
It can seem like an overwhelming task to create a monthly marketing report, but it doesn't have to be that way. I personally enjoy setting up new dashboards even though I have literally created hundreds over the years.
While it can take a little time to do it right, the amount of time that you will save each month can be tremendous. It is also rewarding to see people react to the dashboard when it's created, has all the metrics auto-updating, and is visually appealing. I will warn you now that once you create one, you will be asked to create others!
I have used many monthly report software platforms over the years and one thing always remains the same. The data you want to track is what really matters and if you include the right data points, your dashboards will save you time and will allow you to monitor campaign performance at a glance. As an added bonus, you will look like a rock star to anyone who sees them.
Monthly Marketing Reports
vs.

Quarterly Marketing Reports

 

Successful marketers are performance driven and understand the importance of monitoring performance to meet or exceed pre-determined success metrics and key performance indicators (KPIs).

 

While the people managing the various marketing initiatives will need to be monitoring trends on a daily or weekly basis, you will always want to share performance reports with your team at least monthly. This can include your internal marketing team, sales team, and management team, as well as external partners that could benefit from this information (i.e. agency partners, consultants, etc.).

 

The senior leadership team might prefer a quarterly report that focuses on the key takeaways, what has worked, what hasn't worked, and recommended next steps for the upcoming quarter. This executive summary should be set up as a separate report and should be formatted to be very visual. It should focus on highlights such as return on investment, branding and awareness, and other core objectives. They will be less likely to want to see all of the specifics of your monthly report such as bounce rate, Clickthrough Rate (CTR), etc.

 

Of course, you should call out any meaningful trends in the key takeaways section at the bottom of your report. You just don't need to include a widget for every individual metric in the executive summary reports.

 

There will be cases when it makes sense to create annual report templates or campaign reports with custom start and end dates. You will need to determine what frequency is best in each instance. When in doubt, check in with the decision-makers on your team to get clarity.

 
Creating Your Monthly Marketing Report Template
1. Make Use Of Existing Templates
First, find out if there are existing marketing department report templates that have been used in the past. You can always use this as a starting point and build from there. This will ensure that you are including all of the most important metrics and KPIs for your business and will still allow you to customize and expand the report to take it to the next level. DashThis has a lot of great templates if you need something to get you started. If you decide to customize your dashboard, you can set it as a template for future use.
2. Start With Your Report Headers
This may seem basic, but I swear by it. I organize the sections of metrics that I need to add to a new report by creating the headers. I use the static header widget in DashThis and separate out anything that is relevant to my dashboard. Marketing channels could include Email Marketing Performance, Organic Search (SEO) Performance, Paid Search (PPC) Performance (i.e. AdWords), Display / Remarketing Performance, Inbound / Content Marketing, Social Media Marketing, Public Relations, Tradeshow, etc.
The headers will let you see a broken down view of what marketing efforts you should add to your report and will allow you to get to the bottom line of your performance metrics by initiative.
3. Remember The Importance Of Including Performance Trends
Remember the importance of month over month and year over year performance trends (or quarter over quarter for quarterly dashboards). DashThis has periodic dashboards and several widgets that will allow you to showcase this information, and have it auto-update on whatever interval you have it set up. This will allow you to save time putting the reports together. You can take that time savings and use it to analyze the data and trends in order to come up with recommendations to move the business forward.
If you work in an agency, this is one way to differentiate yourself from the competition. Unfortunately, too many agencies throw the numbers out and don't really tell a story with the data. DashThis has helped me to tell that story without needing to spend a lot of time putting the numbers together to see the trends.
If you work for a brand, your team will probably not understand all of the individual metrics. While you can certainly educate your team and walk through this data, they will ultimately want the same thing. They want to know what it all means, how the campaigns have performed to goals, if they are improving or declining, how you compare against industry benchmarks, and what should be done differently to further improve results.
4. Pre-Define Primary and Secondary KPIs
Your most important metrics are those that will report on your key performance indicators (KPIs). These will vary by report and by audience. If you aren't sure what the core KPIs should be, you need to ask. If there is no one to ask, you need to recommend KPIs based on your client or company objectives and business goals, and get agreement on these from the onset of a campaign.
If your campaigns are running and you don't have KPIs defined, there is no time like the present to have this conversation. Another important data metric is conversion rate. This will allow you to easily see which campaigns are converting at the highest rates.
Not only will these metrics determine success, but they will give you the building blocks of your monthly report.
5. Common Marketing Activities
While most dashboards will vary quite a bit, there are some typical marketing data metrics that will likely find their way into your dashboards.
One example is digital marketing. This can include landing page and website performance from Google Analytics, e-commerce and customer acquisition, company blogs, social media like Facebook and LinkedIn, as well as information from offline sources.
DashThis has API connections in place for most common initiatives in your marketing strategy, but in cases where you need to pull in other information, there is a CSV file import option that can be automated via e-mail.
6. Include Visual Examples
I highly recommend including visual examples where applicable. If you are pulling in reporting for paid search, social media, display and/or video campaigns, include a comments widget and upload examples of the ads. Don't assume that everyone knows what ads are running.
7. Add Notes To Explain Any Large Swings
If there are significant changes in metrics from period to period (positive or negative), it is always a good idea to add notes to tell the story. This will make it easier for you when you reference a prior report or when you are walking someone through the numbers. It is also good for usability purposes to reduce the number of questions that will come up after you deliver a report.
More importantly, if you don't dig into the numbers to see why the change happened, how will you be able to do your job effectively? If the change was positive you will want to modify your campaigns to continue seeing that positive trend. If something didn't work out the way you had hoped, this is your chance to go in and correct it.
8. Include A Wrap-Up
The top of the report should include summary data for the primary and secondary awareness and performance goals.
The bottom of the report should include a comments box (this is a static widget available in the DashThis interface) to clearly list wins, testing performed along with results, key takeaways and the plan for the coming month or quarter.
I cannot think of a reason where you would not want to review your marketing monthly. DashThis monthly marketing software will allow you to streamline dashboard creation and wow any customer or team who is used to analyzing reports using Excel. You can even use preset marketing report templates!