While Google Analytics is a powerful tool, it doesn't give us a complete view of our marketing campaigns. 
Fortunately, URL tracking is here to save the day. 
What is URL Tracking?
URL tracking is the process of adding identifier(s) to a URL so that you can: 
Locate your best-performing marketing channels, and more importantly, 

Drill down to the specific content that's responsible for the referral traffic or sales
Sure, you can use other analytic tools to track these data. 
But here's the thing: They're often inaccurate. You can't monitor traffic from users on computers that block cookies or JavaScript! 
URL generators are more useful in this case, as they track the exact metrics for all channels and content individually.

Pro Tip: Add these metrics in an automated report—like the small business dashboard shown below—to visually communicate the results to clients.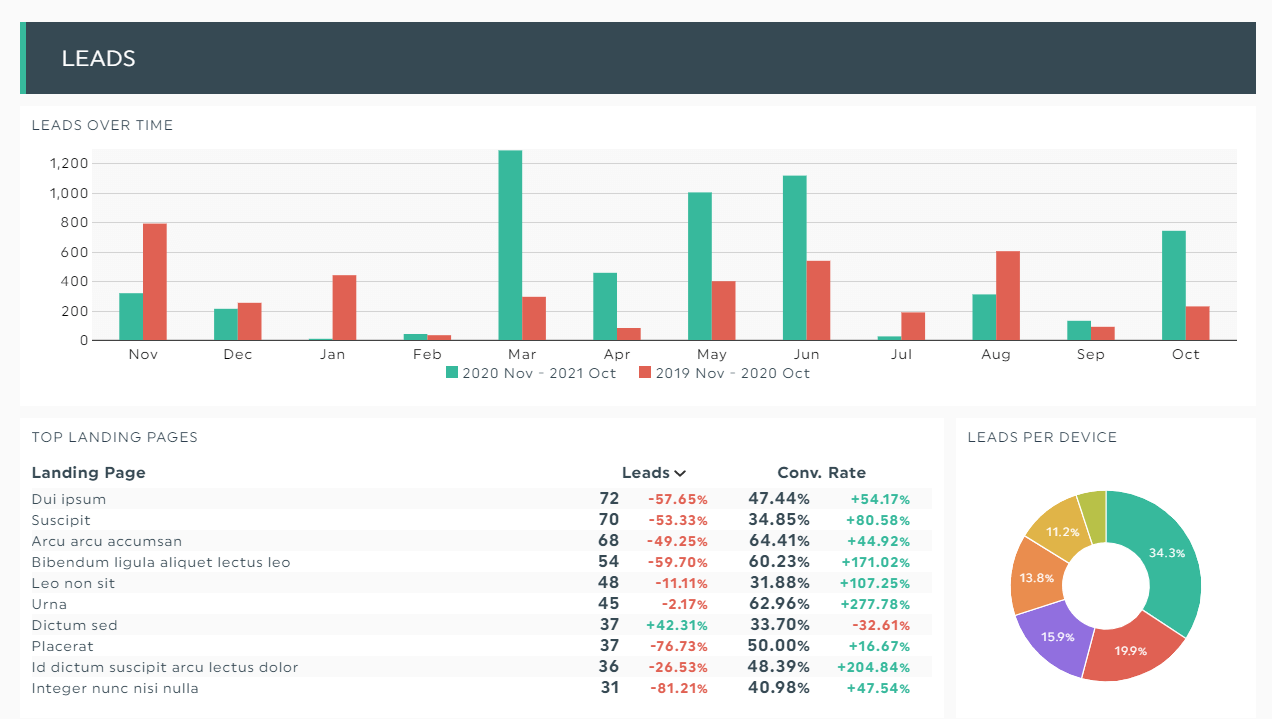 Track your URL links on DashThis with your own data!
Show clients which specific page(s) brought the highest number of leads and conversion rate at a single glance 
Here's an example of an URL tracking link: 
https://www.example.com?utm_source=google&utm_medium=banner&utm_campaign=black_friday_sale
Notice the words we bolded above? They're called parameters. 
Here's a breakdown of what these URL parameters mean:
Campaign medium (utm_medium)

: The marketing channel of your campaign (e.g., cpc, social)

Campaign source (utm_source)

: The individual source of your marketing channel (e.g., google, facebook)

Campaign name (utm_campaign)

: The name of your campaign (e.g., black_friday_sale, christmas_sale)

Campaign ID (utm_id)

: The specific ad campaign (e.g., blackfriday.a, blackfriday.b)

Campaign content (utm_content)

: The different links that point to the same final destination (e.g., logolink, textlink)

Campaign term (utm_term)

: The specific keywords for paid search (e.g., reporting+tool, automated+scheduling+tool)
You don't need to use all campaign parameters every time. Usually, these three UTM parameters will suffice: 
Campaign source

Campaign medium

Campaign name 
You also don't need to memorize the format of the campaign URL parameters, as your URL tracking tools will generate them for you.
Why Should You Track Your Links?
Ask any marketer running a large-scale marketing campaign across multiple channels, and they'll tell you it's crucial to know which content attracts the highest number of conversions.   
By adding a unique tracking code to each marketing activity, you can pinpoint your most effective campaign down to the precise message or topic.
For Marketers 
URL tracking helps marketers maximize conversions, as they can easily see which content took off and which fell flat.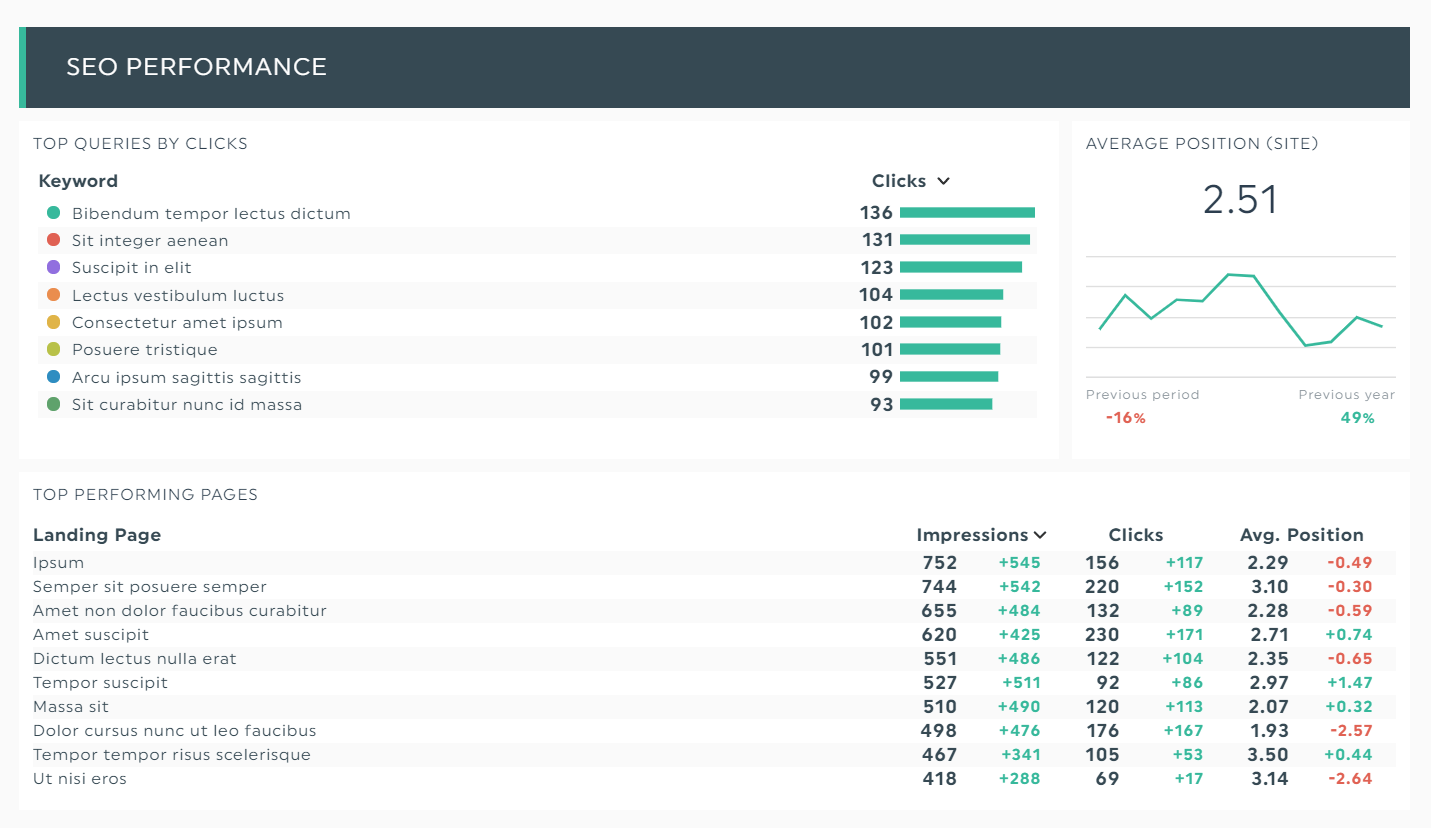 Grab this template with your own data!
Let's say you wrote a bunch of how-tos, product comparisons, and case studies for the company blog.  
How do you know which content drives the highest number of leads? It's simple, create unique URL links for these different posts' calls-to-action (CTAs) and track them accordingly.
The results will determine your next content strategy. 
For example, if most of your leads came from product comparisons and case studies, you might decide to pause on creating how-to guides and save your resources for the bottom of the funnel instead.
For Digital Marketing Agencies
It's a whole different ball game running marketing campaigns in digital marketing agencies. Often, you're tracking numerous campaigns for not one client but dozens at the same time.
Just picture it. 
You're driving traffic to a mom-and-pop store's landing page with PPC and banner ads, generating leads for a B2B company's LinkedIn page, and promoting sponsored ads on social media for an ecommerce client.
If you think this is a metrics mayhem waiting to happen, you're not alone. 
According to a survey from Demand Gen Report, 46% of marketers struggled with messy data.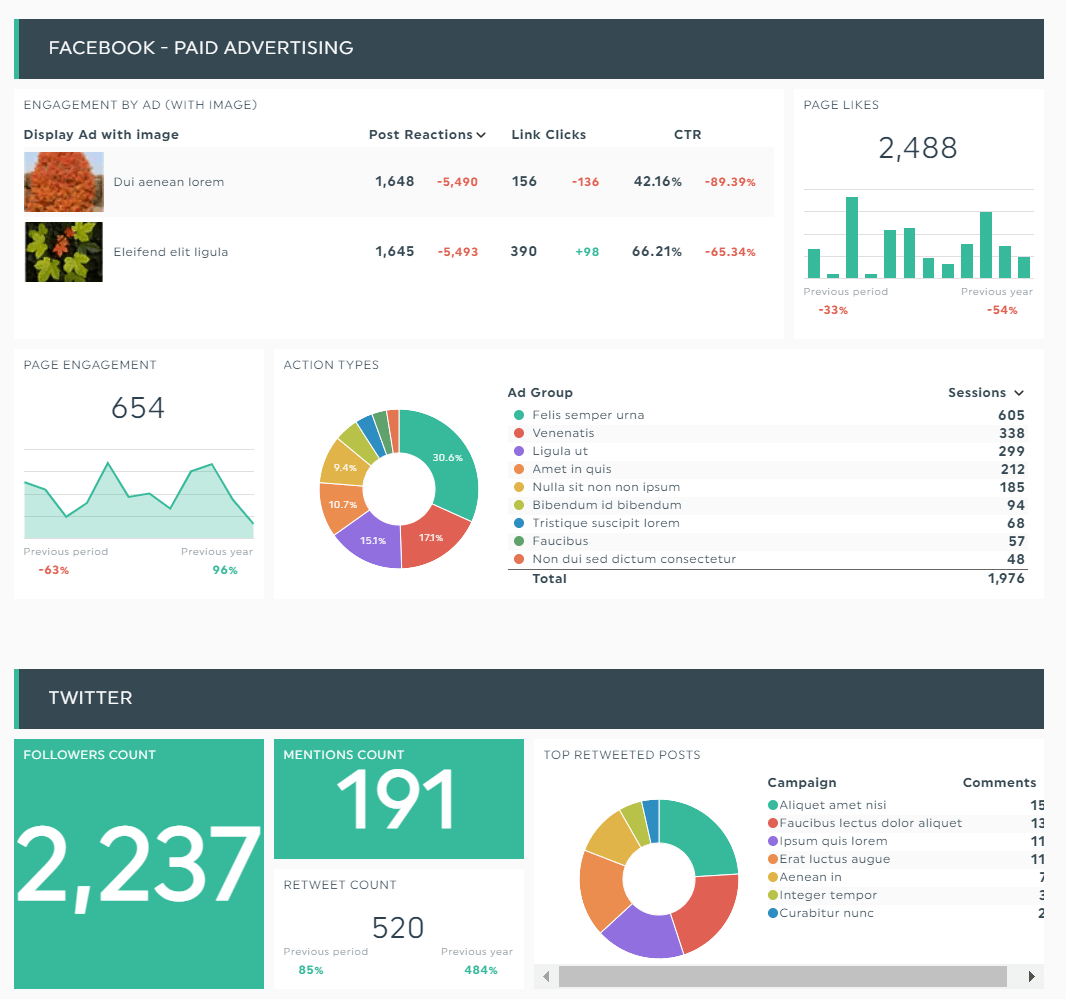 Grab this template with your own data!
Kick messy data in the butt with a visual-based report
URL tracking avoids metrics mayhem from happening as it's based on link redirects. In other words, it's 100% accurate.
These URL parameters make it easy to measure data, such as the conversion rate of each A/B testing ad or the click-through rate of each CTA button in multiple email marketing campaigns. 
For Affiliate Marketing
It's challenging to identify which affiliates drive the highest number of conversions to a website without URL tracking.
By providing each affiliate with a unique tracking URL, brands can identify their best sales-generating partners and choose which to work with in bigger promotional campaigns. 
So How Does URL Tracking Work?
In this section, we'll walk you through how to create and track a campaign URL link. 
First things first, grab the original link you want to track (e.g., https://www.example.com). 

Next, enter the link and campaign name, source, and medium in your URL tracking tool (note: we'll use the Google Analytics (GA) Campaign Builder in this walkthrough).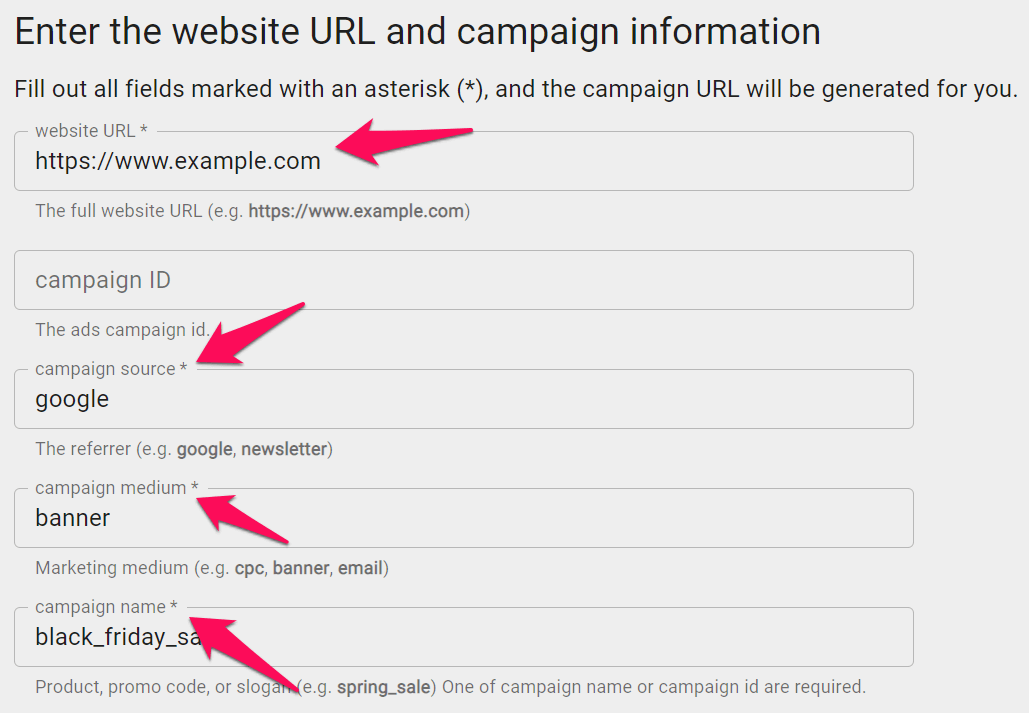 Scroll down to copy the generated URL(s) and share it in your channels. 
Each time a user clicks on the unique URL, the URL generator will record the activity. If you're using a dashboard reporting tool, you can automate the entire process.
Say you're using Google Analytics and ClickMeter with DashThis. You might connect these three tools to create a report.

Pick a template and choose your KPIs from a dropdown menu under Preset Widgets. DashThis will grab the relevant data accordingly.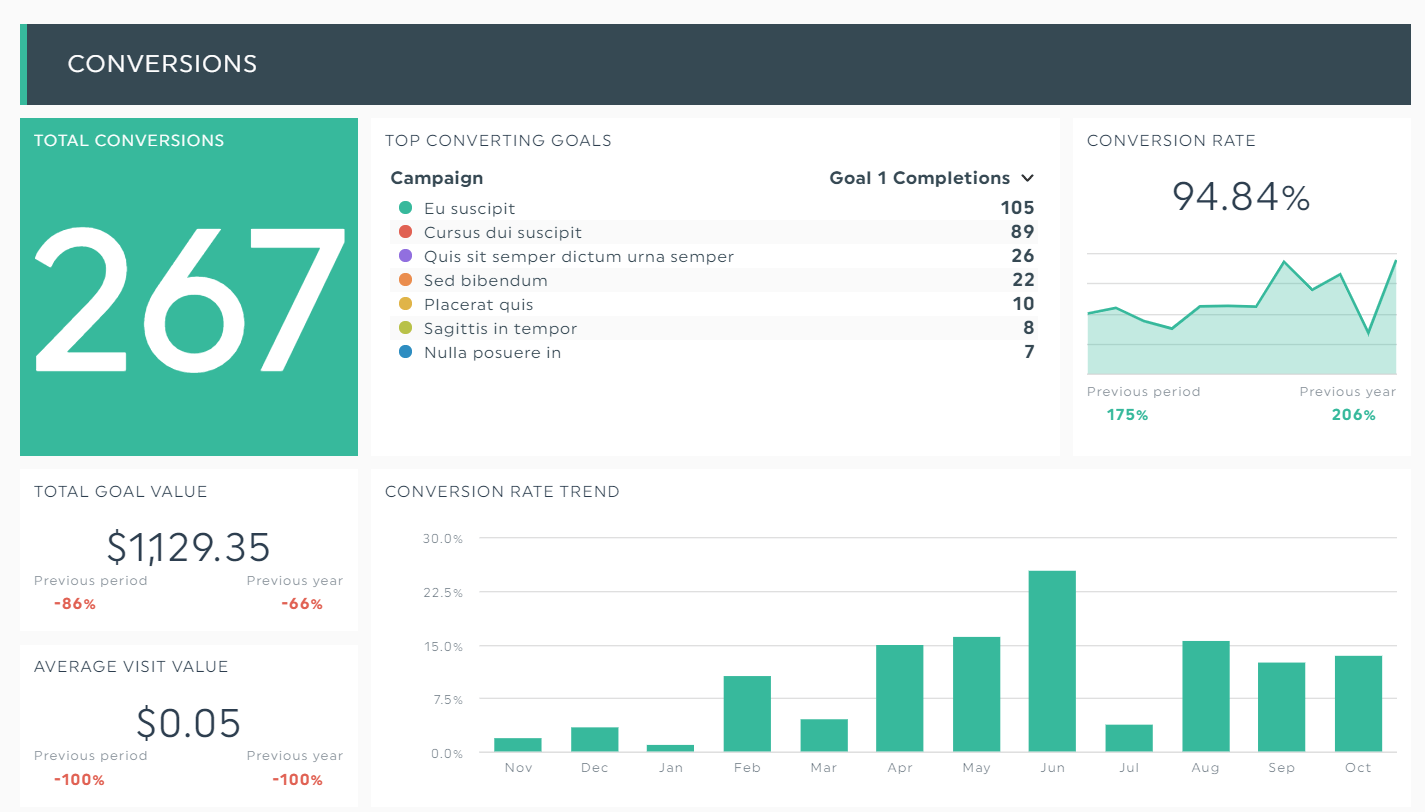 Grab this template with your own data!
Don't worry if you can't find the KPI(s) you're looking for. 
In some cases, you might need to set up your own under Custom Widgets. Fill in the metric, dimension, and the like, and you're good to go.
URL Tracking Tools
Phew, we're almost done. 
Before we conclude this guide, here are three popular URL tracking analytics tools you can't go wrong with.
The Google Analytics Campaign URL builder is ideal if you want to generate URLs to websites.
Note that you should use the Google Play URL Builder and the iOS Campaign Tracking URL Builder if you're advertising Android and iOS apps.
If you're looking for an advanced URL generator, look no further than ClickMeter. 
You can use it to redirect users to a destination of your choice (e.g., French users to a French website) and even fight click fraud activities.
Customize, brand, and track your links with Bit.ly. 
This URL link shortener is best used for social media and offline marketing channels (e.g., postcards, billboard ads, radio).
How to Track Your Links with DashThis
There's only so much Google Analytics can tell you. 
Fortunately, URL tracking is the missing piece to making sense of your marketing efforts individually. 
With these tracking links, you can finally identify your most profitable ad campaigns, determine which specific inbound or outbound strategy works better for your business, and craft an irresistible CTA that makes users click. 
Better yet, track your links with DashThis. Our automated marketing reporting tool helps you create reports in the blink of an eye.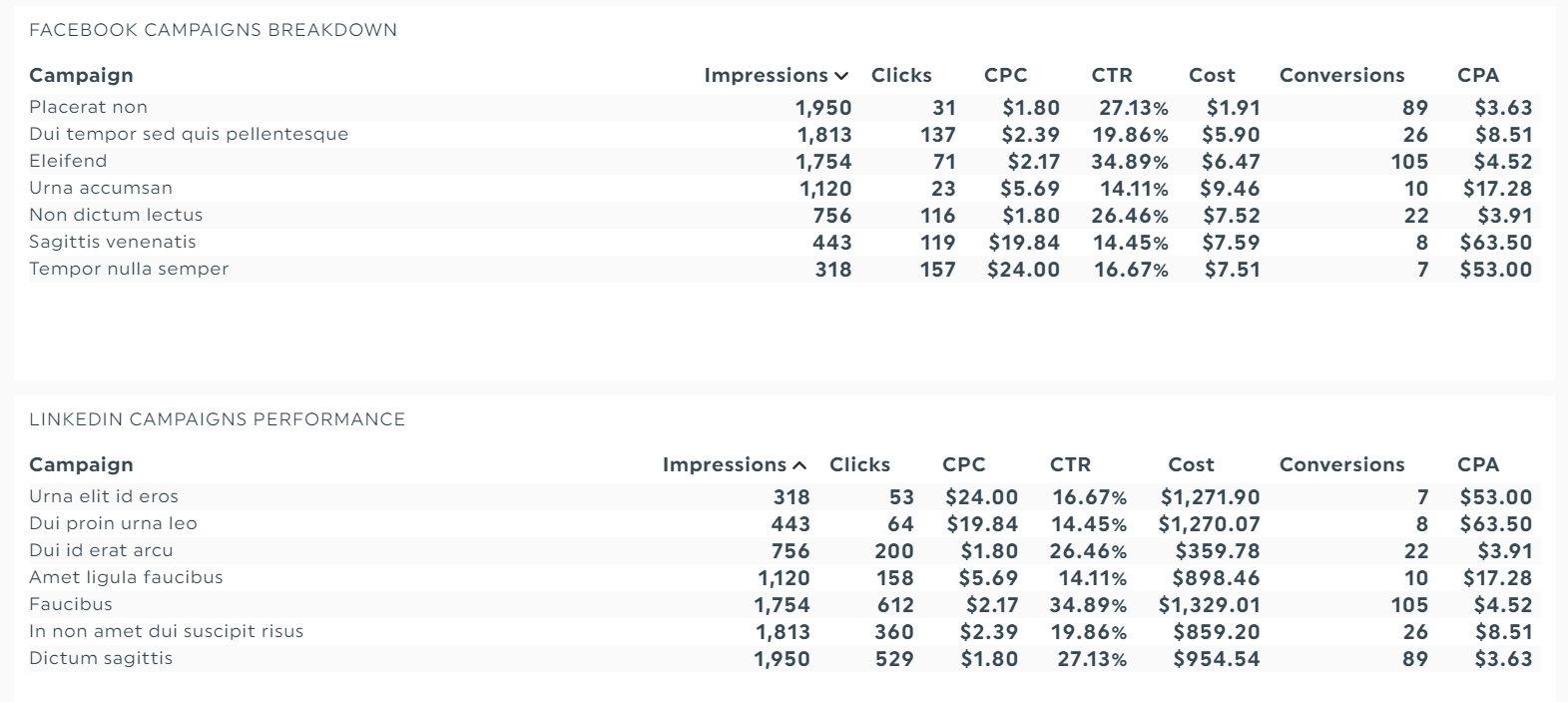 Grab this FREE advertising dashboard with your own data.
This post was updated on Nov 2021. The original article was written by Louisa McGrath, a content manager at ClickMeter. ClickMeter is a DashThis integration and partner, allowing marketers to monitor, compare and optimize all their links to increase conversions.