With over one billion active users, Instagram has become a popular marketing platform for businesses of all sizes and niches. Instagram rolls out more and more business-specific features that help brands interact with their target audiences, promote products, and sell in-app. 
Today, Instagram's presence is also critical for local businesses. Why? One study has found that 97% of people search for local businesses online and 86% of customers read online reviews before using a business.
Top Reasons to Use
Instagram for Local Business
Marketing
Attract local customers:

As one of the fastest-growing social media platforms, it's more likely your target audience is on Instagram

.

According to

Statista

, 65% of the global Instagram audience is aged between 18 and 34 years. With Instagram geotags, it's easy to reach nearby followers which means you can attract your local customers.

Conduct market research:

People share their thoughts on Instagram, so it has become a valuable source of candid consumer opinion. For example,

Bella&Brava

, a chain of pizza restaurants, monitored people who were talking about pizza and pizzerias on Instagram to understand the strongest market for its new restaurant.

Provide customer service:

Today, customers use social media platforms to get customer support and

43% of people

want brands to satisfy their service-related needs on social media. And when it comes to location-specific problems, your customers may also want to share their experiences on Instagram. To grow your local business, monitoring their inquiries is a must.
With the announcement of Instagram's local business profiles, there are even more opportunities to grow your local business on Instagram, so many experts have started using Instagram for local business marketing.
Jamie Pitman, Head of Content at BrightLocal, believes that using Instagram for local business marketing can give you a chance to promote your business, get customer reviews, and attract more visitors:
"Today, local businesses have even more opportunity to play on a level playing field with big brands. For example, it's a great idea to create an 'Instagram wall' at your premises, a wall that no self-respecting smartphone-wielder could avoid taking a selfie in front of.
This will inevitably lead to your local business being tagged in an Instagram post, and here's the clever part: anyone who opts into Google's notifications will get a request to upload a review after leaving the establishment. If they've just snapped a photo on-site, they're bound to add a photo to their review, which gets added to your Google My Business profile. Here at BrightLocal, we have just discovered that there's a very strong correlation between the number of photos a business has on Google My Business, and the numbers of searches they appear in, calls they receive, clicks to their website and more."
So, wouldn't it be great if you could promote your local business on Instagram? Here are six proven ways to promote your local business on the platform.
6 Proven Ways to Promote Your Local Business on Instagram
1. Make the Most Out of Your Bio
Today, there are over 25 million business profiles on Instagram, so brands should know how to grab their target audiences attention fast. Since your Instagram bio is a visit card that helps visitors make a great first impression of your brand, optimizing your bio is a must. 
First things first: If you use Instagram for business, switch to professional account as it gives access to a number of exclusive features and in-depth analytics. Now, take a look at an example from Paper&Cup with a well-written bio that helps visitors understand more about the brand and its location. What is more, there's a branded hashtag and a website link so that interested Instagrammers can find out more about the company:
Once Instagram local business profiles will be rolled out globally, it will be easy to add your business's category, address, opening hours, website, phone number, and the price range. Here's how Aroqa did it: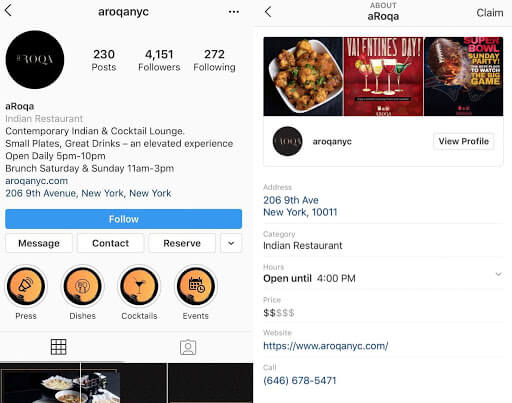 With a killer Instagram bio that tells more about your company, you can attract the right people who live or work close to your location. As a result, it will be easier to convert your Instagram followers into loyal customers who are interested in your products and services.
2. Optimize Content for Local Search
With a great number of Instagram users, it's important to make sure that you attract the right people who can visit your local business. For example, if you want to search for a location-based business via Instagram search, its algorithm will show content that corresponds to a specific area if that business has set up an address on Facebook or Instagram. Thus, potential customers will be more likely to discover your local business on the platform.
When you optimize Instagram content for local search, you help users discover your business if they are interested in a specific area. Moreover, tagging a location helps to generate 79% more engagement. Here's how to do it:
Add an address to your business profile

Create branded hashtags

Use location-based hashtags

Include geo locations
Here's a little case study of this strategy in action by Pizzanista. The brand uses geotag and its branded hashtag to attract the right Instagram audience who wants to find out more about the restaurant: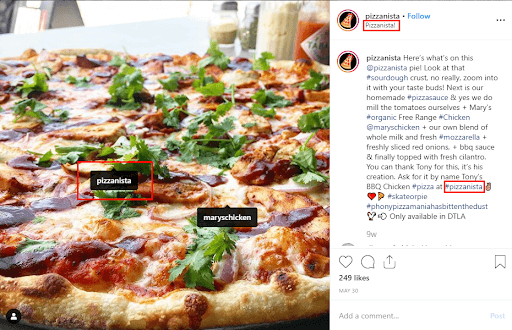 Optimizing content for local search is not just about posts; it's also about putting a location and hashtag in your Instagram Stories to reach a wider audience.
Creating a custom location for your business allows your visitors to add a geotag to posts when sharing images on Instagram. As a result, you can see who visits your location, interact with these people, and increase brand loyalty. This can also attract more local customers as people trust peers' recommendations more than branded ads.
3. Provide Social Proof with Fan-Made Content
Modern people are savvy: They don't want to waste time using mediocre services and products, so they do research before becoming customers. Local customers also seek out social proof that your local business is worth trying, so they pay close attention to user-generated content other customers create for your business.
For local businesses, this means that they need to encourage customers to create fan-made content and feature their images on your business profile. Not only will customers feel valued that their content is being featured by your business, but other followers will pay attention to your business. 
Any proof needed? As one of the largest coffee chains in the world, Starbucks gets a lot of fan-made content, and the company features the best images with the author's tag: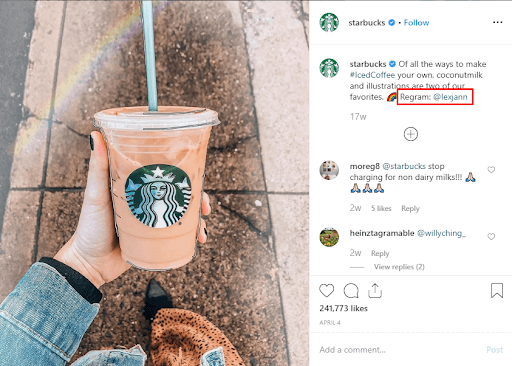 And here's how Nossa Familia Coffee reposts Instagram Stories with brand mentions to prove that the restaurant has loyal customers: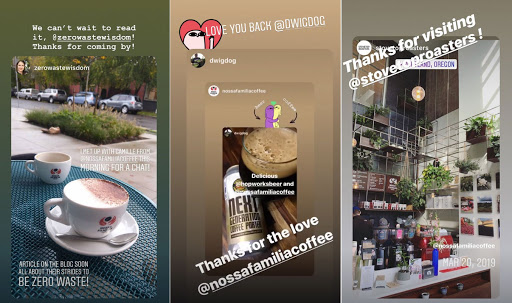 From offering discounts to running social media giveaways, there are many ways to make your customers post user-generated content on Instagram. But if you have trouble generating fan-made content from real customers, you can turn to local social media influencers to attract more people in your local community.
4. Spread the Word with the Help of Local Influencers
Since customers seek out peers' recommendations about products before giving them a try, it's no wonder that influencer marketing is getting more and more popular. Working with social media influencers who have established loyal followings is a proven way to promote your business in an authentic way. Instagram is used in 79% of all influencer campaigns as it's the best place to collaborate with influencers and achieve great business results, according to the BigCommerce report.
Local influencers help build a brand, increase brand awareness, and attract more local customers. For example, you can ask influencers to share their thoughts about your local business, and therefore it helps to enter an already-established community and spread the word about your company.
When Shake Shack wanted to open another location, the company invited artist Jing Wei to construct and hand paint the mural for the new Shake Shack restaurant on historical Thayer street. Shake Shack also published several video Instagram Stories where Jing shared her thoughts about the new location: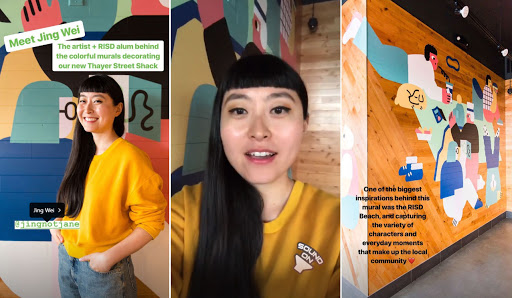 And here's how Jing Wei informed her following about the collaboration with Shake Shack: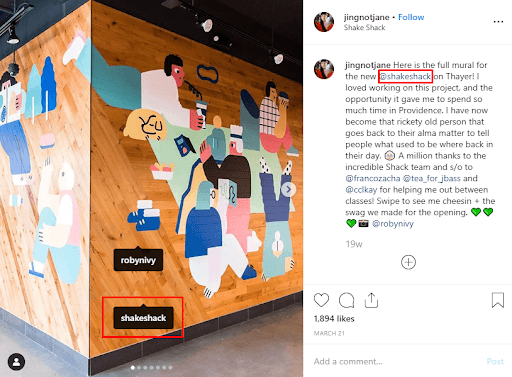 All in all, working with influencers is a great way to reach loyal local following and increase organic engagement which means more exposure and clients.
5. Increase Customer Loyalty
Here comes the ugly truth: Acquiring a new customer is 5x times more expensive than retaining an existing one, so there's no need to get math help to understand that taking care of your customers is a must. No matter what your business niche is, it's important to provide your customers with a positive shopping experience to make sure they will choose your company over other options on the market over and over again. In other words, customer loyalty matters.
If you want to increase customer loyalty, you need to put your clients first and show that you take care of them. Thus, it's important to listen to your followers. Moreover, it can help you collect customer feedback to better serve your customers, and therefore improve your business. Just take a look at an example from Verve Coffee:
You can also promote loyalty programs like Starbucks does it: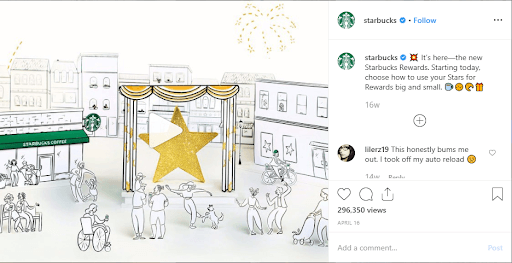 Or collaborate with local influencers to run giveaways and reward your loyal followers with good presents. For example, Dunkin' Donuts knows the power of gift certificates for businesses, so the company collaborates with local influencers to let the winners choose whatever product they want when visiting the coffee shop: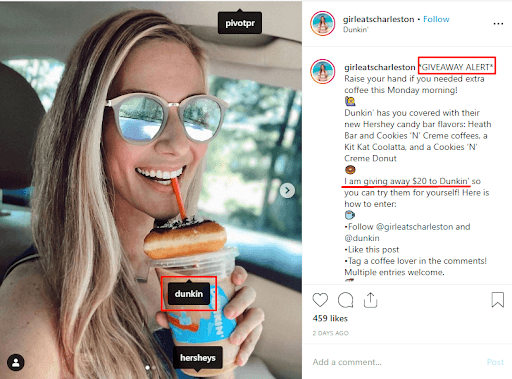 With a great variety of options on the market, local businesses should invest in customer loyalty to turn their one-time visitors into repeat customers.
6. Target your Audience with Ads
If you want to drive more local traffic fast, give Instagram ads a try. With several location targeting options, it's easy to run Instagram ads and attract local customers for brick-and-mortar businesses.
Case in point:
As the world's largest restaurant chain with a huge number of locations around the globe, McDonald's always seeks out new marketing channels. When McDonald's Malaysia wanted to raise awareness and increase sales for its ongoing McFlurry and McCafé campaigns, it created animated video ads in Stories to reach engaged millennials. Within just 2 months, the company reached 60% of the target audience and tripled in-store sales: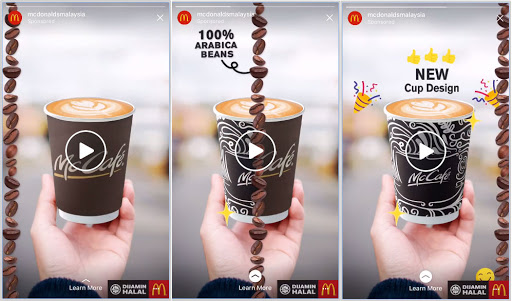 If you're about to launch your new ad campaign, make the most out of a relatively new "Store Visit" objective that helps to increase in-store visits and sales. Thus, it's better to use the Instagram ads manager to add relevant and detailed targeting.
In a Word
With a great variety of location-specific business features on Instagram, it's easy to target your local community and attract more customers. Today, local businesses can reach out to their target audience online which means they have a new marketing channel to promote their brick-and-mortar businesses. In other words, it's high time to use Instagram for local business marketing and get more in-store visits and sales, and it's no longer an option if you want to stay competitive on the market.