The checkout page is one of the most crucial landing pages on your website.
It's the final page that will determine the purchase of a product. If customers have a fast and reliable customer experience, then they will likely buy the product. Otherwise, even the most loyal customers will abandon their shopping carts.
In fact, Optinmonster reports that 76% of customers abandon their shopping carts. This means that around 3/4 of shoppers leave the site without finishing their own purchase.
Now, how can you reduce the rate of shopping cart abandonment? Here are a few tips that will help you create checkout pages that increase the chances of purchase.
Mistake #1: Not Offering Guest Checkout In Your Stores

There are a lot of perks for requiring customers to create an account before purchase.
You can get them in your lead generation funnel by sending emails, blog post links, reports, whitepapers, and other relevant marketing material. However, this can ruin the checkout process for first-time customers.
Invespcro found that 14% of users abandoned their cart because there was no guest checkout option. A similar study discovered that 22% of respondents abandoned their carts because they were asked to create a new user account.
It's annoying to create an account and verify it just to buy a product. The time and effort required to complete a sign-up form might prompt customers to abandon your site instead.
This is why it's important to offer a fast and easy guest checkout option like Urban Outfitters. In their guest checkout page, they only ask for the user's emails so they can send the receipt. However, they offer the option to sign-up for notifications, promos, and offers too.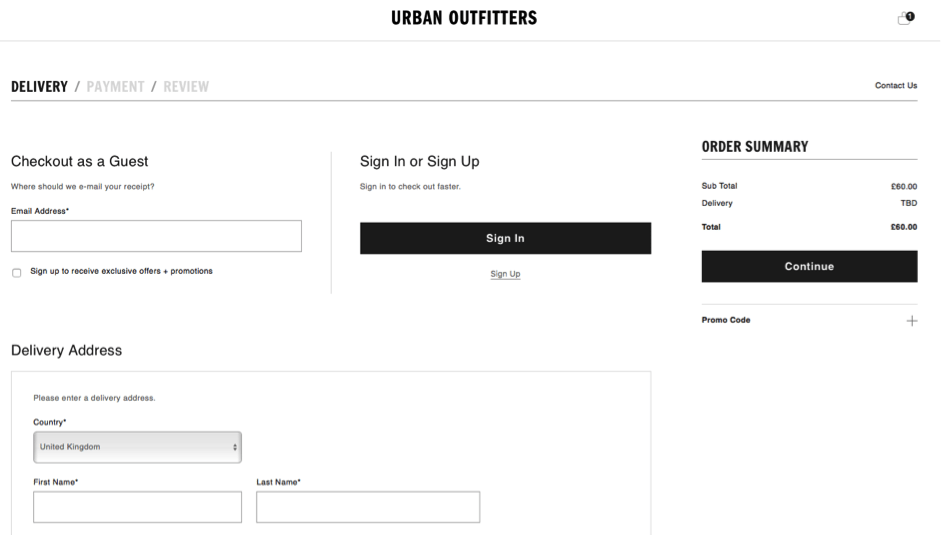 Mistake #2: Not Showing Shipping Costs & Other Fees

Every customer wants to know the accurate price of the goods that they'll pay for. This includes shipping costs and other fees.
Some ecommerce stores hide a part of the cost to entice customers to buy. While a cheap price tag can lead to a one-time purchase, these customers likely won't return a second time.
Customers prefer businesses that are upfront about the entire cost of the transaction. This is why you should show the shipping fee and sales tax. If the shipping is free, mention it at the order summary.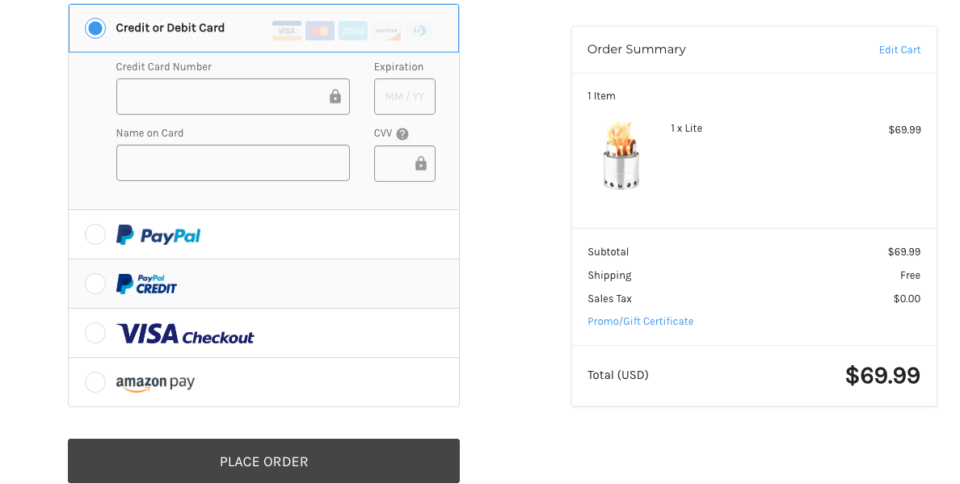 Image source
Mistake #3: Limited Payment Options

Limited payment options are a big roadblock in the checkout process.
Some ecommerce stores only allow credit cards or debit cards which could limit potential customers.
Some international customers might want to pay through Paypal, Stripe or Payoneer. Some don't want the purchase to contribute to their credit card bill. Meanwhile, others prefer services that let them pay online through their bank account.
There are a lot of payment options that you can integrate into your Shopify store. With more options, customers can easily choose their preferred payment method.

Image source
Mistake #4: Slow loading time

Slow loading times are a major pitfall in your checkout page.
KISSmetrics found that even a one-second page delay could lead to a loss of $2.5 million in revenue per year.
Customers are not patient. If they have to refresh a page, they'll likely click the back button instead. Additionally, slow websites can increase cart abandonment by 75%, and lead to a 50% drop in loyalty.
When the checkout page fails to load, customers are forced to add the same items on their cart again. This is a hassle that could take a lot of time.
As much as possible, don't give customers a hard time.
Mistake #5: Not Optimizing For Mobile

It doesn't take a genius to find out that you need to optimize for mobile.
Consumers spend 51% of their time on digital media using mobile devices.
Several studies have consistently confirmed that customers are likely to use a mobile to make a purchase, compared to desktop devices. This data shows that optimizing for mobile search should be a priority for online stores.
Mobile shoppers may leave a checkout page without an easily readable receipt or product details. Not being able to click the "Buy Now" button is another red flag that you should avoid.
In a report titled "Mobile's Hierarchy of Needs," comScore discussed the top five reasons behind the low mobile checkout conversion rates.


Image source
The graph shows five main reasons why users don't convert:
20.2% — security concerns
19.6% — can't browse multiple screens or compare
19.3% — difficulty navigating
18.6% — too difficult to input details.
19.6% — cannot see product details

Designing a website that's optimized and secure for mobile users certainly takes time and effort. However, it can help attract customers and increase conversions in the long-run.
Mistake #6: Not Monitoring Analytics

Monitor analytics in your checkout pages.
This will determine the percentage of customers that are abandoning their shopping cart during the checkout process. Understanding the data will help you improve the checkout experience and monitor loss in revenue due to abandoned shopping carts.
You can use Google Analytics which has a Checkout Behavior Analysis report.
This lets you view the success rate in every step of the checkout process. It visualizes the percentage of customers that abandon their shopping cart and the number of users that moved from one step to the next.
For example, you can discover the number of customers that canceled their transaction in the middle of the billing process or shipping confirmation.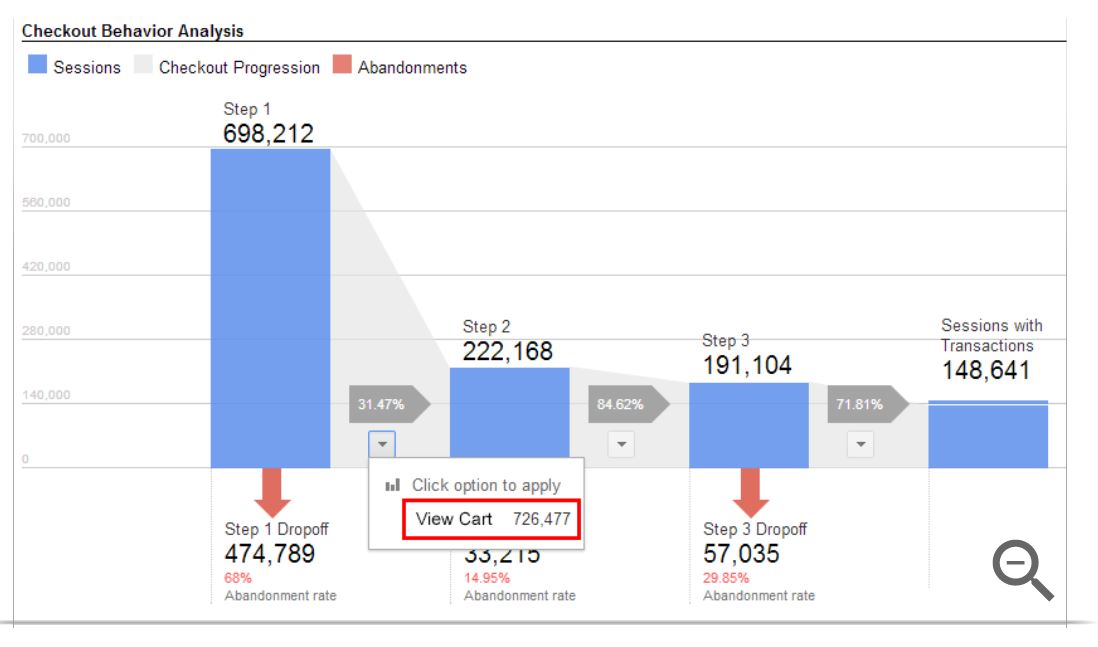 You can also determine the sessions with product views, add to cart, check-out, and transactions.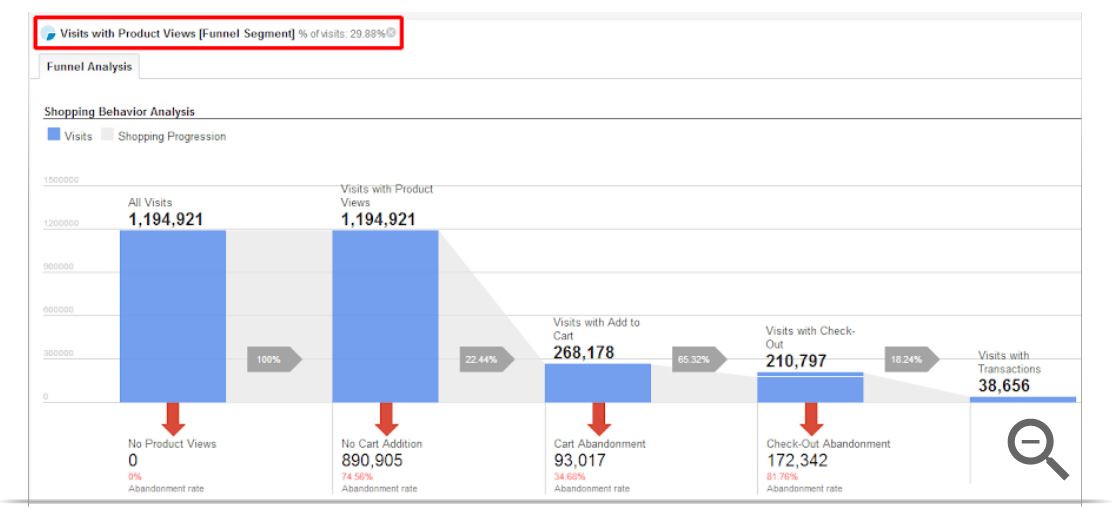 https://support.google.com/analytics/answer/6014848?hl=en
For example, the graph above lets users determines the abandonment rate at each stage of the checkout process. This information can be used to modify and improve the checkout page to increase the chances of a sale.
Mistake #7: Not Placing Trust Seals

There are a lot of online scams that aim to get consumers' credit card information and personal details.
There are also a lot of social media selling tools that promise a boost in sales, but how can customers assess the security of the transaction? The answer lies in trust seals.
A study found that 35% of individuals will abandon a site that does not have a security badge.
Google Trusted Score, TRUSTe, and Norton trust seals must be regularly placed on your checkout page. Customers rely on these seals to get a third-party verification on the businesses' authenticity.
Baymard found that the Norton is the most trusted seal for 37.1% of respondents. This is followed by Google Trusted Score and McAfee Secure. You should consider adding these recognizable seals to your page to boost trust.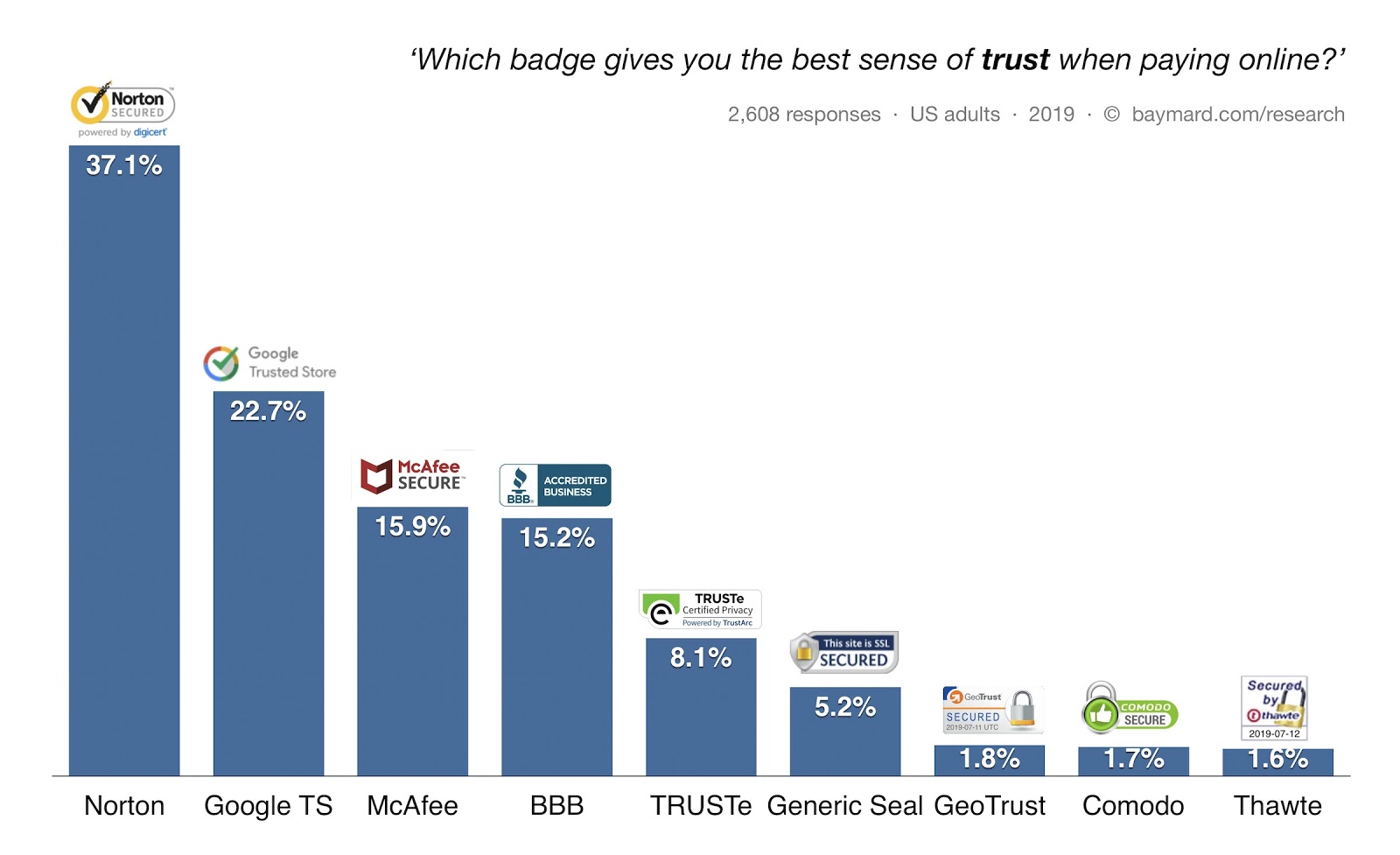 Another tip is to add logos of available payment options such as Mastercard, Visa, American Express. This ensures that the payment is verified by a credible third-party.

Mistake #8: Not Displaying A Progress Bar

First-time customers want to know where they are in the checkout process.
They want to review the payment before it is processed. They may also want to fill out the shipping address box to ensure the package will reach their homes.
A progress bar on the checkout page will boost the transparency about the steps in the process. You may even add a timer to show how long it takes to complete the checkout. This helps first-time customers confidently buy a product for the first time.
For example, the Firebox has a 5-step checkout process for guests. It includes providing an email address, home address, choosing delivery options, payment, and confirmation.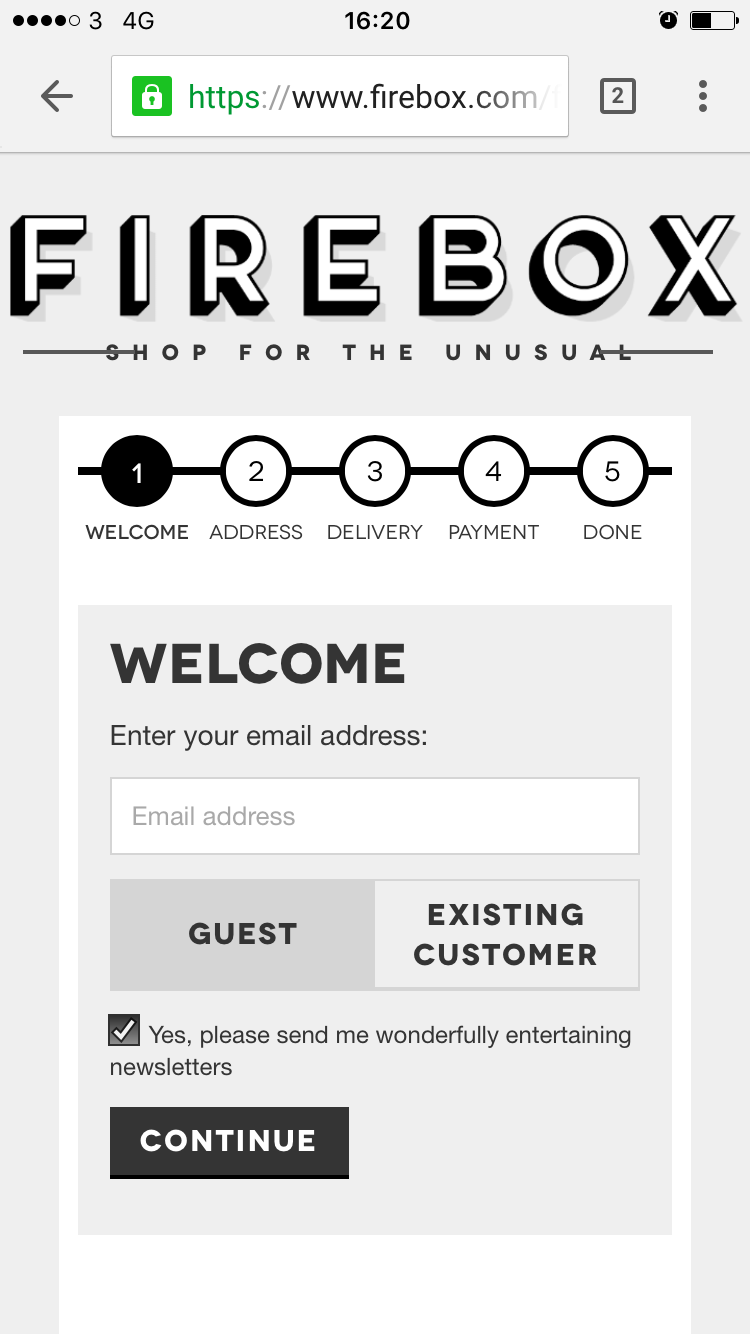 Mistake #9: Not Showing Discount Box

Marketers love to send discount codes to encourage brand advocates to purchase.
A small discount can provide the push needed to make more sales. However, ecommerce stores should make the discount box easily visible at the checkout page.
If customers can't immediately use their discount code, they may abandon the purchase. When a discount is used, customers must see its impact on the original bill.
Some ecommerce stores also have multiple steps in the checkout process. This isn't a problem, but don't place the discount box too late on the checkout process.
Here's an example of a visible discount box from J. Scott Campbell store: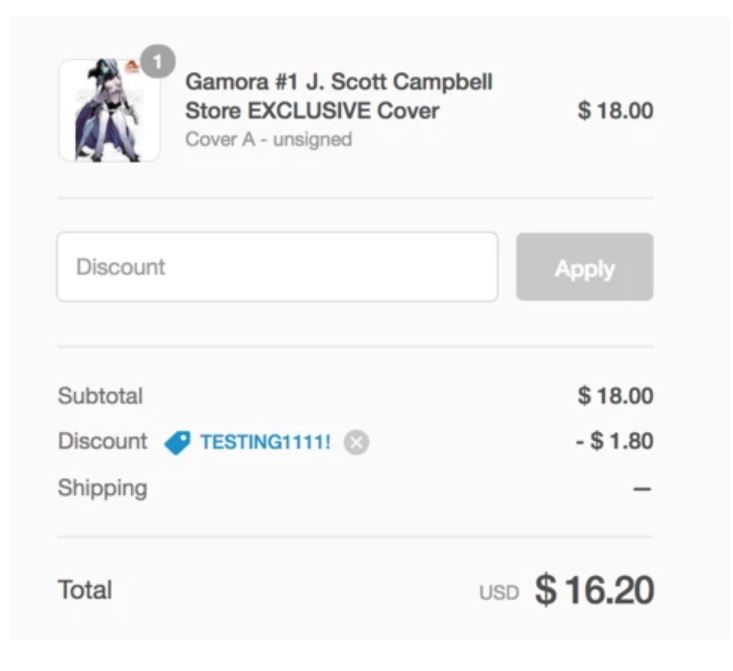 Avoid Mistakes & Boost Conversions

There are a lot of landing page best practices all over the web, but there are tips exclusive to checkout pages.
The ecommerce store must be optimized for mobile or you'll miss a lot of sales. Offer a guest checkout option so that first-time customers can easily make a purchase. After they've provided their email address, give them the option to receive newsletters and notifications.
Don't hide shipping costs and other related fees. Customers have the right to know the overall amount that they'll pay for the transaction.
Provide multiple payment options such as debit cards, Paypal or Payoneer. You also need to place trust seals and logos of credit cards so customers can verify the security of the transaction.
Checkout page components like the discount box and progress bar are important. A discount code and a progress bar will motivate more people to complete the transaction. This is especially true for first-time customers.
Improve your checkout process by monitoring the data through a checkout behavior analysis report. The numbers will help you determine the abandonment rate for every stage of the checkout process so you can improve the process.
How will you improve your checkout page? Have any tips for improving the chances of purchase? Let us know in the comments below.