Social media can help your business achieve amazing things. It can help you increase brand awareness, organic engagement, traffic, and more - but it's not always easy to get right.
I'm sure there isn't a single social media marketer who hasn't received disappointing results at some point in their careers. We all know the feeling: you work hard for weeks or even months on a piece of content, you spend money on ads, you copy the exact strategy a top brand used, and still, nothing. The bad news is that the social media space is only getting more competitive for businesses.
The good news is that you might be overthinking your social media strategy. It's easy to feel demoralised when you aren't hitting your monthly targets and you don't have a Nike-sized budget. However, there are several quick and easy strategies you can count on for measurable results.
I'm part of the team at Quuu, which provides hand-curated content suggestions for social media marketing and gets your own content shared by real people in your niche - we're all about those human-to-human connections! We've seen firsthand the things that do and don't work on social platforms, and it's not always the bigger, bolder strategies that have the greatest impact.
In this post, I'm going to share five reliable ways you can improve your organic engagement on social media. These are insider tricks that savvy marketers use, time and time again, as part of a sustainable, effective marketing strategy. If you're sick of hearing generic advice like 'create more video content', this one's for you!

1. Curate content
These days, it's really important to have an active presence on social media. Brand perception plays a big role in the buyer's journey - in fact, 78% of consumers agree that a brand's social media posts influence their purchasing decisions.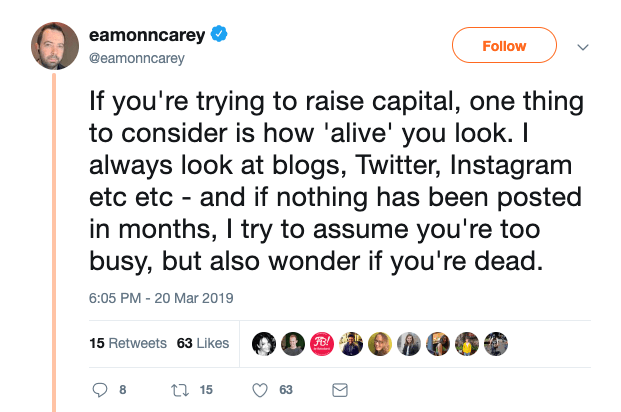 Yet, particularly when you're in the initial stages of building your brand, posting consistently on social media can be a challenge. You might not have the resources to be creating and publishing your own relevant content on a regular basis - and no content means no engagement.
This is where content curation is a lifesaver. Sharing other people's content might sound counterintuitive at first, but if it's the right content, it can really help you build trust with your target audience, establish you as an authority figure in your industry, and even boost your SEO.
There are two approaches to content curation. The first way is sharing engaging content from reputable sources that will be relevant and helpful to your audience: think breaking industry news, blog posts, articles, case studies, podcasts, video tutorials and infographics. Feedly, Flipboard, Buzzsumo or even Google Alerts are great places to find relevant content in your niche. And, of course, I couldn't not mention Quuu, which automates the whole process.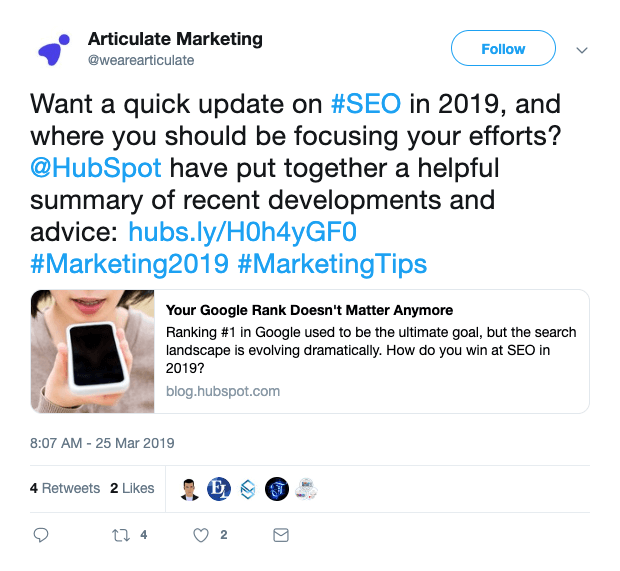 The second option is sharing user-generated content. You'll probably have noticed lots of consumer brands resharing photos posted by customers who are enjoying their products; it's a great way to ensure a consistent stream of content and leverage social proof.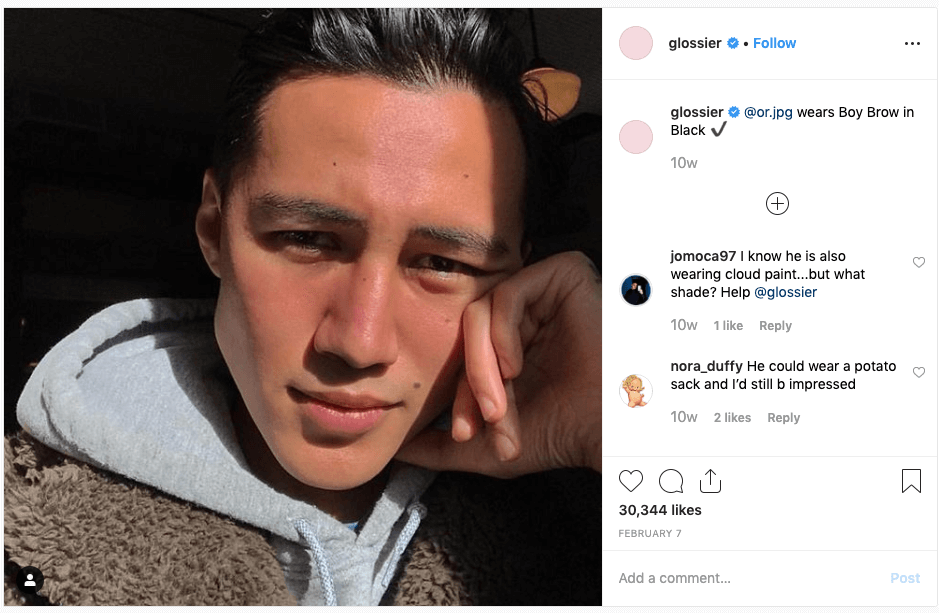 Again, there are lots of tools that will help you do this, like Tint or Amondo.
Posting high-quality content on a daily basis will attract new followers and engage your existing audience. You should start to see an uptick in your organic engagement levels - bear in mind this is a long haul strategy for steady growth, rather than a quest for instant virality!

2. Create exciting content
Now, I promised I wouldn't give you generic advice, and I'm aware that telling you to create content might sound like stating the obvious. This is where the 'exciting' comes in.
There's an estimated 500 million blogs in the world right now, which means it's pretty hard to a) create content no one's created before b) get that content noticed. To overcome these obstacles, you need to take stock of your ideation process.
When I interviewed leading content marketer and agency founder, Ross Simmonds, for Quuu's podcast, I really liked the way he explained how he and his team come up with content ideas. Essentially, they publish three types of content: SEO-driven, community-driven and curiosity-driven content.
For social media, the last two are particularly effective. You've probably already heard lots about the importance of tapping into your audience's needs in your content; answering FAQs, scouring Quora discussions, or simply tuning in on Twitter are all great ways to find out how your product or content can solve their challenges.
The problem is that it's often hard to do this in a way that brings something new to the table. You might discover that your customers need help with their SEO, but let's face it, Neil Patel got there first!
In order to bring a fresh perspective, you need to think outside the box. Don't just consider the practical or professional challenges your customers experience; consider their personal interests, habits and hobbies (fleshing out some decent customer personas is a good starting point).
Let's say one of your personas is Kirsty, The Blog Editor. You know that Kirsty runs a successful industry blog and she needs help driving traffic. But what does Kirsty do in her spare time? Who or what inspires her? Once you start to consider Kirsty's 'human' side, you'll have a better grasp on the kind of content that will resonate with her: don't be afraid to fuse the professional with the personal.
For example, last year I wrote a post for Quuu's blog called 'Content marketing lessons from Ariana Grande's 'thank u, next''. It's not the kind of thing you'd expect to find on a content marketing blog, with a large B2B focus, but it worked: our blog traffic doubled the month it was published. Not only was 'thank u, next' massively trending, but because it was an unusual topic for us to cover, it immediately piqued our audience's interest.

I would highly recommend looking outside of your bubble for inspiration, whether that's in pop culture or simply a different industry. Right now, for example, the beauty industry is booming - so what are those brands doing to achieve that success? Are there any strategies or content types you could steal?
3. Spend more time on captions
You might have curated or created the best content in the world, but what's going to make people engage with it? On social media, you have to give people a reason to click, like or comment. Writing compelling captions is essential, but it's all too often overlooked by marketers.
When you've spent ages writing a blog post, it's easy for the social media caption to become an afterthought. Consider the fact that big agencies and enterprises have copywriters dedicated to crafting the perfect caption, and you'll realise it's something you should probably be spending more time on!
There's lots of research you can do on the art of storytelling or basic human psychology, and proven formulas that will make you a better copywriter. To keep it short and sweet, though, my best advice is to put yourself in your target audience's shoes. This is an exercise we have to do when reviewing content and optimising share texts as part of our service at Quuu.
Imagine the post appearing in your news feed. What would make you react? Which emoji would you choose? Would you want to read more? It's all about triggering an emotional response, whether that's shock, laughter, curiosity, excitement, or even anger. Here are some effective ways to do this:
Share a statistic
Pick out a memorable, inspiring or even controversial quote from the content
Ask a question
Share your own reaction
Summarise key points

4. Learn best practices for each social media platform
Optimising your content also requires a solid understanding of what works for each individual social media platform - because not all algorithms were created equal!
Even if it feels like they're all morphing into one, Facebook, Instagram, Twitter and LinkedIn were created for different types types of content and different audiences, so the organic posts their algorithms prioritise reflect this. You need to tailor your posts to each platform to ensure maximum engagement. Here are some hot tips I've picked up from influencers and Quuu's results.
Twitter
Twitter is the ultimate conversational platform. Your secret weapons? Polls and threads.
Polls always generate a high engagement rate when we run them at Quuu.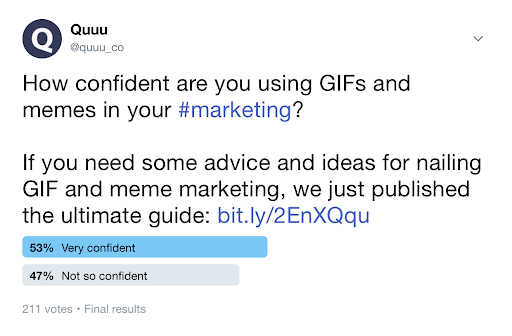 I've also noticed lots of influencers sharing their content via threads. Check out this example by B2B Content Marketer and former Editor in Chief of Shopify Plus, Aaron Orendorff.
Facebook
Facebook wants its users to share content that triggers reactions (think about how the like button has evolved into a range of emojis). Content should be shareable, clickable and drive people to engage - which is why memes are perfectly suited to your Facebook page.
Memes don't have to be restricted to sharing with friends; lots of brands are using them to great effect now. For example, we reshared this funny meme to wish Quuu's users a Happy New Year: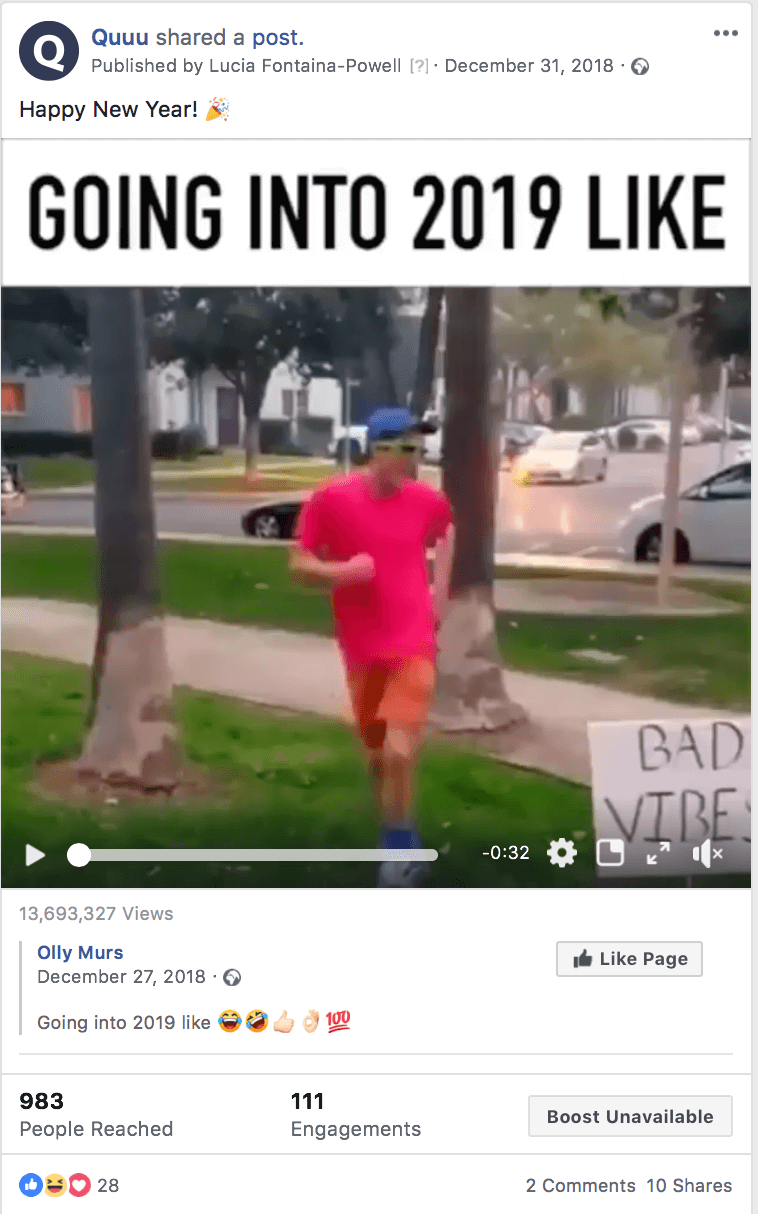 LinkedIn
LinkedIn are all over live video right now, so if you want your posts to reach as many eyes as possible, it's the way forward. They've just launched LinkedIn Live, which is a really good option if you're comfortable being on camera.
The second best option after video is status updates, which I've noticed get a lot more impressions than link posts. I'm seeing lots of top LinkedIn users writing status updates to share their content, and it's something I do myself: write a descriptive, engaging summary of the content (if possible, try to tell a story), then sneak the link into the comments section.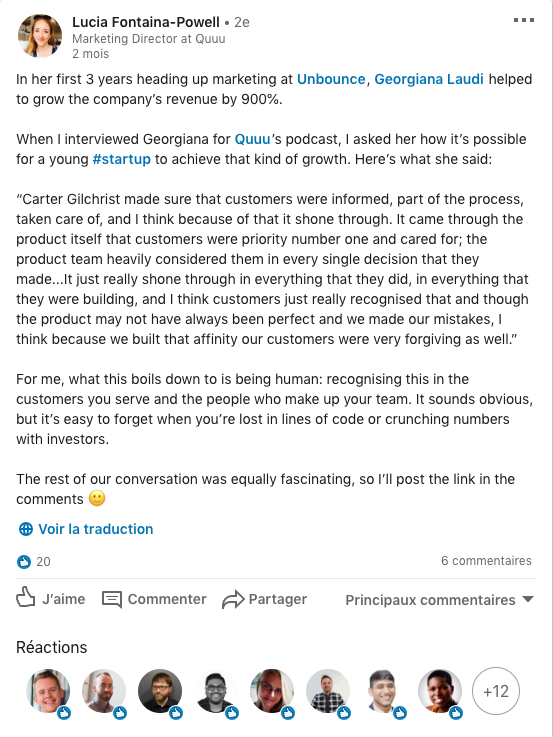 5. Join Slack groups that have promotion channels
Once you've discovered or created great content, written a compelling share text and tailored your posts for each platform, you might think there's little else you can do to boost engagement, save from throwing money at it.
This is where you can get by with a little help from your friends. You've probably heard of Instagram pods, where a group of users agree to like each other's posts in order to boost their engagement. Promotion channels in Slack groups are effectively the same thing, but a much lesser known tactic.
Most industry Slack groups have channels dedicated to supporting each other's content; whenever you have a new post, you can share the link (either to a website or social post) in the promotional channel and other members will share, like, upvote or comment on it, on the understanding that you will do the same for their content.
Remember that social media algorithms bump up the organic reach of content that immediately sees lots of organic engagement, so this is a good thing to do as soon as you've published something new. Especially if you've got people with decent followings engaging with your content, you stand a greater chance of reaching a bigger audience.

Conclusion
Boosting engagement on social media needn't cost a bomb, nor is it rocket science! I hope you've found the 5 tricks we covered in this blog post useful, and I'd love to hear whether you see some good results from them.